We crack open the Deathwatch codex this week and talk about a few of the changes and a few things you may see on the tabletop.
Hey everyone,
The Corvus Blackstar is a divisive unit.  Most people either love it or hate it with no in-between just due to the way it looks.   I'm not the biggest fan but Red points out on the show that it looks very similar to the crafts from Aliens the movie.  I can see that and I bet this is part of the reasons that folks have the feelings they do. The rules for it have never been too bad but it's just funny how people barely ever talk about the rules, just how it looks.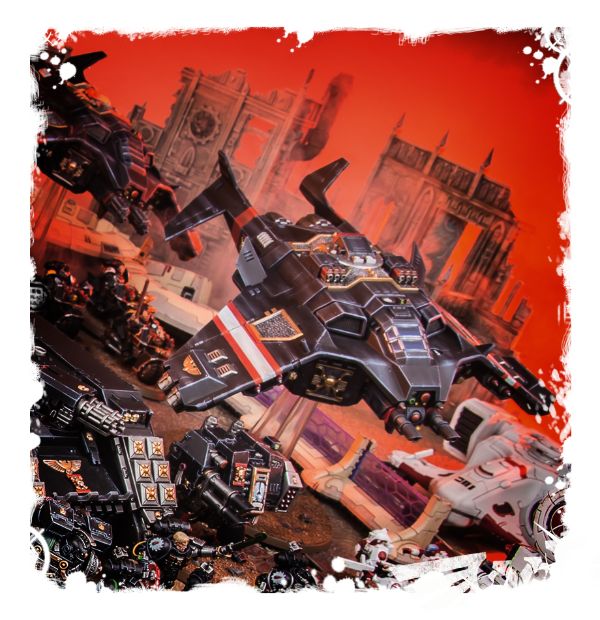 We do spend most of the show talking about the Deathwatch and it does seem like these guys have gone from a 'fringe ally unit' to a fully functional army.  The modeling opportunities are there and now the rules stack up.  I bet we see folks expanding their collections or dipping into this faction now that they get access to everything from the Marines.
Paul talks a little bit about his painting journey with the Silent King – pics are up on Twitter and on Instagram!
Going into the holidays can be a stressful time and even more stressful with what the world is going through right now.  We hope you're keeping safe and sane out there.  Feel free to hit us up in chat if you want some good hobby vibes.

FTN mostly focuses on Warhammer 40k, but again you will see in the first few episodes we take a severe deep dive into nerdom. These have been a blast to record and I hope they help pass the time for you. Please please please check out the new
Forge The Narrative objective markers
. These things look awesome. Ordering a set is a good way to support one of our sponsors AND the show. Find them
here
.
FORGE THE NARRATIVE (iTunes Page)
Alternatively, you can subscribe via your own iTunes, and it should update our podcast when we post a new one. Don't have iTunes? Use the player below to access the podcast directly, or add our feed to your favorite player.
Podcast Link
Credits:
Paul Murphy – Host
@warmaster_tpm
Panelist:
Adam Camileri
Red Powell
Justin Troop – troopsmash
Christopher Morgan – captain morgan
Ricky Addington
Josh Ginn