Frostgrave Knights Review – Stepping It Up in Felstad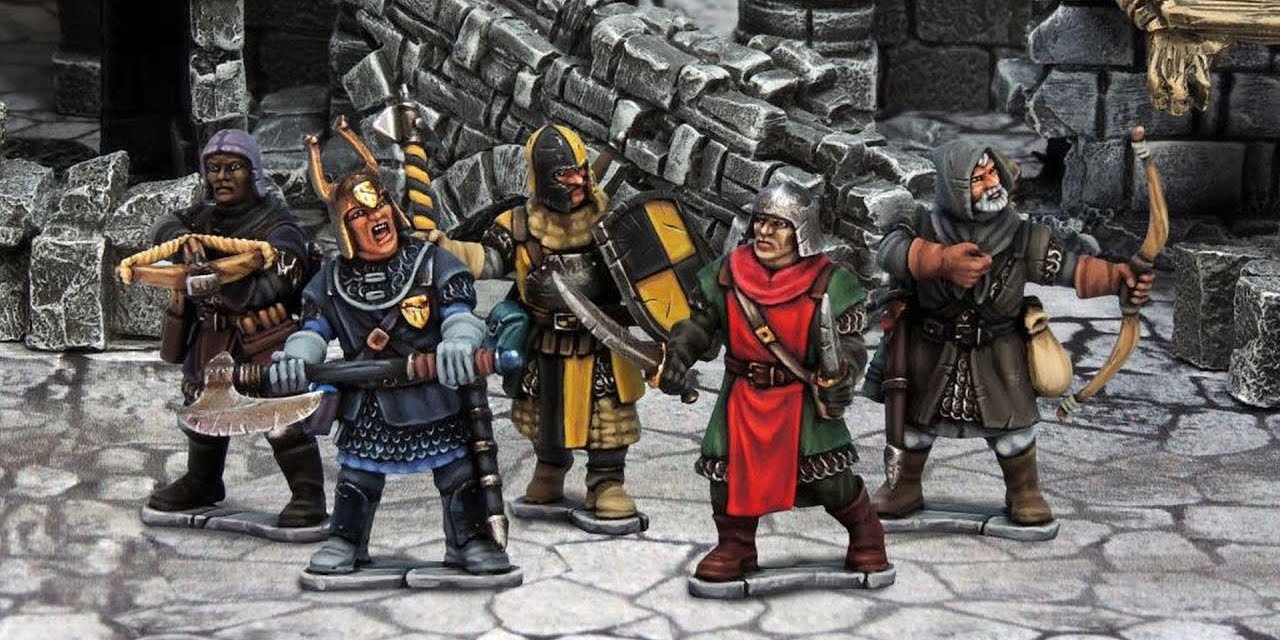 These elite soldiers are a great addition to your Frostgrave Warband!
I am a huge fan of Frostgrave by Osprey Games. Since the start of the game, North Star Military Figures partnered up with Osprey to create miniatures for this ever-expanding setting. Many different plastic miniatures sets are available for Frostgrave, and, in this post, I will review their newest set. The Frostgrave Knights.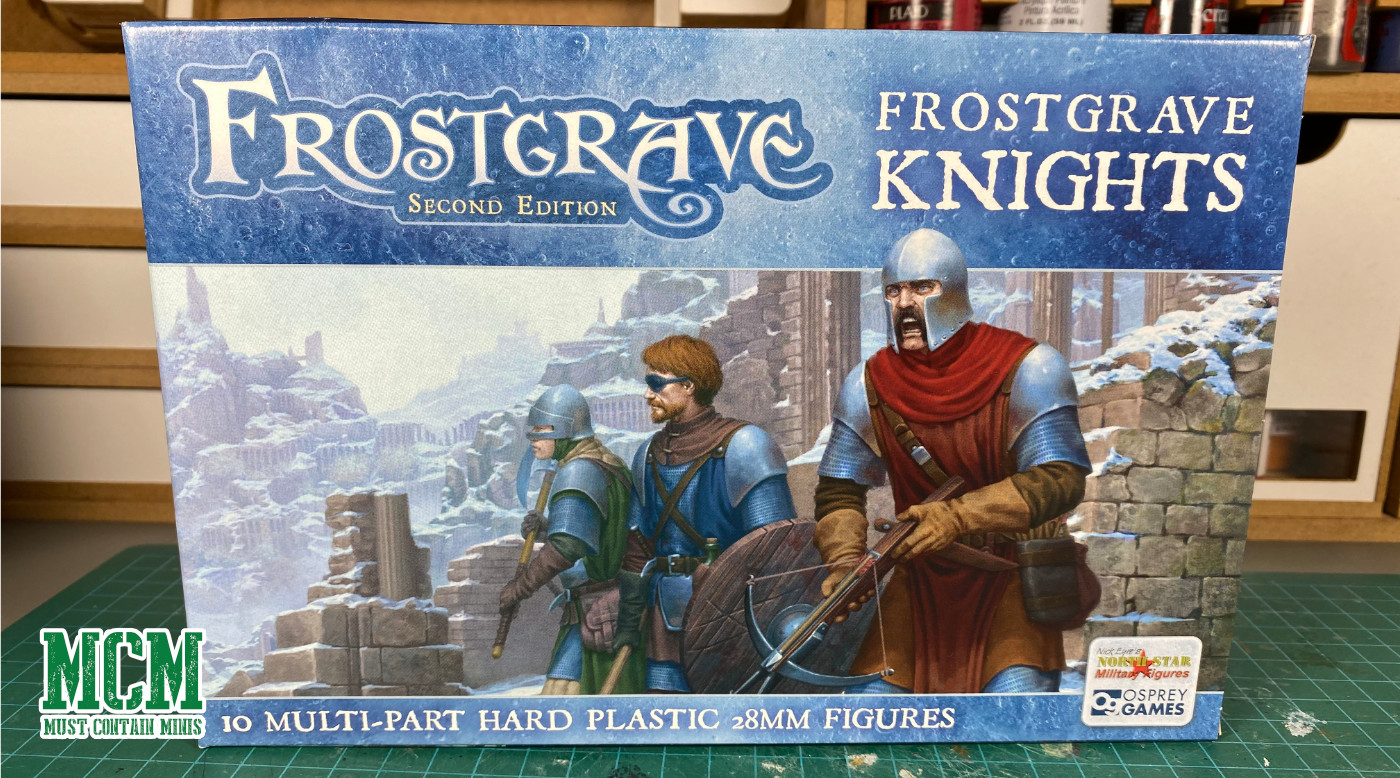 The knights are the elite forces of your Frostgrave Warband. This box set does not consist of knights specifically, but instead the components to make up all of the Elite Soldier choices within Frostgrave. In the past, you might have proxied these elite soldiers into the game with other brands, did your best to represent them with the existing plastics, or bought the official metal minis for the elite choices. Now, you can buy these highly customizable plastic miniatures and make your own elite minis and have them fit in with your existing Frostgrave collections. All this in multi-part hard plastic. For those not familiar with Frostgrave figures, these are 28mm Fantasy miniatures.
To fit your preferences, you will find two versions of the review here. One written and one as a narrated video slideshow. The video slideshow is the best I have done to date, so I encourage you to visit that. It is also a little more comprehensive than this quick review. In this written review, you will also find all that you need. We have pictures of the built miniatures, the sprue, and a scale comparison image.
Let's start with that video slide show. If you prefer reading, just skip further down.
The YouTube Review
Here we have my best video to date on YouTube. In this photo-heavy slideshow, I share with you pictures of the miniatures that I made, photos of the sprues, and a scale comparison photo at the end. I give you all that with some awesome music in the background too! Check this video out…
I am still new to the YouTube game, so please let me know what you think of this video.
Now, on to the written version of the review.
The Written Review
Having passed the video, let's dive right into the written review. These 28mm offer plenty of options for you to work with. In the box, you will find two sprues (each with 5 miniatures) and 10 bases. Below is an image of that plastic sprue.
Using these frames, I built two sets of five miniatures. One I themed to fit in with the Frostgrave Barbarian boxed set (which have a Vikings feel to them) and the other to Frostgrave Cultists. Here I will show you pictures of most of those minis.
Subscribe to our newsletter!
Get Tabletop, RPG & Pop Culture news delivered directly to your inbox.
Overall, this kit makes some great minis. Now, let's take a look at how they scale up to other miniatures.
Scale Comparison
Below is a scale comparison image of the miniatures I made using the Frostgrave Knights boxed set.
Like the Frostgrave miniatures before these ones, they are scaled as 28mm. That said, different manufacturers make 28mm figures differently. These ones are on the shorter side and will fit in with Historical miniature gaming companies.
Kitbashing
While I did not kitbash these minis, Codex Araden did. He has a very interesting Facebook account to follow if you like seeing miniatures kitbashed across many manufacturers. He used a number of Frostgrave Knights parts to make the miniatures below.
On the left, he used a Frostgrave Head paired with a Barbarian body and a great axe. In the middle, he combined a Knight's body and head with a Dwarf mace and shield from Oathmark to make a D&D Cleric miniature. On the left, he used an Oathmark elf with modified arms and Frostgrave Knights blades.
Codex Araden stated to me that he likes the Knight kit, but he wanted to tweak it. And he did. Tweaking and kitbashing is his thing.
Wrapping it up…
Thank you for joining me in this review of Frostgrave Knights by Osprey Games and North Star Military Figures. These are really nice figures and worth a look if you want to make custom elite miniatures for Frostgrave or other miniatures agnostic games. You might even be able to use them as proxy figures if miniature agnostic games is not your thing.
If you watched that YouTube video, please give it a like and subscribe to my channel too.
Disclaimer: North Star Military Figures sent me this box of 28mm Frostgrave Knights for review. While I accept review products, I am in no other way compensated for my posts and reserve the right to give positive and negative reviews.
Until next time, Happy Gaming Everyone!!!

Read more about great Indie and Historical games on my site!
Must Contain Minis is my personal reviews, showcases, and battle reports website where I look at mostly Indie and Historical Games. Mainstream games and products also enter the mix. You can also follow me on Social Media. I am very active on Facebook and share posts of a wide variety. I upload my best pictures to Instagram and am also on Twitter. Oh, I am on YouTube now too!
My aim is to promote gaming with companies outside of those that already dominate the gaming market.