I know, I wouldn't want to play D&D with them either, but since it's the giving season let's try and invite Krampus and the Grinch to the table.
It's weird to think that there are specifically Christmas themed monsters in our popular zeitgeist already, but there are and I think they could be very fun to add into your next winter time D&D session.
The Grinch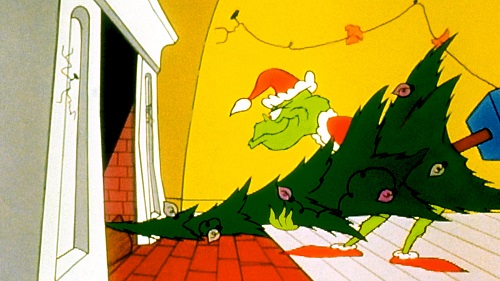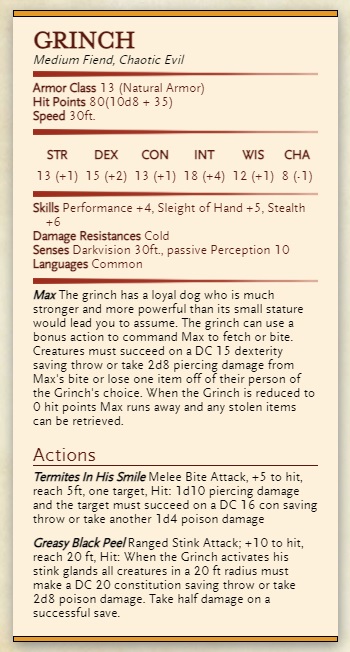 He's not particularly charismatic, but he's a holiday stealing mastermind. There are a few cartoonish things about the Grinch that I wanted to add to his monster sheet in a more threatening way. For example Max in every incarnation of the Grinch is a very good boy, but a more monstrous Grinch gets a more monstrous dog to help him attach he Whos down in Whoville and steal all of your Christmas presents (and magical items). Bite was, I admit, a bit of a copout since we don't really see the Grinch doing much biting, but he's got those gross yellow chompers so let's let him use them. That said, he is a famously smelly character and I wanted there to be a way for him to weaponize that stench. Will this version of the Grinch be able to be charmed by a little kid and turn his whole life around? who knows. It's up to your DM.
Krampus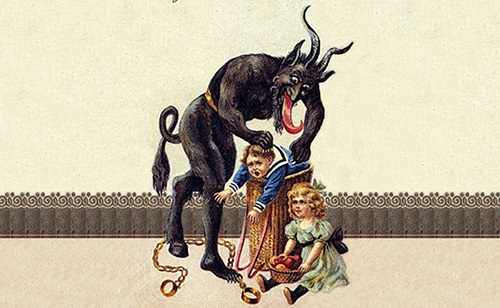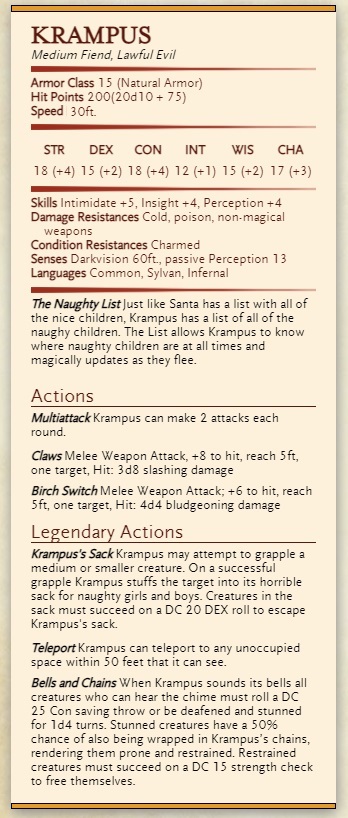 Krampus as a Christmas time concept is objectively wild, but also makes for a fantastic and very easily translatable D&D monster. I thought of Krampus as the monster you fight closer to the end of the adventure, after you've already defeated the Grinch so he's a little tougher and has legendary actions where as the Grinch had none. Krampus has its most iconic tools for your D&D encounter including a birch switch (previously for hitting bad kids, now for hitting your character) and his bell chains. I'm pretty sure the chains were previously also striking tools, but since he already has the birch switch I thought it would be interesting to lean a little heavier into the bell part of the bell chain and give this weapon a magical angle. And of course, there is the Krampus's awful sack for taking away the bad boys and girls. Only how it may hold a few adventurers as well. I didn't want it to be impossible to escape from, but thought that a low DC wouldn't lend itself to high stakes or an exciting fight at all. Finally, I think one of the scariest parts of a monster like this is that it can follow you forever and always know where you're going. Krampus's naughty list and teleportation allows it to know where it's naughty target will be and catch up with them lightning fast.
How would you make these monsters for Dungeons and Dragons? Do you think my version of the Grinch could be reformed by Cindy Lou Who? Which monster would you want to take on in a D&D session? Let us know in the comments!
Happy Adventuring!