Christmas is right around the corner and now is your last chance to get extra festive for your last few D&D sessions of the year with this holiday D&D swag!
It's almost Christmas, and while Dungeons and Dragons and Christmas don't traditionally go hand in hand, there are lots of ways to incorporate tabletop gaming into your normal holiday staples to make the season just a little nerdier and fun.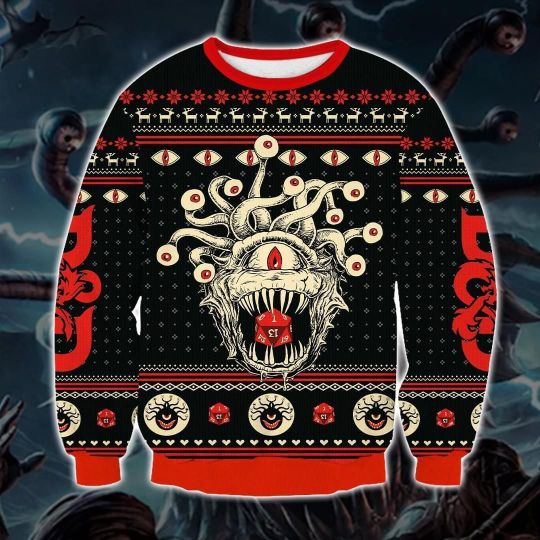 There are a ton of Dungeons and Dragons themed ugly sweaters and faux sweater style hoodies like this awesome beholder and dice option. Ugly sweaters are one of the funnier and easier to personalize Christmas traditions, and a D&D sweater will let everyone know that you're celebrations are magic. Will your grandparents understand the strange monsters on your shirt? Maybe not. Consider it a zoom call conversation starter.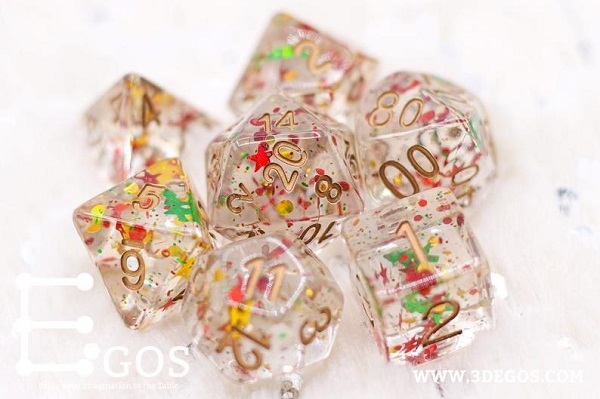 There are a lot of festive dice options out there, but I like how this one is a little bit lowkey. It definitely has the Christmas colors and the brownish gold numbers immediately make me think of gingerbread, but you could use these year round without earning any questioning looks from around the table. Every one of these dice are a little tiny holiday party to make your spirits bright.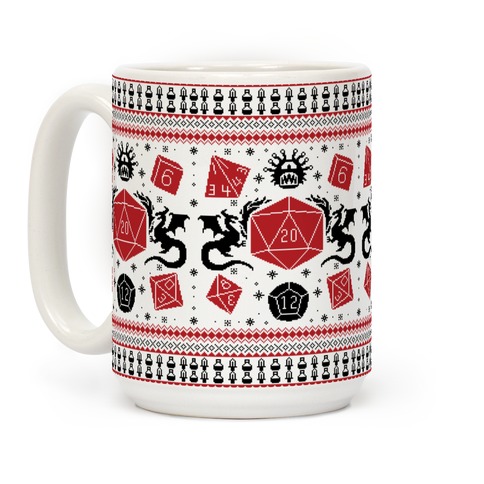 Sweaters and dice are good and fine, but you'll need something to drink all of that eggnog and hot cocoa out of. And that's where this ugly D&D sweater themed mug comes in. Featuring dice, dragons, beholders, and little swords and potions, this mug captures the entire D&D experience in one dishwasher safe mug. Carry it around while wearing your favorite Dungeons and Dragons sweater for maximum effect.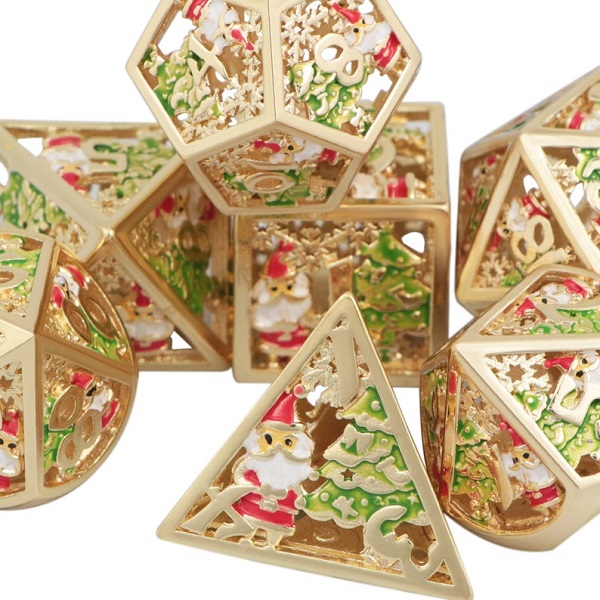 Sometimes I want understated dice that can work all year, and other times I want there to be no question about exactly how festive I am or what kind of spirit I'm feeling, and these dice check off that second box proudly. Featuring a tiny little Santa next to a snowy Christmas tree on every numbered side, this dice set packs in maximum Christmas spirit per roll. Try to avoid the naughty list or Santa may bring you a natural one instead of coal this year, and that may be worse.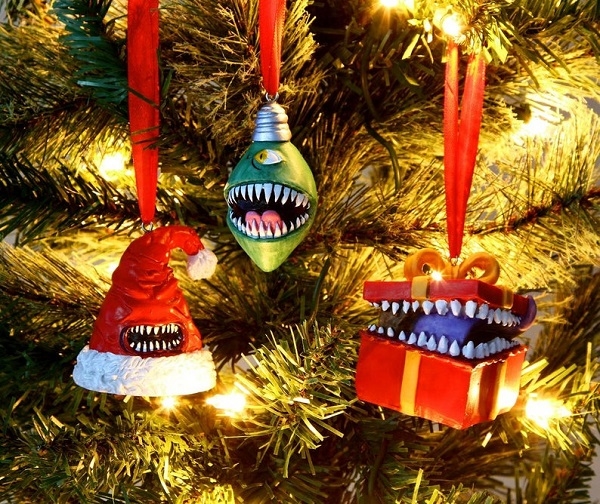 One of the fun things about mimics is how they can look like otherwise benign everyday objects that you're interacting with. Such as neatly wrapped presents or lightbulbs or Santa hats. Or tree ornaments. This set of three ornaments feature not-too-hidden mimics masquerading as some of our favorite Christmas time objects to make your tree a little more treacherous this holiday season.
Are you decking your halls with any Dungeons and Dragons cheer this year? How do you like to incorporate the holiday spirit into your D&D sessions and vice versa? Do you prefer loud Santa dice or more understated holiday confetti dice?  Do you already have any D&D ornaments or decorations up this year? Let us know in the comments!
Happy Holidays, Adventurers!