Roll initiative on the new year with these dice that will feel like a tiny New Year's Eve party every time you have to make a skill check.
Even if you're staying in for a quiet solo New Year's Eve, you can still celebrate with some tabletop roleplaying games or internet window shopping. And these dice say "New Year's party!" loud and clear. Even if it's a party for one.

Even if you aren't going to a club to have confetti rained down on you, you can still experience a little bit of a party in your next adventuring party. This set of clear resin dice has bits of confetti floating inside for an always-mid-fall effect with beautifully painted and easy to read matching teal numbers. These dice just feel joyful in a way that's lighthearted and maybe a little reminiscent of being a little kid.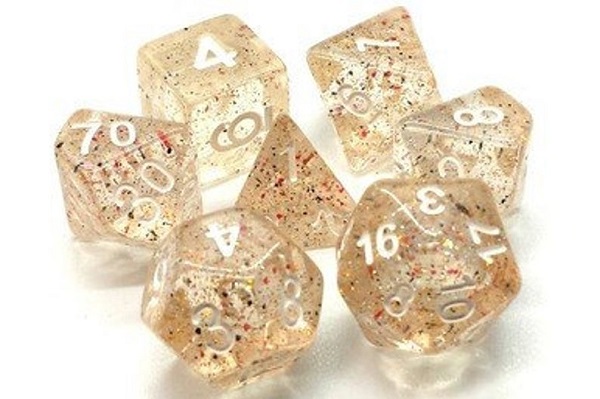 Another take on confetti dice, this set has a more subdued and mature color pallet that feels less like the New Year's party you had in your parent's basement and more like the party your parents were throwing a floor above. This one stuck out to me because the gold and pink tones reminded me of champagne or sparkling cider, and few things are more celebratory or New Year's esque than that.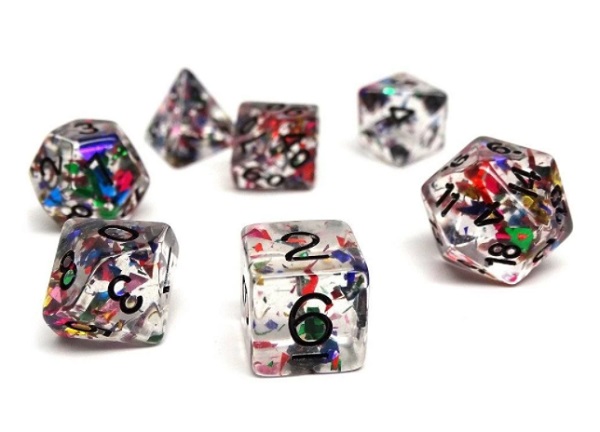 This set of dice are inspired by the colors and general aesthetic of a disco ball and feels undeniably like a little tiny party at the table. Whether your character enjoys a little revelry or you just want to bring a little fun to the table as a player, there isn't a bad time to break out the disco ball dice. Except for rolling death saves. That may be a little rough.
Another set inspired by champagne but with a slightly different take on the theme. These dice have flecks of 24K gold leaf floating in clear resin for an effect that looks like a million bucks. The delicate nature of the smaller pieces of gold look a little like champagne bubbles floating to the top of your flute. And while these may seem like some prohibitively expensive dice, at $35.00 they look like you're throwing the most upscale tabletop party in town without breaking the bank.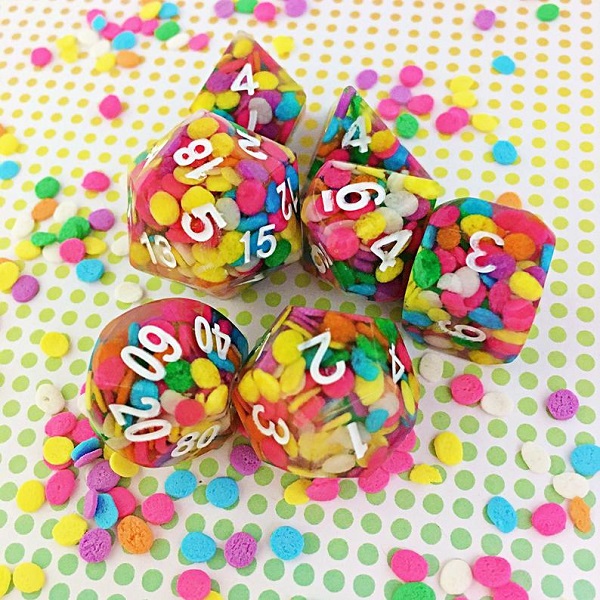 Filled with round, vibrantly colored sprinkle style confetti, this last set looks like a party with way too many sweets. Every dice is completely full up with confetti for an effect that's unabashedly ready to celebrate anything and everything. New Years? Party time. Birthday? Party time. Tuesday? It's definitely Party time.
Do you have any dice that feel like a small party every time you make a check? Have any of my favorite celebration dice piqued your interest? Do you prefer vibrant colorful parties or more quiet mature ones? Does anyone else still stay "champagne" like Zapp Brannigan in Futurama or is that just me? Let us know in the comments!
Happy Adventuring!