This week we take another look at Din's face, learn a little Imperial History, and try to find Space Boston as The Mandalorian works on getting Grogu back.
Trash Planet Jail Break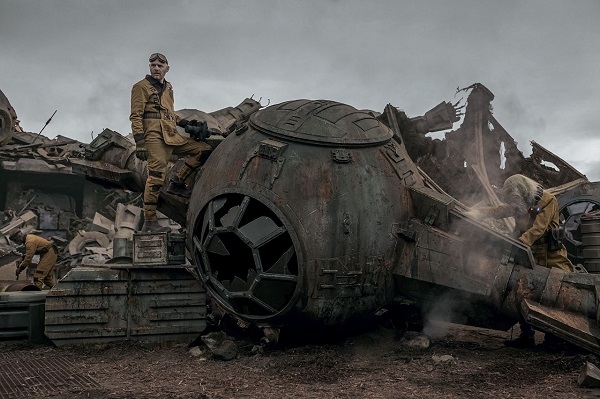 The episode opens on the most lowkey and quiet jailbreak of all time as Cara Dune officially takes Mayfeld into her custody so he can help team Mando find where Moff Gideon's cruiser is. Mayfield (and between you and me, I usually only call him "Space Bill Burr") always makes me wonder, as someone who lived in Boston for a pretty long time and knows that accent a little too well, where exactly is Space Boston? Which planet is that? Space Boston aside, this is a pretty great scene for background watching as the entire jail camp seems to be dedicated to scrapping TIE Fighters. There are also a few of those AT-AT cranes that make the junkyard look like they have a bunch of Horizon Zero Dawn style robot monsters roving around.
Boba Fett's Armor Is Looking Good!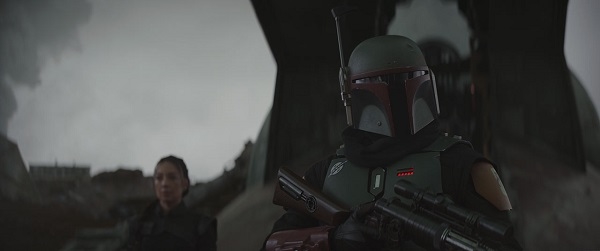 Sometime between the last episode and this one, Boba found the time to give his armor a fresh new paint job and maybe polish it up a little. I'm not one hundred percent sure if Boba Fett is the kind of character to care about the quality of his armor's paint, but we know Din cares about showing beskar armor its due respect and I'm not sure if it would be better to imagine Boba fixing up his own armor or Din getting too antsy not to. Regardless, he's looking good as new this week except for the helmet dent that will take more than a buffing to get out.
Boba's Face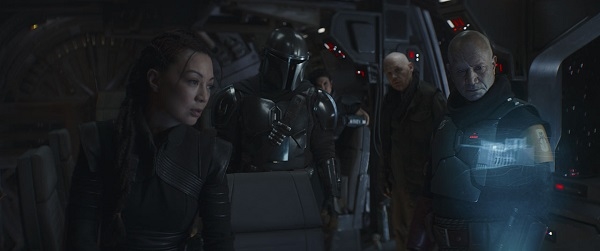 The crew spends a small amount of time discussing who will sneak into the Imperial refinery on Morak, and Boba says he can't, they may recognize his face. The major implication here of course is that since both he and the clone troopers were all clones of Jango Fett some may recognize him either as Boba Fett or as "Hey doesn't that guy look a lot like those clones we used to keep around?" But there couldn't possibly still be clones around anymore since their average lifespan was only about half of a humans which would make most them, sadly, dead. Right? The other option is that the Empire is somehow still producing and using clones. But I'm baking on him wanting to avoid looking too much like a former clone trooper and looking suspicious.
Brown Eyes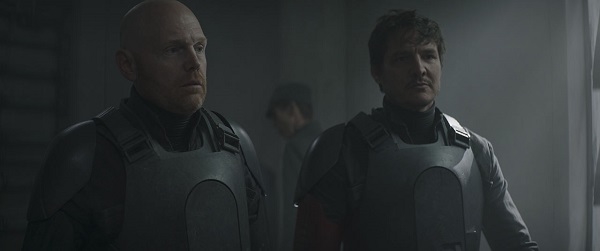 We got our annual look at Din's face in this episode, and he wasn't even beaten all to hell which was a nice change up since last season. His choice to trade in his armor and helmet for the must less conspicuous trooper armor get's Mayfeld asking questions about what his oath really even means and why Din thinks adhering to it so strictly is important. He makes a comment that Mandalore, just like Alderaan are both gone because of the empire and that the two of them aren't that different. While Alderaan is literally not around anymore, Mandalore physically is, so I wonder what Mandalore looks like now and if we will ever get there within the series. This comment also makes me wonder if Mayfeld was from or somehow associated with Alderaan to make the me-to-you comparison make sense. Was Alderaan where Space Boston was? I must know! Finally, once they're in the base and Din is, much to his chagrin, completely helmetless Mayfeld tries to cover for him and gives him the nickname "Brown  Eyes." This is a callback to the first time we see Din's face in season one where he had to take off his helmet so his eyes could be seen.
Seismic Charge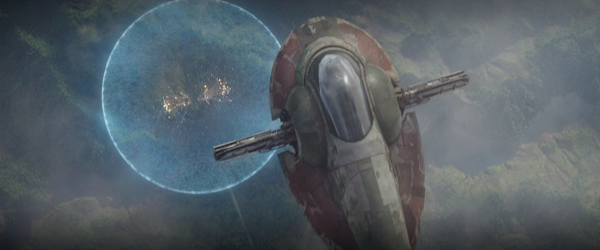 Just like Jango trying to take out Kenobi, Boba Fett releases a seismic charge from the Slave I to deal with some ships in hot pursuit of the escaping heist crew. Seismic charges draw in sound from their surroundings and turn it into concussive waves of destruction. Also, they look very cool.
Operation Cinder
If you're not very deep into the Star Wars pit you may not know what Operation Cinder was, though you probably picked up on the general bad-news-bears nature of it all. Operation Cinder is featured most prominently in the Shattered Empire 2015 comic series as well as the Battlefront II video game, and had a basic goal of retaining Imperial power after the Emperor's death through propaganda, lies, and shows of force. Mayfeld was present specifically for the Burnin Konn arm of the operation. There an entire city was destroyed causing the deaths of countless civilians as well as his entire 10,000 person division. Shooting him probably wasn't the best bet for keeping a low profile, but I also get where Mayfeld was coming from.
Did you pick up on anything this week that didn't make my list? What are you looking forward to as the season finale fast approaches? Were you okay with an entire Groguless episode?! Let us know in the comments!
May The Force Be With You, Adventurers!