Age Of Sigmar: Soulbound's Crucible Of Life Is Out Now
Age of Sigmar's treacherous campaign of sinister secrets heats up with the next part. Order it by itself, or as part of the campaign today!
That's right folks, part 3 of Shadows in the Mist is here, bringing more intrigue and a doomed expedition to the Mortal Realms as players come into conflict with a cabal of Aelves interested in practicing Dark Magic and securing the city of Anvilgard. When a powerful artefact is discovered in a hidden Stormvault, who will reach it first? The heroes? Or the sinister aelves?
via Cubicle 7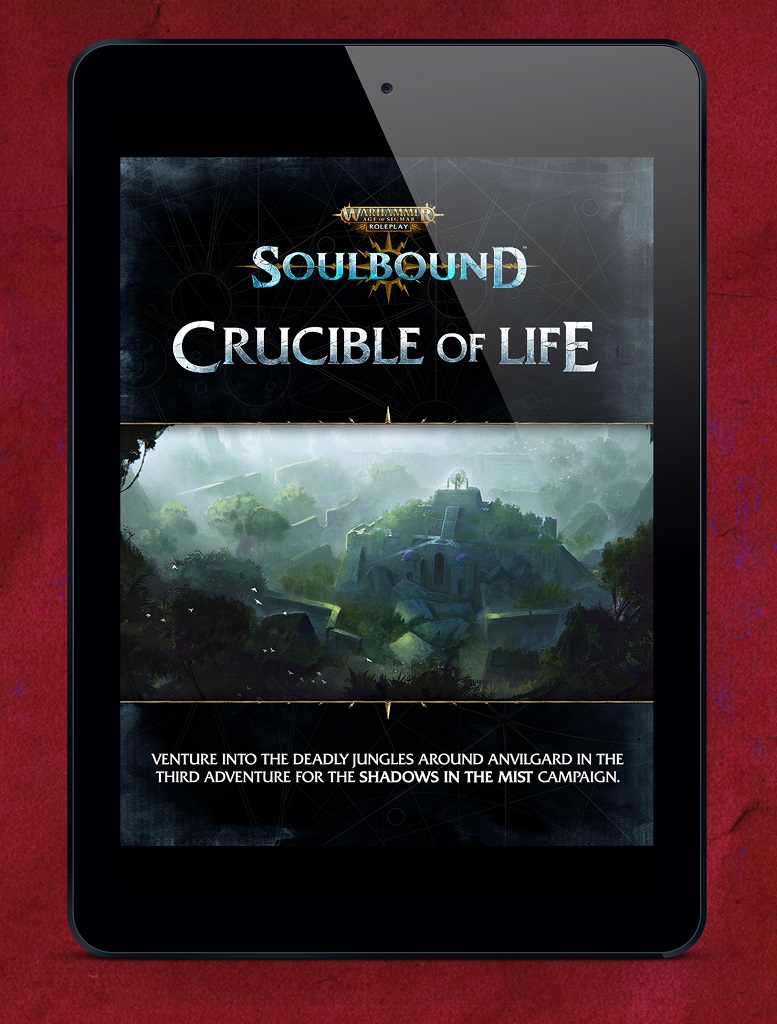 Crucible of Life is the third adventure in the Shadows in the Mist campaign. It can be played as part of that campaign or as a standalone adventure. You can purchase each adventure in Shadows in the Mist individually, or buy the complete collection here.
This item is the digital PDF download redeemable via direct download. If you would like to add this adventure to your Drive Thru RPG Library, can find it Here. Or the Complete Shadows in the Mist PDF Here.
The last survivor of a doomed expedition stumbles through the streets of Anvilgard, bringing news of a hidden Stormvault and an artefact of incredible power. News spreads quickly, drawing the attention of the Blackscale Coil — a cabal of Aelves that control much of Anvilgard through threats and dark magic. The Grand Conclave can not let them reach it first. Two expeditions race from the city to search for the Stormvault, but they must first fight their way through the deadly jungles of the Crucible of Life.
Crucible of Life follows the events of Rotten to the Core and sees a party of Soulbound heroes venture into the deadly jungles surrounding Anvilgard. The party must lead an expedition of dozens of trackers, hunters, and scholars from the city and fight through poisonous plants and vicious predators to reach the Stormvault in time. But reaching the ancient Stormvault is only the first step of their journey, as they will need to face the guardians that protect the Vault of the Crimson Twins before recovering what is hidden within.
Happy Adventuring!
Latest News From BoLS: