The Games Workshop Half Year 2020 Financial Report is here. And yes, GW is killing it.
Games Workshop just released their Half Year financials for their fiscal year. These dates cover the six months to November 29, 2020 and things are looking great for the miniatures company.
via Games Workshop Investor Relations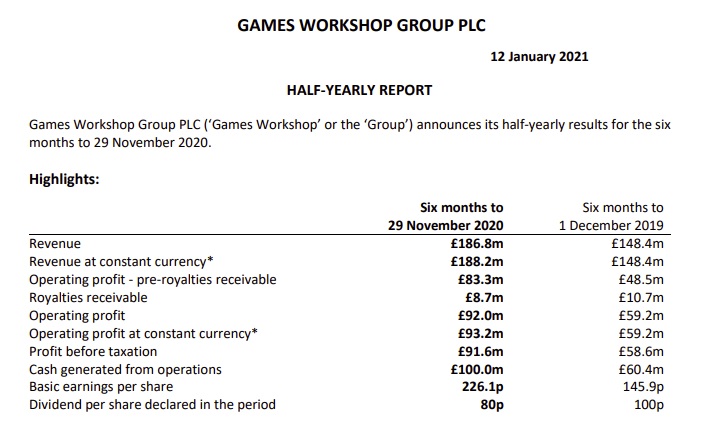 You can download the full report HERE.
Kevin Rountree, CEO of Games Workshop:
"Another cracking performance from a truly amazing, global team; a solid six months building on the great progress and profitable growth we have been consistently delivering over the last five years.
Finally, I'd like to thank our enthusiastic and loyal fan base who share our love for the Warhammer Hobby and the fantastical settings, characters and narratives that make up our IP. Their ongoing support and feedback have been invaluable, keeping us honest when we have fallen short and driving us onward to continue to deliver more and better. "
Top Level Numbers (2020 vs 2019)
Revenue: +25.87%
Operating Profit: +55.4%
Earnings Per Share: +54.96%
Sales Channel Reports (Revenue):
(Constant Currency Numbers)
Retail: -18.55%
Trade Sales: +34.3%
Online: +87.75%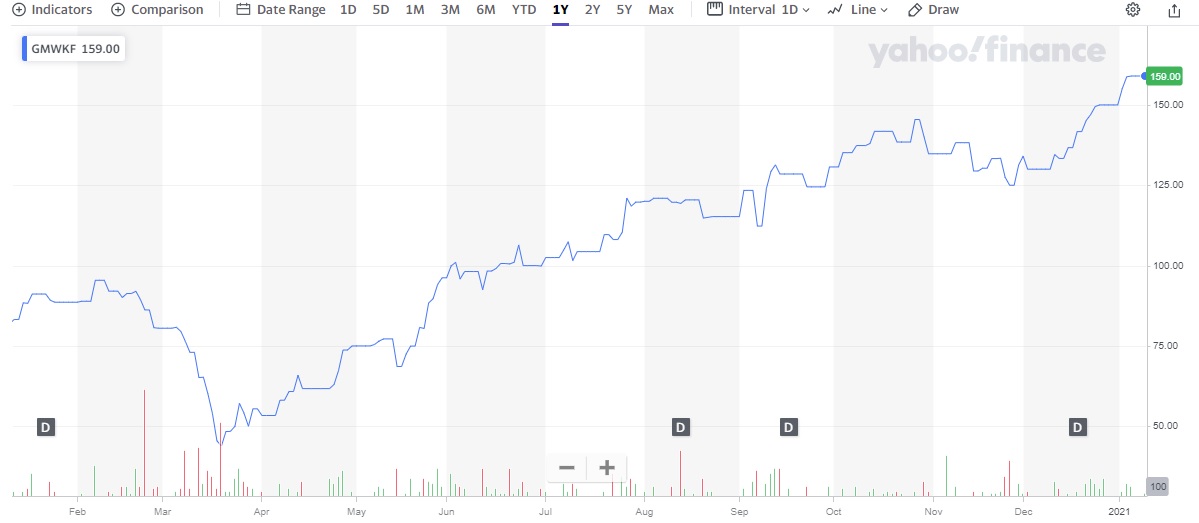 Games Workshop Stock Price (1 year) January 12, 2021 – Yahoo! Finance
Overall, it's pretty clear that Games Workshop is having a record year so far. The only area that took any sort of a downturn was their Retail sales which can clearly be attributed to the Global Pandemic. On the flip side, their online sales have exploded compared to the previous year. Gee, I wonder if those things could be linked in any way.
The first part of their fiscal year is looking really strong. Now we're going to have to wait and see if GW can continue the pace through the end of their fiscal year. They have some tough challenges ahead as we've already seen some delays in their release schedule in December/January/February. But I think they are at least planning ahead to tackle those logistical issues – so wait and see!
Have fun with this one – and remember NO CHAIRS – be nice!