New Munchkin: Warhammer Expansions And More Poking Fun At RPGs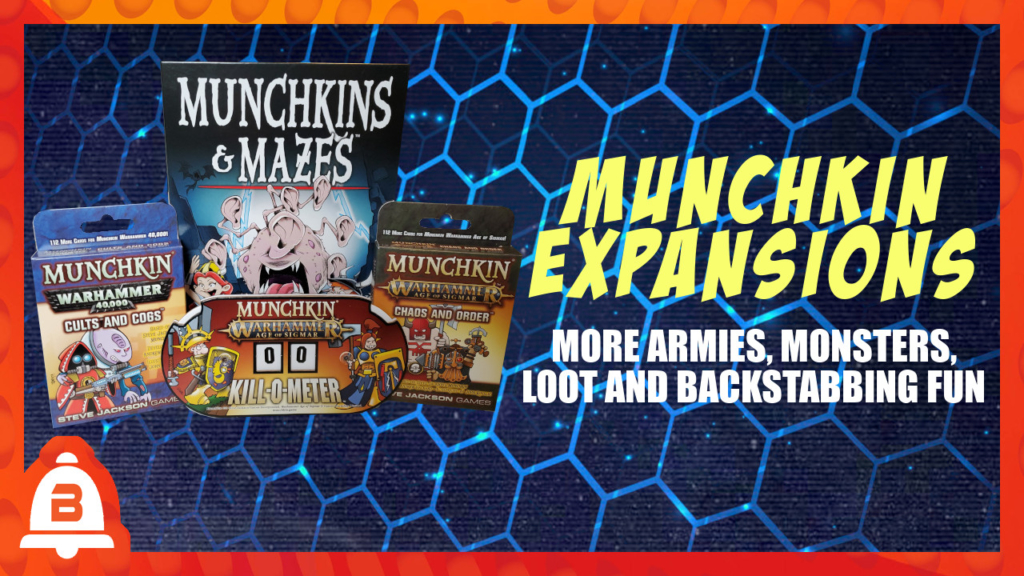 Hundreds of new cards, including new armies, new monsters, new weapons, and the same old wackiness and references.
Recently we took a close look at the Munchkin: Warhammer: Age of Sigmar release and today we have a few smaller expansions and Munchkin-based products.
First up is an easy jumping-off point from our last time with Munchkin, and that's with Munchkin: Age of Sigmar: Chaos and Order. This small box expansion comes with tons of new weapons and items, new armies (Bloodbound and Kharadron), and plenty of new monsters and curses.

We discuss additional details about the new armies in the video above. Yes, this is a ploy to get you to watch it. Is it working?
The other expansion we've covering today is meant for Munchkin: Warhammer 40,000. But like all Munchkin expansions, there's not much stopping you from mixing any expansion with any other. Just don't be shocked when you mix your base set of Munchkin with your Star Munchkin and suddenly you're trying to fight off interstellar demons with your magic gun. ….wait…

Munchkin: Warhammer 40,000: Cults and Cogs adds Genestealer Cult and AdMech armies to the game, and like before, tons of new toys to play with and be killed by, whichever floats your boat.
Next up, Munchkins And Mazes, which isn't actually an expansion, but let's not get bogged down by details. This is a full game and you can be ready to play once you pop off that shrink wrap.

These brand new cards feature tons of new references and puns that you've come to expect from the world of Munchkin. As well as an updated art style that I think looks a lot cleaner. I'm a fan.
Finally, not so much an expansion as it is a tool. The Munchkin Kill-O-Meter isn't for tracking levels (although you could, no one can stop you), it assists players with keeping track of combat strength. As players use their potions and spells in combat, a Munchkin's combat strength can shoot up and down wildly. The Kill-O-Meter makes sure you won't have to deal with any dreaded math, or even worse, having to remember a number for more than 10 seconds.
Subscribe to our newsletter!
Get Tabletop, RPG & Pop Culture news delivered directly to your inbox.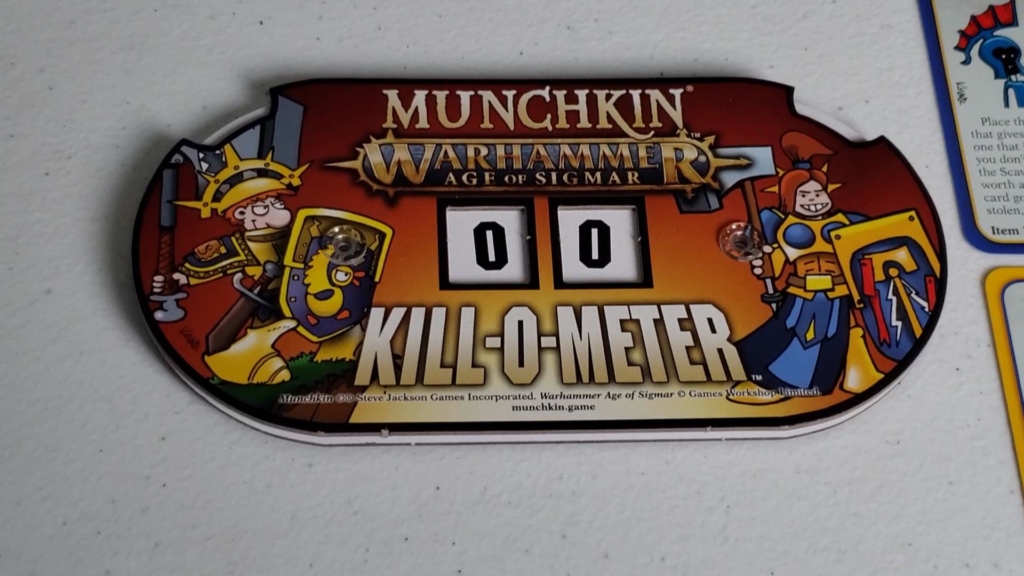 With all these and the rest of the arsenal of Munchkin options available to you, go out there and backstab your way to victory and riches!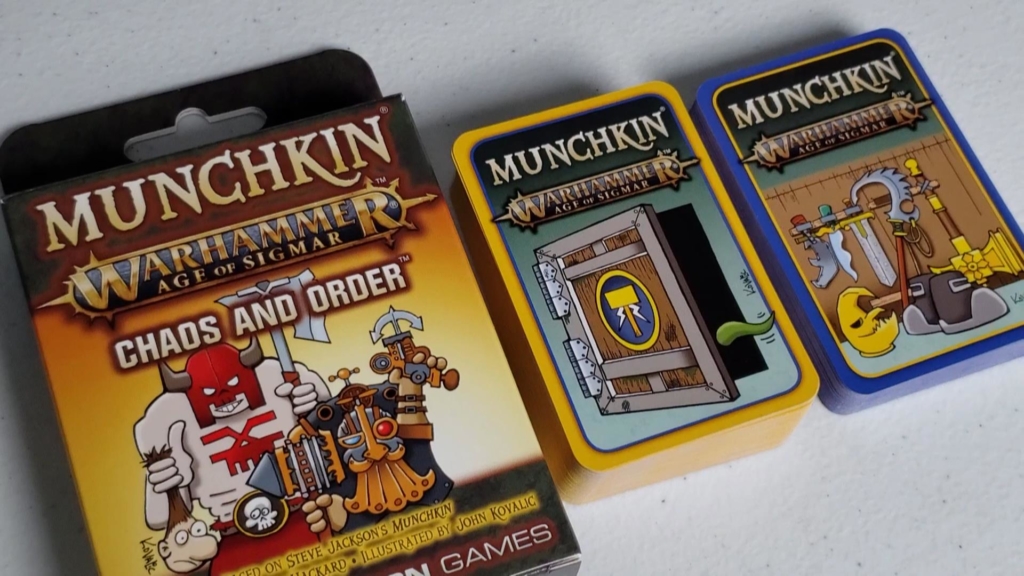 No conflict defines the Age of Sigmar like the battles between the forces of Chaos and Order. This expansion for Munchkin Warhammer Age of Sigmar showcases one fan-favorite army from each side of this war: the Kharadron Overlords, dwarves who mine for gold in the skies above the Mortal Realms, and the Bloodbound of Khorne, crimson-streaked warriors who fight anyone and everyone, including each other.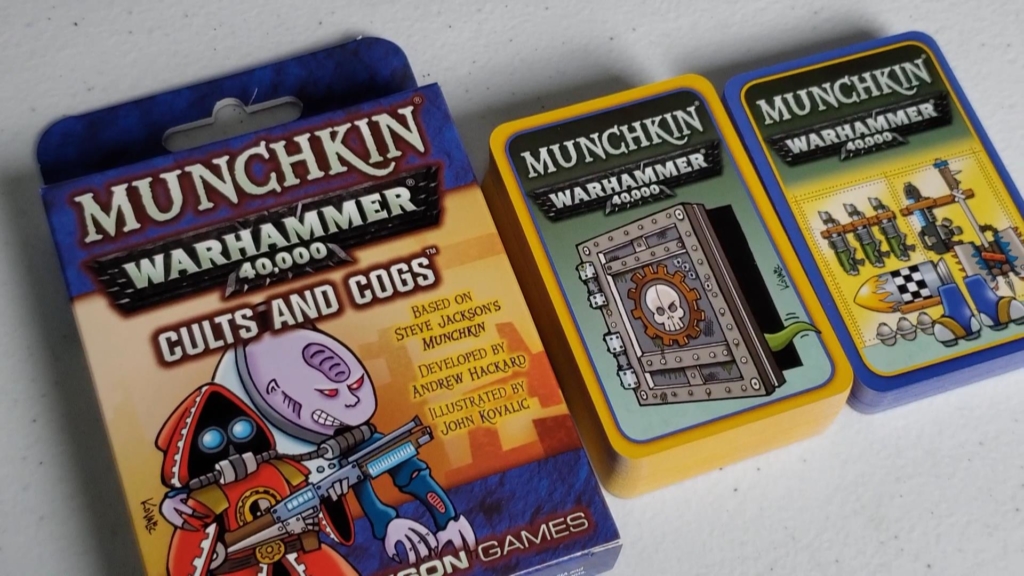 Munchkin Warhammer 40,000 returns with two more new Armies to add to your games! The Genestealer Cults manipulate DNA to infiltrate worlds . . . when you realize they're among you, it's already too late. Adeptus Mechanicus has a more straightforward approach, sending their soldiers in intricate mechanized armor to lay waste to everything that opposes them.
Munchkin is back in a whole new addition! Munchkins & Mazes is the most elf-referential Munchkin game yet, with cards inspired by the most popular roleplaying game ever, the latest live streaming crazes, the gaming hobby in general, and even by Munchkin itself! We've updated some of our favorite cards and created a whole lot of new ones in this set that's sure to please anyone who's ever rolled a 20-sided die.
In the battle for the Mortal Realms, you need to know just how strong your opponents are . . . and how well you stack up against them. You'll have that information at your fingertips with the two-sided Munchkin Warhammer Age of Sigmar Kill-O-Meter. Turn the dials as your combat strength goes up or down so you always know how tough you really are . . . or flip it over and use it for the monsters! This set also comes with four new Munchkin Warhammer Age of Sigmar cards
Thanks for watching!
Latest News From BoLS: