It's a new year in the Old World, come pay your respects to the Shrines of Sigmar with Cubicle 7's first release of 2021. Check it out today!
Sigmar's priesthood is all that stands between the Empire and utter ruin. Why would you not want to pay respects at five different shrines of Sigmar scattered around the Empire? You aren't a heretic are you? This new book focuses on magic, mystery, and religion in the Old World, giving you new ways to spice up your games of Warhammer Fantasy Roleplay. Find out more about these grim and perilous shrines below!
via Cubicle 7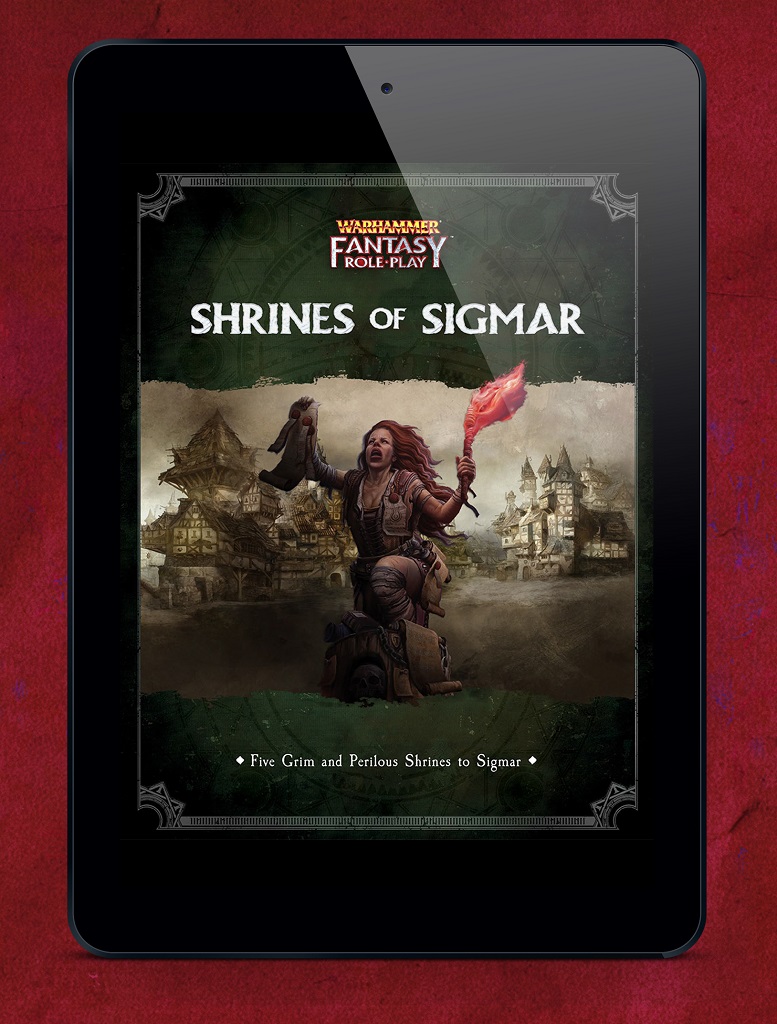 Five Shrines of Sigmar
The Old World is steeped in staunch spiritual beliefs, some of which have sparked battles and incited wars. Though they may differ in importance and prominence, all ensure reverence and honour. Shrines of Sigmar offers a selection of unique and mysterious shrines from around the Empire. They are perfect for dropping into an ongoing Warhammer Fantasy Roleplay campaign, or can be used to kick start an exciting new adventure. Each one is packed with colour and detail, laced with intrigue, and comes with a table of unique blessings for those rare few worthy of Sigmar's favour.
While a multitude of Gods, old and new, are worshiped across the Empire, none can claim a greater prominence than Sigmar. As a man, Sigmar founded the Empire, and as a God he cemented his presence at every level of society. His is not a subtle faith — his priests preach his word from fine temples and modest shrines, hammer held in a familiar grip, both a symbol of their faith and a practical weapon to be wielded against the Empire's enemies. While most of these shrines are just what they seem — a decorative and impressive way to honour Sigmar — a select few hold incredible and extraordinary secrets.
Five Shrines of Sigmar includes:
Steinplatz Shrine: The Steinplatz shrine houses a reliquary containing the severed hand of Grand Theogonist Helmgart — so suffused with the spiritual faith of its owner that even now the fingernails continue to grow.
The Shrine of Uathach: A follower of Sigmar while both still lived, Uathach was raised above all others by Sigmar himself  after he gave his life in defence of the nascent Empire — or so the priests of the Lower Bӧgen Valley believe.
The Hammer's Stand: Deep in the forests of the Empire, a solitary devoted follower of Sigmar spends her days high atop a wooden pillar, her humble life of suffering devoted to the worship of Sigmar.
The Abandoned Shrine of Lowengen: Deep in the Westlaufholz woods are the ruins of Lowengen, a village long abandoned to the forest. Centuries ago the villagers took up arms and marched to join the Vampire Wars — none returned.
The Sumpftor Shrine: A fine, if somewhat uninspired Shrine to Sigmar favoured by those travelling north from Fielbach toward Altdorf, the true devotees of Sumpftor Shrine see in Sigmar a truth that few would dare even to speak aloud…
If you like this PDF, we recommend WFRP Monuments of the Reikland! WFRP Monuments of the Reikland offers five unique memorials, statues, and towers, perfect for dropping into an ongoing Warhammer Fantasy Roleplay campaign, or ideal  to kick start an exciting new adventure. Each one is packed with colour and detail, beautifully illustrated, and laced with intrigue.
Happy Adventuring!