D&D: WotC Reveals New Covers For Van Richten's Guide To Ravenloft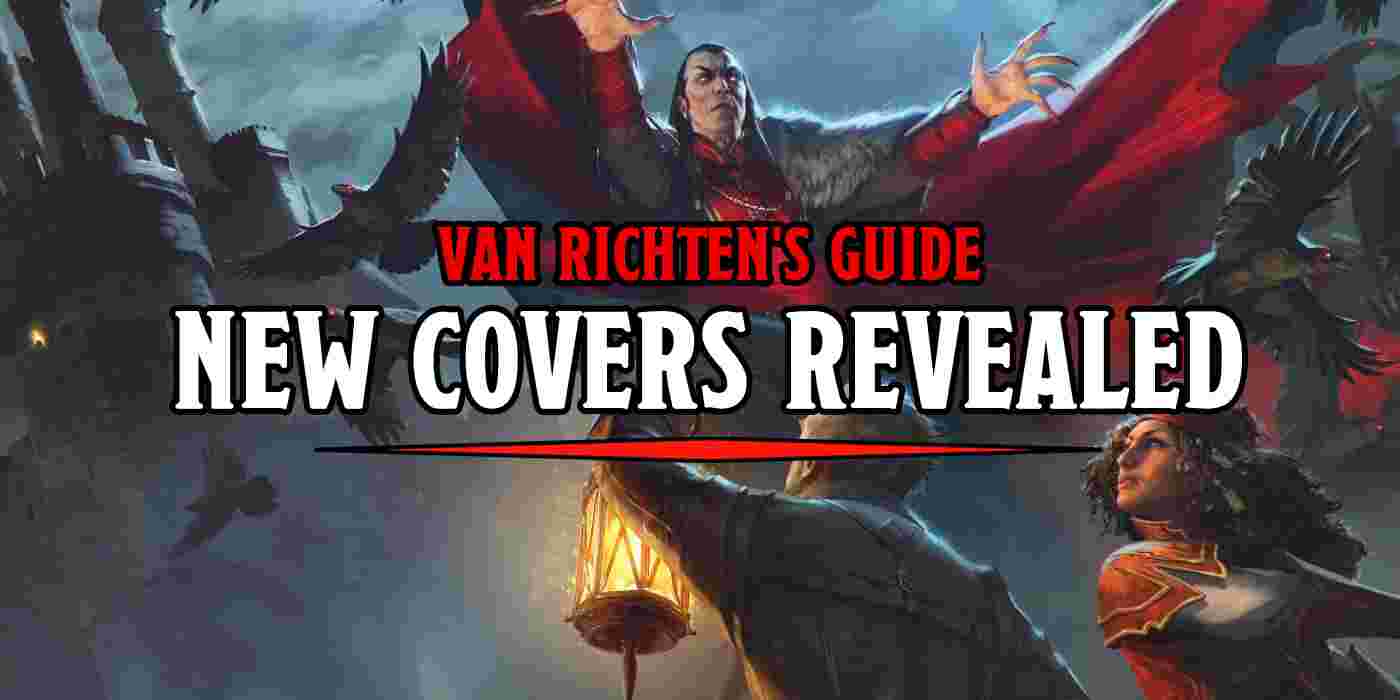 Now that the official WotC announcement has dropped–here's a look at the covers for Van Richten's Guide to Ravenloft alongside new details.
Wizards of the Coast have parted the mists of Ravenloft just long enough for us all to glimpse the foreboding new covers of the latest book announced, Van Richten's Guide to Ravenloft. Alongside that, they've revealed more about what's inside the book, including rules for making your own Ravenloft Dread Domains and accompanying Darklords. First things first though, let's look at that dark, brooding cover.
via Wizards of the Coast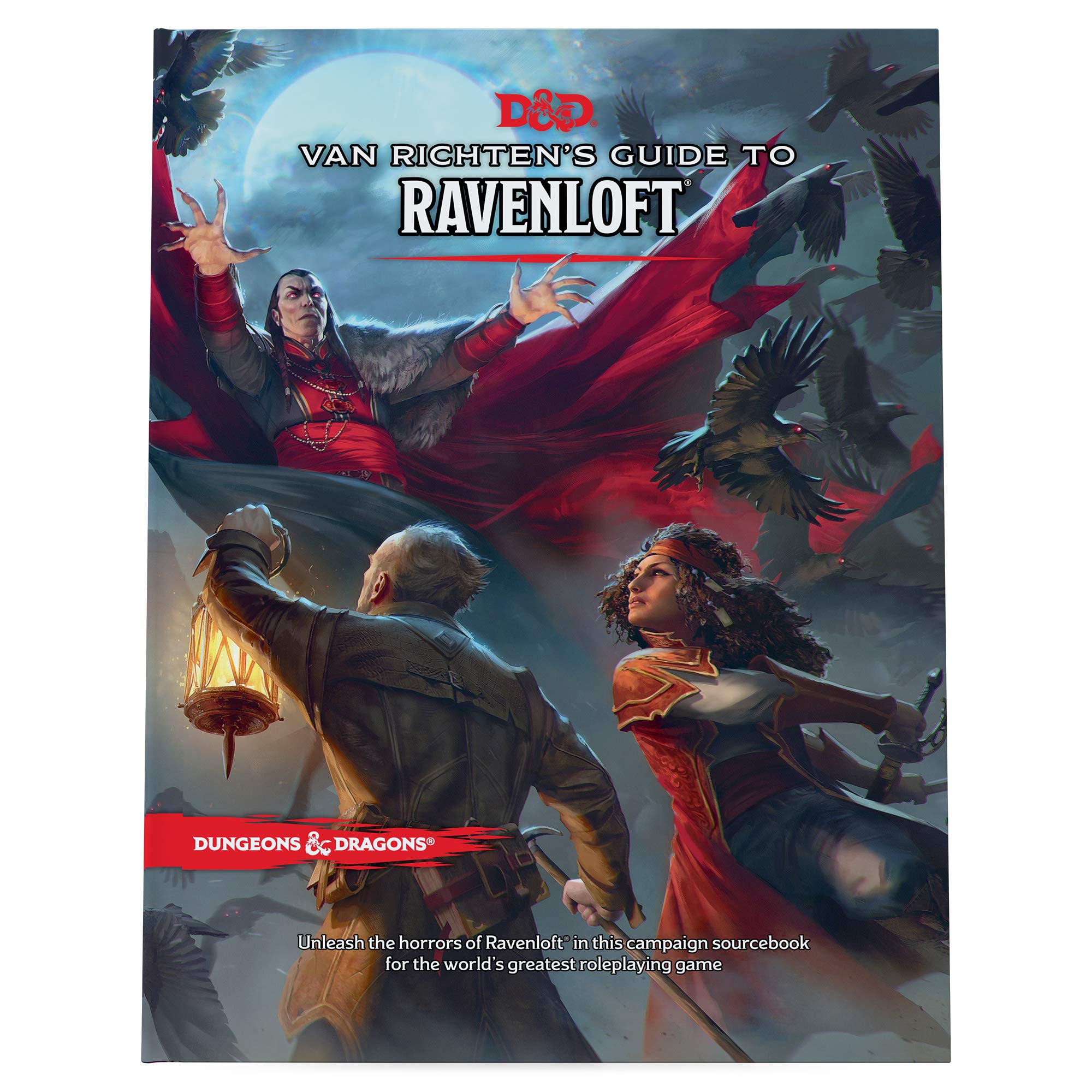 On the cover is, of course, everyone's favorite brooding bad boy, Strahd von Zarovich alongside the titular Van Richten, holding up a lantern, and monster slayer Tatyana wielding a deadly sword. Strahd takes the center stage because he is of course the iconic embodiment of Ravenloft.
However, as we've learned, that may soon be changing. Included in this book are 30 different Domains of Dread–these are pocket regions within Ravenloft, each is a sort of prison realm controlled by a central villainous figure called a Darklord.
Strahd is the Darklord of Barovia, for instance, and that whole Domain of Dread is a spin on Dracula. It focuses on forlorn love and gothic castles looming over laborious villages. Other Domains of Dread have been inspired by stories like Mary Shelley's Frankenstein, or Gothic Horror tropes–but some of the NEW domains of dread are inspired by modern horror like zombie apocalypse stories, even Battle Royale.
No word on whether or not they'll be dropping new Ravenloft seasonal content that includes cosmetic upgrades like new skins, dances, or emotes you can buy for a 3-10 dollars each. But, I wouldn't be surprised. Speaking of cosmetic upgrades, here's one you can buy Day One: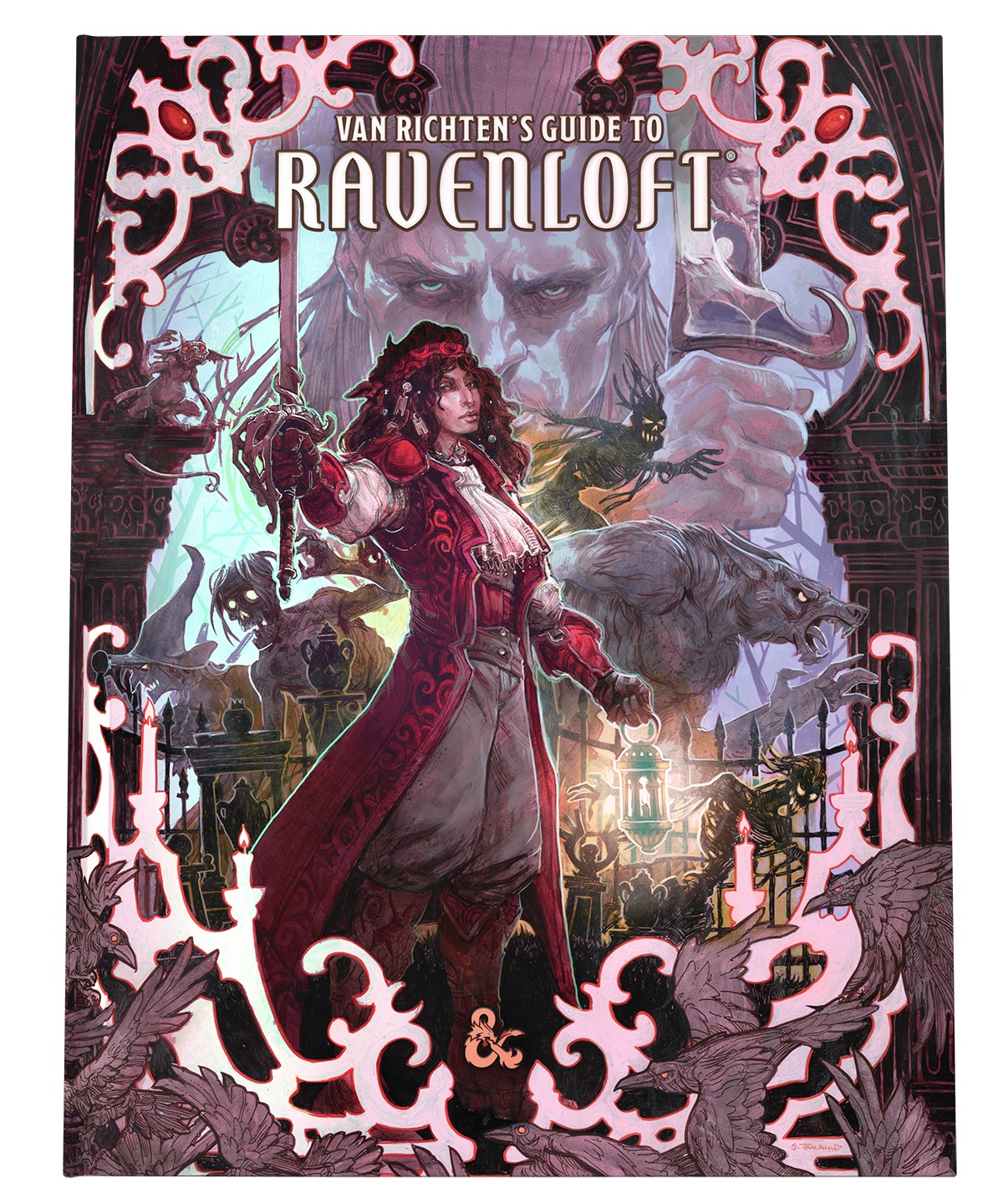 That new cover looks incredible. It's also got a metallic sheen to it that you can't really tell from the artwork, but it's gorgeous. WotC has released a few more details about what to expect, including the fact that they're adding rules for making your own Domain of Dread and Darklord, as well as new Dark Gifts that will show how the powers of Ravenloft can be eerily seductive when they need to be. Take a look:
Terror stalks the nightmare realms of Ravenloft. No one knows this better than monster scholar Rudolph Van Richten. To arm a new generation against the creatures of the night, Van Richten has compiled his correspondence and case files into this tome of eerie tales and chilling truths.

Discover the mysteries of Ravenloft, mist-shrouded lands where infamous Darklords lurk among ageless vampires, zombie hordes, cosmic terrors, and worse. Then make your choice. Will you create your own Domains of Dread, settings to host endless terrifying adventures? Or will you join the ranks of haunted heroes who embrace macabre lineages, dual-edged Dark Gifts, haunted subclasses, and other forbidden powers?

Subscribe to our newsletter!

Get Tabletop, RPG & Pop Culture news delivered directly to your inbox.

Van Richten's Guide to Ravenloft contains everything you need to craft a horror-themed campaign for Dungeons & Dragons. Unleash a treasure trove of new story hooks, character options, and campaign customization to bring one of the most exciting Dungeons & Dragons settings to life!
Travel (perhaps even by choice) to familiar domains and discover new ones—as Ravenloft's expanded Domains of Dread return for the first time in fifth edition! Includes rules and advice for building custom domains and Darklords using established horror tropes or your own special blend.
Discover a host of new backgrounds and trinkets themed specifically for a horror setting, as well as new character lineages, including the dhampir, hexblood, and reborn.
Find two new subclasses, the College of Spirits for bards and the Undead pact for warlocks.
Explore Dark Gifts for characters that flesh out your place in the Domains of Dread.
Encounter a horrific assortment of creatures from the monstrous bestiary.
And includes a brand-new adventure!
Van Richten's Guide to Ravenloft releases May 18th, happy adventuring!