Only three units? You'll understand when you read why we picked these Drukhari units specifically.
We could go entry-by-entry and talk about which units need help and which ones can still manage but we want to highlight some of the lesser used units specifically and see if we can't shine some light on them. These units aren't doing so great in the grand scheme of things and we're hoping GW has fixed that with their new Codex on the way. Let's dive in.
Note: These are the Datasheets from the current version of the Codex without any changes from the FAQ.
Wracks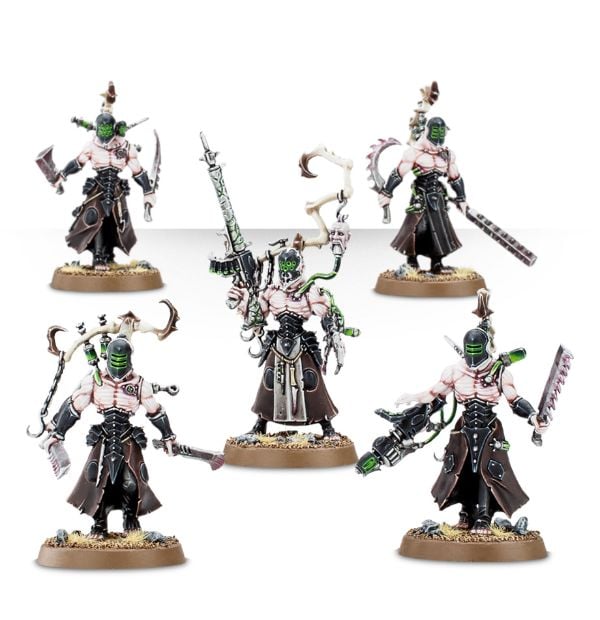 There was a time when this unit was actually pretty scary. Maybe one day they will get back to that point again. But let's take a look at their current datasheet and see if we can't see what the problem is.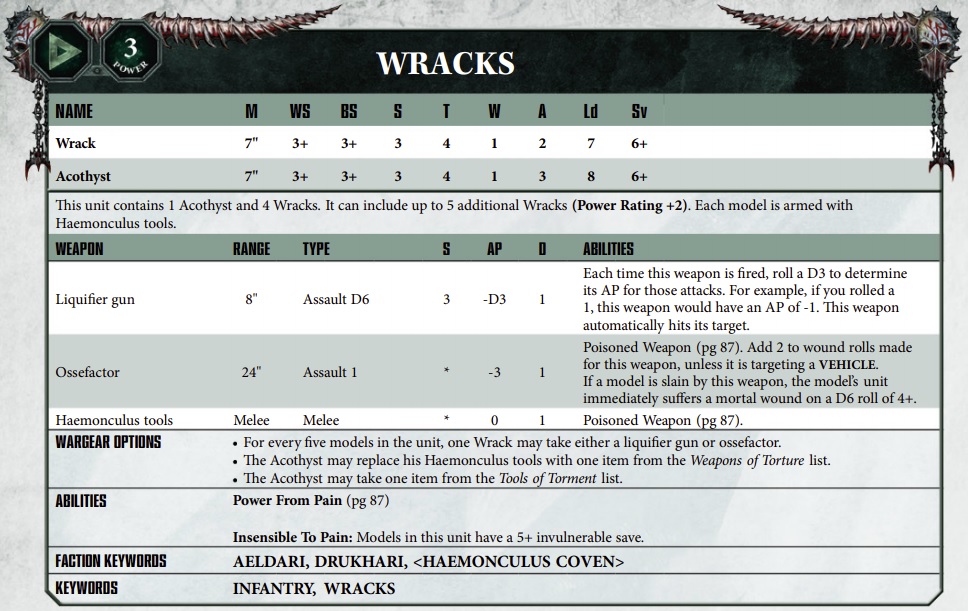 It's a small unit but right off the bat we have to point out the Liquifier gun. It's essentially a flamer with a random AP that still only has an 8″ range. Could it be better? Absolutely. Extend the range or up the damage…or do both. This unit is kind of squishy. Sure they have a 5+ Invulnerable save but each model has a single wound. At least they are T4 which is higher than the more common other infantry options. At least the Ossefactor isn't bad…but it also occupies the same space as the Liquifier gun so it's going to be one or the other. I'd like to see this unit get better because the models do look neat – in that "we're really into Hellraiser" kind of way.
Mandrakes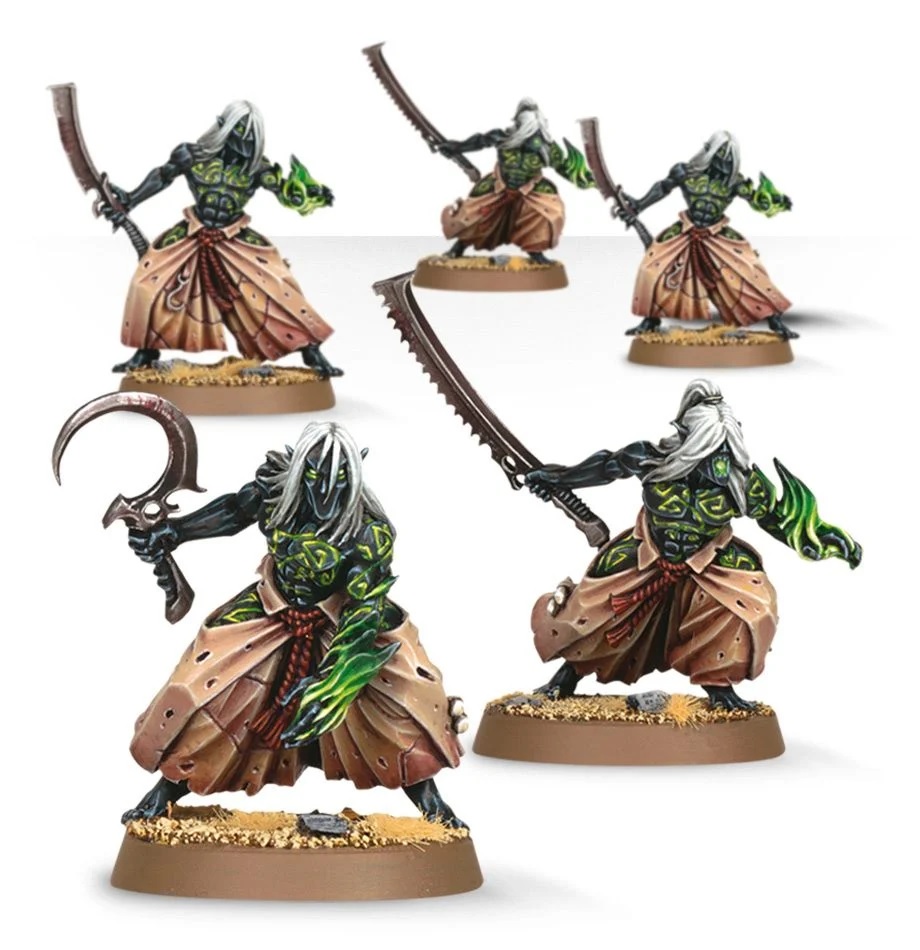 These models have always looked great but have never really taken off on the tabletop. It's a shame that they aren't considered worth taking for the majority of Drukhari lists out there. And if you have managed to make them work, more power to you. So what's up with this unit? Time to bust out the datasheet.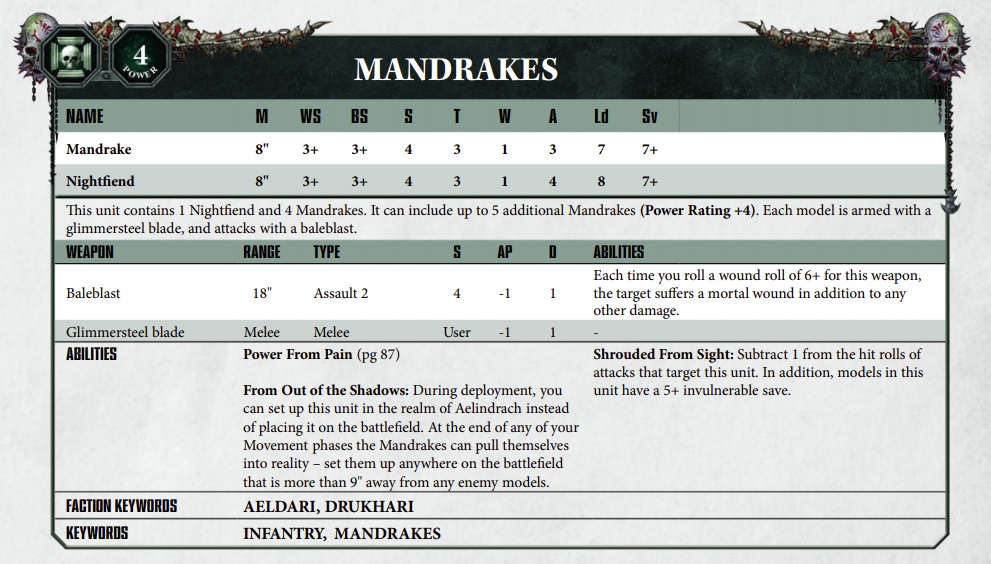 So basically we have a batch of T3 models with a -1 to hit and a 5+ invulnerable save popping around the board. They can "deepstrike" on to the board, but again, they end up at least 9″ away from an enemy model. Once they are on the board and in range of the enemy, what can do they? Well they have a decent Baleblast which can do a mortal wound on a 6+ to wound. And they have those Glimmersteel blades for the chopping because close combat is …where they want to be?
Honestly, this is a unit that just seems to get lost in the mix. "Meh" shooting with mediocre melee from last edition isn't going to hold up to the riggers of 9th at all. A volley of bolters that sneeze in their general direction could wipe a squad of 5 out without much trouble, even with the -1 to hit and the invulnerable save. They only have 1 wound each afterall.
If GW wanted to make this unit good where to start? Make them deadly at *something*. Move the mortal wounds from a 6+ to wound to a 6+ to hit for a start. Boost the damage or the AP or both. A Unit that drops in and can pelt out a minimum of 10 shots that can melt infantry seems like a good start. As for Melee…yeah, take your pick. More attacks, more damage, more AP, better strength, poisoned weapons…I dunno, take your pick. Whatever GW does, I hope they just make Mandrakes good.
The Beastmaster (and Their Beast Packs)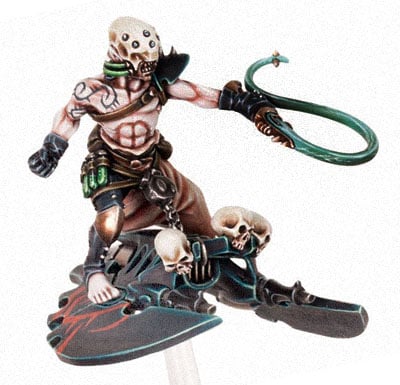 The Beastmaster was only good when Razorwing flocks were busted. We're not asking to go backwards, here. But man, oh man, the Beastmaster could be soooo cool. Taking one should open up a menagerie of crazy options with the beast units.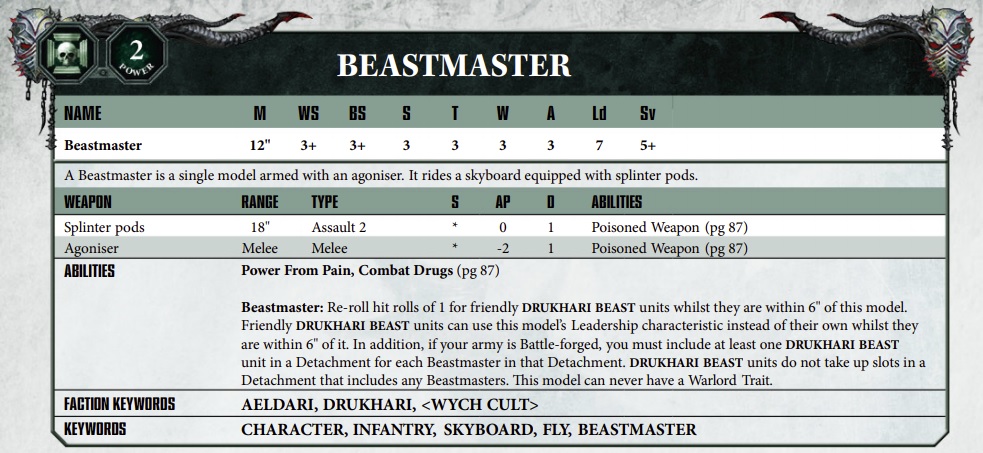 Stat-wise, he's whatever. The ability he grants to beasts is a generic re-roll hit rolls of 1 for Drukhari Beasts units. So let's take a look at those beast units: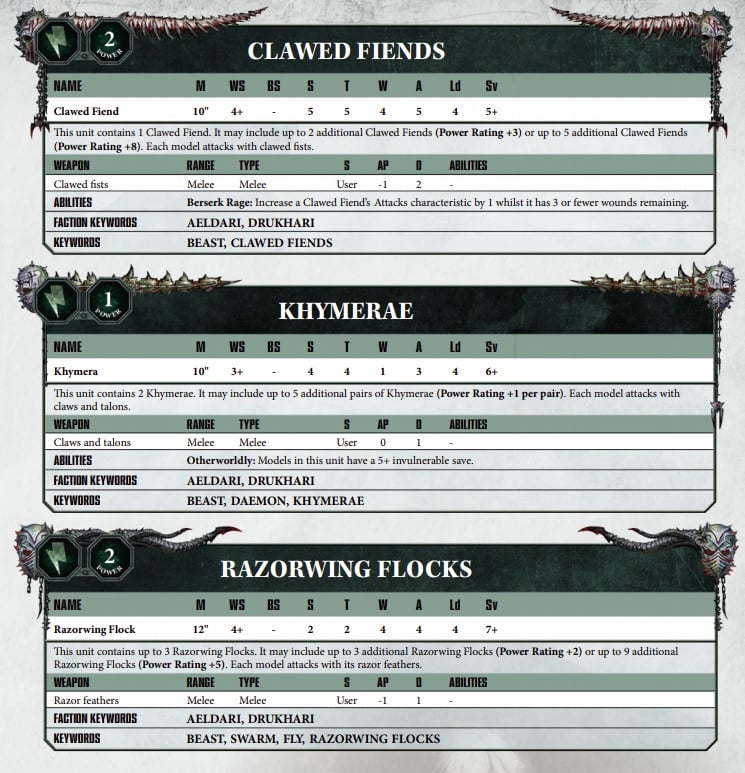 It seems like there was potential here and somewhere along the line GW just kinda stopped. Again, busted Razorwing Flocks was a thing and maybe that stalled out the progress on making the Beastmaster and these associated units actually good. Hopefully GW can and has taken the time to re-evaluate these units and found a middle ground between completely busted and completely unused. We are all for adding in some weird and diverse units back on the tabletop.

It would be neat if there was a bonus for taking all three of these units or maybe even have Beastmasters go the opposite direction and get a bonus for a specific beast-type if they take 2 or more units of them. Maybe it's just a flat re-roll to hit instead of only 1s. Maybe it's a 1+ to wound? Perhaps it's a speed boost? Something or really ANYTHING to make these units interesting and worth taking again.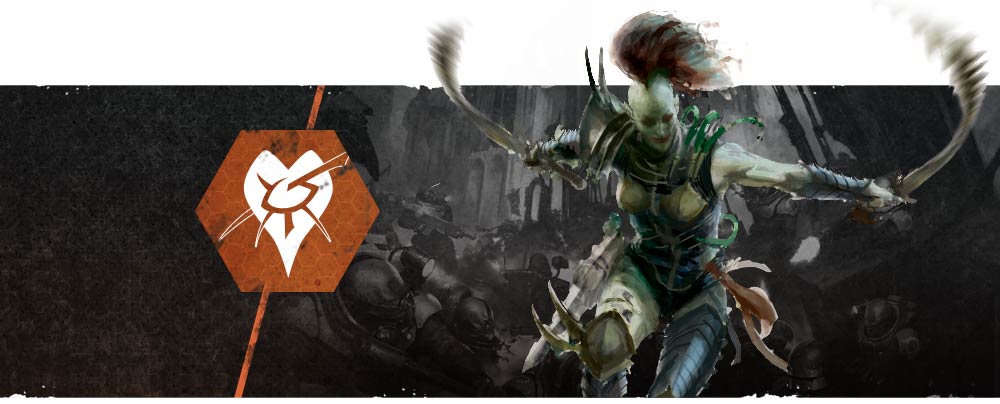 How would you tweak these units to make them good? What other Drukhari units would you like to see get some love in the new Codex?