Darth Vader Actor David Prowse's Star Wars Memorabilia Up For Auction
Star Wars history – posters, signed photos, toys, comics, and more – is up for auction early next month.
David Prowse was given a choice to play Chewie or Vader by George Lucas – ultimately choosing Vader because he wasn't a fan of the furry costume and because bad guys are more memorable. History was made in that moment. On May 4th you have a chance to own his copy of The Empire Strikes Back script and a bunch of other pieces of Star Wars history.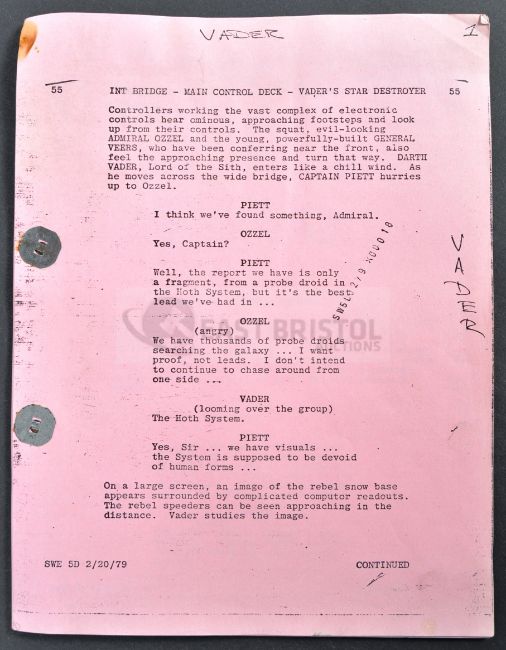 Auctioneer Andrew Stowe helped organize the collection – he spoke to The Guardian about the experience.
''When I was rummaging through the boxes from his house, every now and then I'd come across something special and it would send my brain racing. In one box I'd find his Empire Strikes Back script, in another I found an actual piece of the Millennium Falcon, then a little deeper down I'd find a letter from Peter Cushing."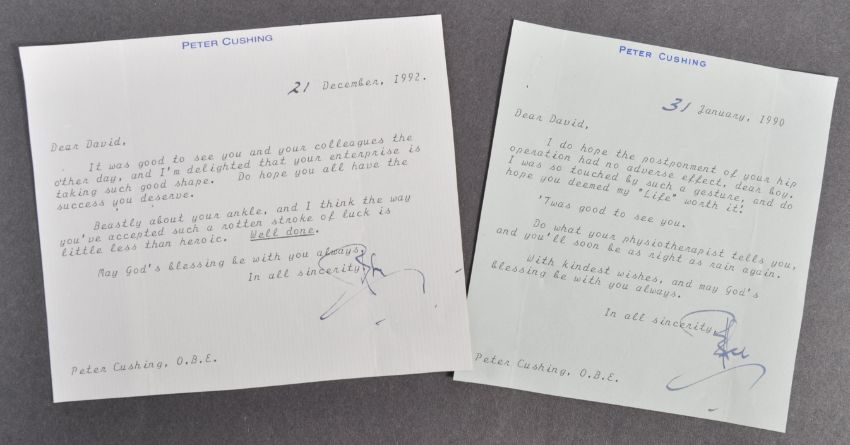 More than 500 items are on the block, and the collection goes beyond Star Wars. Prowse kept scripts and posters from other projects and his body-building career. You can check out the full catalog here. The auction is being run by East Bristol Auctions and starts on May 04, 2021 at 9:55 AM BST. All proceeds benefit Alzheimer's Research UK.
A few of the available items…
Photo Signed by Prowse and Jeremy Bulloch
The bulk of the collection is made up of signed photos from across the galaxy of Star Wars – from the OT to Force Awakens.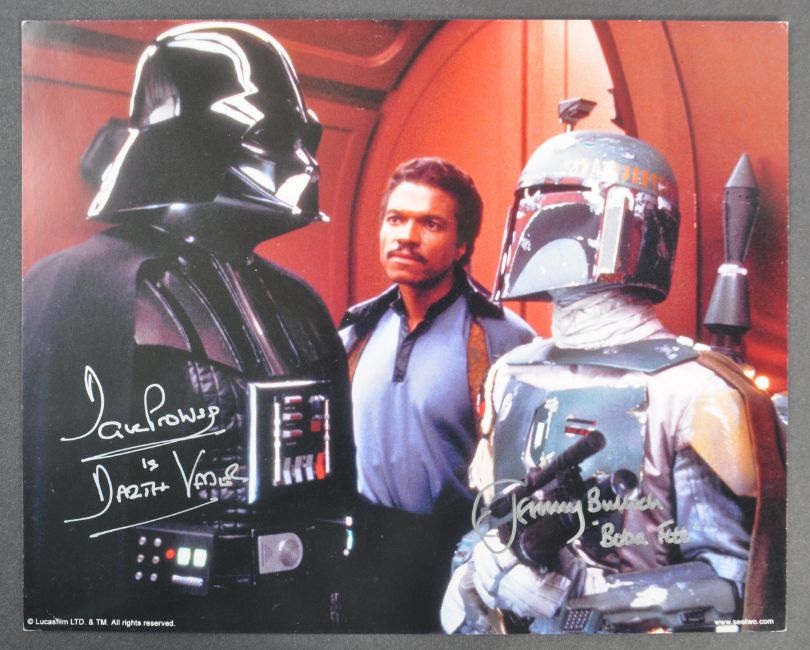 Custom Kenner Star Wars Vader Carded Action Figure
Standard figure, but on a custom cardback showing Dave Prowse in costume. Made for Mr. Prowse's website, for a very limited time. Mint and unopened.
Subscribe to our newsletter!
Get Tabletop, RPG & Pop Culture news delivered directly to your inbox.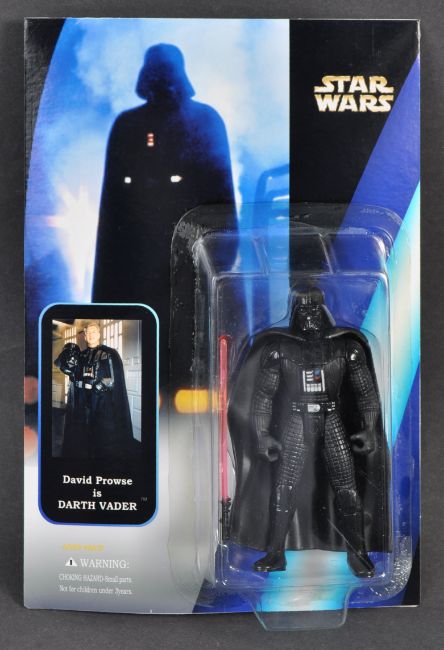 Vintage Prototype 1/1 Scale Replica Darth Vader Lightsaber
Metal construction, originally from a kit which got discontinued as a Lucasfilm Ltd license could not be obtained for mass production. Unfinished prototype. Measures approx; 28cm long. Unknown origin, gifted to Mr Prowse when production ceased.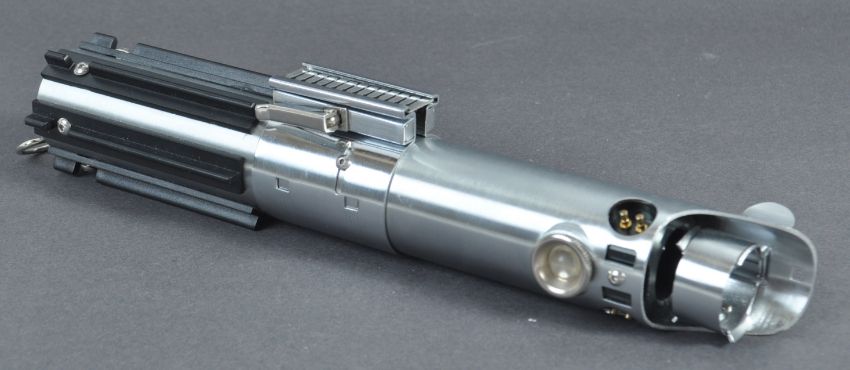 Star Wars (1977) – Mr. Prowse's original production used Cast List and Unit List from the movie. The Cast List being No.3 and features cast details, names, and addresses for those concerned. 4pp on yellow paper. Noted is the original title for Mark Hamill's character ' Luke Starkiller '. Dated 7.4.1976. The Unit List No.6 being similar but for Crew members and runs to 11pp on white paper. Both stapled to the corner. These documents were used by Cast / Crew as a quick reference for contacting each other during production. Scarce documents, with a unique history, that they were owned by a key cast member – Mr. Prowse.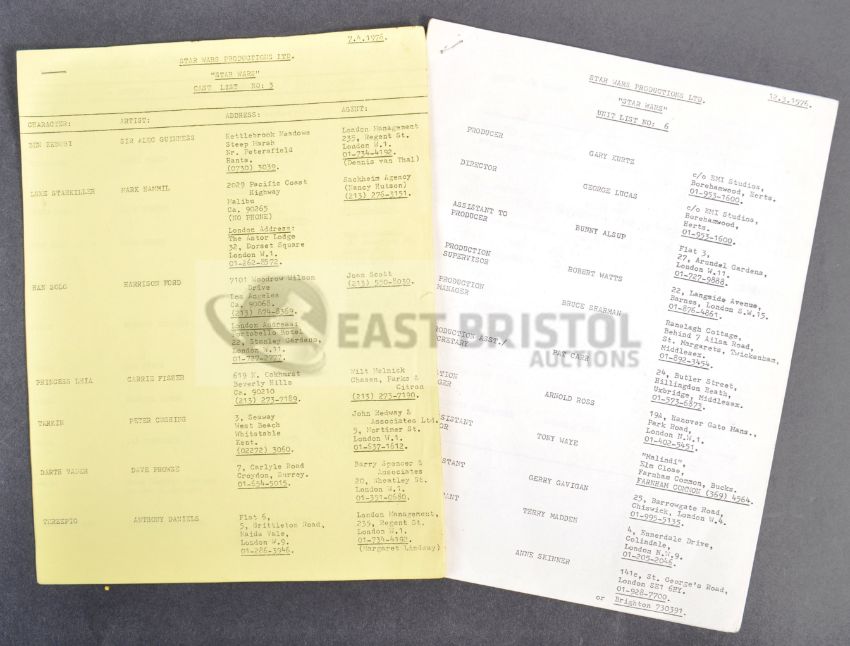 Original Green Cross Code Droid
The Green Cross Code Man – an icon of 1970s television – the original production used ' Droid ' robot from the famous Green Cross Code adverts which featured Mr Prowse as The Green Cross Man. Droid comes in full working order, benefitting from recent servicing and maintenance. Moving head, and light-up chest section, and fitted with a Bluetooth speaker to front. White fibreglass body, with green ancillaries with a motorised wheeled base. Radio controlled, with largely new electrics. Full working order, supplied with a battery charger. Measures approx; 130cm tall. A unique piece of British television history, with several key links to Star Wars.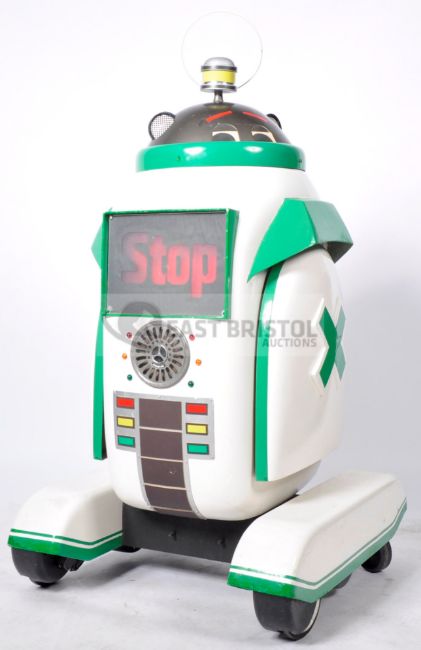 Latest News From BoLS: