D&D: Explore The Wealth Of D&D Comics With An Adventurous Humble Bundle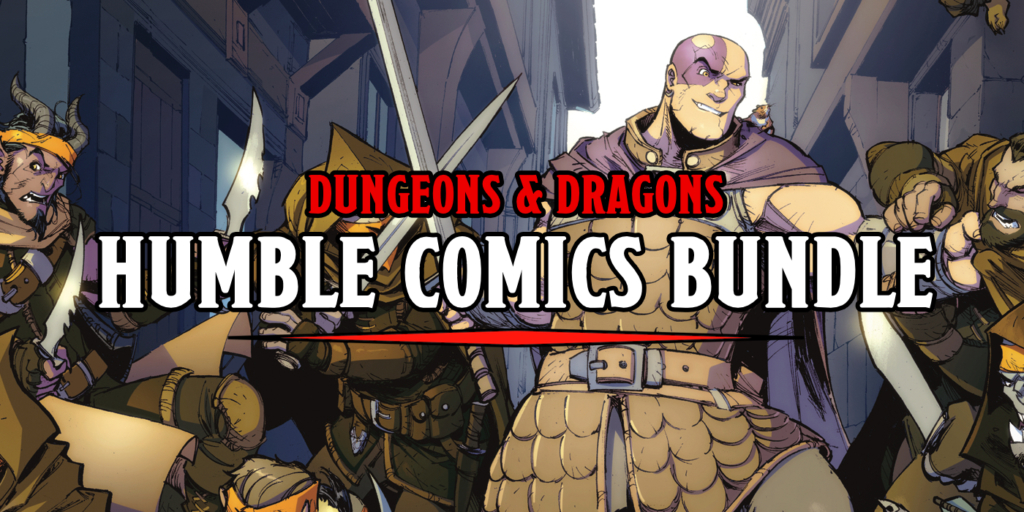 Humble Bundle and IDW Publishing have teamed up to bring you a dragon's hoard's worth of D&D comics–more than $332–for one humble price.
If you're a D&D player and you haven't been reading the excellent Dungeons & Dragons comics series, you're missing out on some of the best storytelling in the world of the Forgotten Realms. Under IDW Publishing's guiding hand, they've told stories of new heroes, familiar faces–and a magically reactivated Minsc and his companion Boo.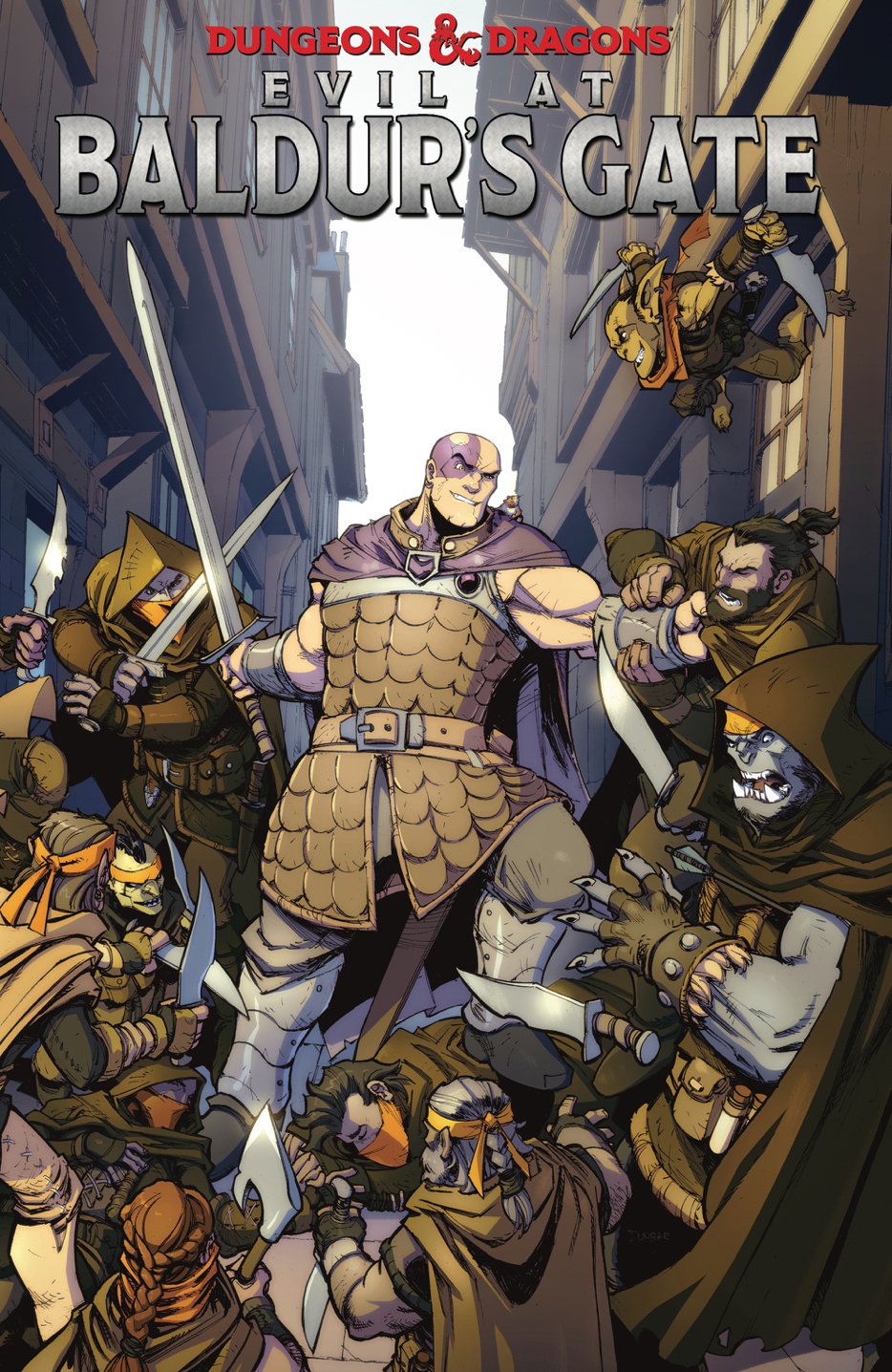 With stories by folks like Jim Zub and Aimee Garcia, there's a lot to love in these comics, and now is an amazing time to jump right into the world of D&D comics because you can get more than thirty new comics for an astoundingly good price: $1 to unlock the first five, and up to $25 for the entire set f thirty-two comics.
You'll find everything from stories like The Legend of Drizzt, which chronicles the tale of everyone's favorite drow ranger with two scimitars and his magical panther friend, or Evil at Baldur's Gate which is my personal favorite story of the lot. I don't want to spoil too much, but if you like shouting "go for the eyes, Boo!" this is the story for you.
And all of it benefits some fantastic folks, because as with every Humble Bundle, the money goes towards charity–in this case it's Hasbro's Children Fund. Check out more info on the Humble Bundle below.
via Humble Bundle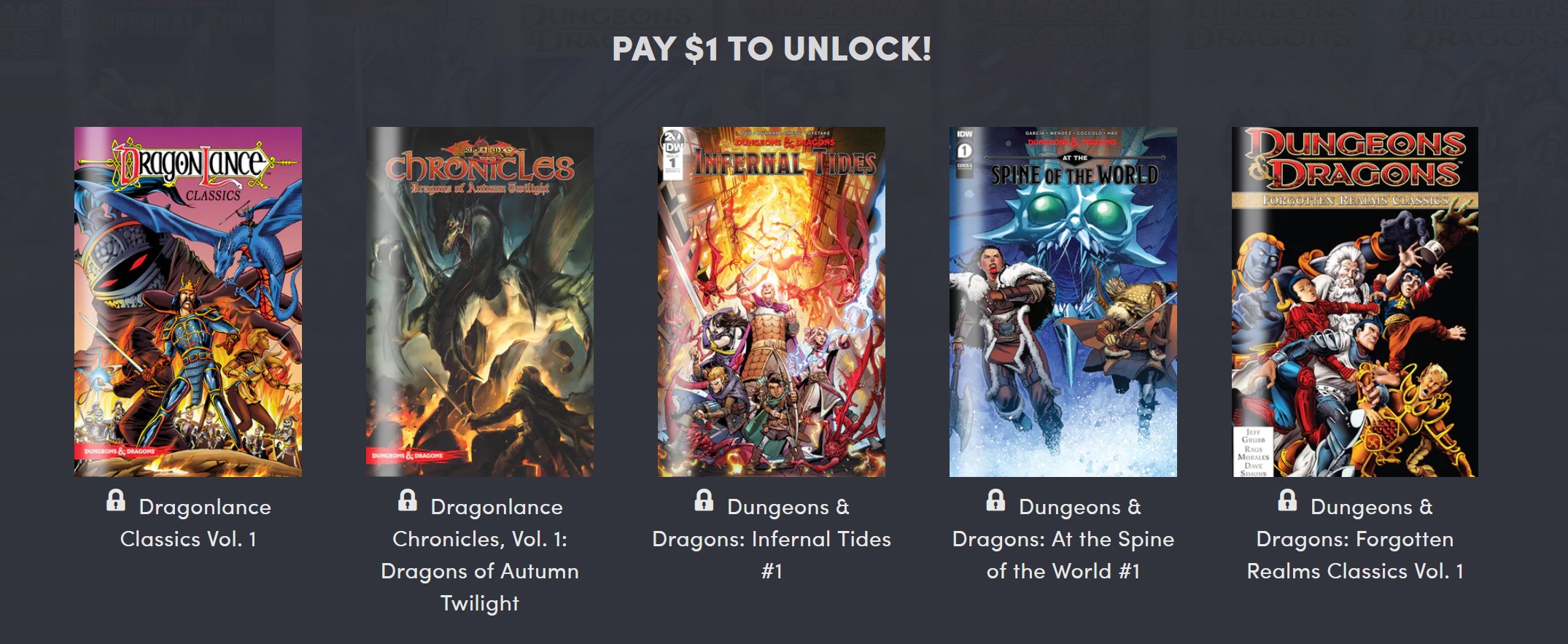 Waiting for your next session? Dive into some epic Dungeons & Dragons stories. We've teamed up with IDW Publishing for our newest bundle, delivering epic D&D adventures in comic form including Dungeons & Dragons: The Legend of Drizzt, Vol. 1: Homeland, Dungeons & Dragons: Evil at Baldur's Gate, and Dragonlance: The Legend of Huma. Plus, your purchase will support Hasbro Children's Fund!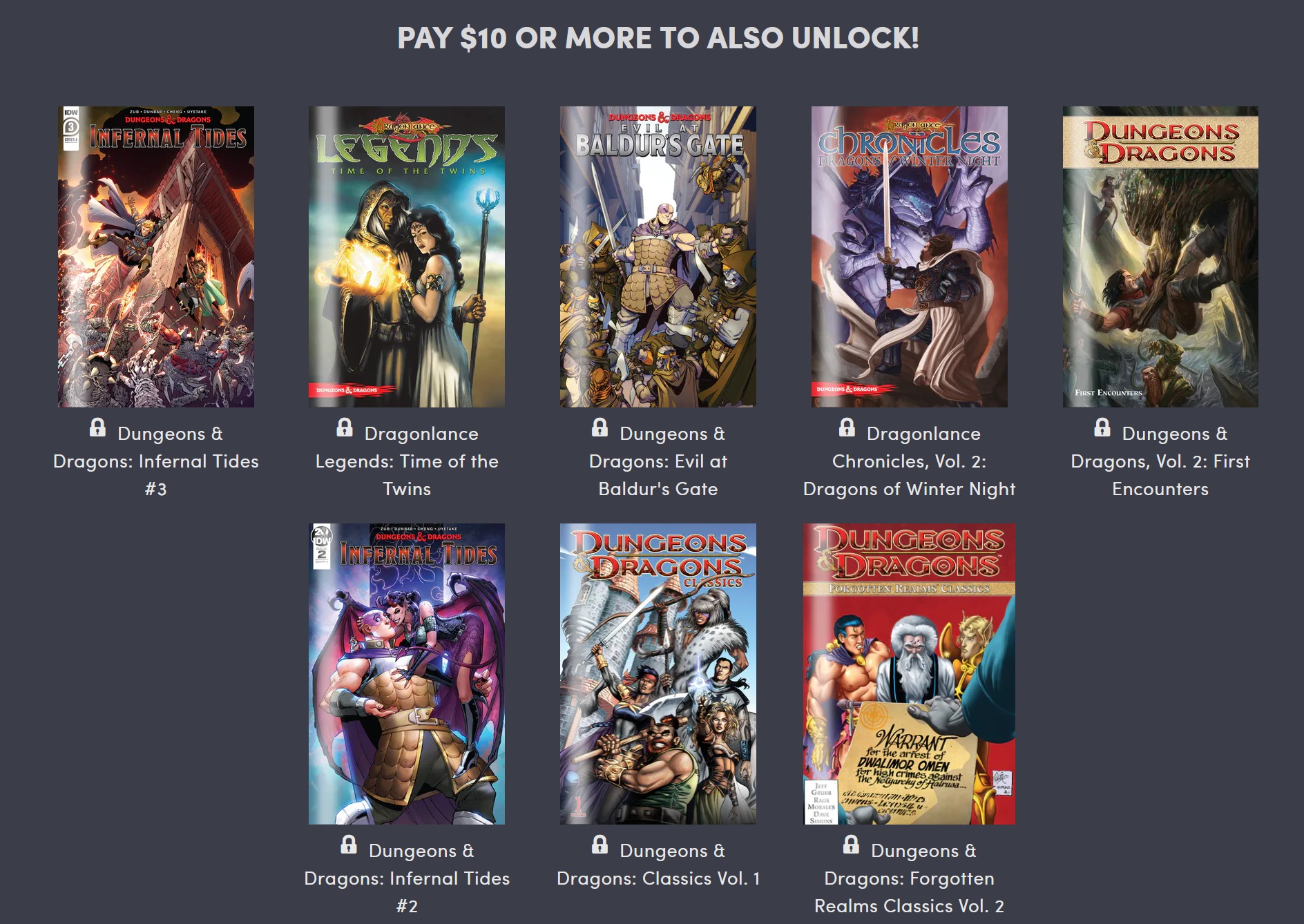 Pay $1 or more. Normally, the total cost for the comics and ebooks in this bundle is as much as $332. Here at Humble Bundle, you choose the price and increase your contribution to upgrade your bundle! This bundle has a minimum $1 purchase.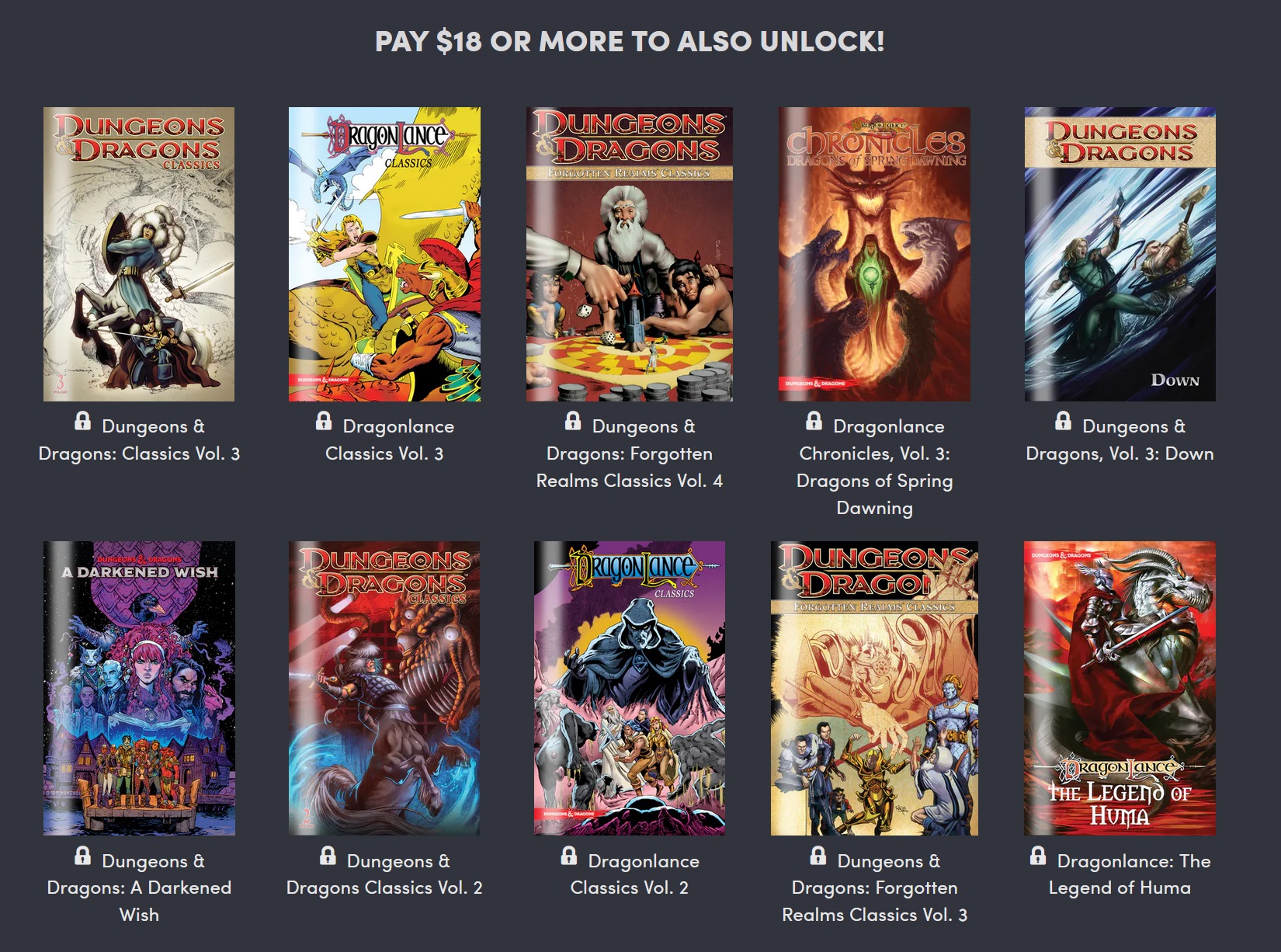 Subscribe to our newsletter!
Get Tabletop, RPG & Pop Culture news delivered directly to your inbox.
Read them anywhere. The comics in this bundle are available in CBZ, PDF, and ePub formats, so they work on your computer, e-readers, iPads, cell phones, and a wide array of mobile devices! The ebooks in this bundle are available in PDF and ePub formats, so they work on your computer, e-readers, iPads, cell phones, and a wide array of mobile devices! Instructions and a list of recommended reading programs can be found here for comic and here for ebook.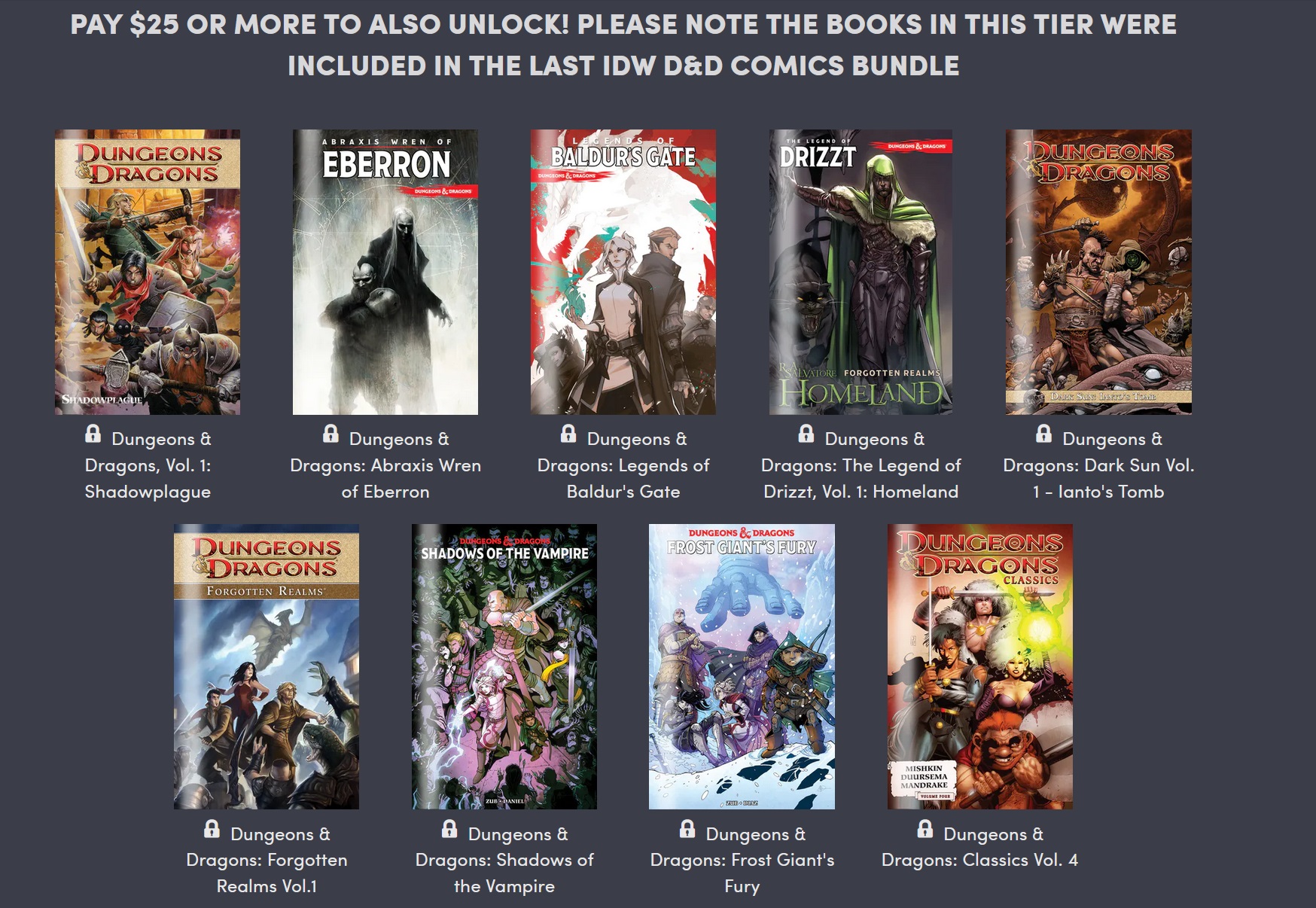 Support charity. Choose where the money goes – between the publisher and Hasbro's Children Fund via Tides Foundation. If you like what we do, you can leave us a Humble Tip too!
Happy Adventuring!
Latest News From BoLS: