Kickstarter Round-Up: Monster Hunter World Board Game, Rock & Roll 5e Adventures, and Bunnies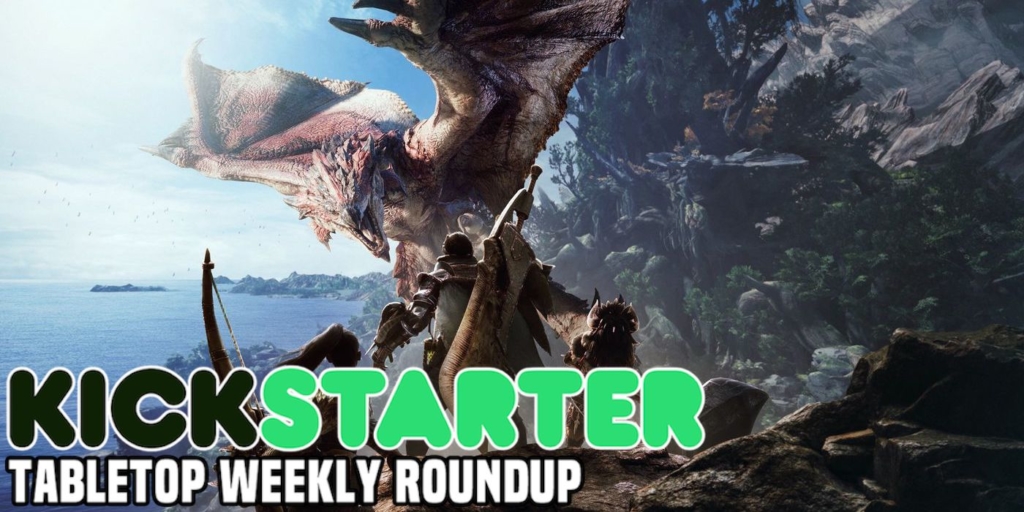 Come check out this week's batch of Kickstarter and crowdfunding highlights!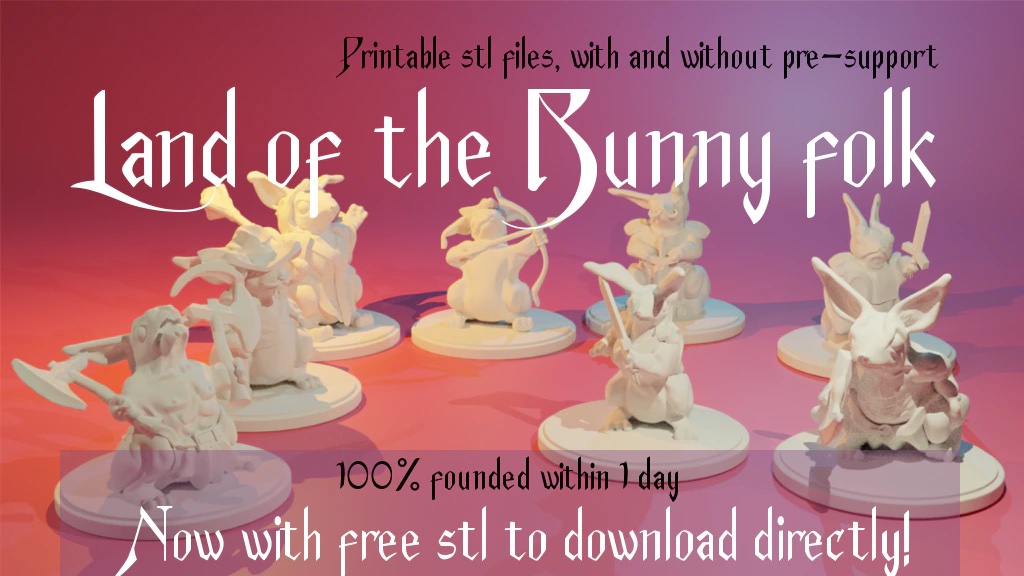 In a land long forgotten, a small but civilized group of rabbits has built up a society. The land has long been in peace with the outside world and the rabbits have been able to live a life alone without disturbance from the predators. But something is not feeling right.. an ember of darkness is lurking outside the town waiting to ignite and destroy what once was a peaceful city. Our brave heroes from the town are gathering the last stand and travel out the world to protect their families and friends in the hope to restore peace in the kingdom. 
This campaign only includes the STL files for printing at your own 3d printer. There are no physical objects. All characters come both pre-supported and without support. The support is made for resin printers and is tested with a Creality LD-002R printer. The files will be hosted on MyMiniFactory.com for simple and safe downloadability. A free account can easily be created with Facebook, Google, or standard mail and password. But all of that will be properly instructed after the campaign if we reach the goal.
Pledges start at $15 for the base set STLs.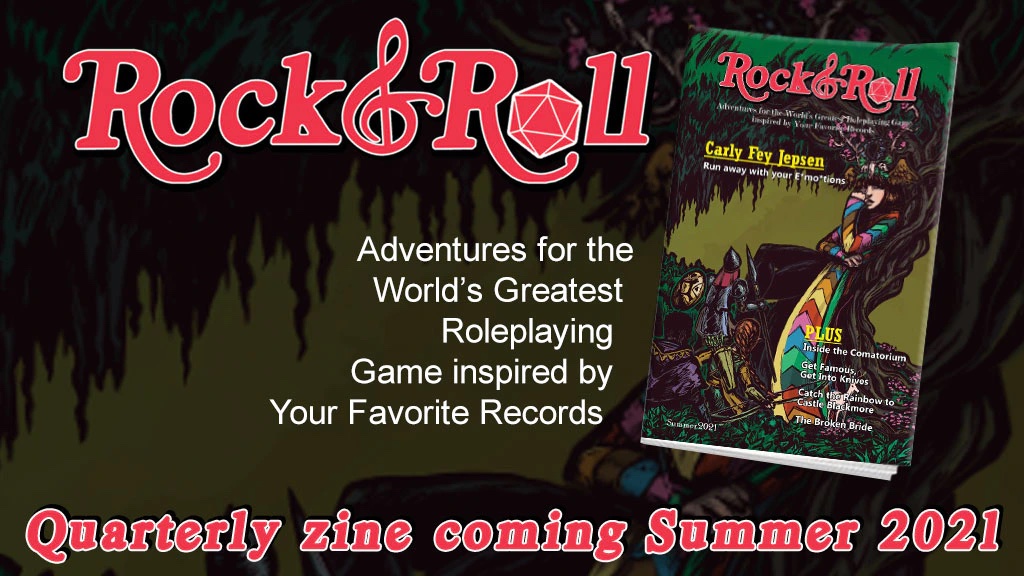 Each issue — we're committing to four, with one released roughly every three months (ideally June/September/December/March) — will contain 4-5 one-shot adventures for the 5e game system inspired by classic albums that our contributors love, published under the Open Gaming License. We've worked hard to curate each issue for a variety of both musical and adventure genres; there's a ton of variety in each one of these bad boys!
Each issue comes with a killer full-color cover. Interiors are currently slated to be black & white and primarily text, though a highly successful campaign could change that. These will be sized like a typical zine, so 8.5" x 5.5", and each issue holds around 60 pages, give or take.
Pledges start at $10 for a PDF.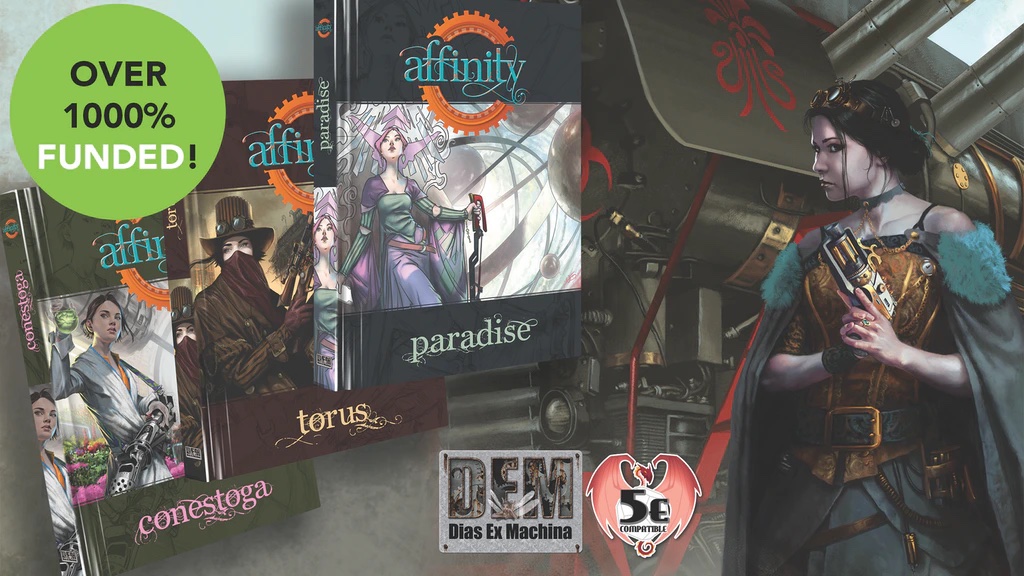 Subscribe to our newsletter!
Get Tabletop, RPG & Pop Culture news delivered directly to your inbox.
From CHRIS DIAS, creator of ULTRAMODERNS, AME THYST, NEUROSPASTA, and APEX. AFFINITY represents a bold new approach to tabletop role-playing. The three settings presented in these books involve different realities sharing similar themes, names, and even a common menace. Players can select one world or regularly shift between all three. Each book contains unique and exciting mechanics compatible with 5th Edition rules. These emerge in the form of new races, backgrounds, weapons, armor, vehicles, spells, magic items, and monsters.
Pledges start at $13 for a PDF.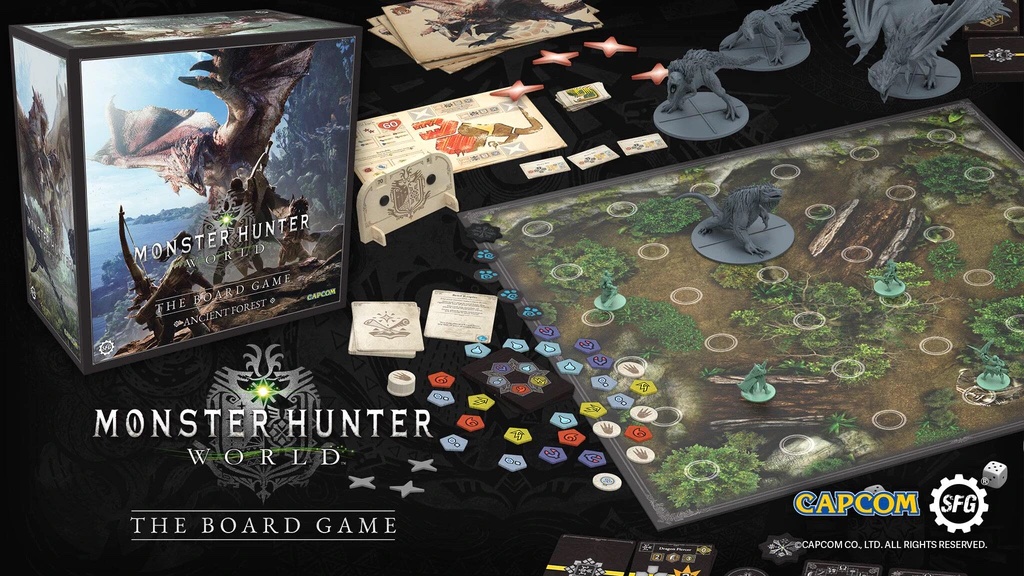 Members of the Fifth Fleet, get ready for the ultimate monster hunting experience — on your tabletop! Gather your party, grab your massive weapon, and embark on cooperative quests in an open world where your choices matter. Armed with your attack cards and your wits, dive into battle with massive monsters, making quick strategic decisions and honing your hunting skills with every hard-won piece of monster loot!
In this cooperative arena combat board game for 1-4 players set in an open world, it's not you who dictates the flow of battle, but the monster you hunt — and every monster is wildly different. Pick your hunter based on their unique weapon and playstyle. Select which iconic monster you'll be hunting across the wilds. Track the beast in a choose-your-own-adventure quest, avoiding pitfalls and gathering bonus resources. Then plunge into adrenaline-fuelled combat where teamwork, positioning, and stamina are key, targeting the loot you need for the weapons you want — without getting crushed!
(This week's header image is from this game.)
Pledges start at $143 for the core pledge.

Board Royale has been a super cutthroat survival card game where you fight against your friends until there is one survivor remains. Not anymore! We are presenting new collaborative and peaceful competitive expansions that will add a new meaning to survival. Board Royale is about to become a truly sandbox game that can be played by all types of players and play styles! YES, we are talking about wild beasts, the army of the dead, and secret agendas.
We're excited to announce that we have updated our base game with several changes. Thanks to our previous backers and all players around the world for their amazing feedback. With their guidance, we've added new items to increase our base game item count from 80 to 100. New weapons, fun disguise items, and a more balanced Board Royale Experience for all. If you already have a base game please check out the returning backer section for the included base game update package.
Pledges start at $60 for the core game and expansions.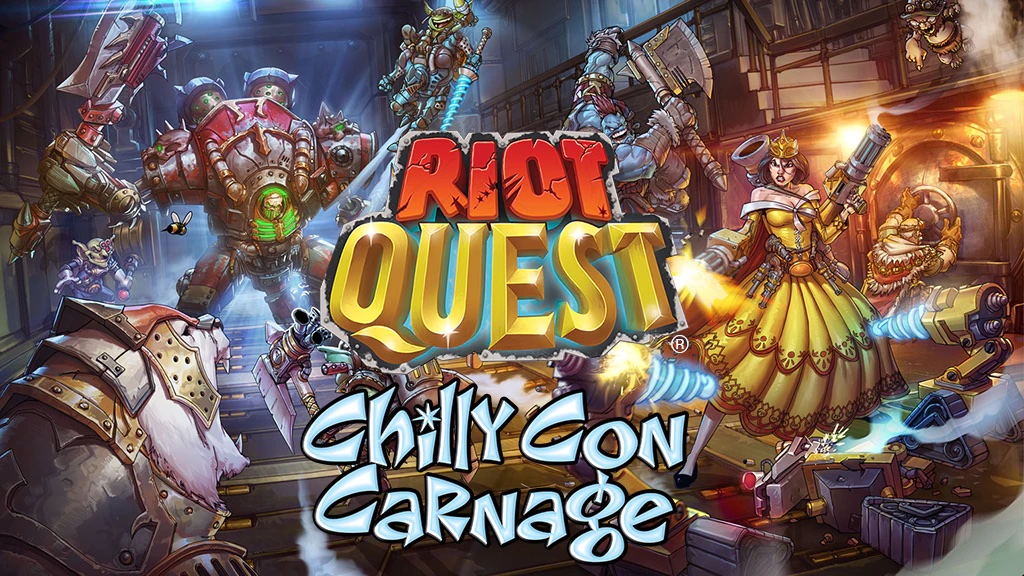 Riot Quest is a fast-moving, highly unpredictable skirmish board game for 2–4 players using hobby miniatures. Players assemble a crew of 5–10 Heroes and an equal number of Riot Gear cards to compete in a chaotic battle to loot a dungeon's treasures and rack up victory points for the win.
What is Chilly Con Carnage? That's just our awesome name for this Kickstarter project that includes these super-fun new expansions and heroes for Riot Quest: You're in trouble now! When Karchev the Terrible made the mistake of clamping the Skulls of Hate onto his own warjack body, he became one of the most malicious monstrosities the wintertime wasteland has ever seen! Woe unto any who find themselves in the path of this unholy terror, for Karchev & Deathjack care not for loot or gear, fortune or glory . . . they exist only to destroy. This expansion introduces a new co-op Boss Fight experience for 1–4 players that can use the special rules insert and 12 Boss cards found in this expansion to battle their Crews against a super-powered Karchev & Deathjack. 
Pledges start at $50 for a starter set.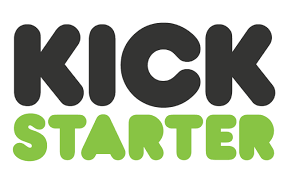 ~Which Of These Campaigns Caught Your Attention?
Latest News From BoLS: