Games Workshop Pre-Orders: 'Pricing & Links' – Kragnos Weekend

The End of Empires has arrived. Check out the new releases for Kragnos this pre-order weekend!
via Games Workshop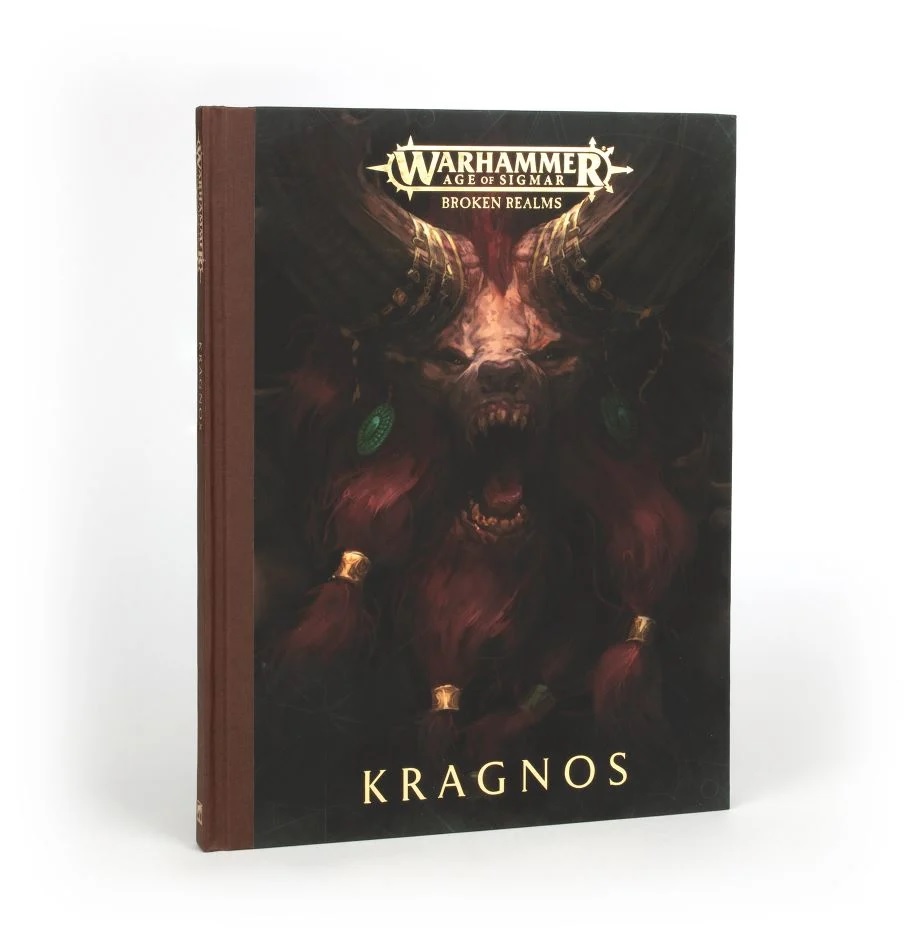 Strictly limited to 700 copies, this individually numbered special edition features a soft touch cover with a cloth spine, ribbon marker, and gilt-edged pages – a perfect complement to the rest of the Broken Realms saga books on your shelf.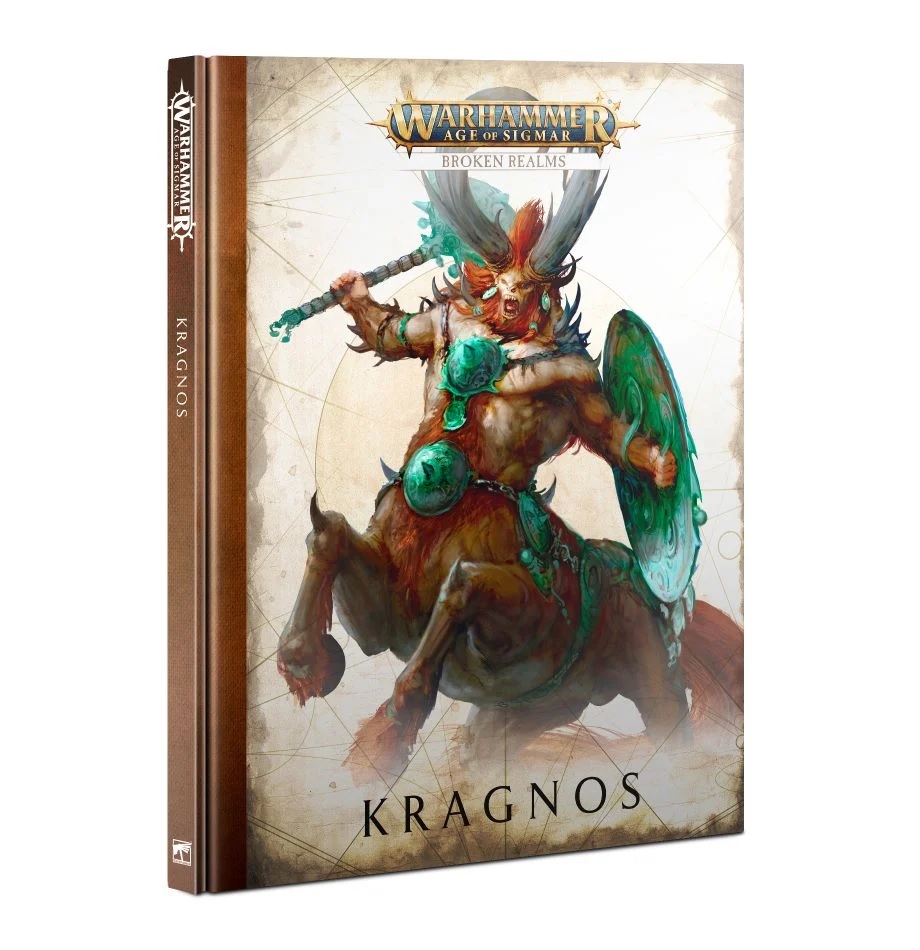 As the tide of Death magic suffusing the realms recedes in the wake of Teclis' retribution, Alarielle undertakes a grand ritual to seed the Mortal Realms with resurgent life energy. But with new growth comes the sundering of an ancient prison and the release of a forgotten deity – Kragnos, the End of Empires. Enraged by aeons of captivity, Kragnos' rampage across Ghur leads to the metropolis of Excelsis. Already tainted by the attentions of Slaanesh's servants, only unlikely alliances will save the city from its doom.
The Broken Realms saga concludes in the fourth and final chapter. As the city of Excelsis comes under attack from Gordrakk's Waaagh! and Kragnos himself, it will take more than the return of a legendary Seraphon hero to turn the tide.
Inside this 136-page hardback book, you'll find:
– The story of Alarielle's Rite of Life, how it awoke a forgotten god, and the epic siege of Excelsis
– Warscrolls for a host of new gods and champions – including Kragnos, the twin aspects of Slaanesh's Newborn, Warsong Revenants, and witch hunters Galen and Doralia ven Denst
– New rules for Gloomspite Gitz, including three suites of allegiance abilities, updated warscrolls, and more
– Even more rules content for Cities of Sigmar, Skaven, Beasts of Chaos, and Sylvaneth, designed to represent these forces in the story
Subscribe to our newsletter!
Get Tabletop, RPG & Pop Culture news delivered directly to your inbox.
– Updated warscrolls for Alarielle the Everqueen and the venerable Lord Kroak
– Six exciting battleplans that chronicle the rise of Kragnos, and rules to play them as a narrative campaign
– Realms of Battle and Streets of Death rules depicting the locations from the story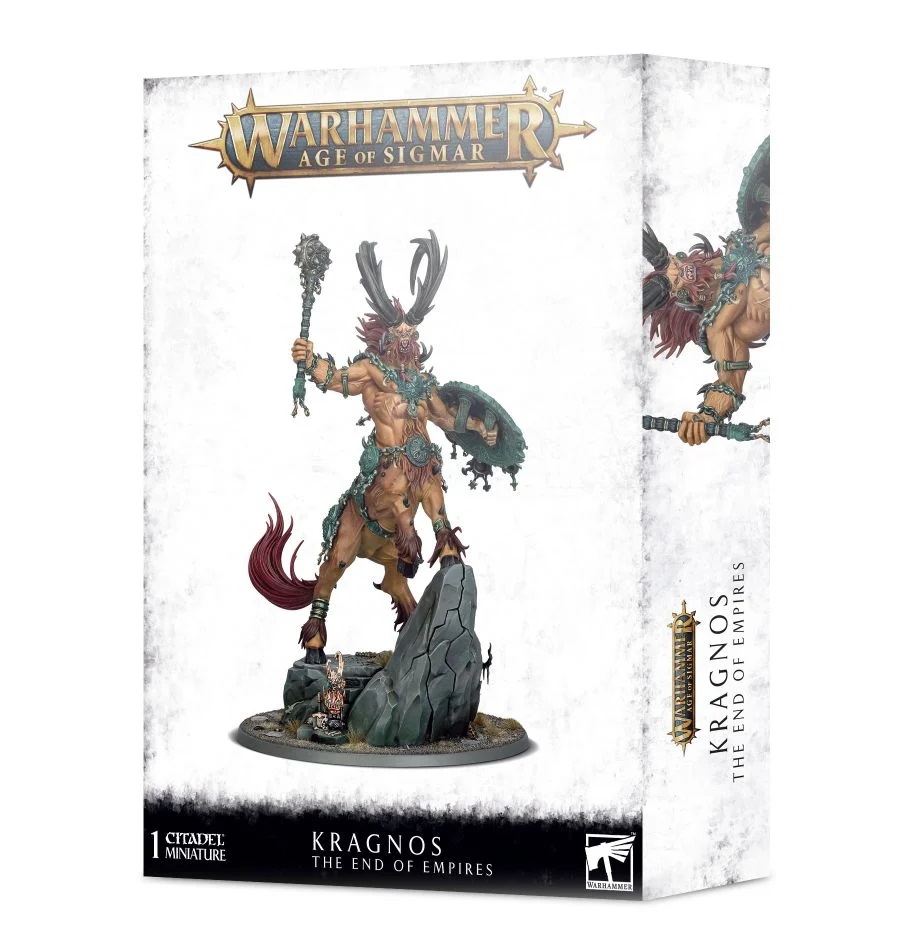 In the Age of Myth, long before the reign of Sigmar Heldenhammer, gods walked among mortals across the nine realms. One such deity was Kragnos, the Living Earthquake, greatest of the centauroid Drogrukh, who glutted upon offerings of monster marrow and amberbone until truly divine power coursed through his veins. Brought low and imprisoned by the last Draconith princes and the slann Lord Kroak, Kragnos spent uncounted years beneath a mountain until Alarielle's Rite of Life sundered his prison and set the god loose. Now free to continue his rampage, the End of Empires strikes out across the realms in a storm of earth-shaking violence.
Kragnos, the End of Empires, arrives in Warhammer Age of Sigmar with a thunderous crash, ready to lead any army of Destruction. As the embodiment of Ghur's savagery and a totemic figure of awe among the Destruction Grand Alliance, his overwhelming might is nearly without equal. Smashing aside scores of enemy soldiers and brutalising their monsters with The Dread Mace is akin to child's play, while his legendary shield Tuskbreaker (so named for chipping the tooth of Gorkamorka) renders enemy magic a mere harmless breeze. Despite this, perhaps his most terrifying trait is his berserk charge, which can carry enough force to kill even a fully grown dragon in a single deadly blow.
The kit is comprised of 74 plastic components, with which you can assemble one Kragnos, the End of Empires. Multiple options are given for assembly, including three different faces and two poses for his neck and head (one looking left, while the other looks right). This model is supplied with a Citadel 130mm Round Base.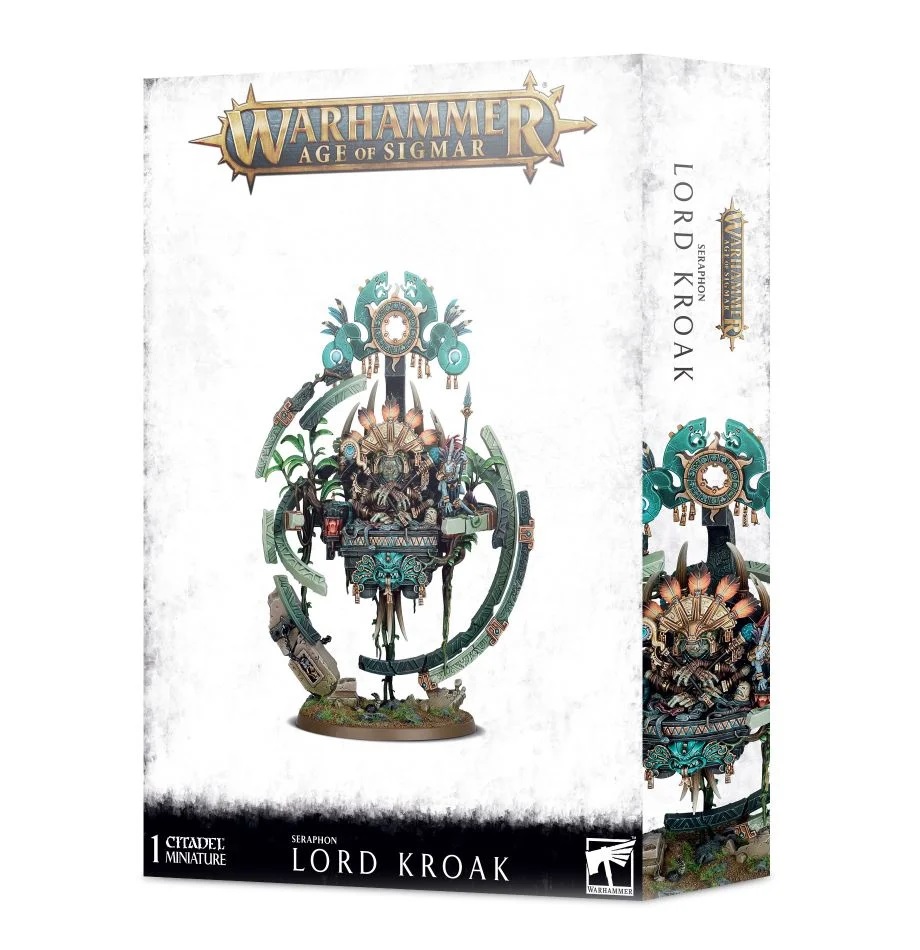 The most ancient and powerful of all the slann Relic Priests, Lord Kroak has cast a watchful gaze over the Seraphon's realms since time immemorial. Appearing unbidden when the myriad strands of the Great Plan are most threatened, his overwhelming arcane might crushes scores of foes beneath celestial meteors and the forgotten magics of the World-That-Was.
As one of the foremost mages in the Mortal Realms, Lord Kroak is an indomitable figure despite his seemingly withered body. Casting and dispelling even the most difficult spells with the flick of a finger, he is no slouch in combat either and can flatten hordes of lesser soldiers with a single pulse of the esoteric energy barrier protecting him. Those who do manage to land a blow upon his wizened form are equally frustrated, as the indefatigable spirit within holds together in the face of all but the most grievous injuries.
The kit is comprised of 56 plastic components, with which you can assemble one Lord Kroak, with an option to assemble one of two head variants. This model is supplied with a Citadel 80mm Round Base.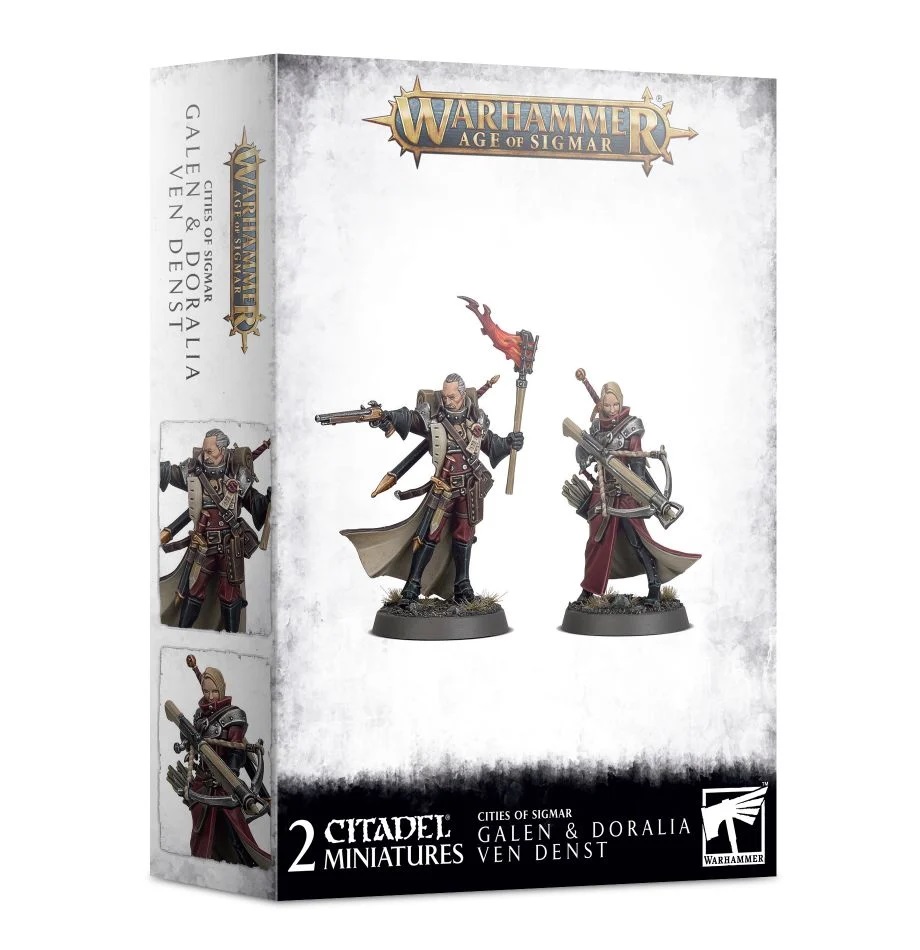 Deep in the city of Excelsis lie several wards sealed off on pain of death, areas forever blighted by Tzeentchian sorceries left in the wake of the traitor Ortam Vermyre's uprising. To deal with the magical creatures and haphazard spells that found their way out of these quarantined zones, the Order of Azyr was formed, with veteran witch hunter Galen ven Denst at its head. Together with his daughter Doralia, a peerless markswoman who's perfected the art of banishing rogue daemons with her rune-engraved crossbow bolts, he dedicates his life to snuffing out all manner of arcane threats to Excelsis.
The unique fighting styles of this father-daughter combo come to the fore when they deploy on the battlefield, with Galen plunging into furious close combat while Doralia picks off her targets at range. Both possess weapons ideally suited to hunting arcane foes, and they're capable of dissipating magical energies and rendering the greatest of endless spells harmless.
The kit is comprised of 18 plastic components, with which you can assemble one Galen ven Denst and one Doralia ven Denst. Galen can be assembled with a choice of weapon arms holding a pistol and torch, or a sword and pistol. Doralia can be assembled either with or without her tall, wide-brimmed witch hunter's hat. These models are supplied with 2x Citadel 28mm Round Base.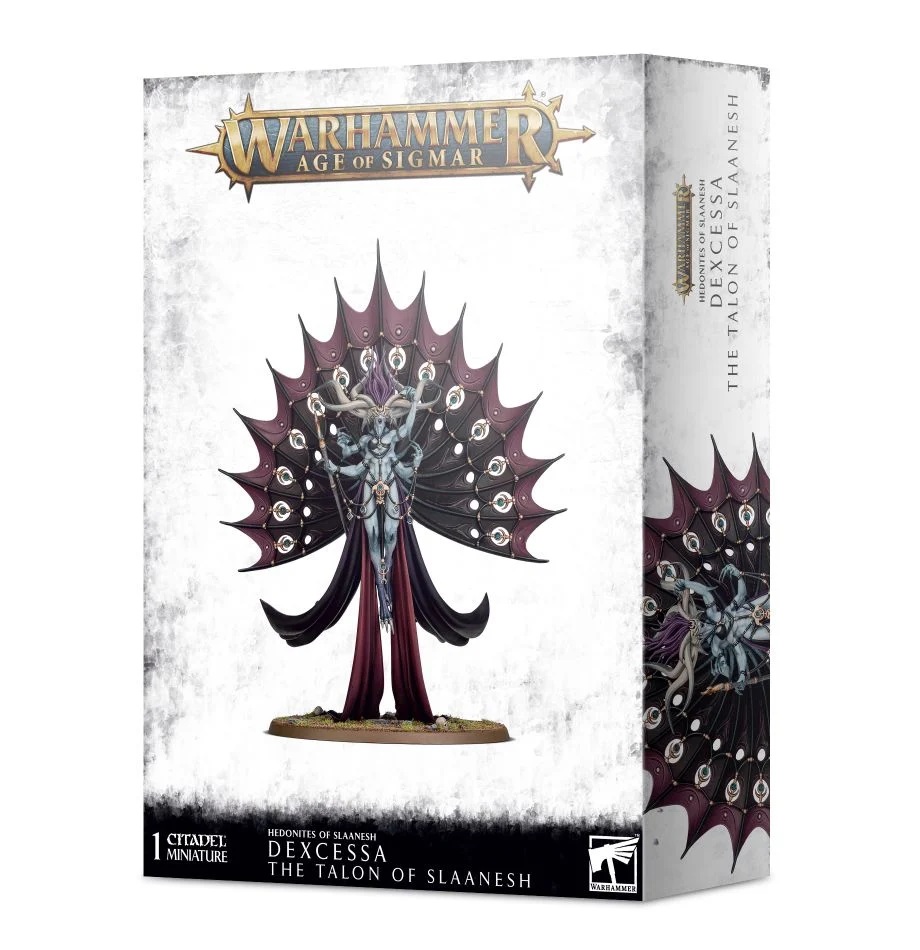 It was at the height of Morathi's ascension to godhood that a drop of Slaanesh's own divine essence broke free from imprisonment and fled the cave between realms. Called the Newborn, this cursed hybrid was suffused with both the Dark Prince's power and the residual energy absorbed by Morathi herself, coalescing into twin beings that mirrored each other in body and soul.
Perhaps taking a cue from its 'mother's' tendencies towards violence, the daemon known as Dexcessa embodies the physical excess of lethal close combat, taking perverse glee in cutting down swathes of mortals as they dance across the battlefield.
Standing several times the height of a mortal, Dexcessa is whirling dervish of taloned carnage on the battlefield, equally capable of disembowelling their foes with claws or the sturdy staff they carry to war. Their shifting, agile body makes it especially difficult for even seasoned warriors to land a blow on the Talon of Slaanesh, leaving the daemon to weave effortlessly through their lines and separate the enemy general's head from their shoulders.
The kit is comprised of 50 plastic components, with which you can assemble one Dexcessa, the Talon of Slaanesh, and is supplied with a Citadel 105mm Oval Base. This model can alternatively be assembled as Synessa, the Voice of Slaanesh.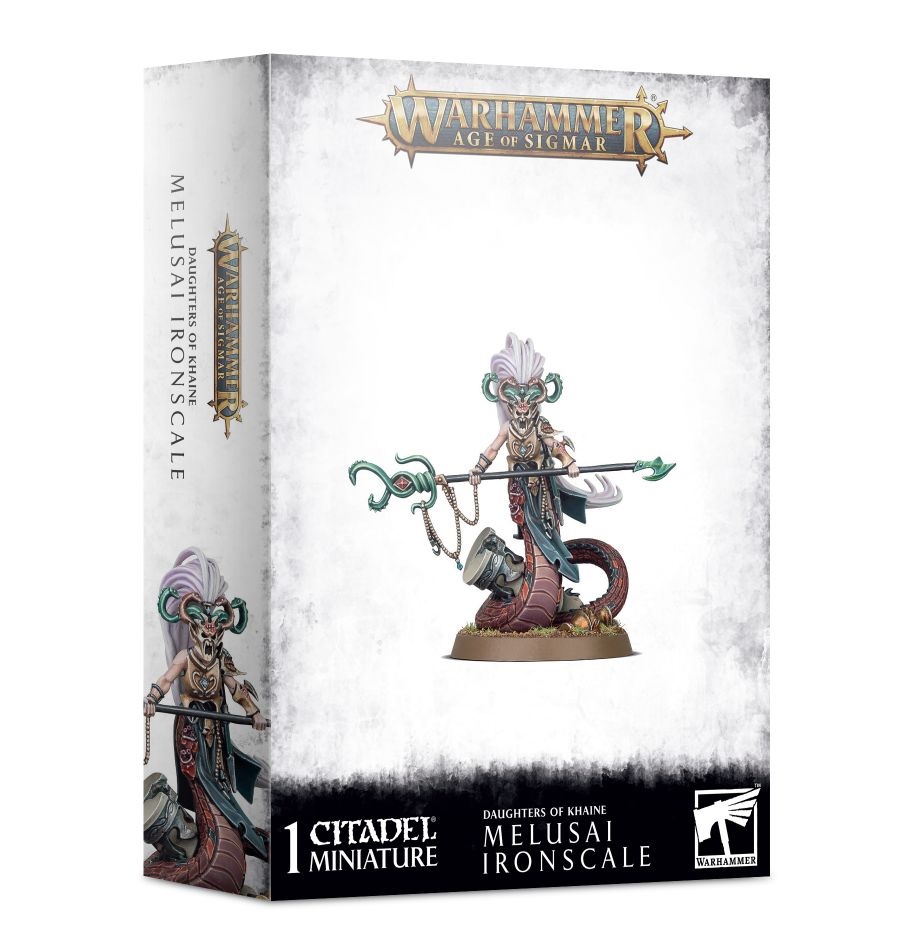 Crafted from the aelven souls that most cried out for bloody revenge, the Melusai Ironscales were created as elite war leaders by Morathi herself and serve their mistress with single-minded fury. Terrifying combatants in their own right, the most unlucky of their victims are turned into statues of living crystal, forever to remain frozen but entirely conscious.
The Melusai Ironscales are mighty champions of the Murder God, wielding bladed staves to deadly effect both in melee and at range. Their bloody deeds are a source of great inspiration to their Melusai kin around them, spurring whole hordes of the vicious serpentine warriors to swift and violent action.
This kit is comprised of 20 plastic components, with which you can assemble one Melusai Ironscale, and is supplied with 1x Citadel 40mm Round Base.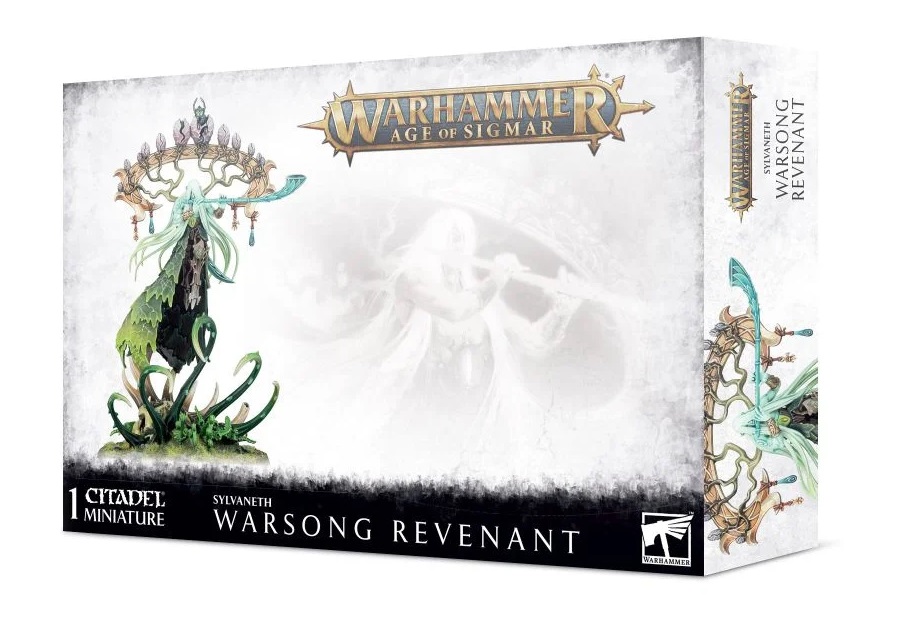 Given life by spirits held within the Oak of Ages Past, the Warsong Revenants sprang forth as Alarielle's Rite of Life rippled across Ghyran and added their Spirit Song to her chorus. To their Sylvaneth allies, the music emanating from their flutes is a joyous tune, full of hope and uplifting vigour, but to their enemies, it blares a sonic assault of crippling potency.
Though few in number, the Warsong Revenants are a powerful addition to the ranks of the Sylvaneth. The songs they play bolster the hearts of allies and demoralise enemies, while the Revenants themselves weave arcane forces with an ease that belies their youth. While seemingly fragile and ethereal spirits, the magical power of their arboreal cloaks helps defend their soul seed from harm.
This kit is comprised of 22 plastic components, with which you can assemble one Warsong Revenant, and is supplied with a Citadel 105mm Oval Base.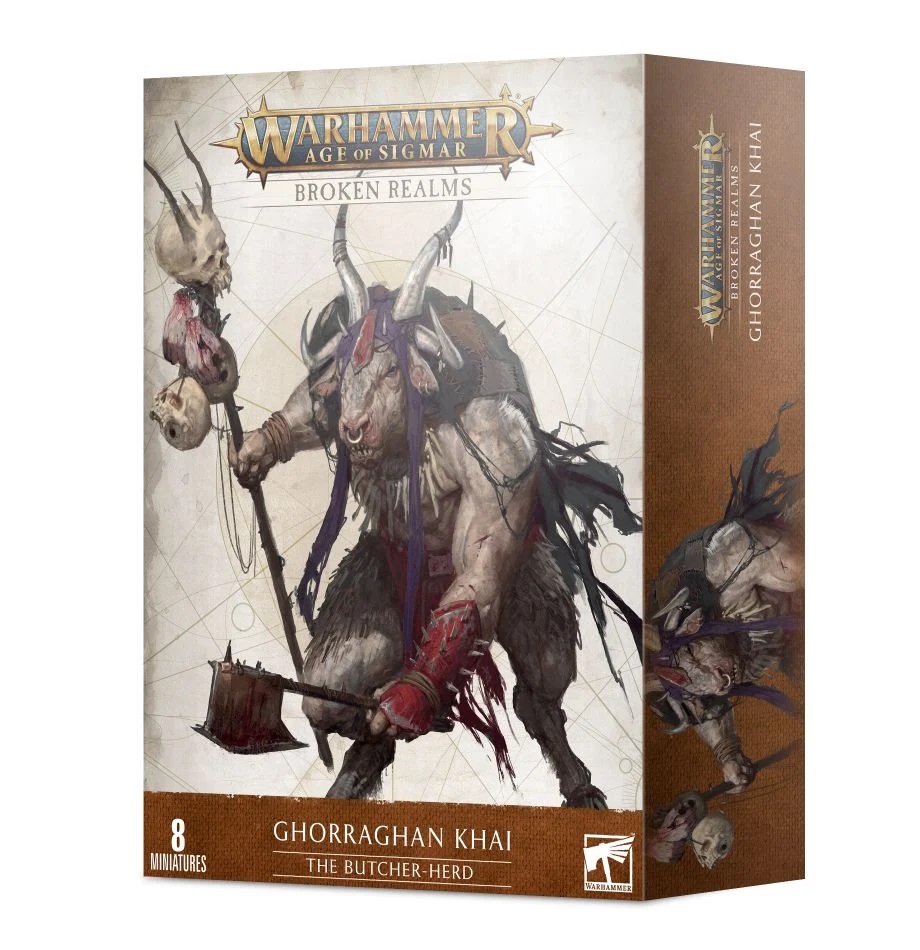 Among the uncounted warherds of Ghyran, Ghorraghan Khai is well-known for the chaotic energies that swirl around the Bray-Shaman and his personal retinue. Bestowing them with an unnatural vigour, the shaman arrogantly leads his herd into conflict after conflict for the Everspring Swathe, bull-headed monstrosities smashing aside all in their path even while Ghorraghan's staff turns those it touches into piles of dust and ash.
Charge headlong into your enemies and crush them into the dirt with a horde of massive beasts. Combine the models in the set with the rules found in Broken Realms: Kragnos, and you'll be able to easily field the Butcher-herd warscroll battalion for Beasts of Chaos armies, representing Ghorraghan's band of rampaging beastmen. This box also saves you money compared to getting the models separately!
This boxed set contains:
1x Great Bray-Shaman
6x Bullgors
1x Ghorgon (can alternately be assembled as a Cygor, though this would no longer meet the requirements of the warscroll battalion)
The set is comprised of 255 plastic components, and is supplied with 1x 32mm Citadel Round Base, 6x 60mm Citadel Round Base, and 1x Citadel Large Oval Base.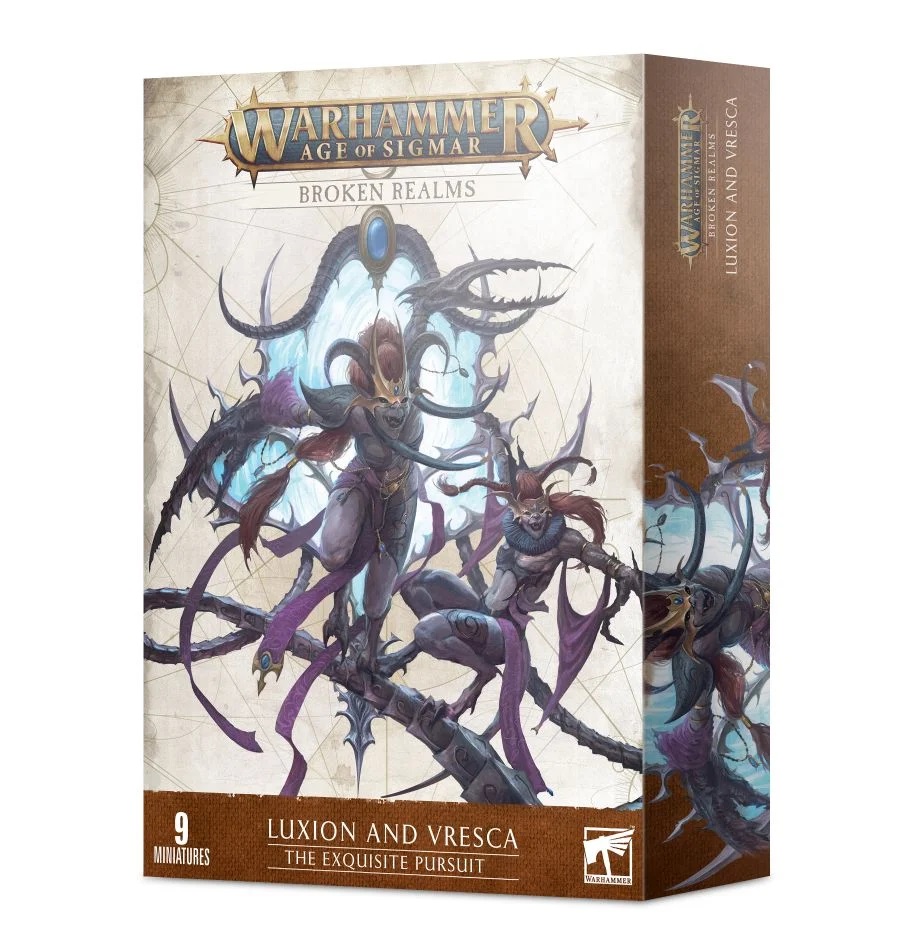 While they may look like the myriad other daemons that cavort in Slaanesh's embrace, the Exquisite Pursuit are a specialised group of hunters dedicated to driving their prey to the very edge of madness. Led by the Heralds Luxion and Vresca, keepers of the arcane Mirror of Twisted Truths, this band of Fiends and Seekers set about in a frenzied killing spree through the ranks of those broken by the horrific visions they see within the mirror.
Drive your foes to madness and then commend their souls to the Dark Prince. Combine the models in the set with the rules found in Broken Realms: Kragnos, and you'll be able to easily field the Exquisite Pursuit warscroll battalion for Hedonites of Slaanesh armies, representing Luxion, Vresca, and their hunting pack of Slaaneshi daemons. These models can also be used in Warhammer 40,000 games, and this box saves you money compared to getting the models separately!
This set contains:
1x The Contorted Epitome
3x Fiends of Slaanesh
5x Seekers of Slaanesh
The boxed set is comprised of 147 plastic components, and is supplied with 5x 60mm Citadel Oval Bases and 4x 75mm Citadel Oval Bases.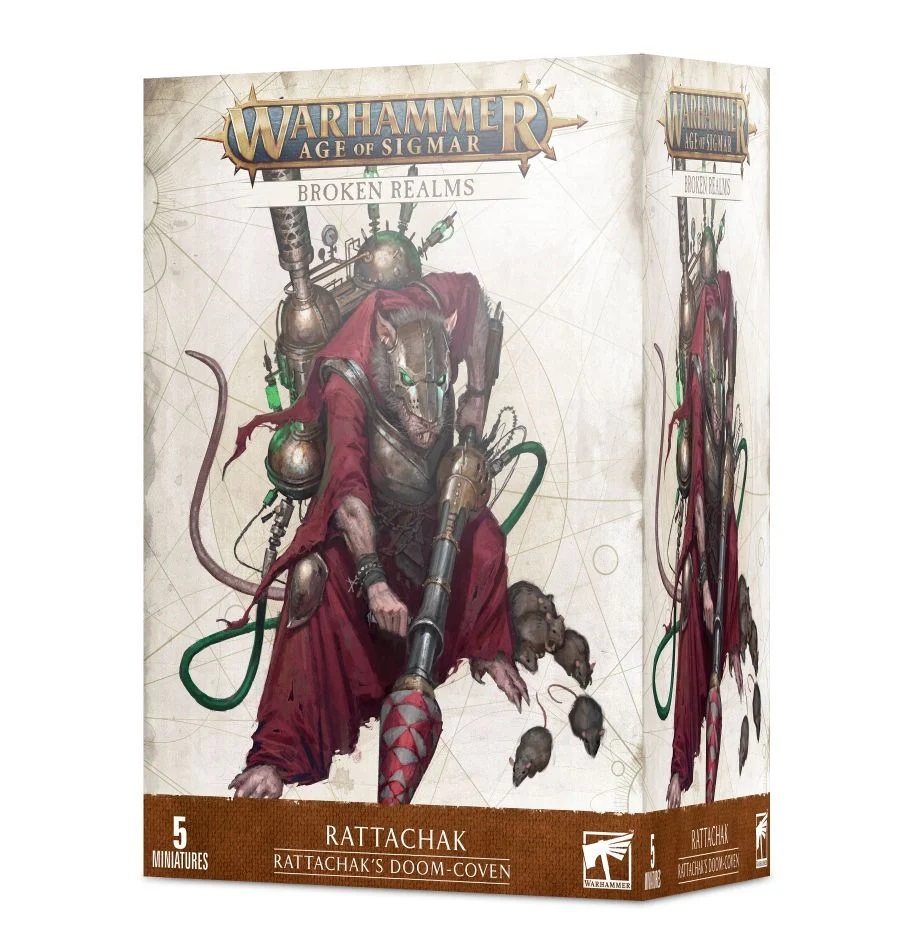 While many skaven are repelled by the very sight of fire, Rattachak the Warlock Bombardier is positively obsessed with the stuff and can often be found with tufts of singed fur from his many experiments. Using custom incendiary doomrockets of his own designs and taking to the field with amped-up Stormfiends, the deranged skaven warlock is rarely far away from somebody's explosive end.
Lead the products of skaven ingenuity to war amidst a storm of fire and lightning. Combine the models in the set with the rules found in Broken Realms: Kragnos, and you'll be able to easily field the Rattachak's Doom Coven warscroll battalion for Skaven armies, representing the crazed Warlock Bombardier and his crackling entourage. This box also saves you money compared to getting the models separately!
This boxed set contains:
1x Warlock Bombardier
3x Stormfiends
1x Warp Lightning Cannon.
The set is comprised of 160 plastic components, and is supplied with 3x 60mm Citadel Round Bases, 1x 32mm Citadel Round Base, and 1x Citadel Large Oval Base.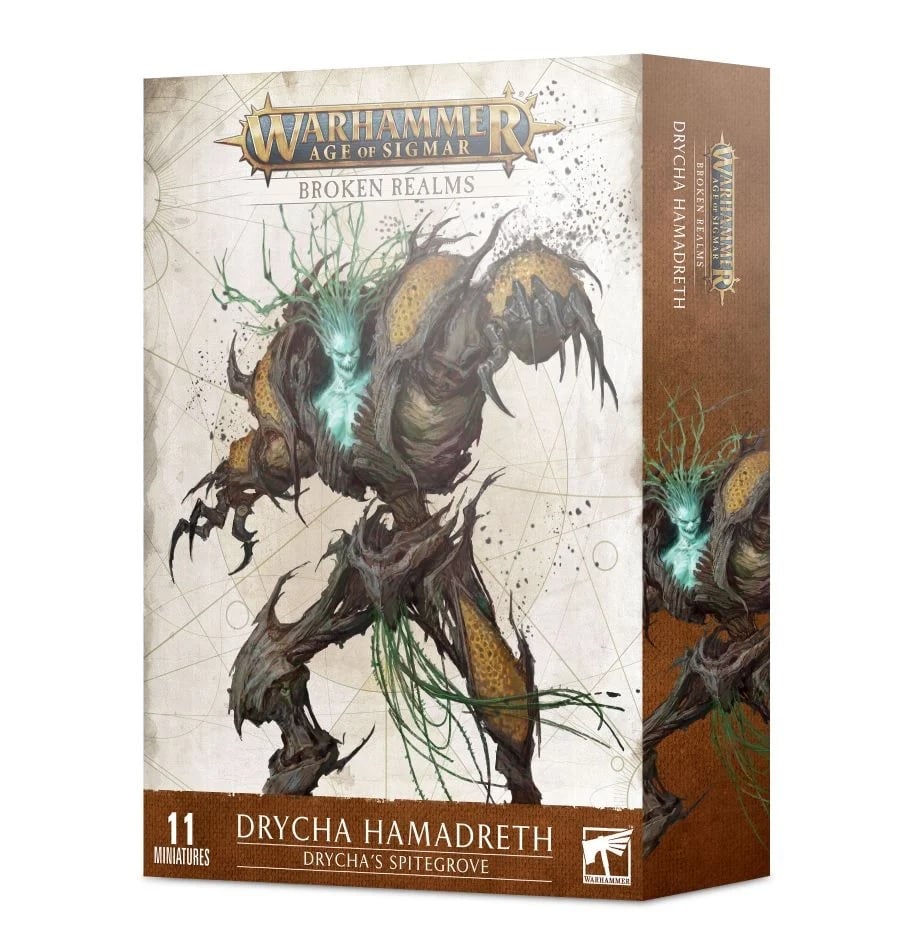 The spirit known as Drycha Hamadreth was ancient even as the World-That-Was fell, a screaming avatar of hatred for all creatures not born of the woods. Her single-minded loathing carried her spirit into the ranks of Alarielle's new Sylvaneth, where the Everqueen is all too happy to direct her genocidal rampages against the enemies of Life. Gathering a group of like-minded spite-revenants around her, Drycha wades into battle and slays all who would trespass on the sacred lands of Ghyran.
Unleash a swarm of whipping, tearing thorns and vines upon your foes as the embodiment of Ghyran's harshest season. Combine the models in the set with the rules found in Broken Realms: Kragnos, and you'll be able to easily field the Drycha's Spitegrove warscroll battalion for Sylvaneth armies, representing Drycha's battle-crazed revenant warband. This box also saves you money compared to getting the models separately!
This boxed set contains:
1x Drycha Hamadreth
10x Spite-Revenants (can be alternatively assembled as Tree-Revenants but will no longer form the warscroll battalion presented)
The set is comprised of 202 plastic components, and is supplied with 1x 105mm Citadel Oval Base, and 10x 32mm Citadel Round Bases.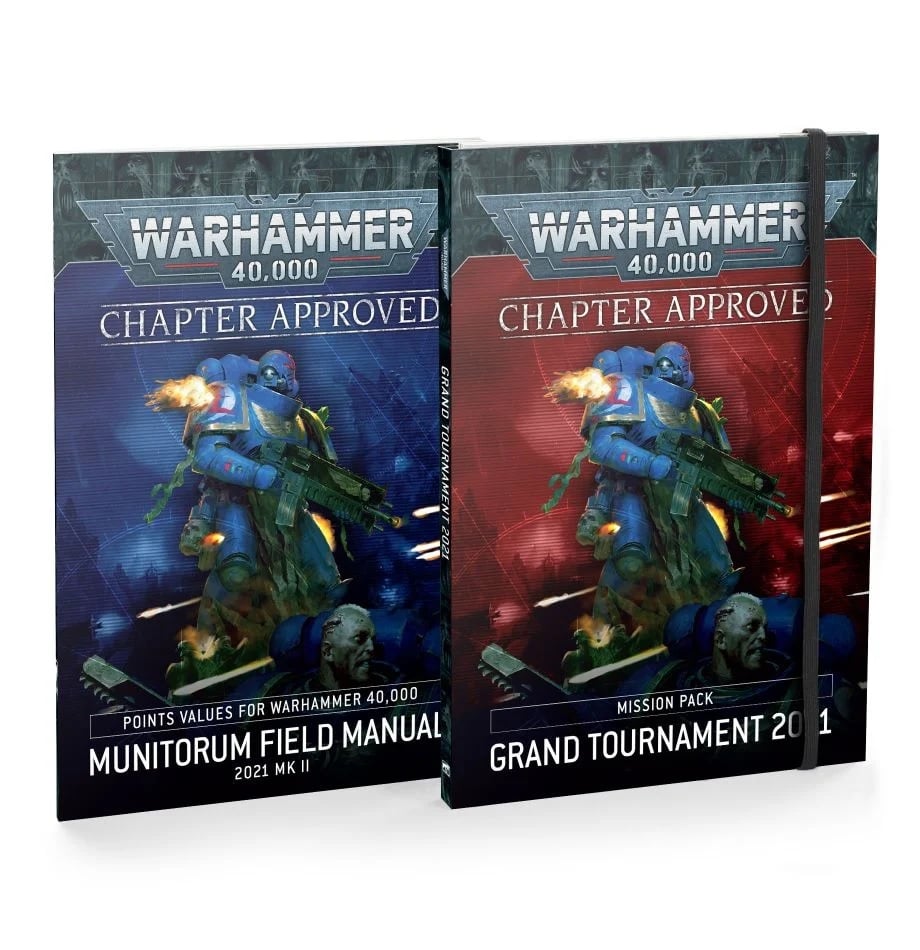 This year's edition of Chapter Approved is the essential gaming toolbox for all fans of Warhammer 40,000 matched play. Whether you're a tournament regular or simply like to ensure your battles are always fought on an even footing, this is the essential supplement for matched play games of Warhammer 40,000.
Inside this 96-page softback book, you'll find:
– Two mission packs, comprising nine missions each for Incursion- and Strike Force-scale battles, each designed to offer a different challenge to the players.
– Guidelines for setting up and playing a matched play or Grand Tournament-level competitive game, including suggested battlefield size, time limit and how best to determine secondary objectives.
– Updated secondary objectives. Some are entirely new, while others have been tweaked, or had the amount of Victory points they award adjusted.
– And much, much more…
In addition, you'll also find a separate 56-page book – the Munitorum Field Manual Mk II – containing all the latest matched play points updates, painstakingly balanced and tuned in conjunction with major tournament organisers and our playtesters.
Whether you're looking to take your matched play gaming to a whole new level or are wanting to stay on the pulse with all the latest points value developments for every faction, Chapter Approved has something for you, and is a fitting guide to the incredible new edition of Warhammer 40,000.
Please note: the points values featured in the Munitorum Field Manual 2021 MkII for the Thousand Sons and Grey Knights are incorrect due to a delay in the release of their codexes. Until these codexes are released later in 2021, you can download the updated points values for the Thousand Sons and Grey Knights from the PDF found in the downloads tab. These points values cater for all the units from both of these factions and are designed to be used alongside their current codexes until their new books arrive.