D&D: Official Details Drop For Beyond The Witchlight Amid A Week Of 'Legend Lore'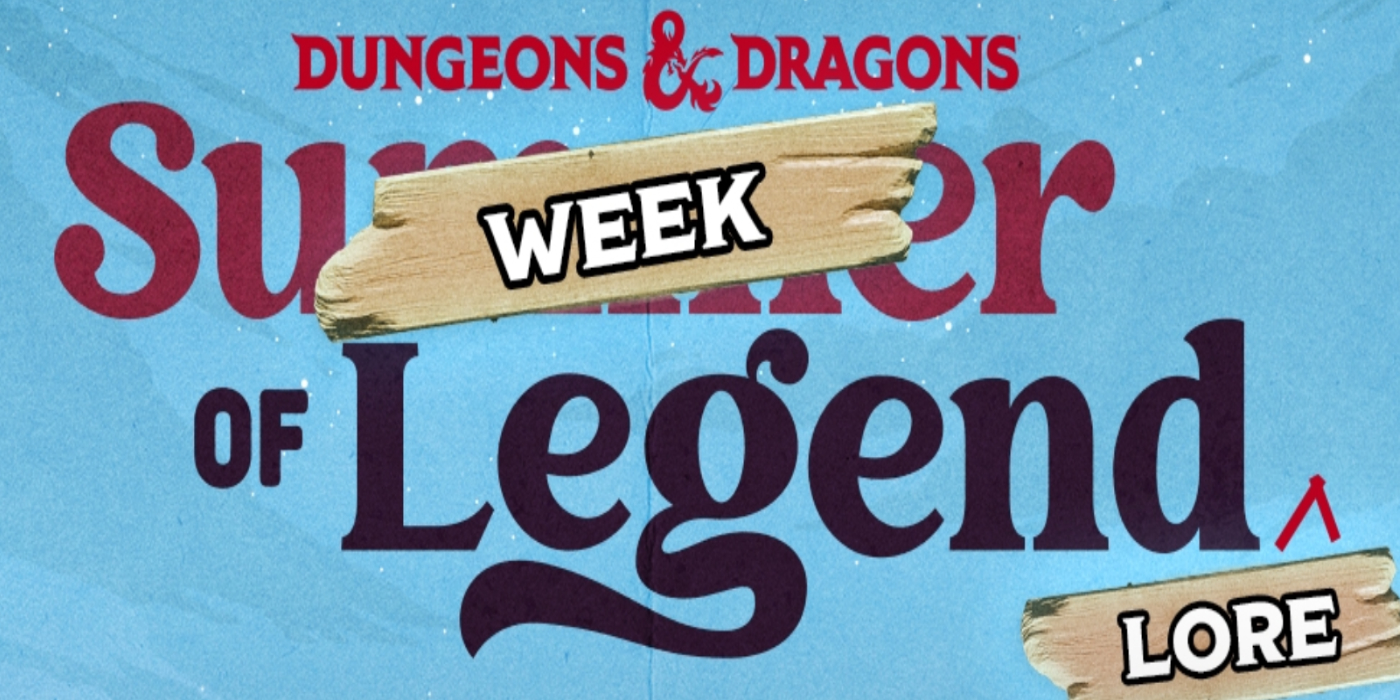 The official announcement for The Wild Beyond the Witchlight is here, kicking off a week of announcements from WotC. Check out the week of legend lore.
Two new D&D books leaked over the weekend revealing a glimpse of what WotC has planned. But it turns out even that's just a teaser compared to what we'll see this week from Wizards of the Coast as they kick off the Week of Legend Lore.
The Week of Legend Lore–referencing the 5th level divination that reveals hidden knowledge and stories–is a series of announcements and reveals, one per day for the entire week starting with the two books that were uncovered on Amazon over the weekend:
All this week, join Ellywick Tumblestrum, bard of the multiverse, guest of the Summer Queen, and bearer of Morningmist, as she investigates several stories from Earth artifacts and spells such as the Tube of Yous and the Box of Xes. Played by Erika Fermina from Girls, Guts, Glory, Ellywick is a fascinating character fans will learn more about in upcoming stories from Dungeons & Dragons, Magic: The Gathering's Adventures in the Forgotten Realms, and more!
First up, the official announcement for The Wild Beyond the Witchlight: A Feywild Adventure:
Along with the teaser trailer, we got a reveal of both official covers, including the alternate art cover by Hydro74, who does a phenomenal job with capturing the feel of the adventure in a stylized way. These covers look great on a shelf.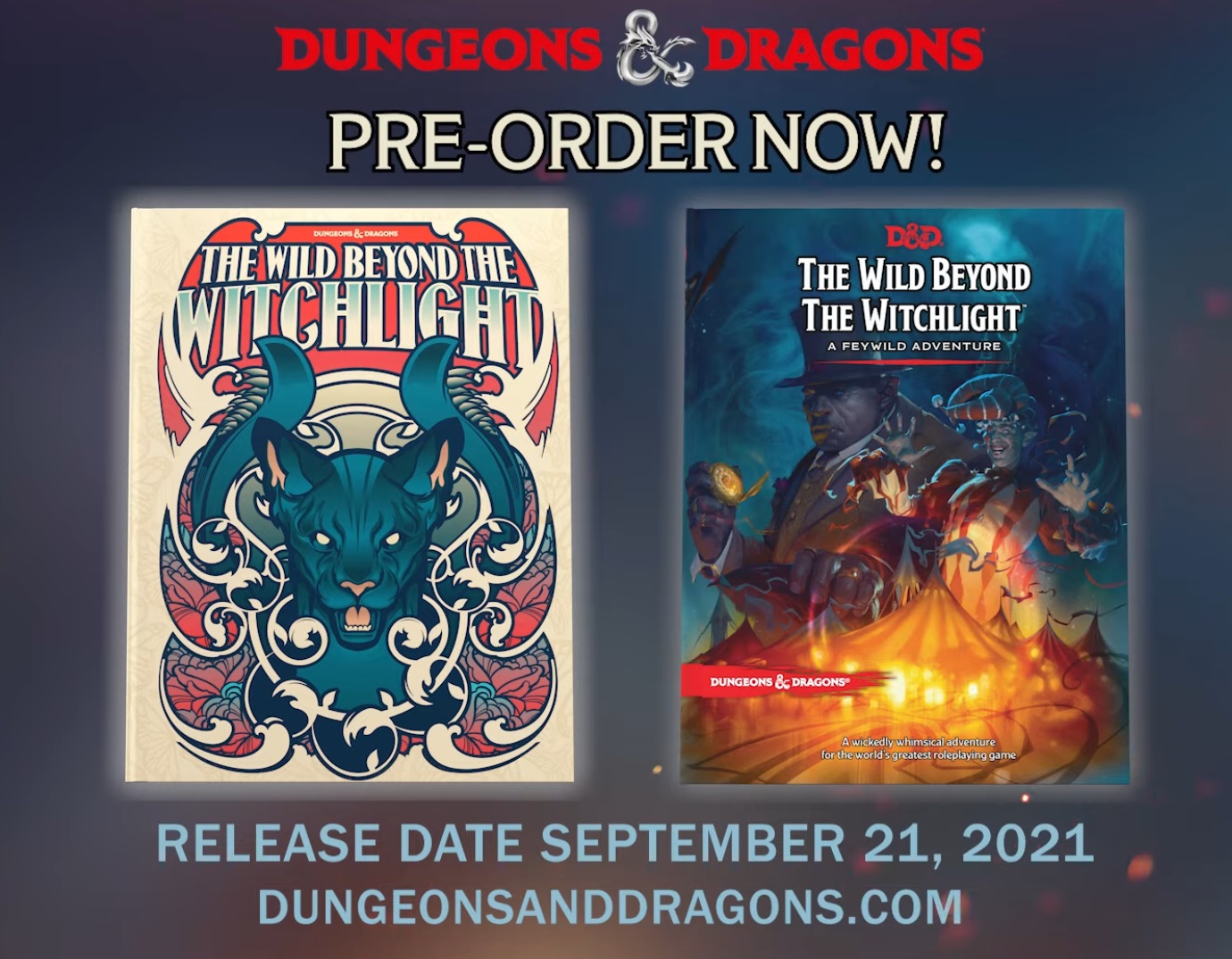 And as you can see, we get an official release date, September 21. More details will be forthcoming at D&D live, but for now here's what WotC says:
SOMETHING WICKED THIS WAY COMES
A wickedly whimsical adventure for the world's greatest roleplaying game.
Subscribe to our newsletter!
Get Tabletop, RPG & Pop Culture news delivered directly to your inbox.
The Wild Beyond the Witchlight is D&D's next big adventure storyline that brings the wicked whimsy of the Feywild to fifth edition for the first time. Tune into D&D Live 2021 presented by G4 on July 16 and 17 for details including new characters, monsters, mechanics, and story hooks suitable for players of all ages and experience levels.
Accompanying the release you'll also be able to get a Feywild Adventure Accessory Kit, details of which were unearthed on Amazon earlier today: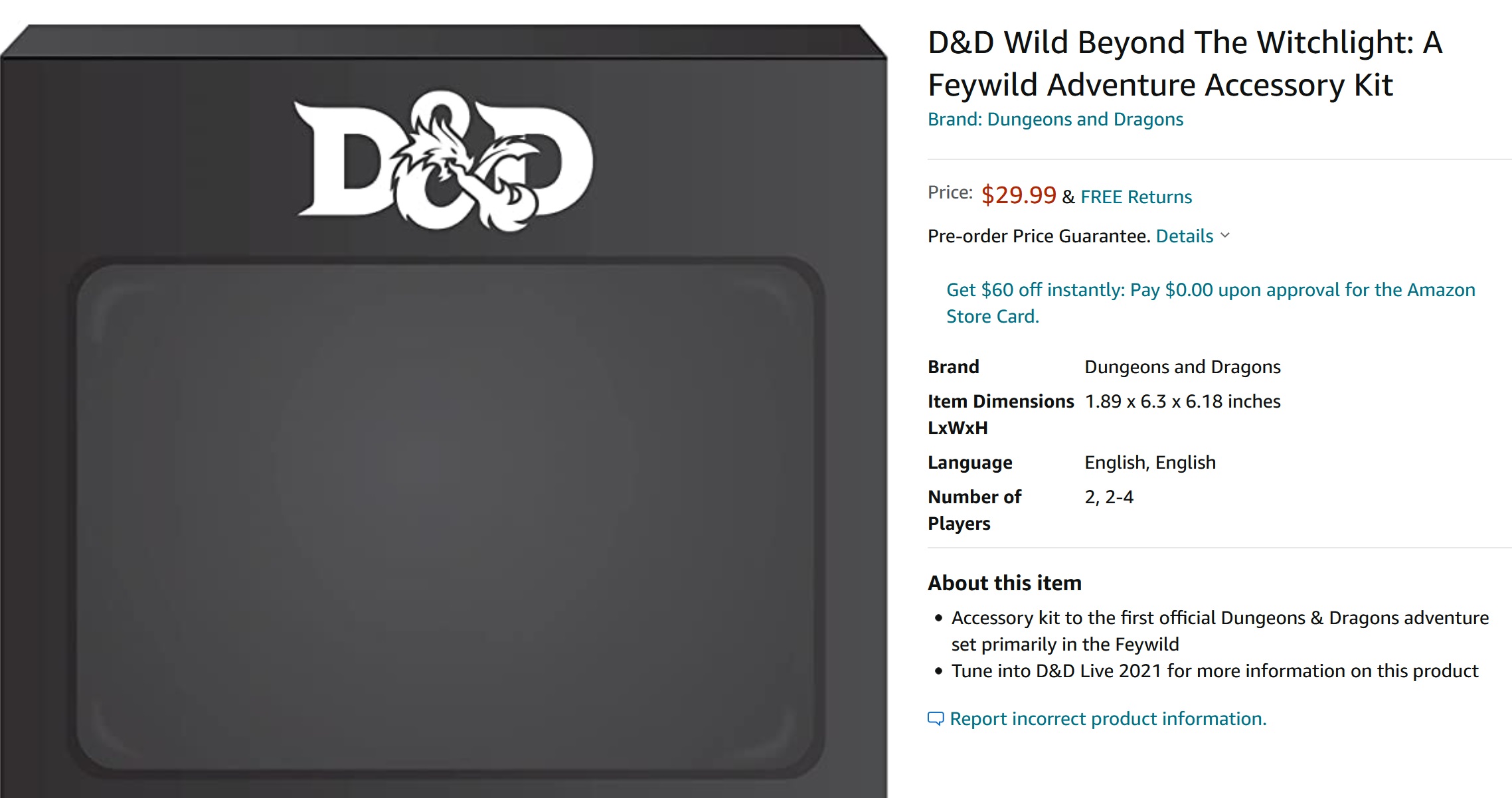 This will likely be a dice kit, a map, and a series of encounter cards as other kits have been. Be sure and check back tomorrow for more news from the Week of Legend Lore.
Happy Adventuring!