Games Workshop Pre-Order: 'Pricing & Links' – Gaunt's Ghost Weekend

Gaunt's Ghosts are here. Snag them before they sneak away!
via Games Workshop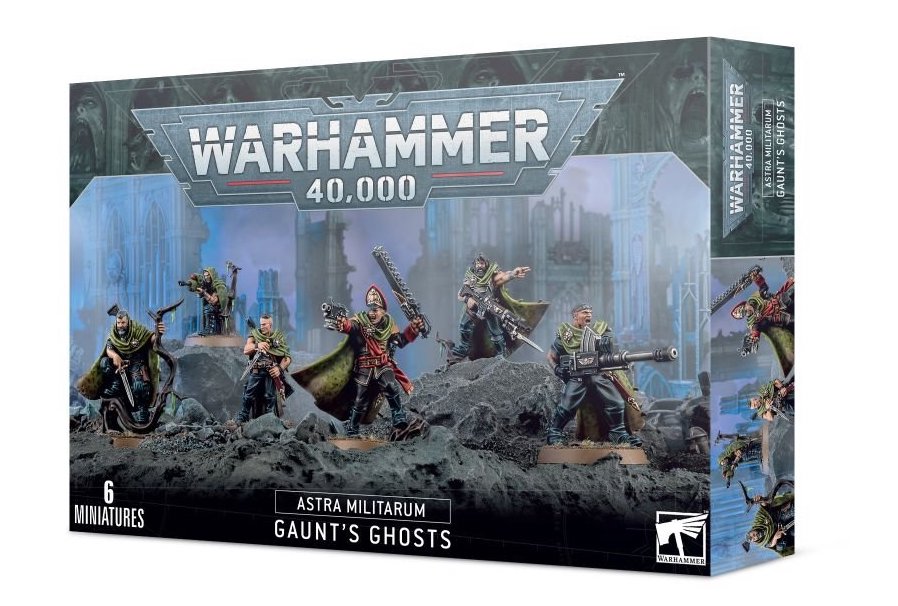 Led by the irrepressible Colonel-Commissar Ibram Gaunt, the Tanith First and Only are a reconnaissance regiment without peer in the Astra Militarum. So named for being the only survivors of their ill-fated homeworld, the soldiers who became known as Gaunt's Ghosts are expert woodsmen marked by their distinctive camouflage cloaks, which allow them to perform feats of incredible stealth worthy of their moniker.
Featuring six of the most well-known characters from the early books of the Gaunt's Ghosts series, this squad of specialists is the equal of any elite unit among the forces of Humanity. Each member contributes a unique skill, and all are rendered nigh-invisible upon entering even the lightest of terrain. Such is their stealth capability that their enemies have trouble even spotting the Ghosts from all but the closest distances.
Colonel-Commissar Ibram Gaunt is armed with a bolt pistol and chainsword, Hlaine Larkin takes aim with his long-las, 'Try Again' Bragg carries an autocannon, while Corbec, Rawne, and Mkoll wield lascarbines. Each model is also equipped with frag grenades and bears the signature straight silver knife and camo-cloak of the Tanith First and Only.
The kit is comprised of 35 plastic components, with which you can assemble one Colonel-Commissar Ibram Gaunt, one Colonel Colm Corbec, one Major Elim Rawne, one Master Sniper Hlaine Larkin, one 'Try Again' Bragg, and one Sergeant Scout Oan Mkoll. This kit is supplied with 6x Citadel 28.5mm Round Bases.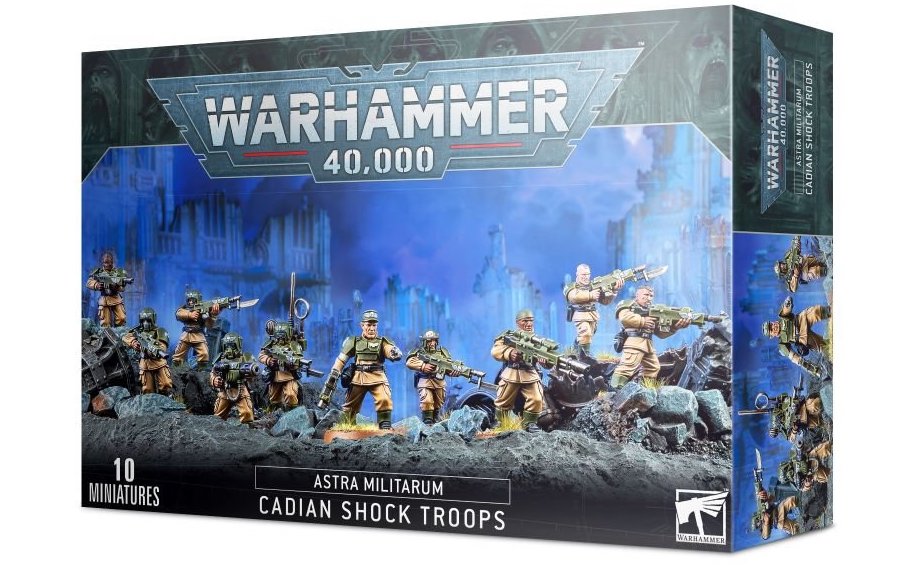 Infantry Squads form the backbone of the Astra Militarum, and countless billions of soldiers fight and die for the Imperium. In the face of the enemy, the serried ranks of the Imperial Guard are trained to stand firm and respond with a steady aim. When sergeants bellow the rank and file obey – backs stiffen and lasguns level with the foe. Opponents charging at Imperial Guard positions must first survive a blazing hail of lasfire, a fusillade that can stem the tide of all but the most determined assault.
Held up as the model against which all regiments of the Astra Militarum are measured, the Cadian Shock Troops are a disciplined and rigorously trained fighting force numbering in the millions. Even after the fall of their homeworld, Cadian guardsmen fight across almost every frontier in the Imperium, forming the backbone of the Emperor's armies and ensuring even the toughest opponents are brought down by volleys of lasgun fire.
The kit is comprised of 134 plastic components, with which you can assemble 10 Cadian Shock Troops, and is supplied with 10x Citadel 25mm Round Bases. This kit also includes a total of 32 heads, which are compatible with many other Astra Militarum kits, and contains options to equip Guardsmen with two flamers, two grenade launchers, plasma gun, meltagun, or sniper rifle. Additionally, the Sergeant can be equipped with a laspistol, bolt pistol, bolt gun, or plasma pistol, and either a chainsword, power sword, or bionic arm.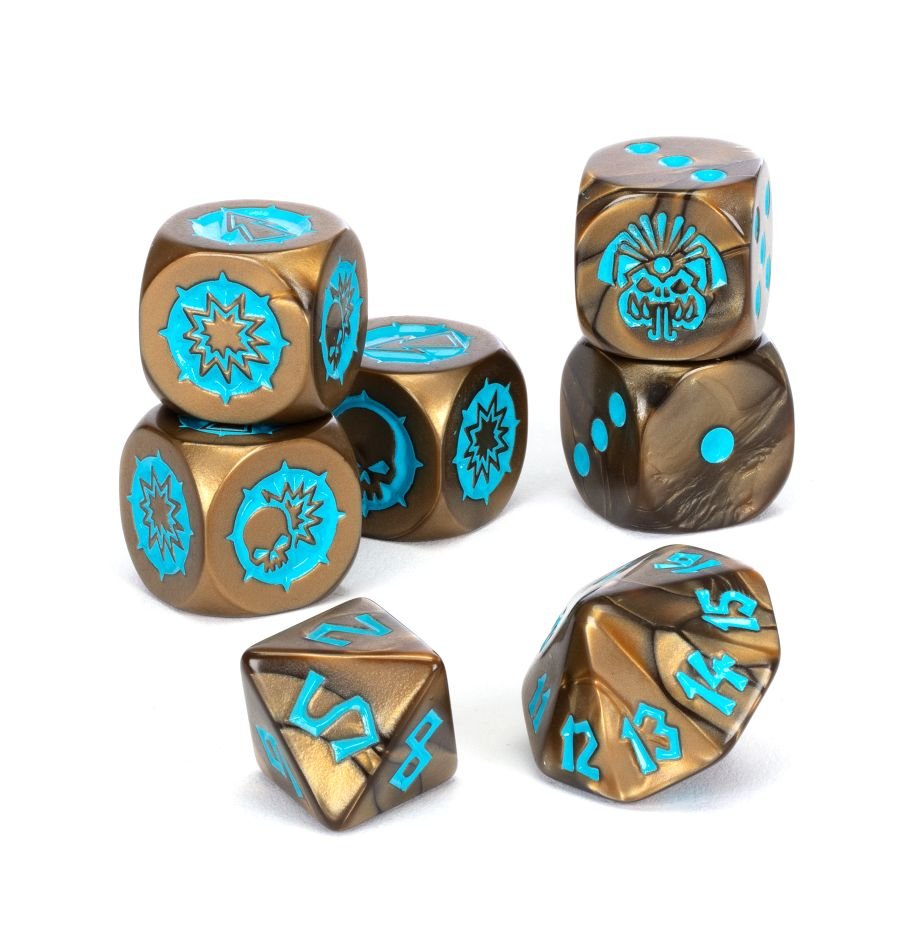 Subscribe to our newsletter!
Get Tabletop, RPG & Pop Culture news delivered directly to your inbox.
Show those upstarts how Blood Bowl's meant to be played with these regal dice. This full set of Lizardmen dice appear to be worked from burnished gold and inlaid with precious turquoise markings, including a Lizardmen team icon.
This set includes all of the dice you need to play:
– 3 Blood Bowl Block dice
– 2 6-sided dice with the Lizardmen team icon in place of the '6'
– 1 8-sided dice Blood Bowl Scatter Dice
– 1 16-sided dice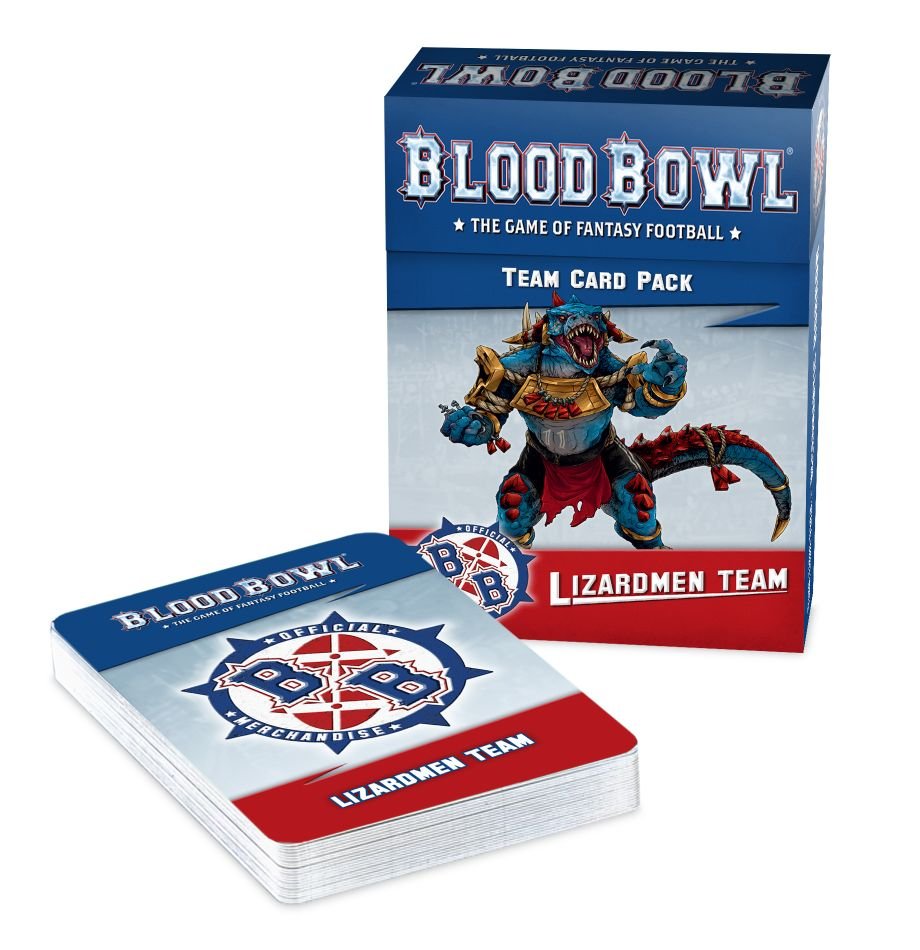 Redesigned for the Second Season ruleset, this deck of 44 cards will help you keep track of stats and profiles for your team, positions, and Star Players – plus Special Play cards exclusively for use with Lizardmen teams.
This set includes:
– 4 Player Reference cards for Skink Runner Lineman, Chameleon Skink, Saurus Blocker, and Kroxigor
– 3 Star Player cards for Zolcath the Zoat, Karla Von Kill, and Mighty Zug
– 8 Random Event Special Play cards
– 8 Magical Memorabilia Special Play cards
– 20 Blank Player cards: 11x Skink Runner Lineman, 2x Chameleon Skink, 6x Saurus Blocker, and 1x Kroxigor
– The all-important card explaining how to use the cards, with a red card on the reverse
You'll need a copy of Blood Bowl – The Official Rules to make full use of these cards.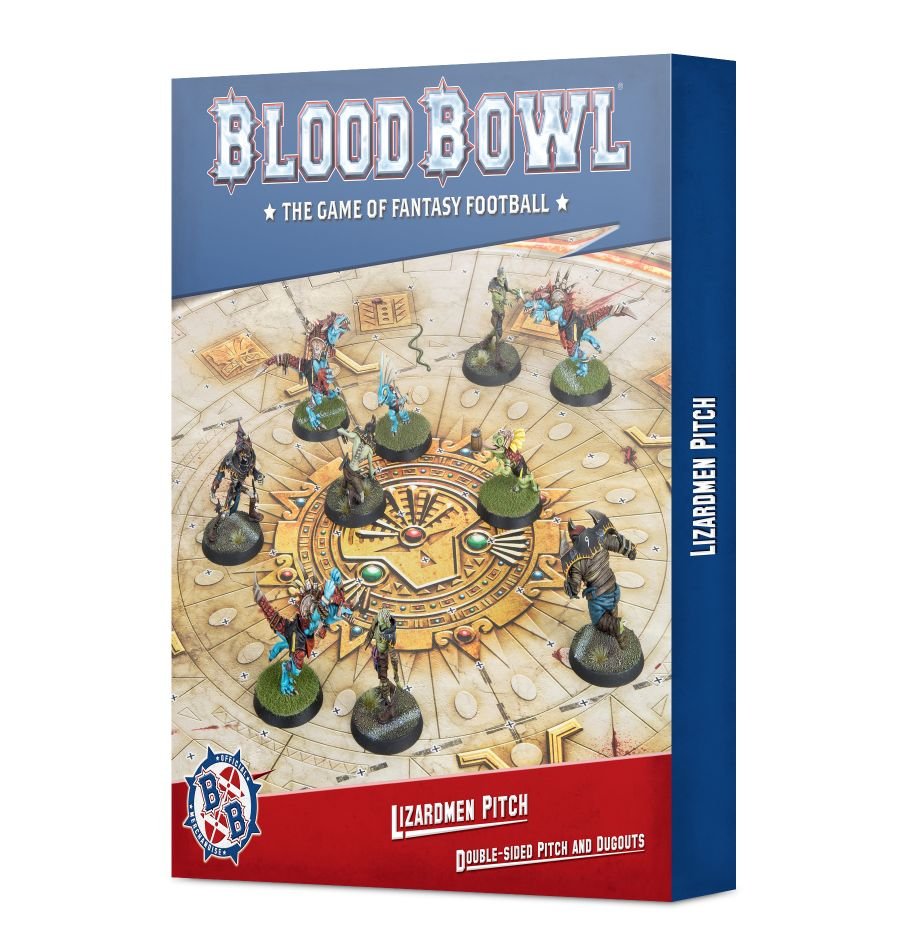 The jungles of the New World are riddled with the remains of ancient temples, built by the Lizardmen in service to their Slann masters.
This double-sided Blood Bowl pitch features one such ruin, in two different states. On one side, the temple lies dormant, the flora and fauna of the rainforest threatening to reclaim it. On the other side, the temple has been pressed into new service by the Lizardmen, with fresh glyphs and blazing pyres.
You'll also find a pair of matching double-sided dugouts to complete the theme. Redesigned for the latest edition of the game, each dugout features Score, Turn, and Re-roll trackers, plus Reserves, Knocked-out, and Casualty boxes. Rules to use each side of the pitch are included in the set.
Gaunts Ghosts and Lizardmen! That's an interesting combo.