Star Wars: The Gorgeous Art Of The Episode Nine We'll Never See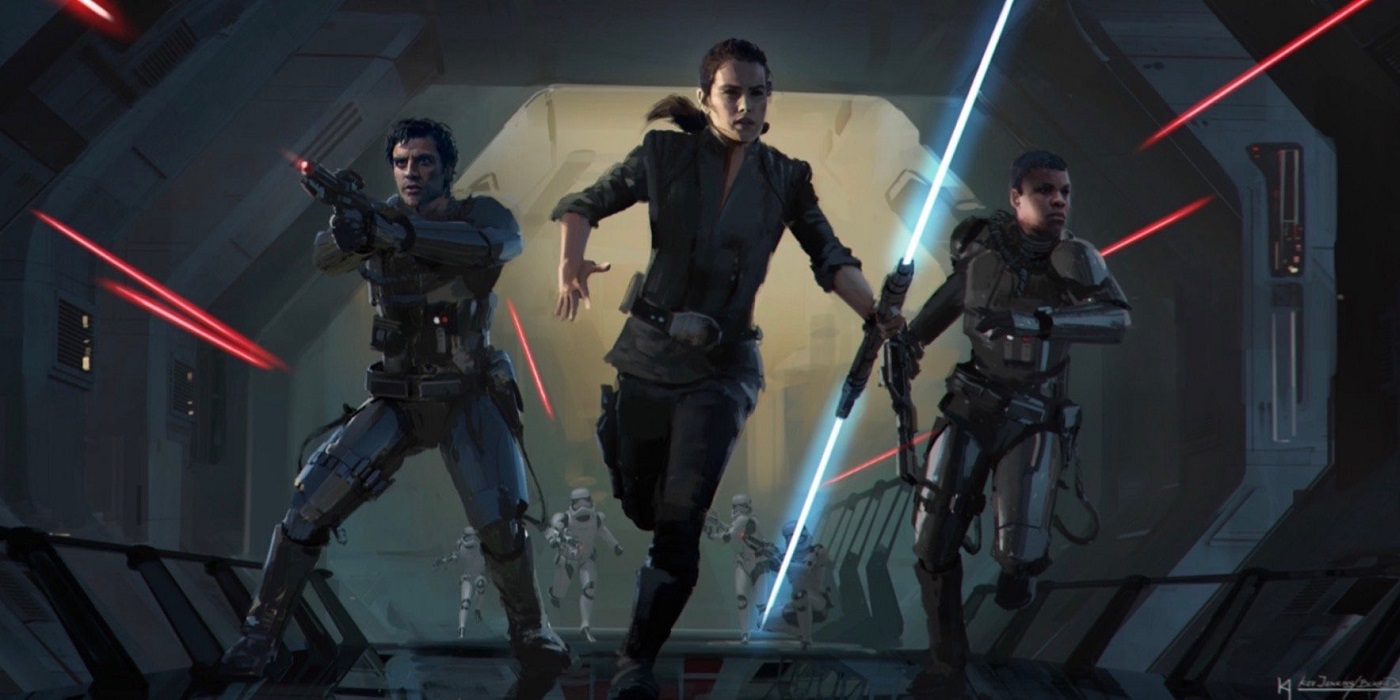 Colin Trevorrow's Duel Of The Fates was once pitched as the final chapter of the sequel trilogy complete with script and breathtaking concept art.
With JJ Abrams revealing that Rise of Skywalker was a project tackled with no plan, many of us are dreaming of what Star Wars episode nine could have been. Perhaps it could have followed the linear storylines already set up. Maybe it could have utilized and fleshed out the already established antagonists instead of relying on one that literally had to be brought back from the dead. Who knows?
Actually, it turns out we do know what the last movie of the sequel trilogy could have been as the script and concept art of the Duel of the Fates, the version of episode nine that an alternate timeline hopefully enjoyed, was leaked last year. Today, let's take a moment to appreciate the art of the lost Star Wars film, Duel of the Fates.
A return to capital-of-everything, Coruscant, was planned to be featured in this film. Definitely, a place occupied by the First Order and probably still the new Empire's capital, the script described as a series of old skyscrapers in disrepair covered in propaganda. Clearly, the First Order hasn't been taking great care of the place, but visually the city-planet looks as striking as ever.
The Coruscant underground would be alive with Resistance activity though. Citizens, Resistance fighters, and defector Stormtroopers – possibly inspired by Finn – are pictured here repurposing First Order walkers with war ready new paint jobs. It looks like one of the more formative battles of the movie was supposed to take place on the derelict remains of the Coruscant city streets.
The script implies a time jump after a lengthy training period for Rey while featuring her and her double sided lightsaber saving Finn, Poe, and Rose from the First Order. Her outfit is noticeably similar to Luke's Return of the Jedi look, for a bit of symbolism and a visual callback that would have been great on the big screen.
Personally, I would have loved to see Rey with a double sided lightsaber for longer than the single four-second fantasy sequence we ended up getting in Rise of Skywalker. For somebody who had trained with a staff so extensively for her entire life, the transition would have been seamless and allowed her to feature her unique flair in battle. Would she have used parts of her actual staff to build her saber? Could she have thrown it like an oversized boomerang? We'll never know but the story telling and visual possibilities are nearly endless.
This episode nine would have seemingly used the Knights of Ren to their full potential, or at least closer to it. They would have had individual names and a ship that they would have used in this epic looking chase scene between the Knights of Ren and a fleeing Rey and Poe.
Subscribe to our newsletter!
Get Tabletop, RPG & Pop Culture news delivered directly to your inbox.
Chewbacca and Poe are seen here taking on a few Knights of Ren off screen while one of them, apparently named Jaedec Ren, looks about to lose his fight to Chewie. Many of us were looking forward to villains who created the same unease and fear in the party and audience alike as the Inquisitors, and this fleshed out version of the Knights look like they could have been those antagonists.
Finally, Duel of the Fates was written before the death of Carrie Fisher, so our princess and general would have had a much more substantial role in the movie. Including this incredibly gorgeous and unintentionally heart-wrenching call back to the first time we see Leia in New Hope.
Have you seen the art and script breakdowns from Duel of the Fates? Do you think this had the potential to be a better wrap-up for the sequel trilogy or that Rise of Skywalker was the best product we could have gotten? Which piece of art is your favorite and which would you have liked to see translated onto the big screen most? Let us know in the comments!
May The Force Be With You, Adventurers!