Games Workshop Pre-Orders: Sisters & Necromunda Weekend – 'Pricing & Links'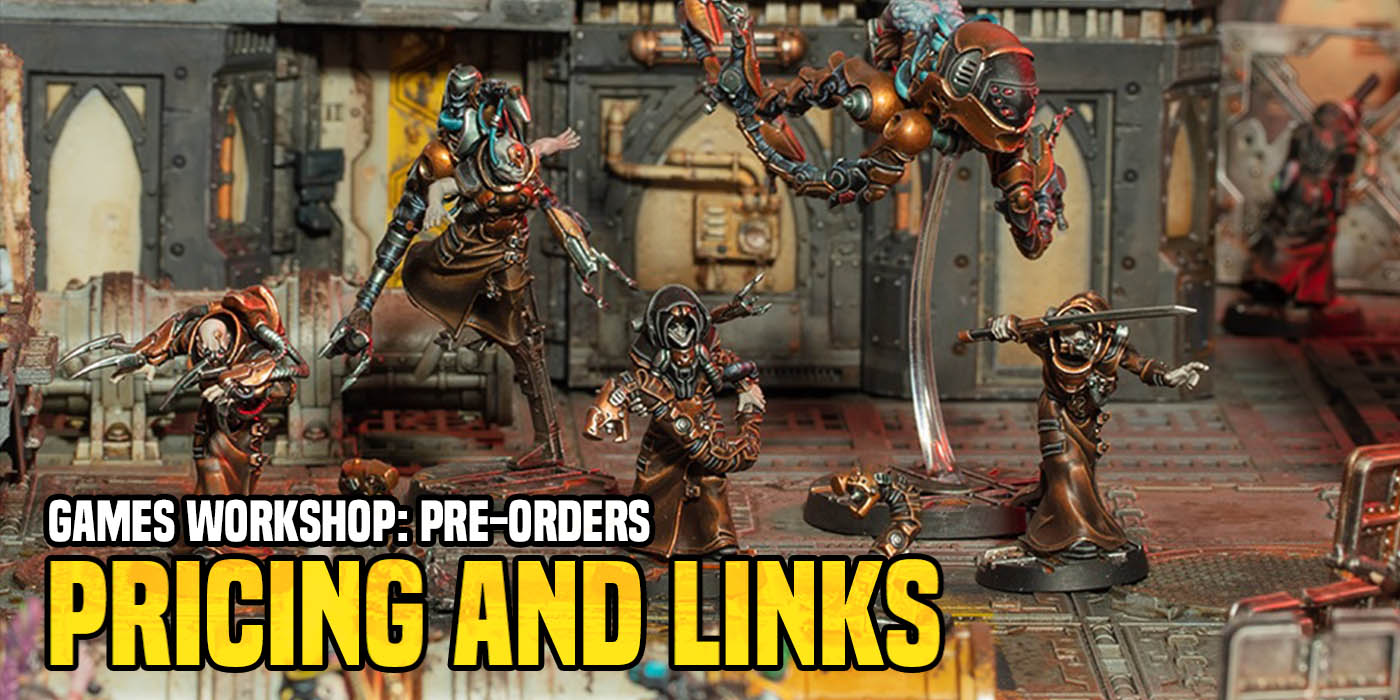 Check out the new Adepta Sororitas goodies and the House Delaque additions from Games Workshop – available for Pre-order now!
via Games Workshop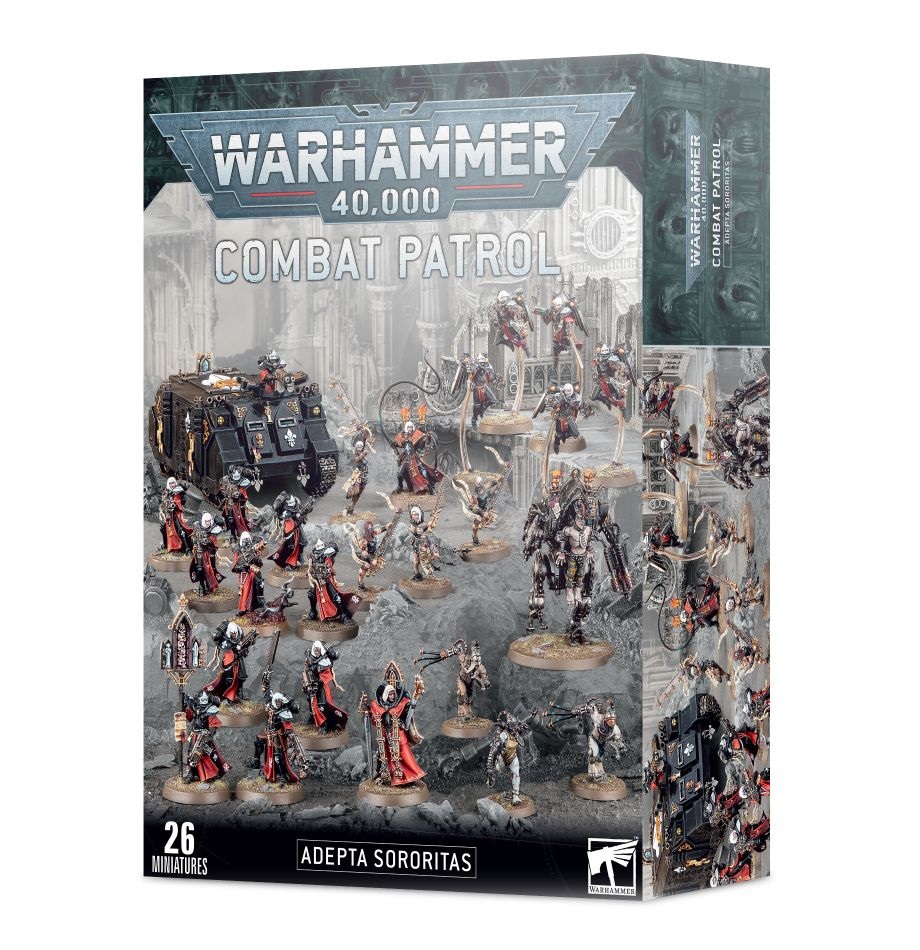 The Adepta Sororitas train rigorously and fight with ferocious zeal, pious serenity, and tireless skill. These devout warriors annihilate heretical cults, xenos, mutants, and the abominations of daemonkind as they spread the light of the God-Emperor with fury and flame.
If you seek to unleash the faith of the Sisters of Battle, Combat Patrol: Adepta Sororitas provides you with all the units you need to get started. The contents of this set have been specifically chosen to provide you with an ideal force for Combat Patrol-sized games – approximately 25 Power Level's worth of miniatures.
This set includes the following multipart plastic units:
– 1x Canoness
– 1x Rhino
– 1x Repentia Superior
– 1x Penitent Engine
– 3x Arco-flagellants
– 4x Sisters Repentia
– 5x Seraphim
– 10x Battle Sisters
The above units are supplied with 17x 32mm round bases, 7x 25mm round bases, 3x 45mm flying bases, 1x 50mm round base, and an Adepta Sororitas transfer sheet. These miniatures are supplied unpainted and require assembly – we recommend using Citadel Plastic Glue and Citadel paints.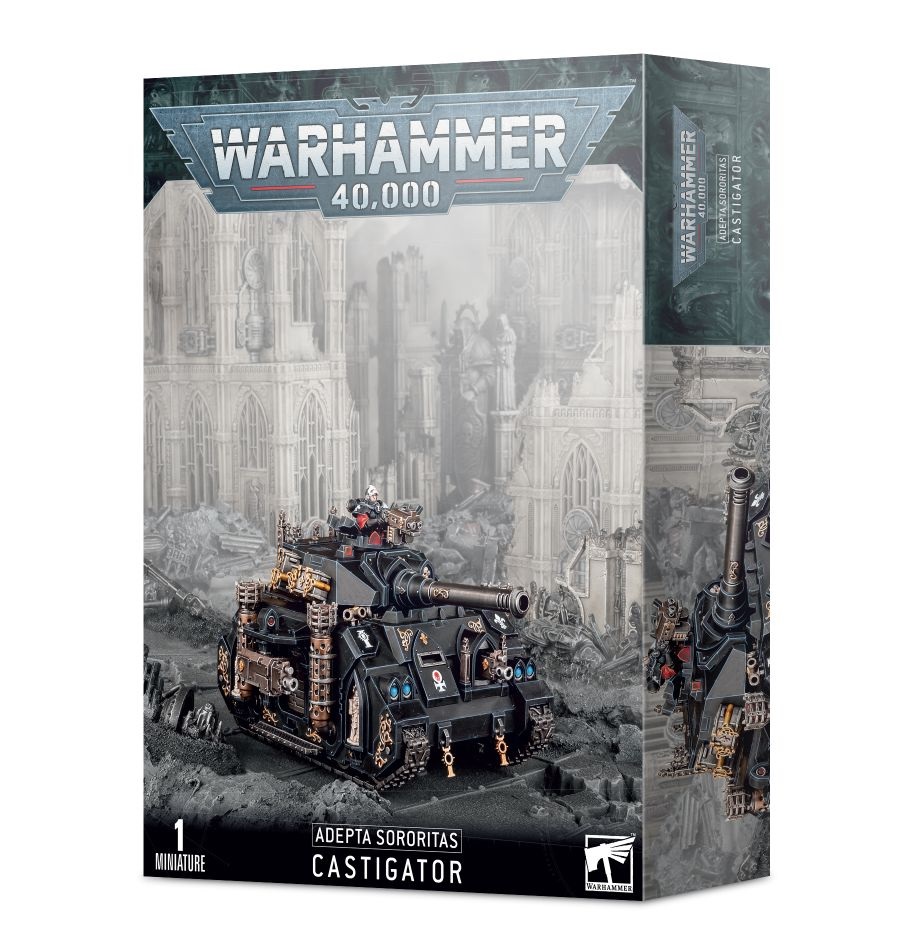 Castigators are powerful battle tanks of the Adepta Sororitas. They provide excellent fire support for Battle Sisters thanks to their wide array of weapons, smashing through the foe's lines and slaughtering great swathes of enemy infantry in a matter of seconds.
The Castigator is an ancient relic that is covered in ornate gothic designs and decorations such as the classic Adepta Sororitas fleur-de-lys iconography. It can be built with either a Castigator battle cannon or Castigator autocannons as its main weapon, and there are also wargear options, gunner options, and the braziers can be assembled to look like they are on fire or extinguished.
Subscribe to our newsletter!
Get Tabletop, RPG & Pop Culture news delivered directly to your inbox.
This 108-part plastic kit makes one Castigator tank for Adepta Sororitas armies in Warhammer 40,000.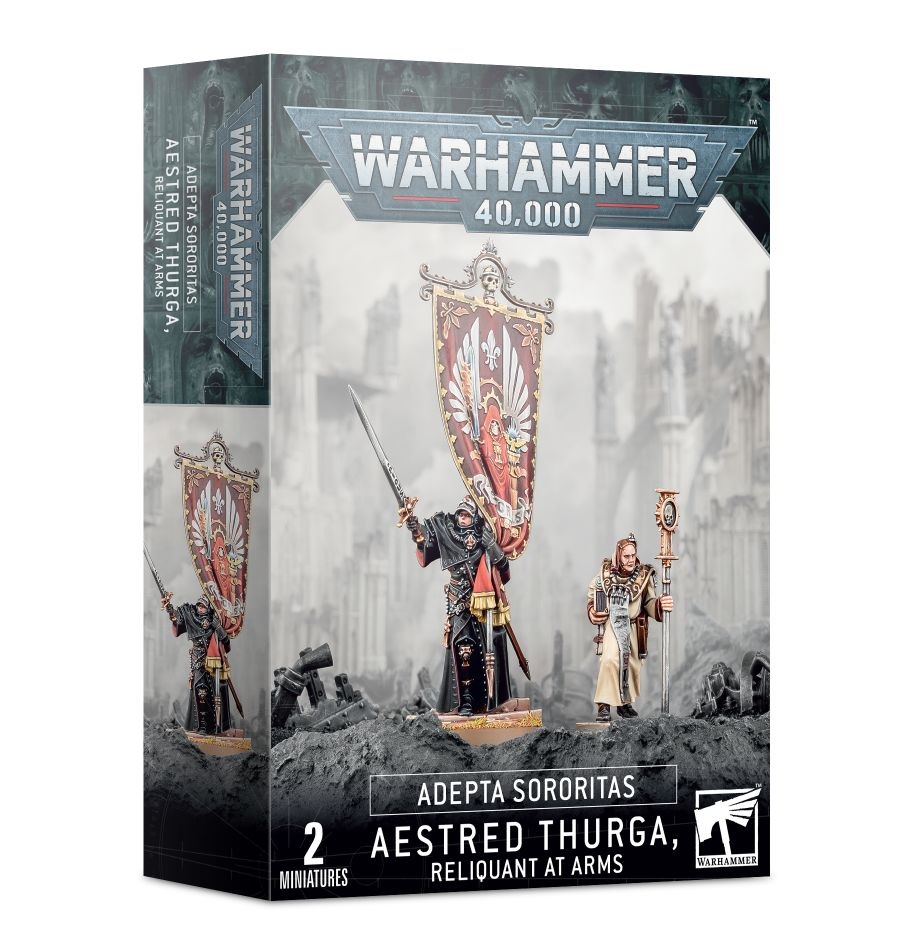 Aestred Thurga is a powerful warrior in her own right, but she recognises, with great humility, that the ancient relic standard she carries is far more important than she can ever be. She will gladly die to protect the Auto-Tapestry of the Emperor's Judgement, while the Sisters she fights alongside are inspired to carry out great deeds of faith in its presence – feats recorded by the Hagiolater, Agathae Dolan.
Fly your flag of faith and encourage your Adepta Sororitas warriors to fight with even greater vigour. Carrying a legendary relic, Aestred will fit perfectly into your Sisters of Battle collection, while also giving you interesting painting opportunities due to the different textures on the model.
This 23-part plastic kit makes one Aestred Thurga and one Agathae Dolan and is supplied with a 32mm Citadel round base and a 25mm Citadel round base. Aestred Thurga also comes with two head options, allowing her to be built either with or without a helmet.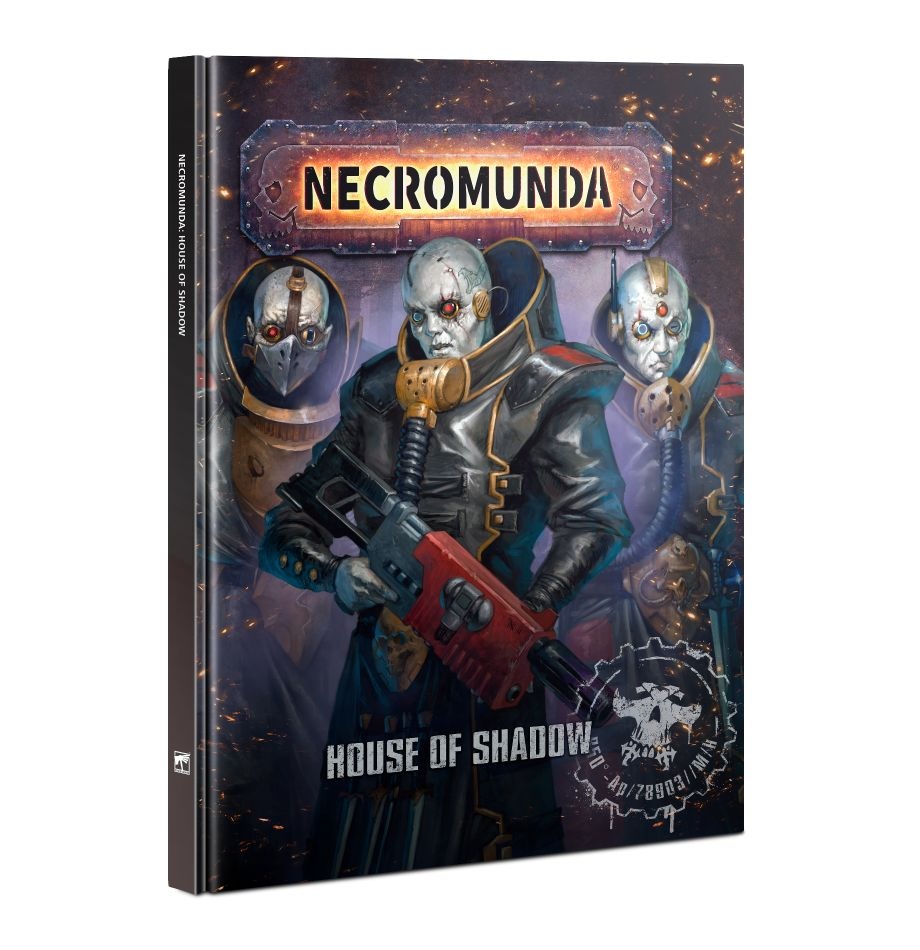 Unlike other Houses, that are built upon vital industries or are bound together by faith, he Delaque have no defined home and no defined industrial role within Necromundan society. If one were to ask what purpose the Delaque, one would doubtless receive myriad answers. Some believe them to be information brokers, who deal in secrets and buy and sell this vital commodity to the highest bidder. Others claim they are afforded their place because of some clandestine deal with the Helmawr line, and that they are spies for the Imperial House. Still others claim the Delaque are assassins and saboteurs without peer.
Get the ultimate guide to House Delaque. This 128-page hardback book features the definitive history of the House and rules for fielding the six different types of fighters available to House Delaque – Master of Shadow, Phantom, Nacht-Ghul, Psy-Gheist, Ghost, and Shadow. It's ideal for fans of House Delaque or anyone who wants to delve deeper into the dark side of the underhive.
Inside this book you will find:
– House Delaque History and Background: An expansive and extensive background on the origins of House Delaque and how it went on to become the most secretive clan on Necromunda.
– House Delaque Gang List: All the rules you need in order to field a Delaque Gang in games of Necromunda.
– Hangers-on and Brutes: Rules for hiring Hangers-on and Brutes for your Gang, including Delaque-specific ones and for using them in games of Necromunda.
– Hired Guns: Rules for using Bounty Hunters, House Agents, and Hive Scum.
– Strong Alliances: Rules for forming alliances with three organisations that House Delaque has connections with, including the Iron Guild, Psi-Syndica, and House Ty – the Noble House that backs the House of Shadow.
– Additional Rules: This section includes new and additional rules usable by House Delaque gangs in games of Necromunda, providing Delaque players a variety of options, including Skills, Abilities, and gang-specific terrain.
– Weapon Reference Chart: A comprehensive weapons reference chart for all weapons and wargear available to House Delaque and their Allies.
– House Delaque Gang Tactics: A D66 table of Gang Tactics for use in Scenarios.
– Dramatis Personae: Rules for hiring and using three brand-new Dramatis Personae characters in your games of Necromunda.
This is an expansion to Necromunda – you'll need a copy of the Necromunda Rulebook or the Necromunda: Dark Uprising Rulebook to use the contents of this book.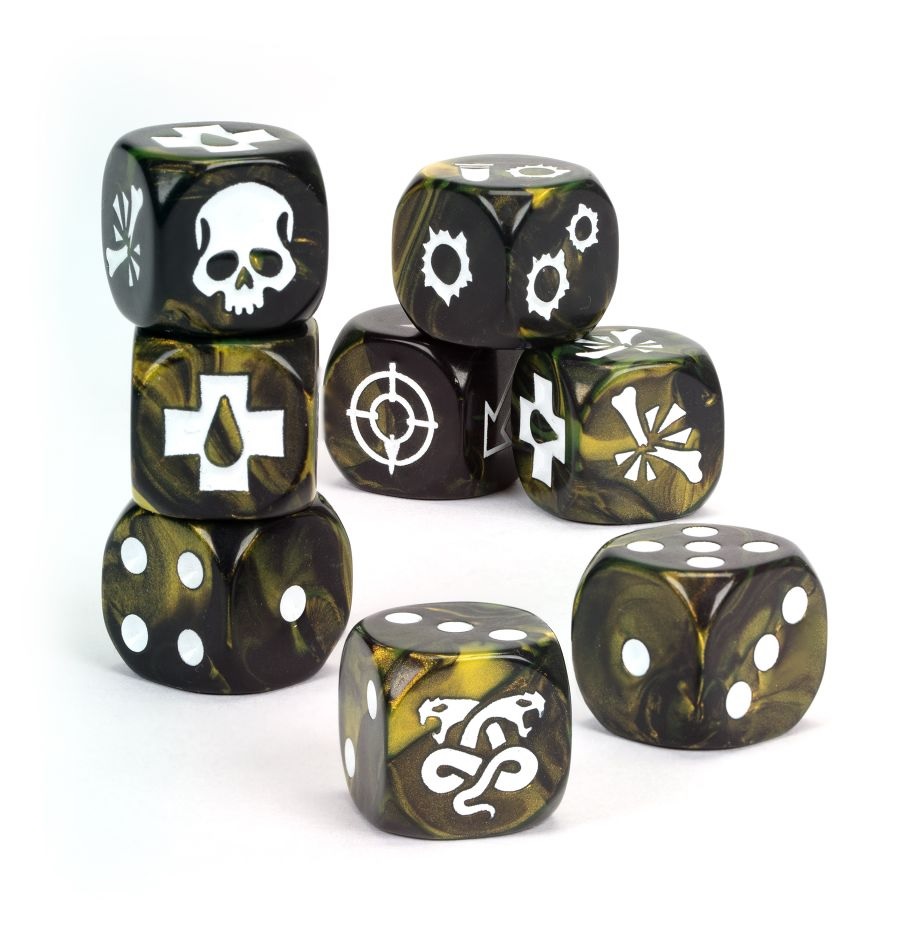 Forged in the secret by the experts of House Delaque, these dice are sure to bring luck to any gang hailing from the House of Shadow. Whether you're a Phantom, Ghost, or Shadow, you'll want a set of these dice to show your allegiance to the most mysterious of the clan houses.
These 16mm dice are black with gold swirls and have white coloured ink.
The box contains:
– 3x D6 with the House of Shadow logo on the '6' face
– 1x Necromunda Firepower dice
– 3x Necromunda Injury dice
– 1x Necromunda Scatter dice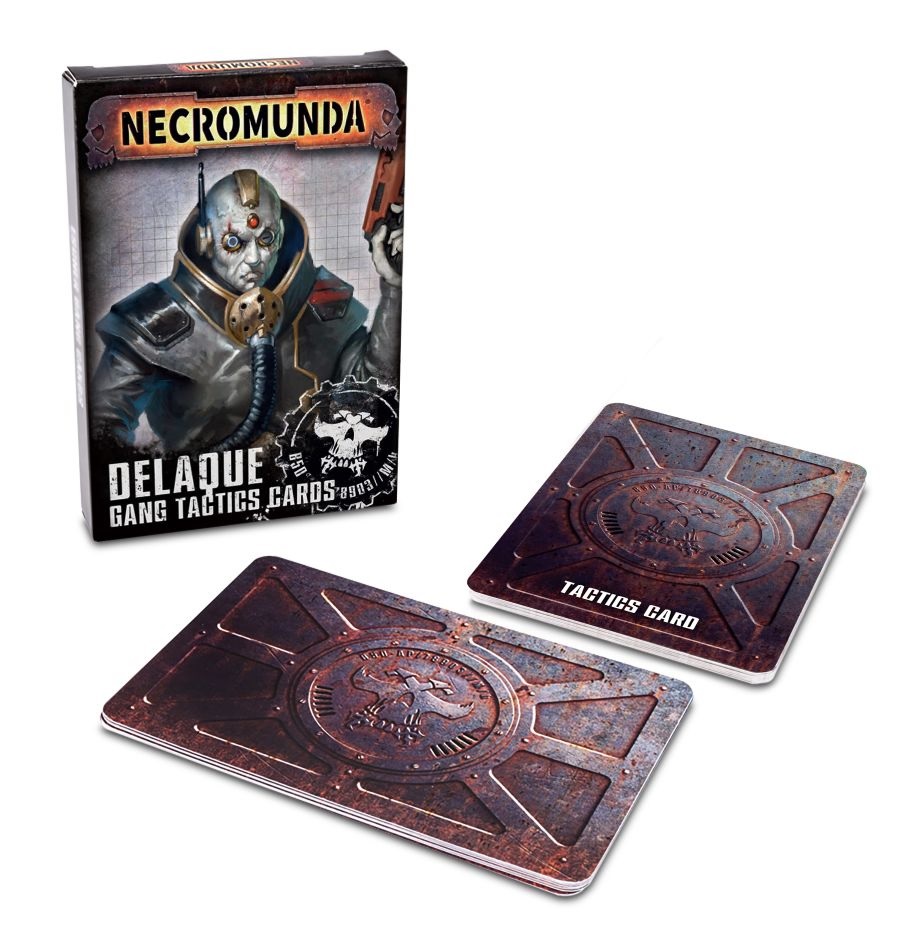 Expand your games of Necromunda with these 26 cards, representing the myriad tricks and schemes that can be used to gain an advantage in the underhive. These cards offer a great way to reference your gang's tactical options mid-game. As well as 18 gang-specific Tactics cards that perfectly encapsulate the way that House Delaque fight, there are also 8 blank Fighter cards for you to keep track of your gang.
This box contains 26 100mm x 75mm cards for use in games of Necromunda:
– 18x Delaque gang-specific Tactics cards
– 8x Blank Fighter cards
You will need a copy of the Necromunda: Rulebook and Necromunda: House of Shadow to use the contents of this set.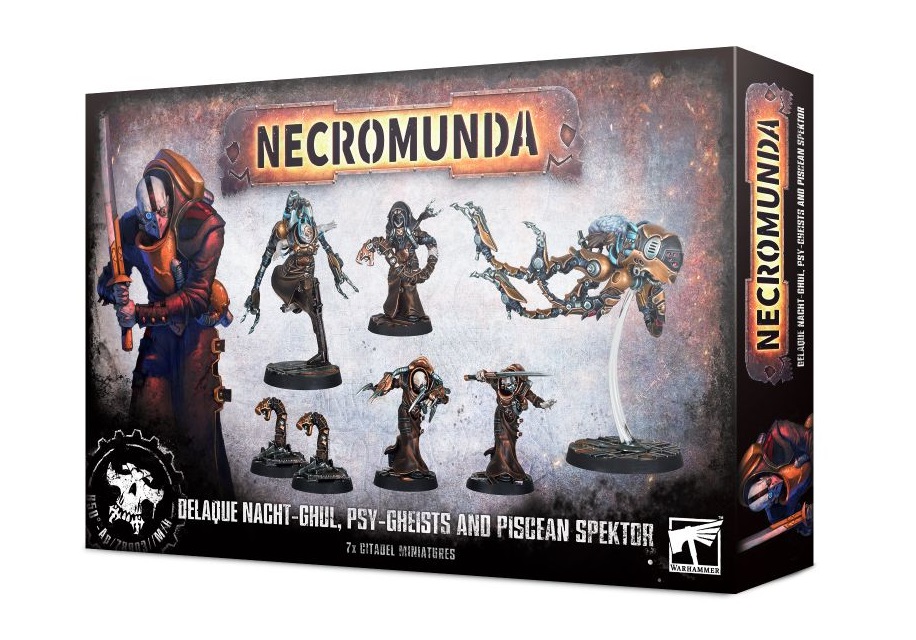 A Nacht-Ghul is an assassin and saboteur without peer. Crafted by psychic-science and esoteric chems, they are the edge of the blade in the dark that cuts away the enemies of the Delaque – or the enemies of their friends if it suits their purposes. Delaque gangs will often include these talented agents, though they do so with the knowledge that the Nacht-Ghul ultimately answers to the Star Chamber and the whispers of the Psychoterica.
Expand your Delaque Gang with these seven additional fighters. These secretive agents of House Delaque are equipped with a variety of specialist wargear to better enable them to perform their shadowy purpose. The two Nacht-Ghuls can be armed with either a shivver blade and serpent's fang, while one of the Psy-Gheists is clad in a psychomancer's harness. With the exception of the Psychoteric Wyrms, who act as psychic nodes for their masters, all of the other fighters are psykers, and will offer your gang an enormous tactical advantage.
This kit is supplied as 98 components that make the following seven miniatures:
– 2x Nacht-Ghul (Champions, supplied with 2x 25mm Necromunda Bases)
– 2x Psy-Gheists (Prospects, supplied with 1x 32mm Necromunda Base and 1x 25mm Necromunda Base
– 2x Psychoterric Wyrms (Exotic Beasts, supplied with 2x 25mm Necromunda Bases)
– 1x Piscean Spektor (a Brute, supplied with 1x 40mm Necromunda Base and 1x 45mm Groove Stem set
Rules for using the Nacht-Ghul, Psy-Gheists, Psychoteric Wyrm, and Piscean Spektor in games of Necromunda can be found in Necromunda: House of Shadow.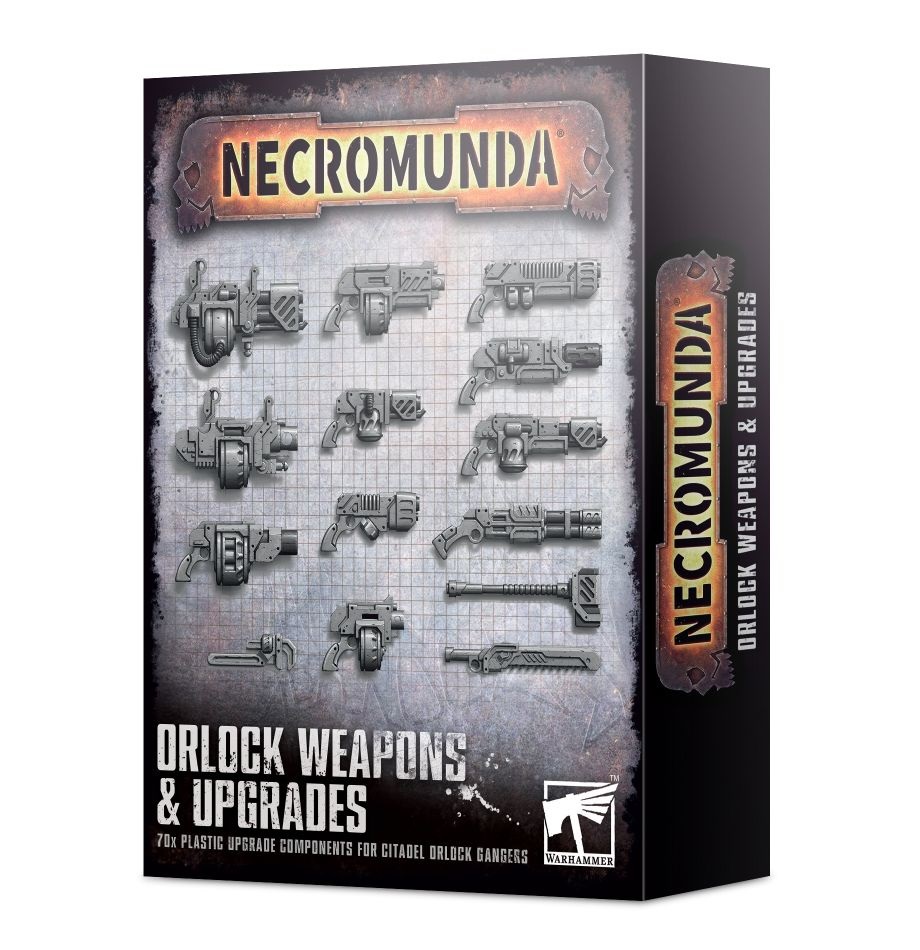 Upgrade your Orlock fighters with a selection of death-dealing weaponry allowing you to create a unique and formidable gang. Also included in this set are alternate heads and arms, so you can personalise your gang even further.
This 70-piece plastic kit includes:
– 2x Meltagun
– 2x Plasma gun
– 2x Boltgun
– 2x Flamer
– 2x Grenade launcher
– 2x Shotgun
– 2x Two-handed hammer
– 2x Heavy bolter / heavy flamer
– 2x Hand flamer
– 2x Maul
– 2x Chainsword
– 2x Bolt pistol left hand
– 2x Bolt pistol right hand
– 2x Plasma pistol left hand
– 2x Plasma pistol right hand
– 10x Alternative heads (two copies each of five head variants)
These parts are compatible with the Orlock Gang kit and the Orlock Arms Masters and Wreckers kit.
These miniatures are supplied unpainted and require assembly – we recommend using Citadel Plastic Glue and Citadel paints.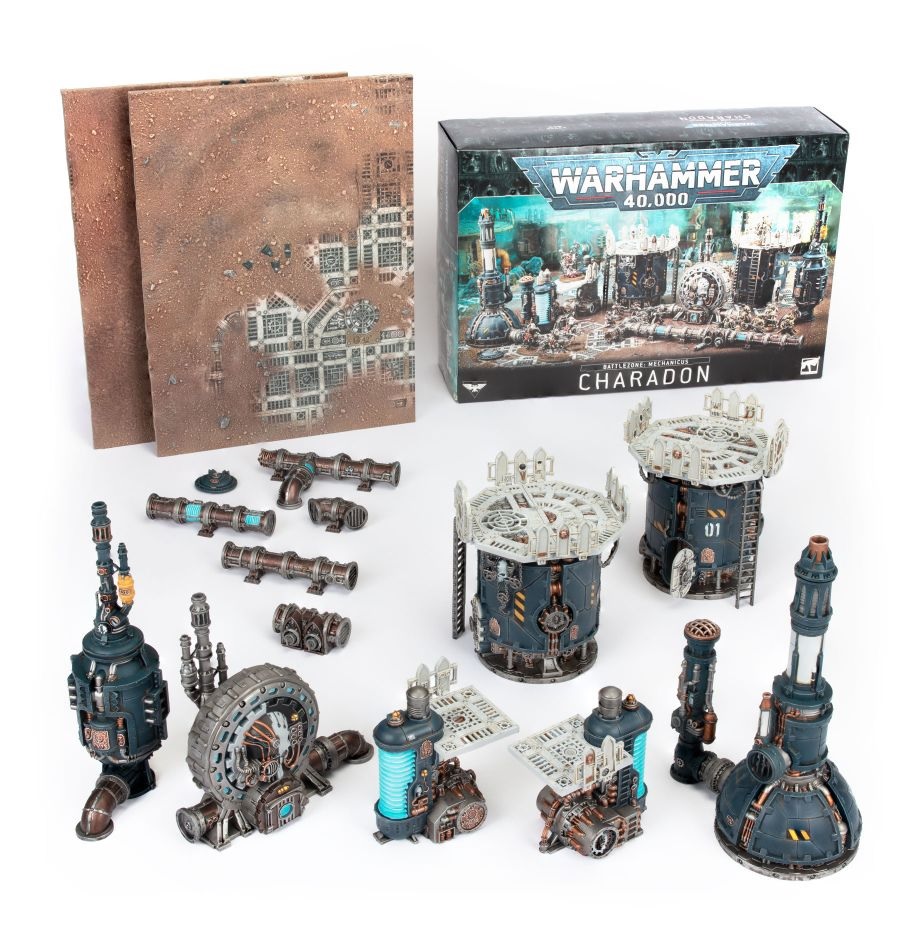 The battlefields of the Charadon sector are littered with broken machinery, toxic waste, and the still-warm cores of ancient power plants. Among these ruins, the forces of Forge World Metalica defend their realm from invaders, with armies forced to navigate maze-like complexes of pipes and gantries in the heat of battle.
Battlezone: Mechanicus – Charadon is a scenery expansion set for Warhammer 40,000, comprising a range of terrain pieces to populate battlefields inspired by the Adeptus Mechanicus. The varied assortment of barricades and structures make it a perfect way to start or expand your terrain collection.
This kit is comprised of 129 plastic components with which you can build:
– 2x Ferratonic furnaces
– 1x Haemotrope reactor
– 5x Plasma conduits
– 2x Alchomite stacks
– 2x Thermic plasma regulators
– 1x Emergency hatch
The set also includes two double-sided folding gaming boards measuring 30″ x 22.4″, allowing you to build a battlefield suitable for 1000-point games of Warhammer 40,000. These durable boards feature different artwork on each side and can be combined with other gaming boards to create battlefields of any size.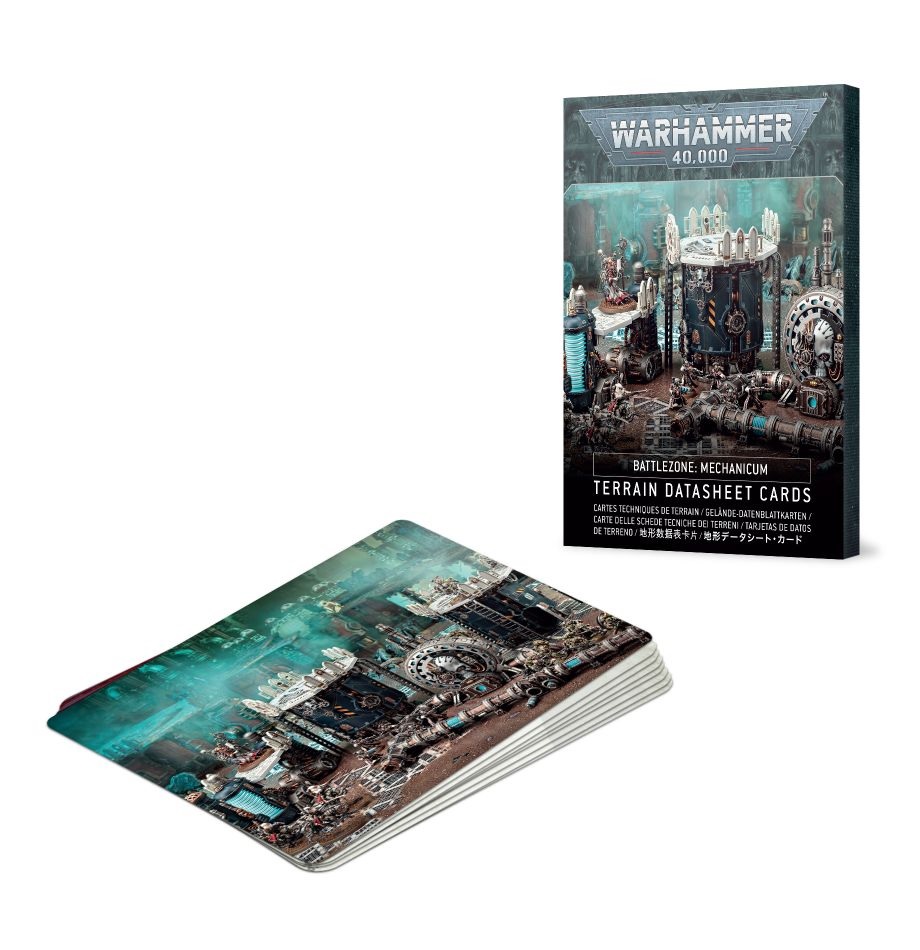 Amidst belching furnaces and crackling discharge from barely-understood technology, the battlefield becomes a hazardous place to all who find themselves fighting upon it. Even the Adeptus Mechanicus, who often live among such terrain, advance carefully through forests of rusted gantries, exposed wires, and arcane generators.
Enhance your games of Warhammer 40,000 with this collection of bespoke rules for eight different terrain pieces themed around the Adeptus Mechanicus. Handy diagrams illustrate exactly how the terrain interacts with those around it, which you'll find of vital importance when a generator suddenly sparks to life or blast doors fly open.
Inside this 22-card pack, you will find:
– 8 Terrain datasheet cards
– 8 Tactical terrain datasheet cards
– 2 Battlezone Mechanicum rules cards
– 1 Agendas card for use in Crusade campaigns
– 1 Theatre of War card for use in narrative and open play games
– 1 Photo card
– 1 Art card
The datasheets provided cover the Ferratonic Furnace, Haemotrope Reactor, Plasma Conduits, Mechanicum Walkways, Alchomite Stack, Galvanic Magnavent, Thermic Plasma Regulator, and Munitorum Armoured Containers terrain pieces.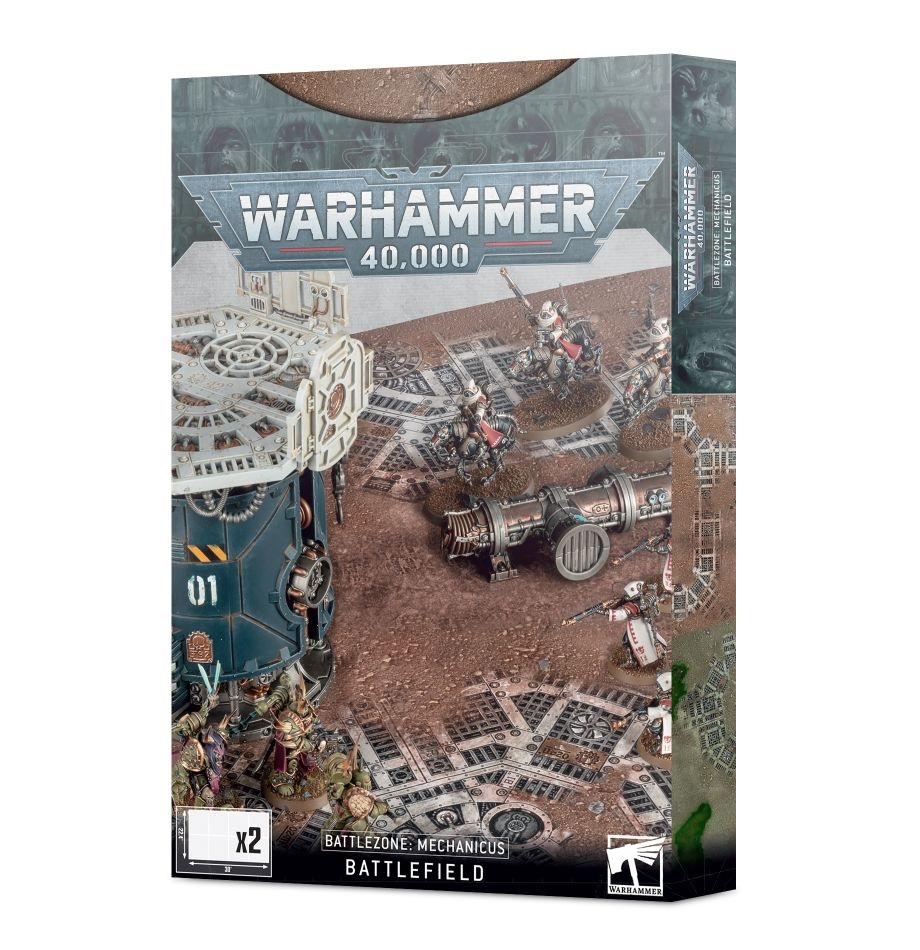 The forge worlds of the Adeptus Mechanicus are often covered with vast, continent-sized manufactorum districts, along with armoriums, transport hubs, and storage depots beyond counting. Outside the borders of these bustling factory-states, irradiated wastelands of abandoned warehouses and industrial fallout are all that's left behind once the natural resources of each region have been drained by the ever-hungry forges of the Adeptus Mechanicus.
Take to war upon the battlefields of the 41st Millennium with these double-sided, fold-out boards, featuring murky swamps on one side and dry wastelands on the other. When placed together, these boards make a battlefield measuring 44.8″ x 30″, perfect for 1,000-point or 50-Power games of Warhammer 40,000, and they are the ideal foundation for a wide range of Citadel terrain products.
Due to the easily expandable rules available in the Warhammer 40,000 Core Book, two or more sets of these boards can produce battlefields suitable for games of 2,000 points or more.
The boards are made of thick, durable card with reinforced folds to ensure excellent condition even after frequent use. Each board measures 22.4″ x 30″ and can be folded into eighths for easy storage.
What are you going to snag this weekend from Games Workshop?