BigPlanes is a Lego builder that recreates big planes. Really big planes.
These brick-built scale models are as detailed as you can get and are all made to minifig scale, so they average over 5′ in length/width and contain thousands of pieces. These are some of the most massive and iconic civilian planes builds he's done – he's also built military planes and  10 foot tall, 30k piece Saturn V.
This [Airbus A380] model measures 7 feet in wingspan and 6 feet in length. It uses an estimated 40,000 LEGO bricks and weighs roughly 90 pounds. The jet engines are powered by four lego 'power functions' motors (one in each engine) and the flaps are powered by a single lego 'powered up' XL motor at the base of each wing.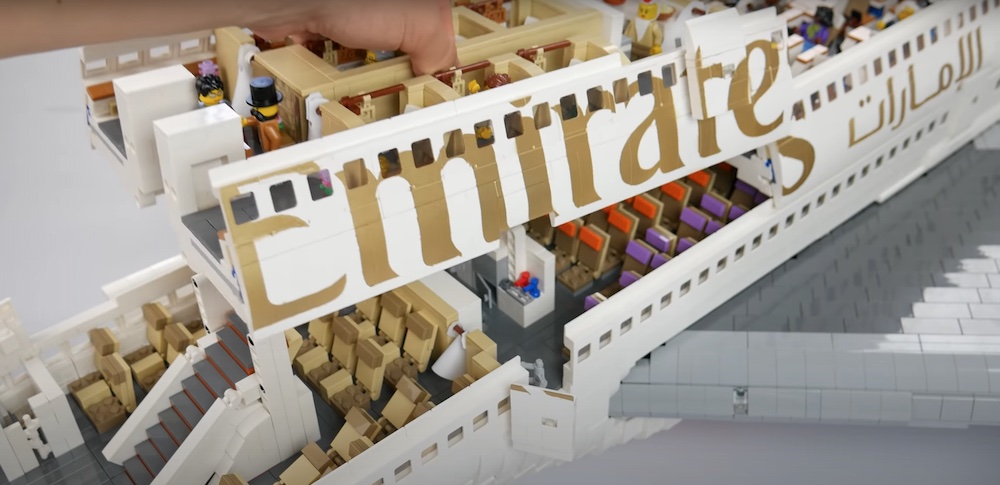 This is my LEGO British Airways Concorde MOC. It measures about 5 feet in length and uses an estimated 6-7,000 pieces. This model has a full interior, functioning droop nose, functioning afterburners, retractable landing gear and so much more!! I tried to be as innovative with the design of this as I could.

 The interior of this model Is configured in a two class configuration with all seats being able to hold LEGO minifigures. Due to the limitations of LEGO minifigure scale, I was only able to fit 4 seats abreast and 2 lavatories in the rear of the airplane. There is also a full galley in the back of the plane along with a fully detailed cockpit at the front.
   This aircraft has fully functioning tri-fold Fowler flaps to add even more realism to the wing. There are 6 exits on this aircraft 2 in the front, 2 in the rear, and 2 overwing emergency exits.