RPG: Call Of Cthulhu's 40th Anniversary System In Action – 'The Auction' Shows Off New Kickstarter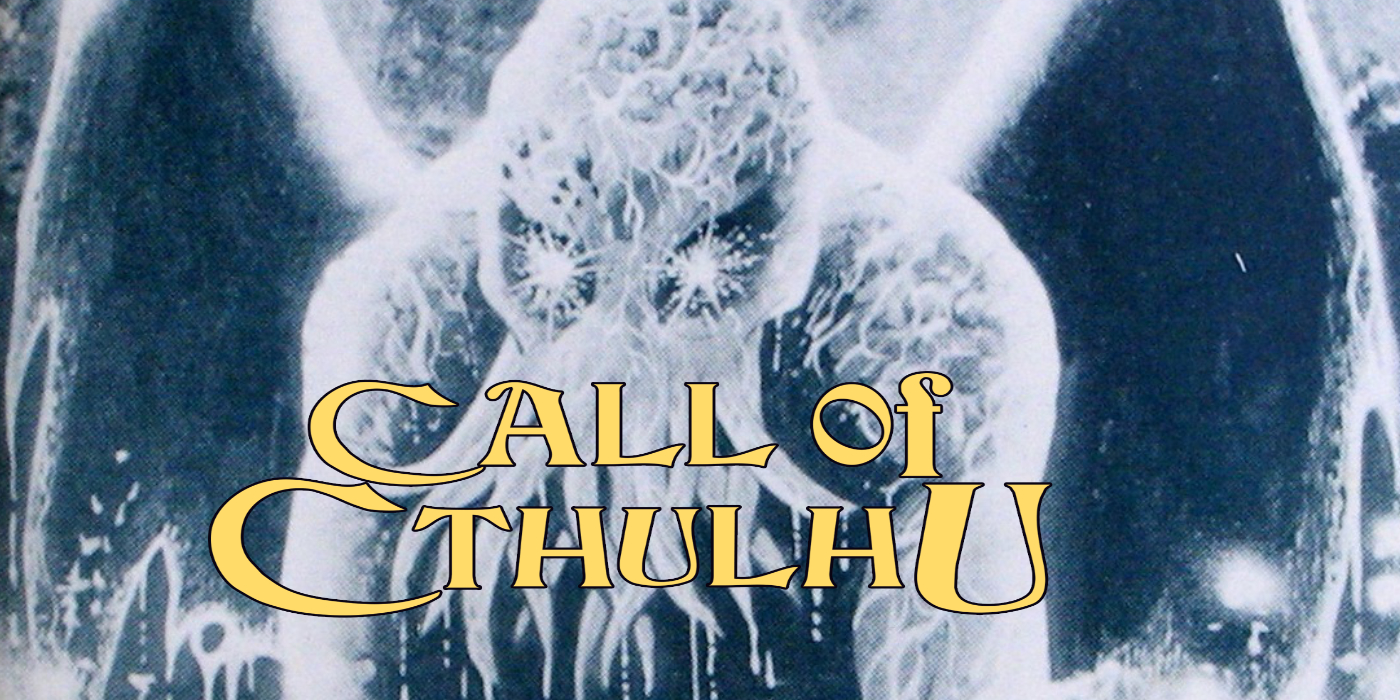 Call of Cthulhu turns 40 this year, and is celebrating with a brand new Kickstarter for 'Call of Cthulhu Classic' which you can see in action.
Call of Cthulhu was launched 40 years ago, and what strange aeons we've endured since its launch. But, even death may die and what was old and lying sleeping in R'lyeh rises again–the stars are right for nostalgia it seems. And nostalgia is at the heart of a brand new Kickstarter from Chaosium. Call of Cthulhu Classic gathers together the very essence of Call of Cthulhu as it was in 1981 when the game was first published four decades ago.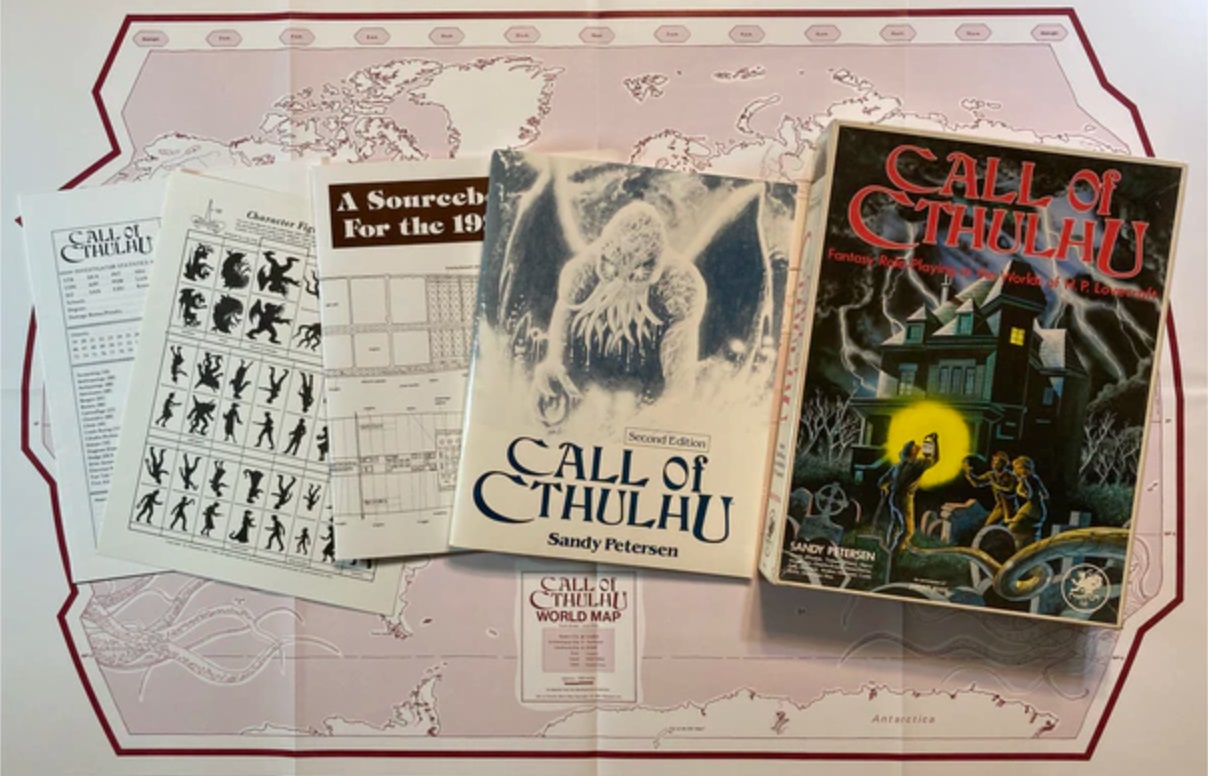 On a rainy day very close to Halloween of 1981, The Chaosium debuted its boxed Call of Cthulhu game to an unsuspecting and unprepared world. To help celebrate the 40th anniversary of this iconic horror roleplaying game we are re-issuing a remastered version of this boxed set and several of its first supplements. It's been over 35 years since we last published a 2″ thick boxed game. We feel the Stars are Right again…
Call of Cthulhu Classic is a massive boxed set that contains an absolute treasure trove of classic Cthulhu RPG materials, including:
The Call of Cthulhu rulebook, 2nd Edition–which Chaosium points out is "very much compatible with every other edition of the game (including 7th), and contains rules for creating your own Investigator, dealing with the Cthulhu Mythos, spells, scenarios, and more
The 1920s Sourcebook, which is everything you need to play Call of Cthulhu 2E in the 1920s and is full of resources for prices, distances, travel times, kinds of weapons, kinds of plans, kinds of archaeological digs happening and so on
A World Map which shows off the world of CoC in glorious detail with all the love and attention to detail that made Chaosium famous
Character Sheets and Character Silhouettes
And on top of that you'll get five full supplements if you back the big 2″ boxed set: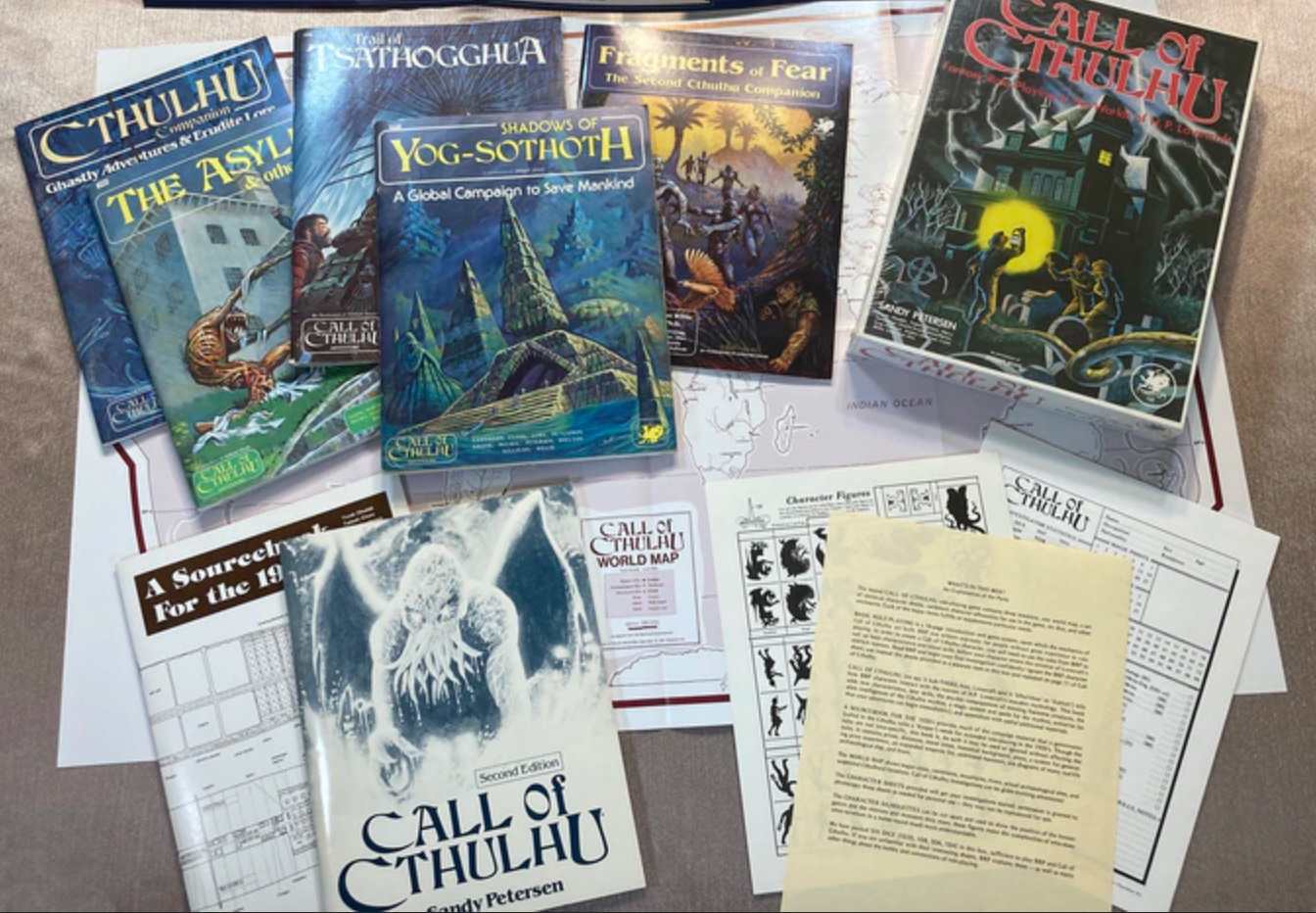 SHADOWS OF YOG SOTHOTH

(80 pages), a global campaign to save mankind. The first of its kind.
 

THE ASYLUM & OTHER TALES

(72 pages), seven shorter sinister scenarios set around the world and at sea.
 

CTHULHU COMPANION

(64 pages), four scenarios as well as added rules and source material.
 

TRAIL OF THE TSATHOGGHUA

(64 pages), a mini campaign of two scenarios, plus a third adventure. It's world spanning, and thus all over the place.
 

FRAGMENTS OF FEAR

(72 pages), additional gods, background, and other material, as well as a bonus scenario.
These are some of the best written supplements/adventures in their genre. They broke new ground for RPG campaigns, the Shadow of Yog Sothoth is almost as legendary as Masks of Nyarlathotep, but you don't have to take our word for it. You can see one of these scenarios in action right here.
Join us for 'The Auction'! We're playing Call of Cthulhu Classic in celebration of the Call of Cthulhu RPG's 40th anniversary and the Call of Cthulhu Classic Kickstarter campaign! After 40 years of horror RPG excellence, Chaosium goes back to its eldritch roots with a remastered version of the original boxed set and several of Call of Cthulhu's very first supplements.
Featuring:
Good Time Society is a group of friends creating board game tutorials, reviews, podcasts, sketches, and more, created by Becca Scott (@thebeccascott), Jake Michels (@thejakemichels), and our friends!
Subscribe to our newsletter!
Get Tabletop, RPG & Pop Culture news delivered directly to your inbox.
Watch as this phenomenal cast–whom you might recognize from other TTRPG streams like The Black Dice Society, Misfits and Magic, and Shikar–takes you through what you can expect from a scenario straight out of The Asylum & Other Tales
Happy Adventuring!