Warhammer 40K Pre-Orders: 'Pricing & Links' – Charadon Act II Weekend
The war that came to Charadon continues with Act II: The Book of Fire.
via Games Workshop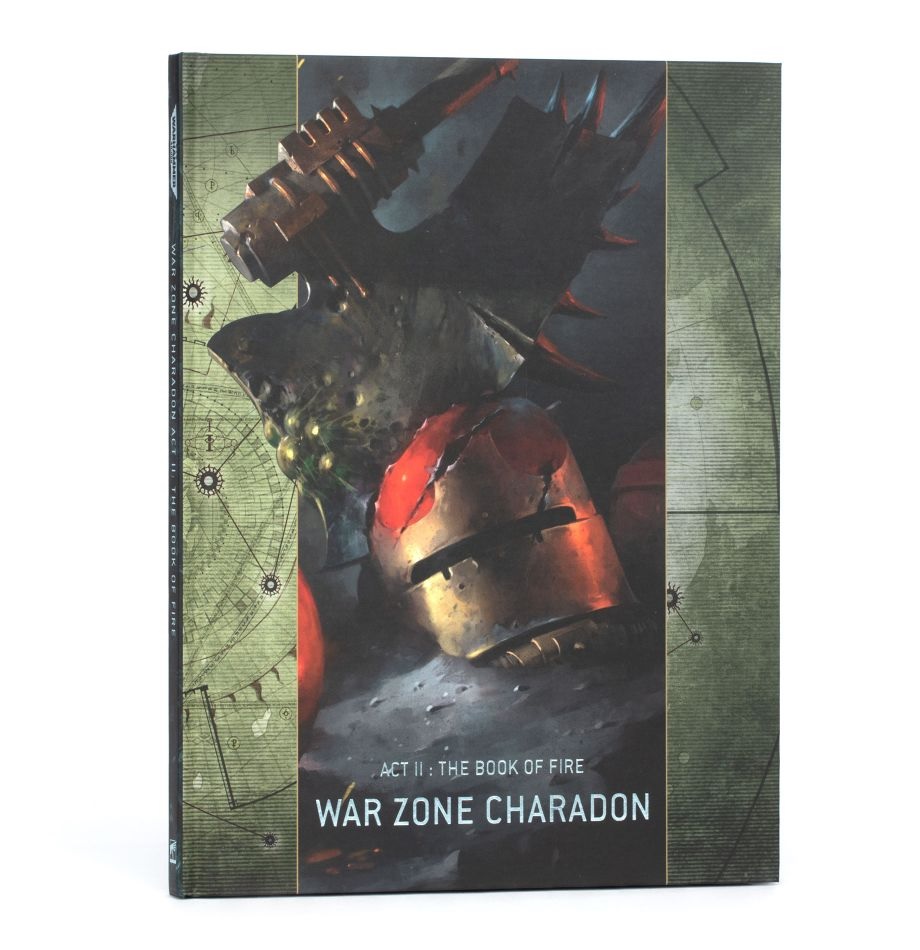 This high-quality hardback book has a soft-touch cover with foil blocking, printed page edges, and it comes with a black 1/4″ ribbon marker.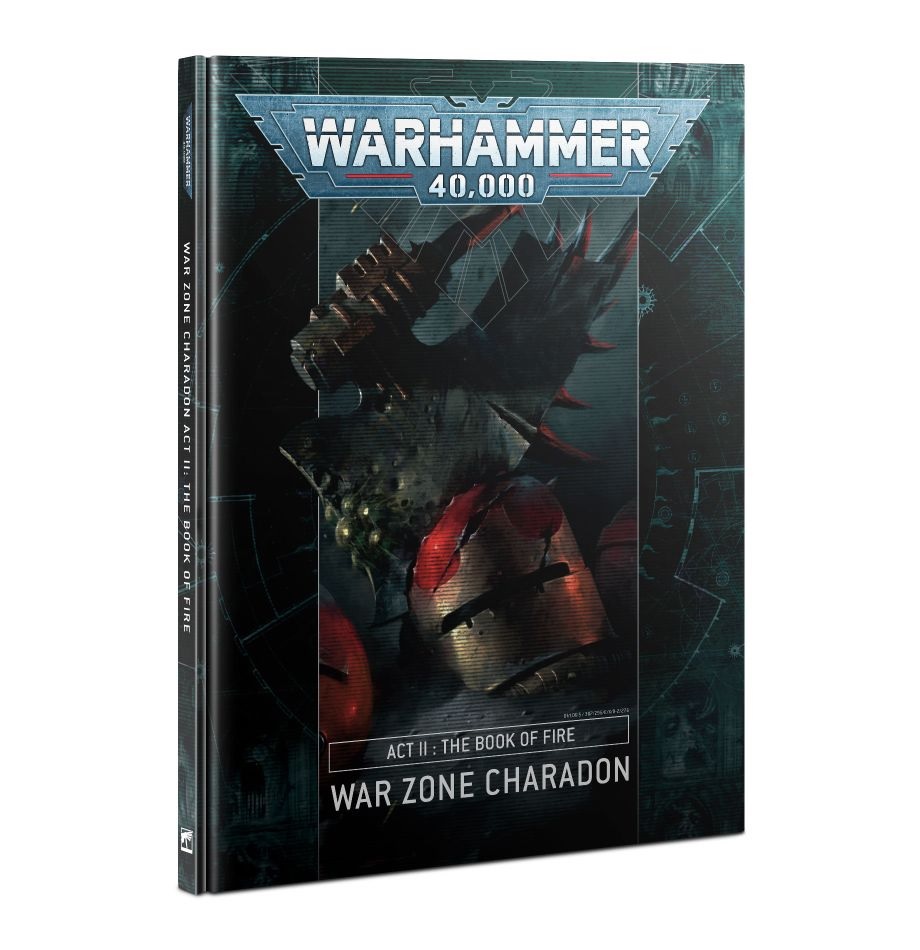 Forge world Metalica is besieged. Typhus and his plague-ridden hosts seek to infect the planet with the gruesome and terminal malady known as the Nemesis Wurm. As the worlds of their system burn and warp storms rage all around, the planet's defenders stand alone against the nightmare onslaught.
Elsewhere, dark shadows stir as an ancient and terrible entity is summoned forth to bedevil the Imperium anew – at the head of his mortal disciples, Be'lakor steps from the depths of the warp to launch a malevolent attack upon Kolossi, the homeworld of House Raven. Throughout the war zone, Imperial forces battle exhaustion, isolation, and horror as they strive to outlast their heretical foes. Yet amidst the darkness blazes fierce new light, for a battle group of the Indomitus Crusade has come at last in answer to the region's cries for aid – one led by Abbess Sanctorum Morvenn Vahl herself.
Inside this 120-page hardback book, you'll find:
– Riveting background that sees the fighting in the Charadon Sector continue to intensify. Discover how the unexpected arrival of the First Daemon Prince, Be'lakor, threatened the last great Imperial bastion that had yet to succumb to the fighting – the Knight World of Kolossi.
– An in-depth campaign system you can use to join the wars for Kolossi and the Metalican front.
– A wealth of Crusade campaign content, including unique relics and advancements for your units to reflect your Crusade force's participation in this sprawling war.
Subscribe to our newsletter!
Get Tabletop, RPG & Pop Culture news delivered directly to your inbox.
– Daemons of Chaos: An updated datasheet for Be'lakor, the First Daemon Prince
– Adepta Sororitas: A codex supplement for the Order of Our Martyred Lady
– Chaos Space Marines: An appendix of rules for seven Traitor Legions and six Renegade Chapters
– Armies of Renown: Rules and matched play content for fielding themed forces that provide a whole new way of mustering a Warhammer 40,000 collection, including a Skitarii Veteran Cohort and the Disciples of Be'lakor
– Additional content, including three new Legendary Missions, enabling you to refight iconic missions that are key to the narrative.
This hardback book also comes with a black 1/4″ ribbon marker.
You will need a copy of the Warhammer 40,000 Core Book to use the contents of this supplement.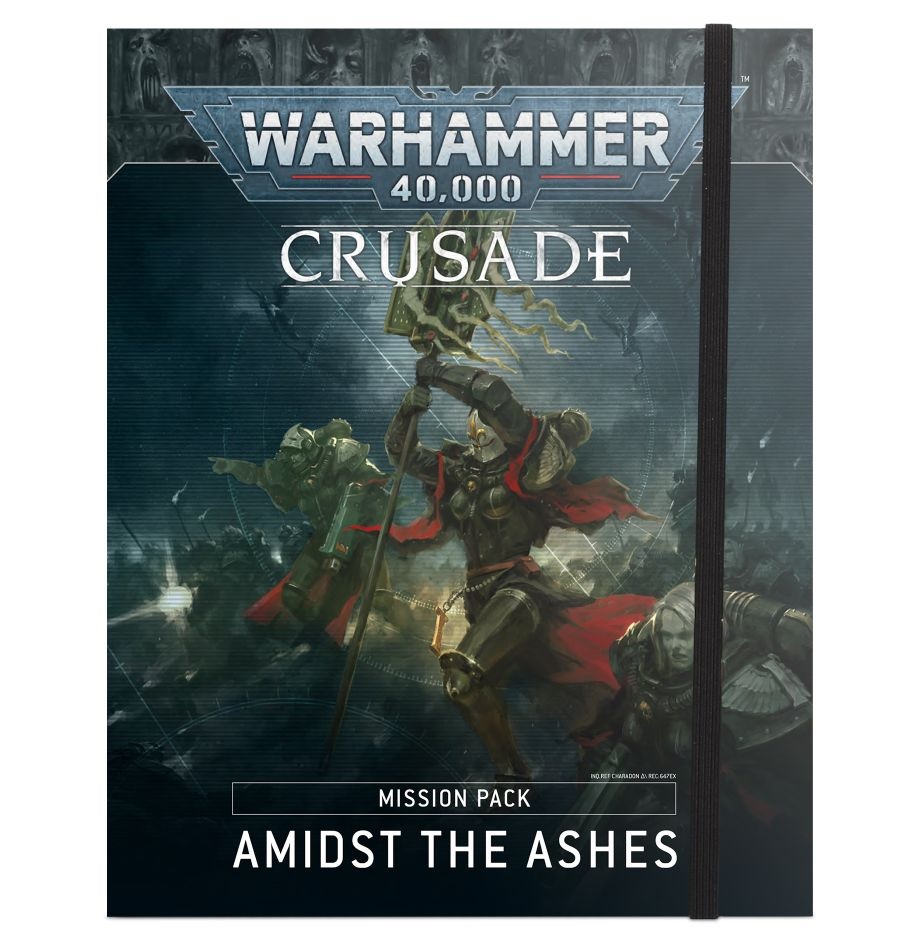 This mission pack is a narrative play expansion for the Warhammer 40,000 Crusade campaign system.
Within this book, you'll find the rules required to play games of Warhammer 40,000 set in the Charadon Sector, which continues to burn in the fires of war as the Chaos and Imperial forces pour fresh forces into the escalating conflict.
This mission pack has been specifically designed for use in narrative play Crusade games, where your campaigning forces can battle across the war-torn worlds of Kolossi, Fathom, and Metalica. With plagues running amok and devastating new weaponry being brought to bear on every front, will your Crusade force rise to prominence or buckle beneath the weight of the terrible conflict?
This 112-page mission pack includes:
– Six new missions each for Combat Patrol-, Incursion-, Strike Force- and Onslaught-sized games, all set within the war-torn Charadon Sector
– A selection of new Amidst the Ashes Agendas, Requisitions, Stratagems, and more
– The basic rules for Warhammer 40,000 – designed to be quickly referenced during your games
The pack itself is presented in a full Canadian wiro ring-bound book for easy use on the tabletop during games, and it comes with an elastic closure.
You will need a copy of the Warhammer 40,000 Core Book to use the contents of this mission pack.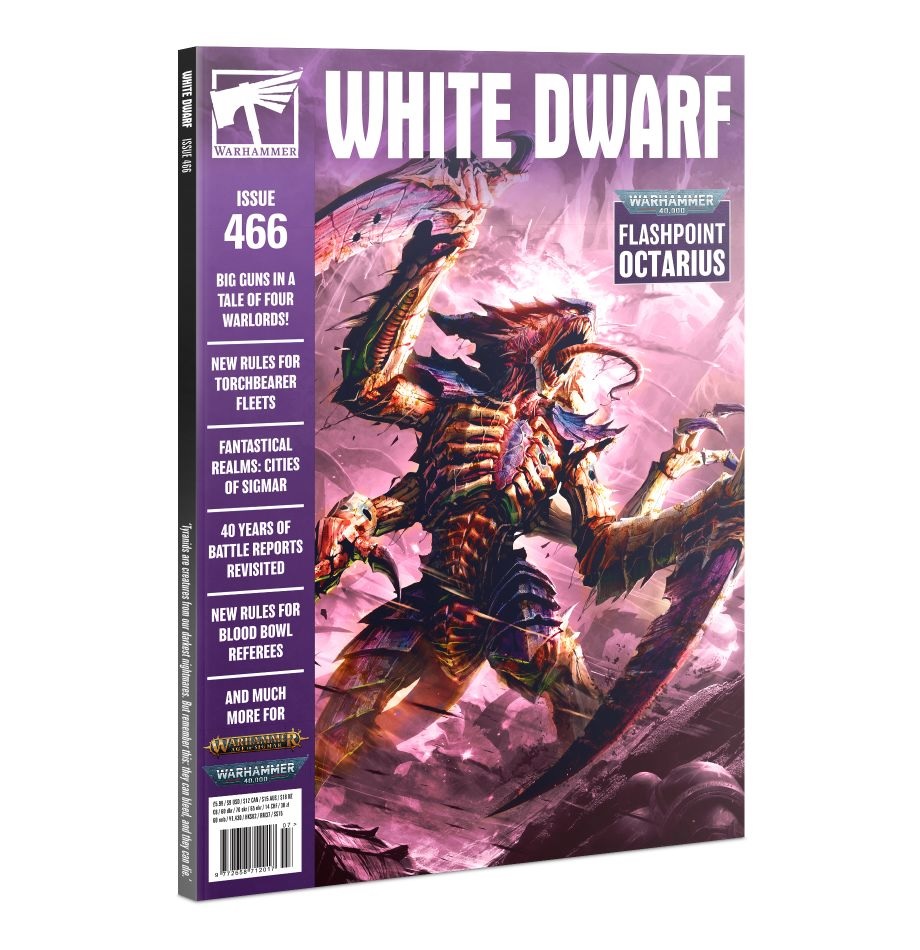 White Dwarf is Games Workshop's premium Warhammer magazine, packed with amazing content each month such as new rules and background, short stories, regular columns, special guests, and more.
Here's what you can look forward to in July's issue:
Contact!
Letters, painting advice, and beautifully painted miniatures. Plus a gallery of super-shiny Adeptus Custodes.
Worlds of Warhammer
Phil takes a long, storied, and celebrated look back at the legendary career of the mighty Jervis Johnson.
An Eternity of Wargames
Ever tried to write a complete history of the games Jervis has worked on over the years? Well, we did. It took ages.
The J Files
Rules of Engagement has been taken over! Jervis returns for his very last J Files (sob, cry, and sniffle).
Temporal Distort
Jervis joins us once more for a journey through space and time to revisit some of his favourite White Dwarf Battle Reports from over the last 40 years.
Inside the Studio
We talk about some of the models we've painted and the games we've played over the last month.
WARHAMMER 40,000
A Tale of Four Warlords
The warlords smash the 75 Power barrier with their latest Crusade creations.
A Light in the Darkness
A look into the clandestine operations of the Indomitus Crusade's Torchbearer fleets.
The Hunt for Mhorwen
The Adeptus Mechanicus and Custodes team up to hunt down a missing Space Marine Chapter in this short story.
Torchbearers Crusade Force
New Crusade rules for fielding a Torchbearers army. Includes new Battle Traits, a Chapter Tactic, Agendas, Requisitions, and Relics.
Paint Splatter: Emissaries Imperatus
A handy stage-by-stage painting guide for the Emperor's golden guardians, the Adeptus Custodes.
Echoes From the Warp
Having trouble picking your secondary objectives? Not sure if you should just kill stuff instead? This article by Robin Cruddace may help you decide…
WARHAMMER 40,000 FLASHPOINT: OCTARIUS
– Blood and Snow
The Octarius Sector comes under attack from Hive Fleet Leviathan.
– Gloom Walkers
Underwater action between Space Marines and a mysterious alien foe.
– The Dark Krakens
An Ultima Founding Chapter and Successor of the Salamanders the Dark Krakens have a particular set of skills… Fancy fighting an underwater battle? Now you can!
Includes two Narrative Datasheets for two Dark Kraken Characters, Theatre of War rules for fighting battles beneath the Mirror Sea, and a brand new Mission.
WARHAMMER AGE OF SIGMAR
Fantastical Realms: Cities of Sigmar
Pack your bags, kids, we're heading for the big city! Modellers and painters prepare yourselves for a treat – colour schemes and conversions abound for the loyal followers from Sigmar's cities.
Into the Cities of Sigmar
Two exceptional displays featuring the armies of the free cities. If you love clever conversions, you'll love this article.
WARHAMMER QUEST: CURSED CITY
Building Your Party
Wizards, warriors, ranged combatants. Which four characters will you choose for your adventures in the Cursed City?
WARHAMMER UNDERWORLDS
Glory Points
An in-depth look at how games developers create rules for and design Warhammer Underworlds warbands.
AERONAUTICA IMPERIALIS
Vital Cargo
Who needs big guns and huge engines when you can have an Arvus Lighter? Two new missions for using these much beloved and nippy transports.
BLOOD BOWL
Red Cards & Rulekeepers
Seems like the Refs are taking a more active part in Blood Bowl these days. They've even got their own rules. Meddling gits!
THE MIDDLE-EARTH™ STRATEGY BATTLE GAME
The Heir of Isildur™
Aragorn is one of the mightiest warriors in Middle-earth. Here's some tactical advice on how to get the most out of him.
BLACK LIBRARY
I, Behemat
The smallest of the small and the largest of the large wreak havoc and carnage across the lands of Ghur in this short story from Black Library's Eric Gregory.
CARD INSERT
Each physical copy of Issue 466 includes a card insert with the following handy reference information:
– Rules for two named referees in Blood Bowl, Elnos Lawkeeper and Redkur Forgebeard.
– Predators of the Deep Theatres of War table for fighting games in Bianzeer's Hollow from Flashpoint: Octarius.
Be'lakor and his shadowy forces are coming!