Warhammer: Underworlds – A New Edition of 'Arena Mortis' Coming Soon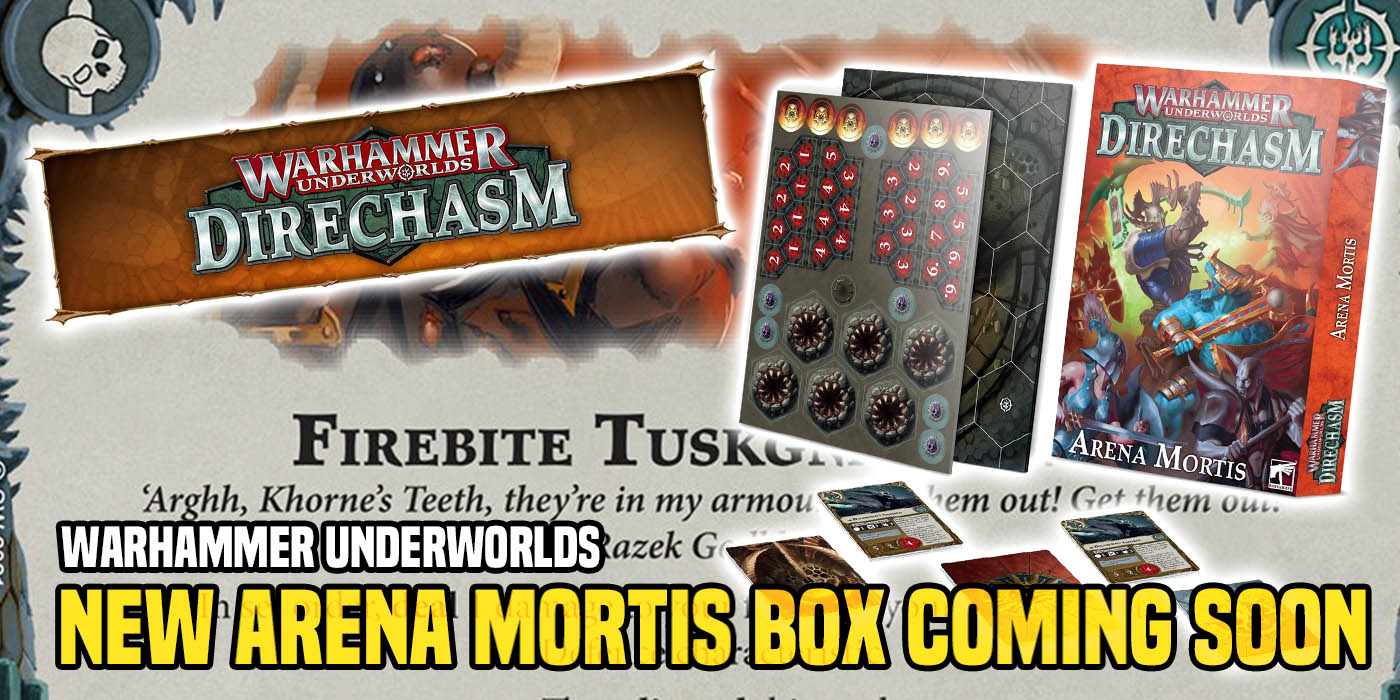 Forget your warband! It's time for your lone champion to take on all-comers in a 3-6 player throwdown.
The first interation of Arena Mortis was a fun side-game for Underworlds. It was a good way to get in a quick round or two with multiple opponents and was a fine addition to the game. Now, GW is taking that idea and amping up the action with a new edition.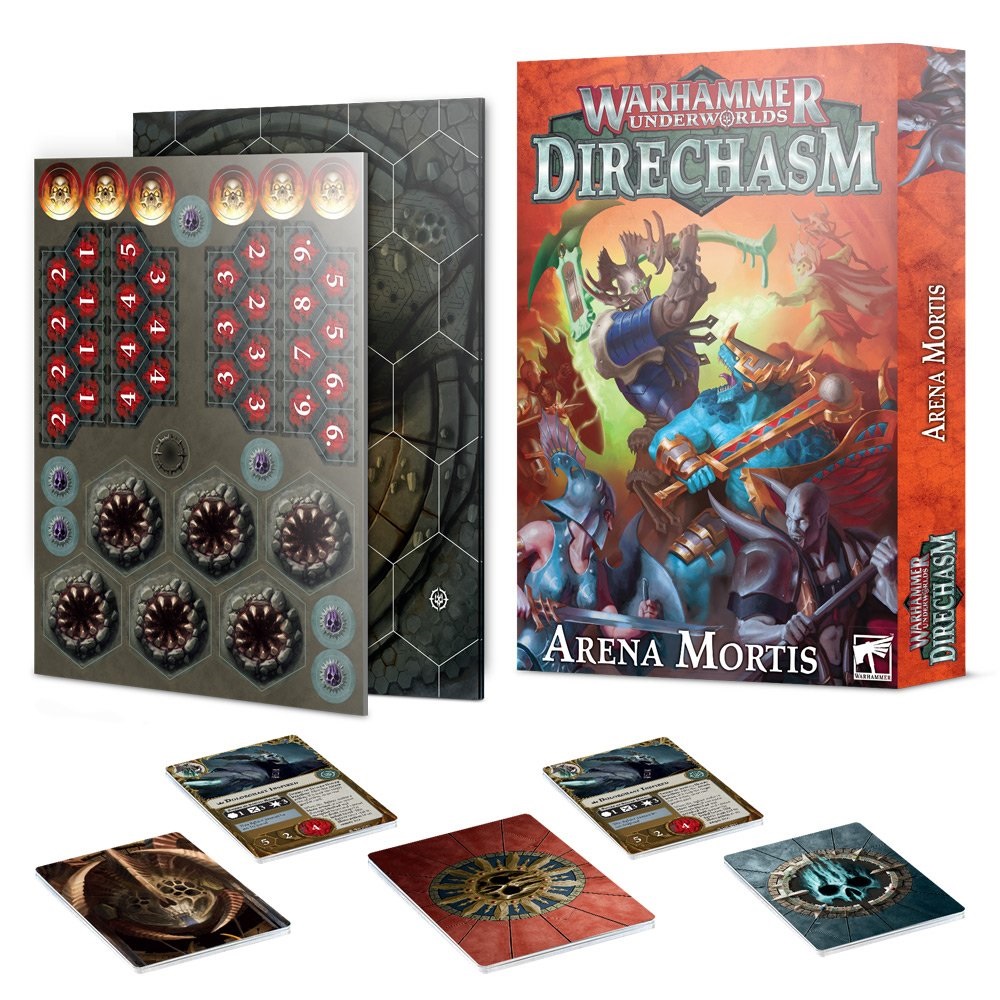 "Fans of Arena Mortis' fast-paced 3-6 player scraps can look forward to a whole new edition which is on the way soon. Expect sharper rules, gory hazards, and a collection of universal cards that can be used in all games of Warhammer Underworlds. "
The box itself contains a double-sided game board, 20 universal gambit cards and 20 universal upgrade cards as well. There is also the new and improved rulebook for Arena Mortis as well as all the tokens you'll need to do battle in the arena. Oh…and because this is Direchasm there is also a brand new hazard deck that wants to eat your champions because of course there is.
So what can you expect from the Hazard deck and how will it work?
"At the beginning of each round, a card from the 20-strong hazard deck must be resolved – and these challenges often have dire consequences. "
That sounds ominous, doesn't it? How about an example card?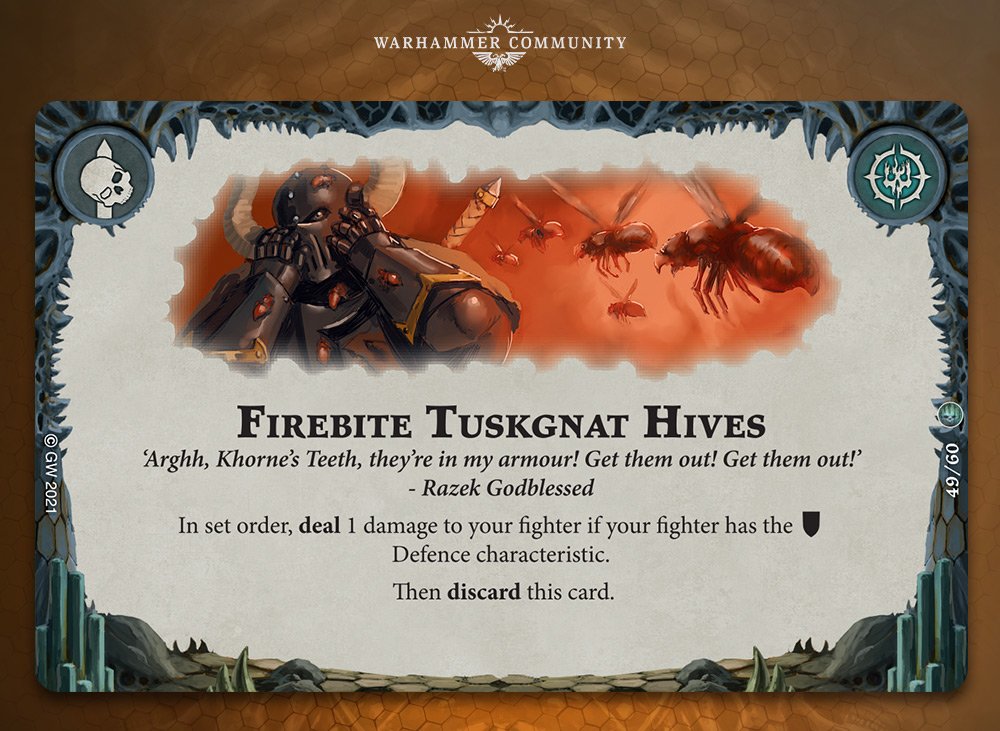 Uhhh…ouch! Get ready from some randomness from the Hazard Deck. At least this deck should help keep things moving and prevent a stalemate.
In addition to the Hazard Deck there are some more changes from the core Underworlds rules as well. For example, if your thinking that a big, beefy champion with a ton of wounds is the way to go keep in mind that the fewer wounds a champion has to start means the more upgrades they can start with. That's an interesting balancing act. Also, if you get your fighter knocked out you can still Raise them as well. You're never really out of the action in Arena Mortis.
Subscribe to our newsletter!
Get Tabletop, RPG & Pop Culture news delivered directly to your inbox.
New Cards For All
Those 20 new upgrade and 20 gambit cards aren't just for Arena Mortis – those are going to be available to use in your standard Warhammer Underworlds games, too. Here's a look a trio of the new cards: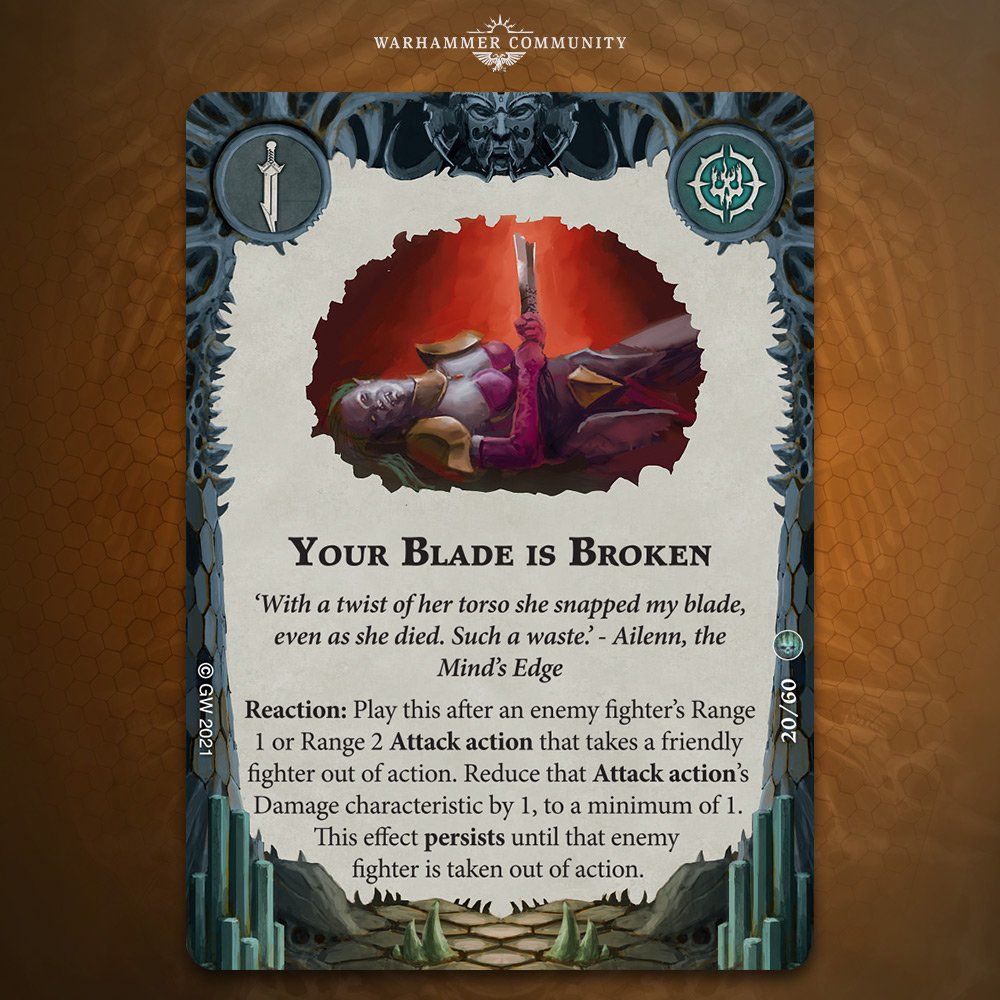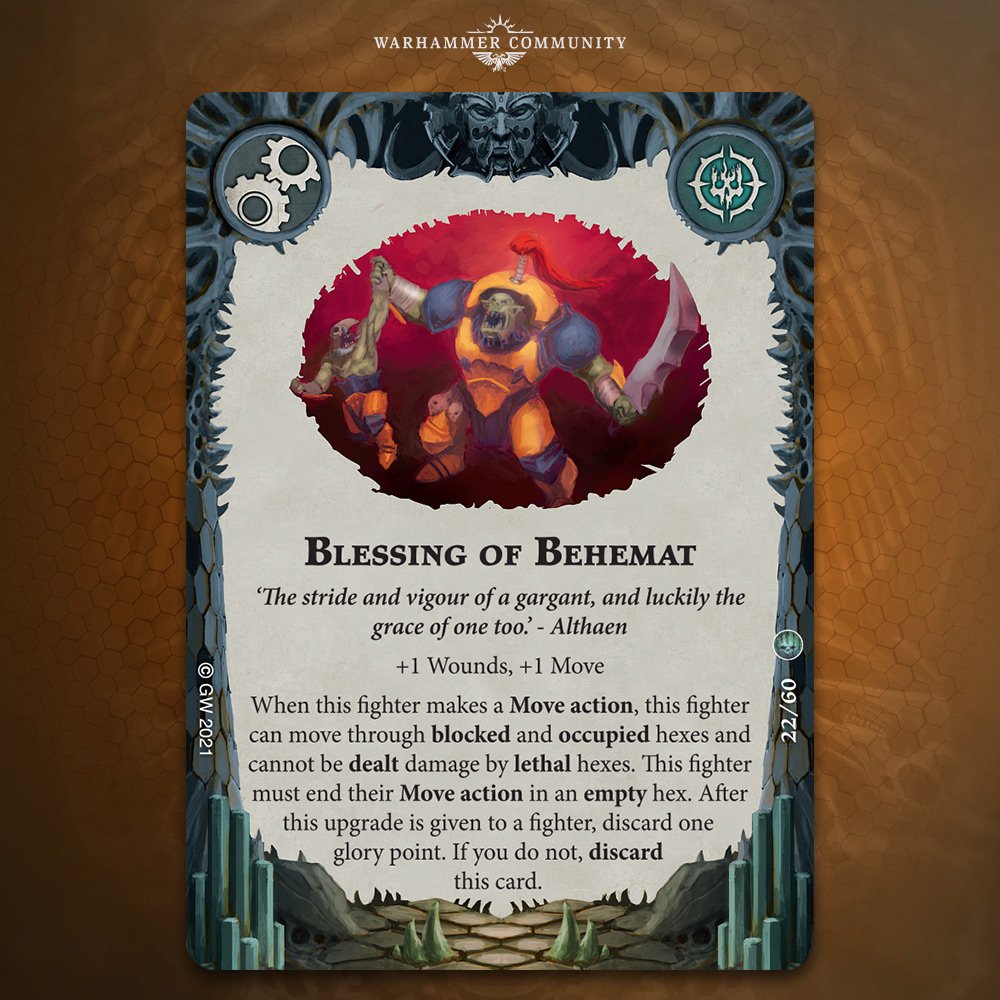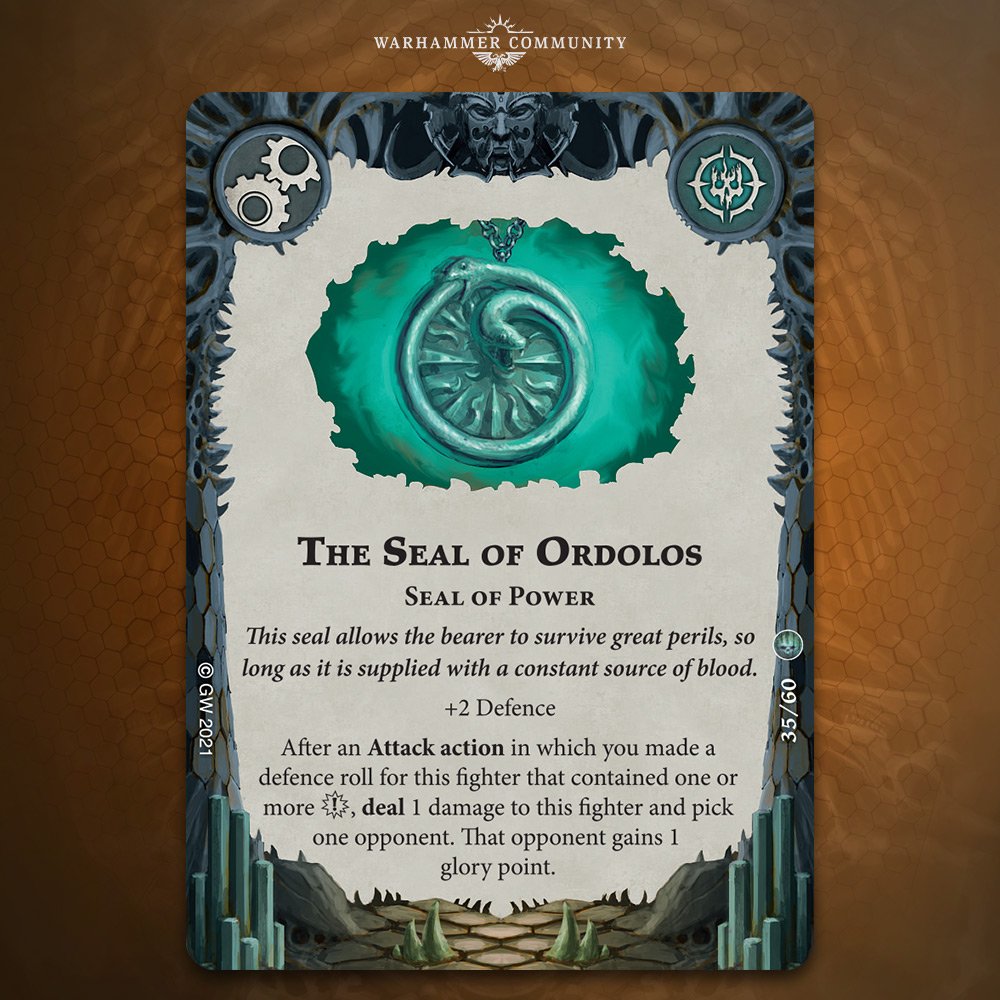 As you can see, these new cards are going to be useful in a more generic way so even if you're not planning on heading into Arena Mortis, these cards could prove useful anyways.
Arena Mortis is going up for Pre-order next month so keep an eye out for it! Introduce some new ways to play and some new cards you can use in all your games of Warhammer Underworlds!
Tag Team matches? Did we mention there are Tag Team matches?!