Kickstarter Round-Up: Versatile Gaming Tiles, The Witcher Manga, Beastrider Minis, More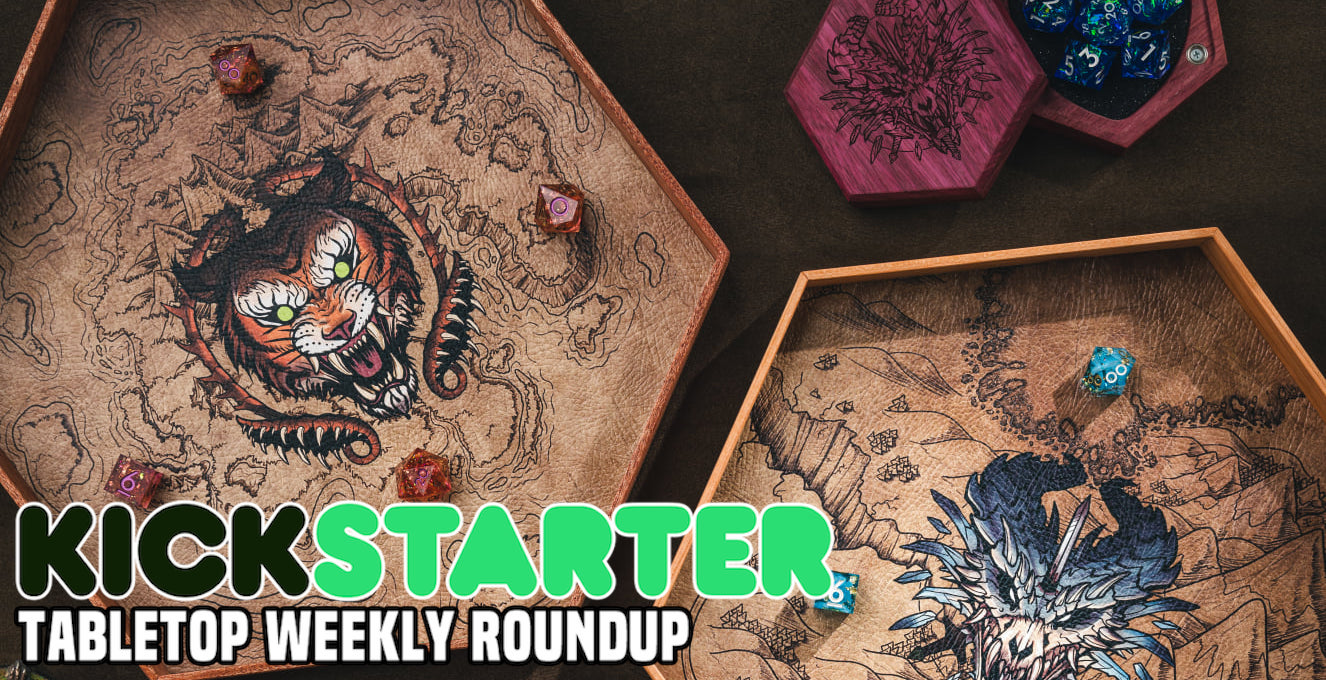 Come check out this week's batch of Kickstarter and crowdfunding highlights!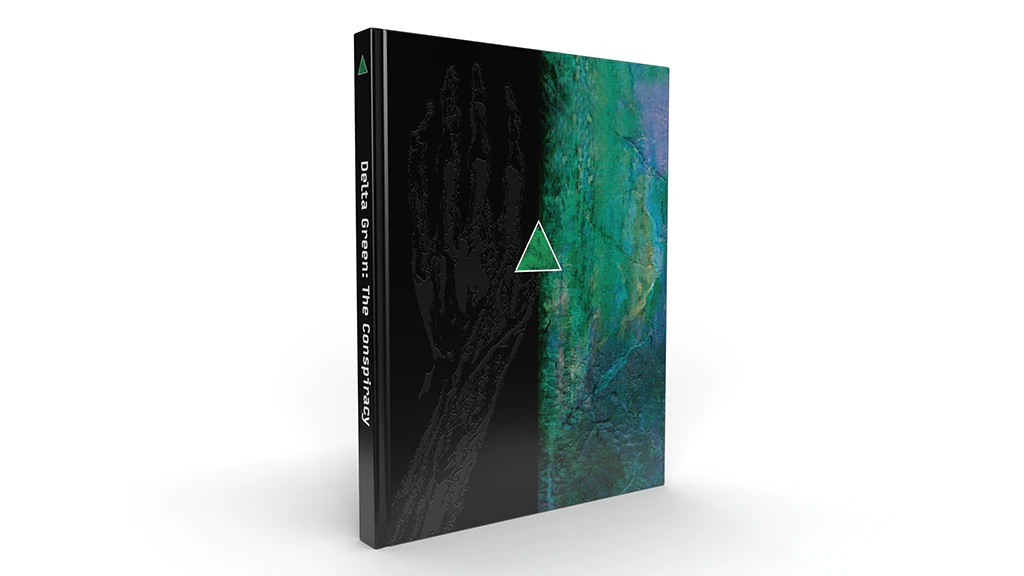 Welcome to America at the end of the millennium. Do you know who is pulling the strings? Delta Green knows. Things from beyond space and time that lurk in the shadows, the slow rot at the core of humanity, the dark stars that whirl madly above—these are the true masters of the world. Delta Green has been fighting them since the 1928 Raid on Innsmouth, and the fight still rages on.
Delta Green: The Conspiracy is an RPG sourcebook of horror gaming in the 1990s. It updates the original Delta Green in a fearfully beautiful new edition.Rules are revised to fit the designs of Delta Green: The Role-Playing Game. New, color paintings replace black-and-white illustrations. A black matte cover, embossed with strangely familiar designs, wraps around two hundred and twenty-four pages of text. A front board bright with weird portent emerges from the darkness. It invites you to pull the book open, to see the colorful and deadly things inside.
Pledges start at $20 for a PDF and $40 for the hardcover.
 
Ball stacking game with 4 pillars and gravity for 2 or more, at most 8 players. There are 41 (25+16) spaces to be placed with ball on the ground level of 5×5 board.
Pyramiland's final shape isn't a perfect Pyramid because the ball stacking system is unique.   Each ball is held with four pillars on the ground level based on the pattern of the pillars.  This new system gives us some very interesting patterns and awesome placement options.  Strategy in this game is not mathematical, instead players need nimble finger skills,  good intuition and a delicate sense of balance.  Use careful balancing or gravity will win!
Pledges start at $46 for the 2 color edition.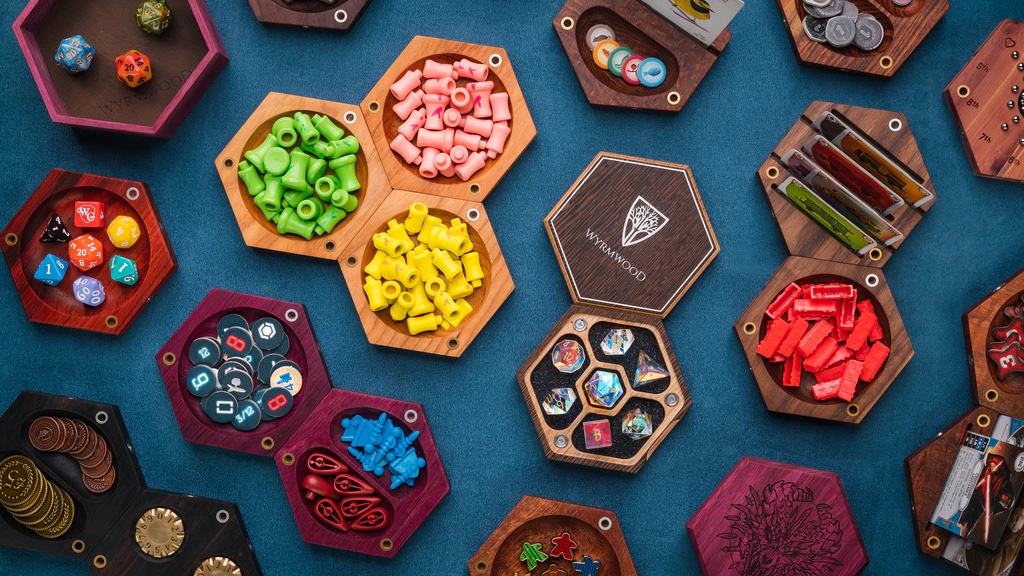 Welcome to the latest campaign from Wyrmwood, the market leader in tabletop gaming accessories! The Hexagonal Gaming System brings together our Tabletop Tiles organization system and our Hexagonal Vaults for dice and miniature storage. But we aren't stopping there: the system also adds brand new products like Hexagonal Dice Trays, Tabletop Tile storage solutions, and even display pieces to show off your collection!
(This week's header image is from this campaign.)
Subscribe to our newsletter!
Get Tabletop, RPG & Pop Culture news delivered directly to your inbox.
Pledges start at $20 for access to the pledge manager.

The Beastrider Wars is a fast and easy to learn skirmish wargame set in the fantasy world of The Shattered Crown, in the land of Rosodtir. It tells the first chapter in the story of The Shattered Crown – an overarching rich and detailed setting and world in which further games are planned. The rules will be provided as a PDF at all pledge levels. You can check out a quick video explaining the basics here. 
This kickstarter campaign is to fund not only an awesome selection of miniatures for you to print at home, provided as stl files, but a complete game. Print and play game and stl files of awesome sculpts. For the complete game pledge you will receive the stl files for 2 complete forces.
Pledges start at $69 for all STL files and the rules PDF.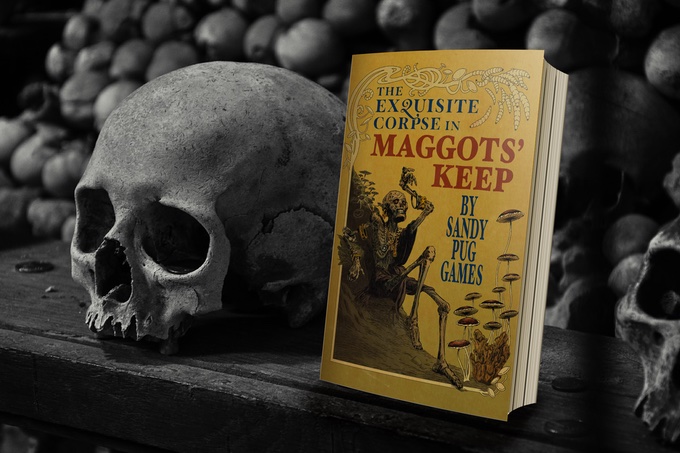 The Exquisite Corpse in Maggots' Keep is a full-length, illustrated gamebook in which you play a beautiful skeleton festooned in jewelry who wakes up inside their coffin in a deep, mysterious cavern. Who were you in life? What preternatural magics animated you? What strange creatures and situations will you encounter in this, the Maggots' Keep? We don't know! …Yet!
Unlike other gamebooks, this one is being created by a team of eleven writers in collaboration. When you make a choice and turn the page, that choice guides you to a different writer! Each member of our writing team will have their own characters and situations, bouncing off of the ones that came before. The effect may feel like a short story collection by way of DVD menu, or like a group of friends taking turns telling a story around a campfire. 
Pledges start at $25 for the PDF.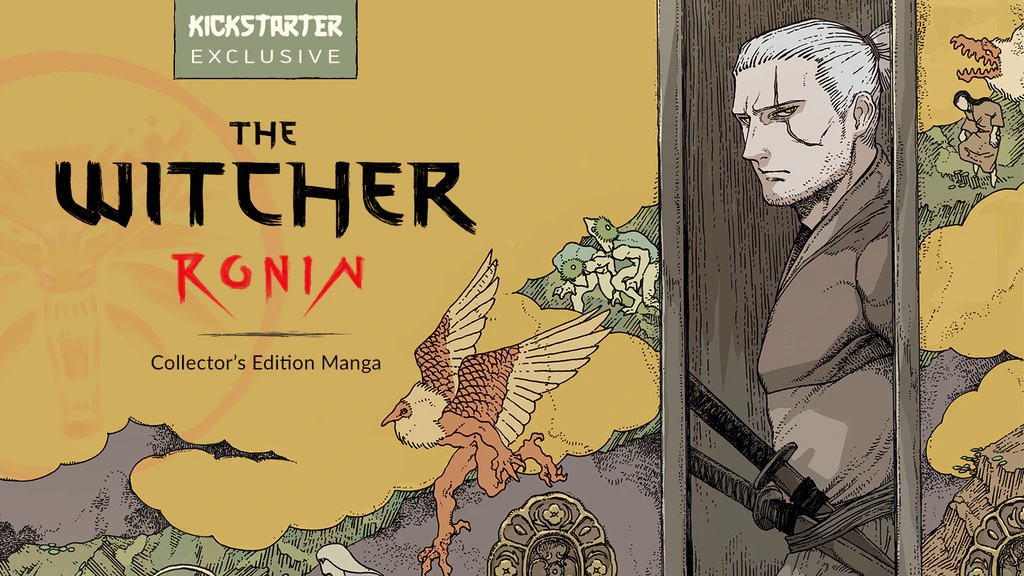 To bring this ambitious what-if? scenario to life, CD PROJEKT RED, creators of The Witcher series of games, have assembled a dedicated creative team made up of talented individuals who all wanted to explore a different take on the world of The Witcher. Instead of taking inspiration from western, European mythology and fairy tales, The Witcher: Ronin presents The Witcher universe as if it were based around the rich traditions of Japanese folklore. In a world such as this, the role of a professional monster slayer is just as essential — as dangerous Yokai and Oni (Japanese spirits and demons) are constantly on the prowl.
Pledges start at $42 for a hardback collector's edition.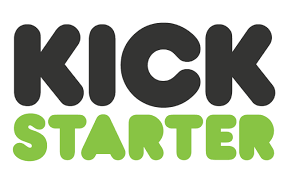 ~Which Of These Campaigns Caught Your Attention?