The original uber-armored Marines came from 1989 Let's take a look at those first Terminators and their rules from 40K's first edition.
It's time to go back to the early days of the game.  The original Marine Terminators arrived in the White Dwarf 112 from 1989.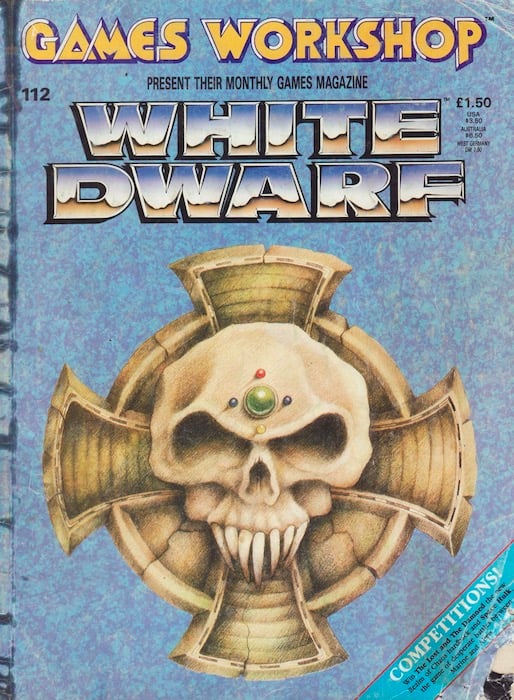 Back in these formative months, the grimdark was expanding by leaps and bounds every month. The Marines were still being shaped like clay and they had need of elite warriors. The Terminators fit the bill and arrived like a sledgehammer with their unique armor, deadly arsenal, and a bevy of special rules. They would cast the mold that you will still recognize over 30 years later. Let's dive in.
The Minis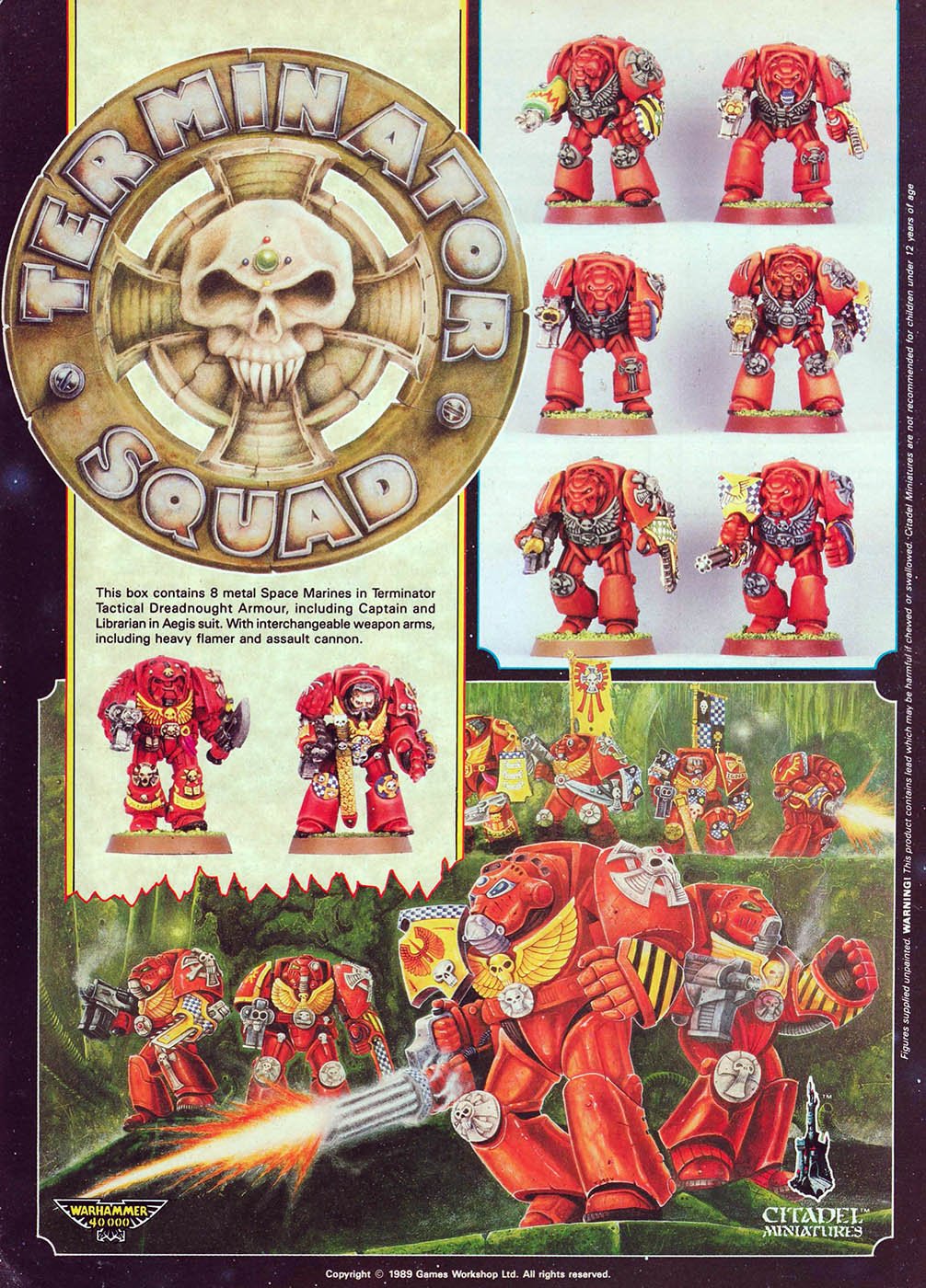 Here are the contents of the Terminator Squad set. You got 8 marines. A full 5 man squad with heavy options of the Heavy Flamer and Assault Cannon, plus a Captain and Librarian. These minis are teensy by today's standards, but they were multipart metal models, and extremely detailed for their time
Rules & Equipment
Now let's wade into the squad's rules. Note the broad brushstrokes of these and how they still are echoed in today's Termys.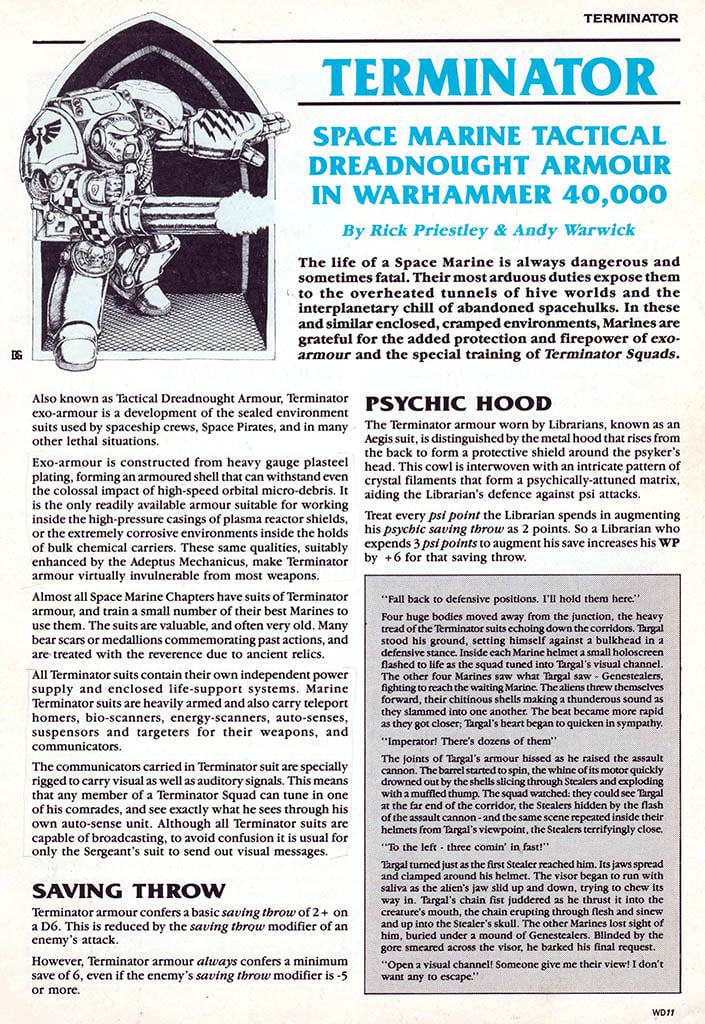 Here we get the origin of the Tactical Dreadnought Armor, that 2+ save, the invulnerable and a delightful story establishing the classic Terminator vs Genestealer feud that would grow into Space Hulk.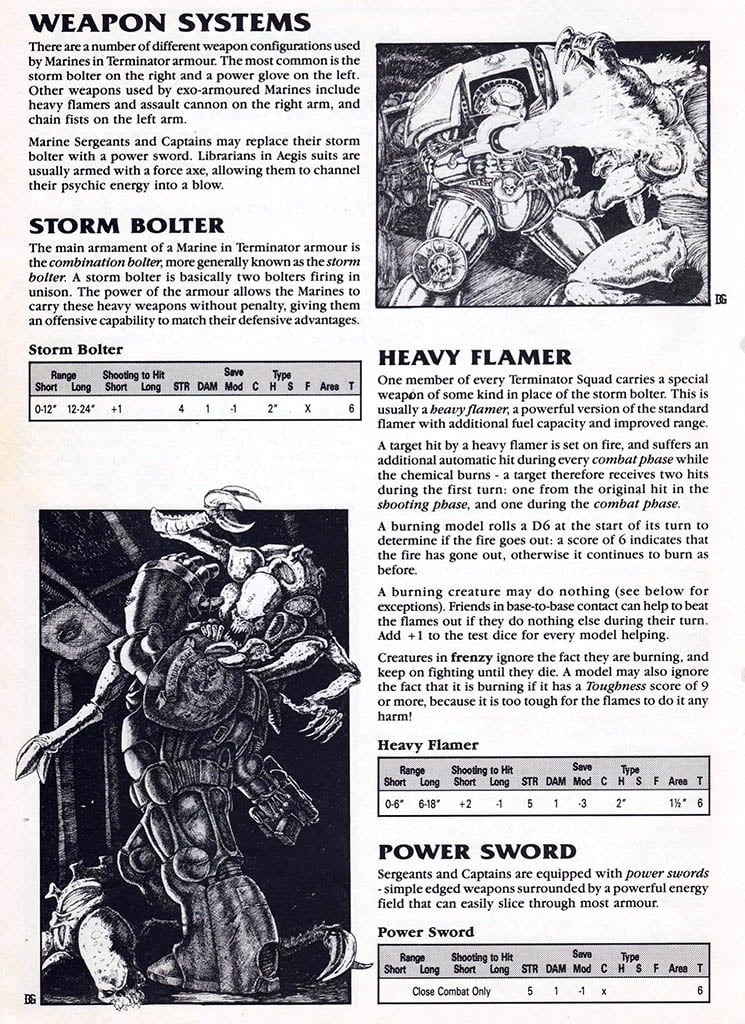 Note at the complex rules for the heavy flamer setting models on fire who then REMAIN aflame until they die or the fire is beaten out. That's just the kind of rules texture that Rogue Trader was known for.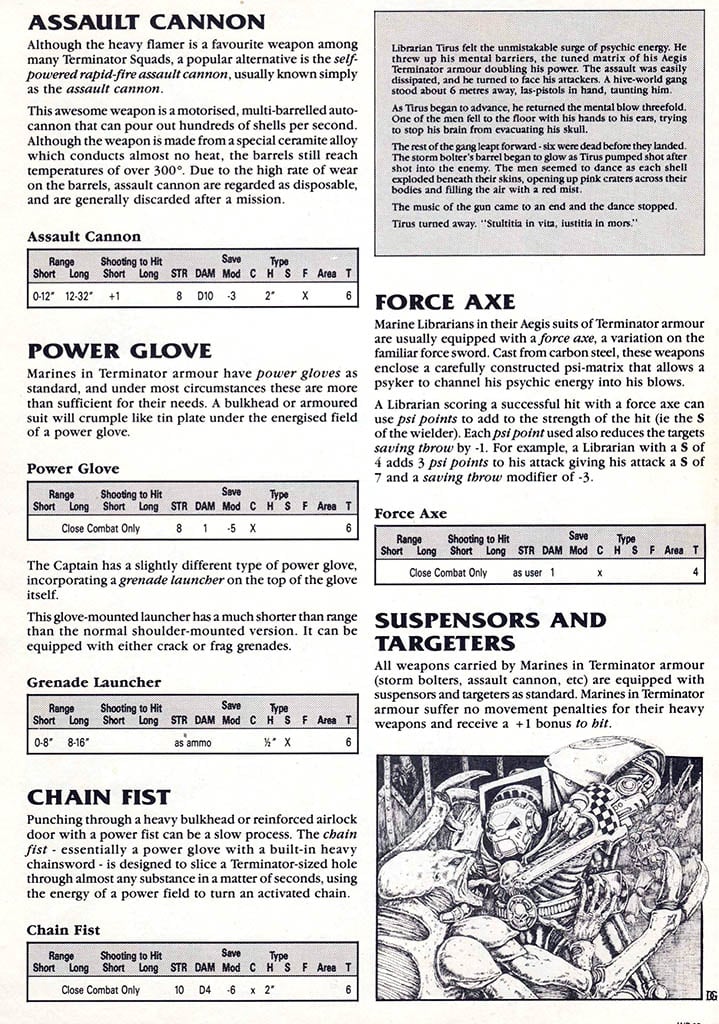 A few points. The Assault Cannon is terrifying in its original incarnation. All Terminators have targeters and suspensors. +1 to hit and no movement penalties. Finally don't miss that story – that Libby is cold. This is why it's best to not add rules for Marines to Necromunda.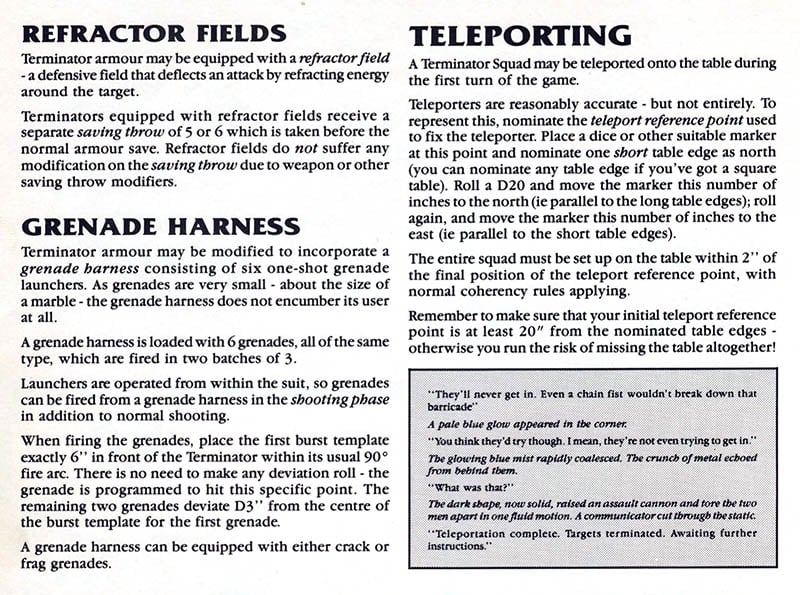 You think Deep Striking is too easy now? Look at the guesstimating you had to do back in the day. Yes you are reading that correctly, D20 inch deviation in each axis.
Artwork
Next, we hit some of the gorgeous artwork by Wayne England.
Lots of little old-school markings you could use to glam up your marines, to impress the new folks. Next time one of your termys pulls off something amazing in game – why not paint his crux in silver – he earned that Crux Argentum.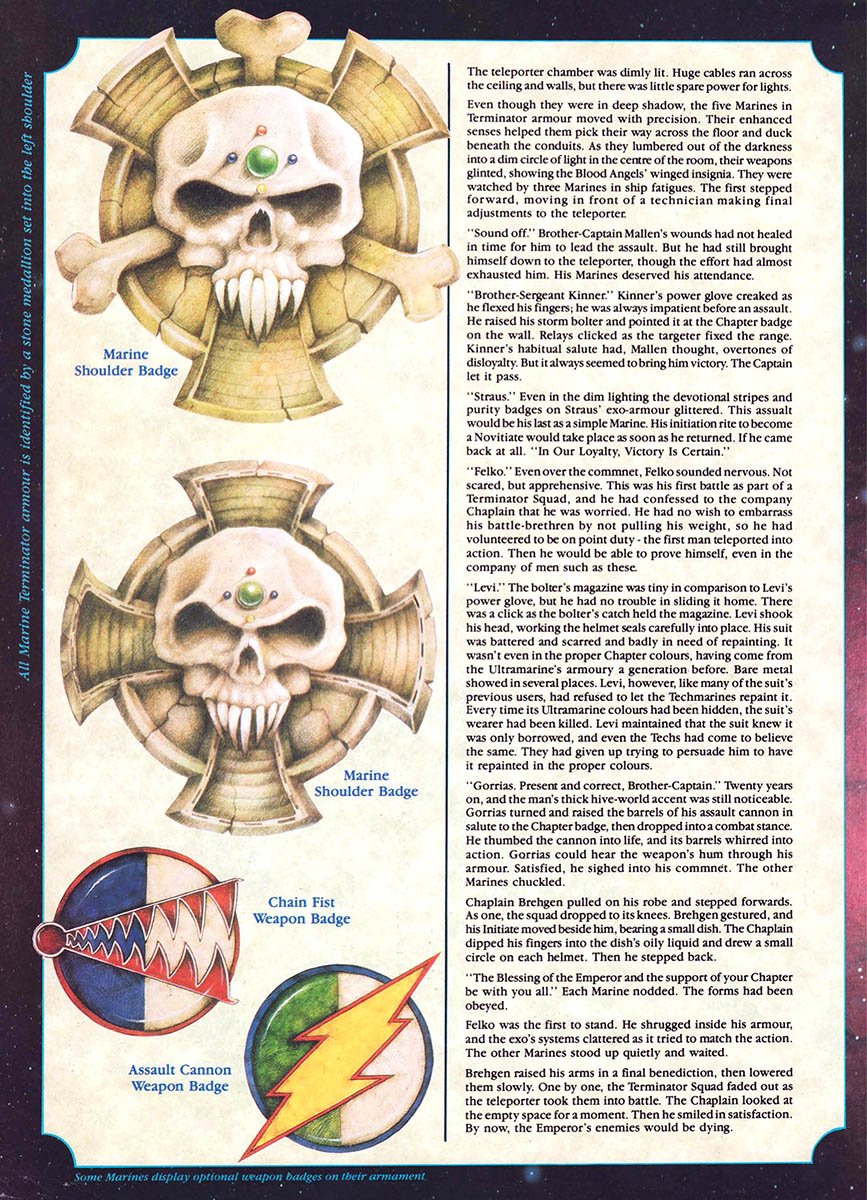 Perhaps one of my favorite stories. This one gives you a view of what happens on the OTHER side of the deep-striking rules. It's also a very humanizing view of individual marines, that would get washed out of the grimdark in the years to come. I love the superstition of the borrowed Ultramarines suit that will not allow it's colors to be covered.



Here we have the origin of the lore about each Terminator Captain's Crux Terminatus containing a fragment of The Emperor's personal suit he wore when facing Horus. In this story it is an Imperial Fist who distracts the Warmaster allowing the fatal blow – one of many apocryphal tales.
Army List Rules
Finally we get the points and unit entries for adding Terminators to your army. Note the little things like the Captain's powerfist mounted grenade launcher that remains to this day. Back then you could buy your heroes in various ranks and the Captain Major Hero was a real bear. If you thought that was not enough, a level 4 Mastery, Chief Librarian was almost an army to himself – with his 4d6 psychic abilities!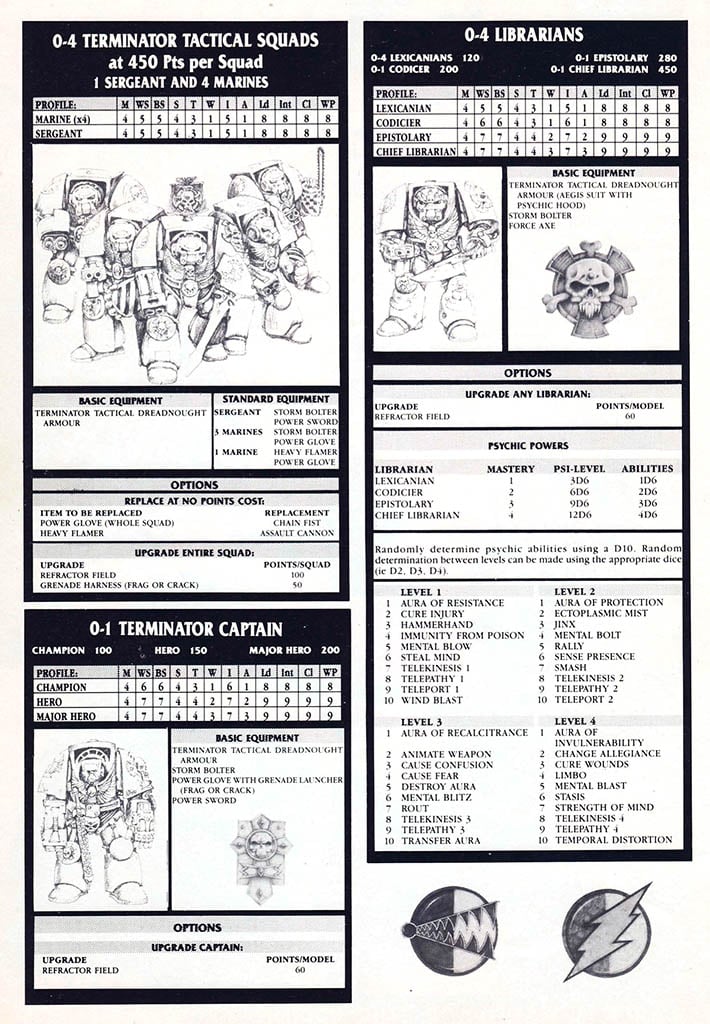 What do you think of the original Terminators and who still rocks some of these minis on the tabletop today?