One of the rare 40K Metal Thunderhawks has sold for a sky-high price on eBay! Take a look.
The classic 1997 Metal Thunderhawks are extremely rare and difficult to come by – and even more difficult to assemble!  But one soul found one, assembled and painted it up on his YouTube channel, and auctioned the classic off on eBay. Then the magic happened!
Hello eBay
Here's the eBay listing for the beast from Squidmar Miniatures: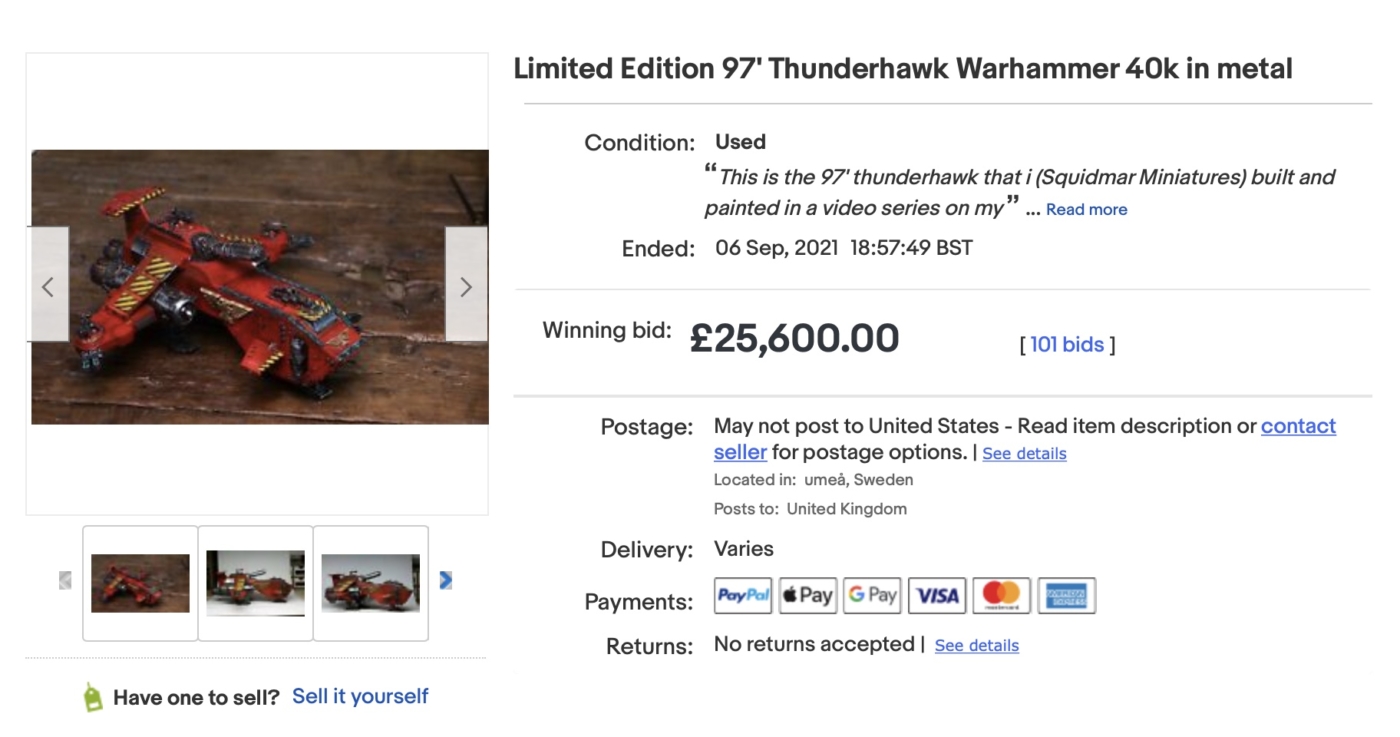 Product Pics

What a beauty!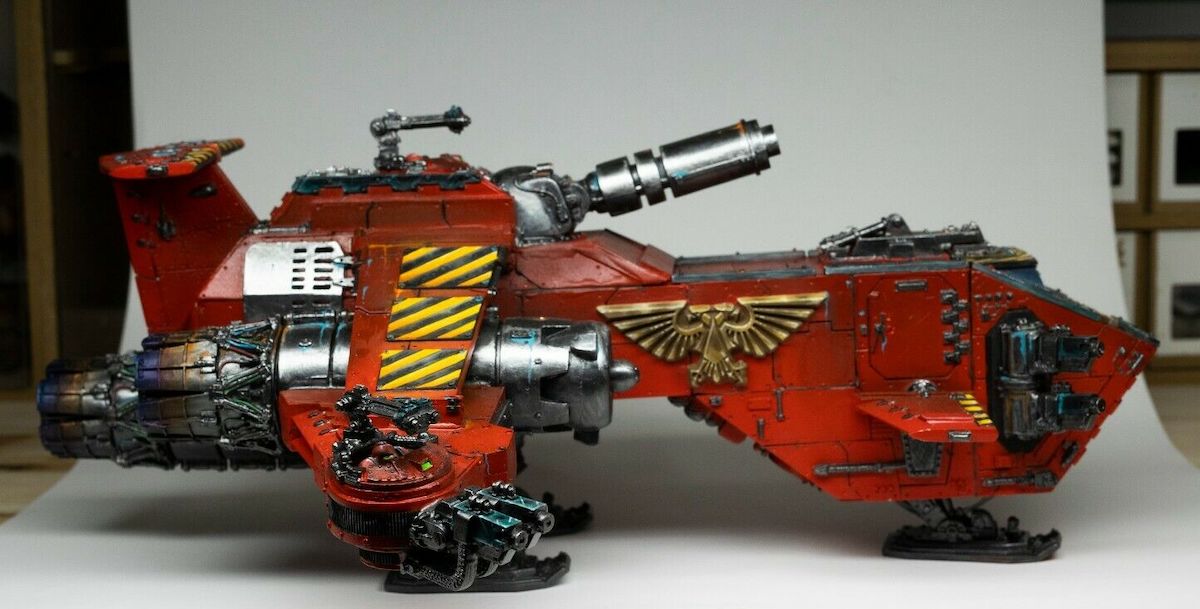 I can only imagine the weight!?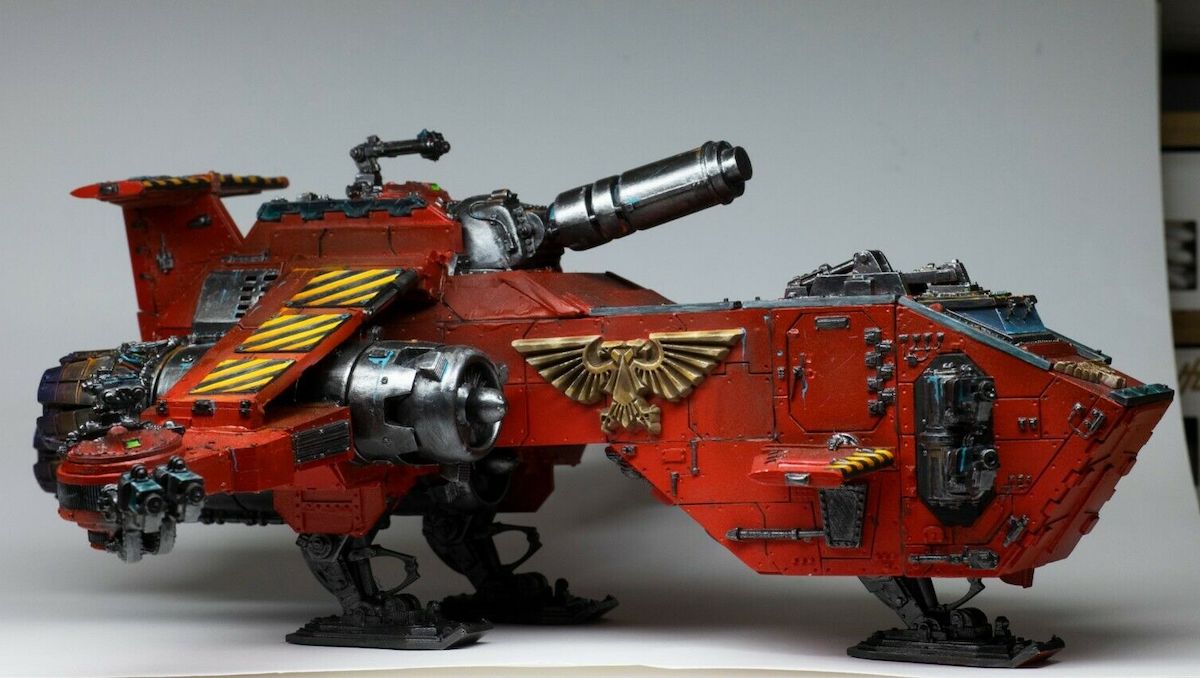 Product Description
Here's Squidmar's description of the mighty metal beast:
"This is the 97′ thunderhawk that i (Squidmar Miniatures) built and painted in a video series on my youtube channel. The miniature is built at the best of our ability with epoxy glue, uv resin and pinning. The front leg of the thunderhawk is not attached. But the rest of the mini is built. The paint job is done by Emil Nyström (Squidmar Minitures) and the whole process of building and painting is a bit over 150h work and can be seen over at Squidmar Miniatures youtube channel. The miniature you buy is the one you see in the photos and in the video series with all good and bad that comes with this old metal kit.
The miniature will be shipped in a "pelican like" case with foam custom cut by Advect, Umeå and has a value of 500 eur. Tis is the best way we could think of shipping something like this. IF you have any other preferred method of packing/shipping let us know. The miniature can be shipped anywhere in the world at your expense, do keep in mind if you live in a part of the world where you will have to pay import tax or similar fees. We will not cover extra costs like that.
We do not take any responsibility for any shipping issues that may cause damage on the piece and would recommend you to buy an insurance for it while its being shipped. Price for shipping will be a discussion with the one who place the winning bid as we'll look over the alternatives together to see what fits best. There's no refunds or returns if you regret your purchase. So please only place a bid if you are seriously interested."
The Video
Here's the video Squidmar put up of him acquiring, assembling, and building the Thunderhawk.
The Auction
101 bids later the eBay auction closed on September 6th. We have a winner who paid a pretty penny of £25,600.00! That is $35,000 US Dollars at current exchange rates.  That is an incredible amount, and perhaps one of the highest, if not the highest for a single GW miniature.  There must be a very excited winner out there somewhere watching the mail every day!
~So how high end does you think the 40K collector's market goes!?