It's Aeldari vs. Astartes in the newest starter set for Aeronautica Imperialis, with new aircraft, a new game mat, and more. Check it out.
Watch the skies, traveler, because they're about to be full of screaming, supersonic fighters as the Asuryani and Astartes clash, showcasing a contest of raw power and deadly grace. All of this is happening in a new starter set, Aeronautica Imperialis: Wrath of Angels, which pits Space Marines against Space Elves in a battle for aerial superiority. Let's check it out.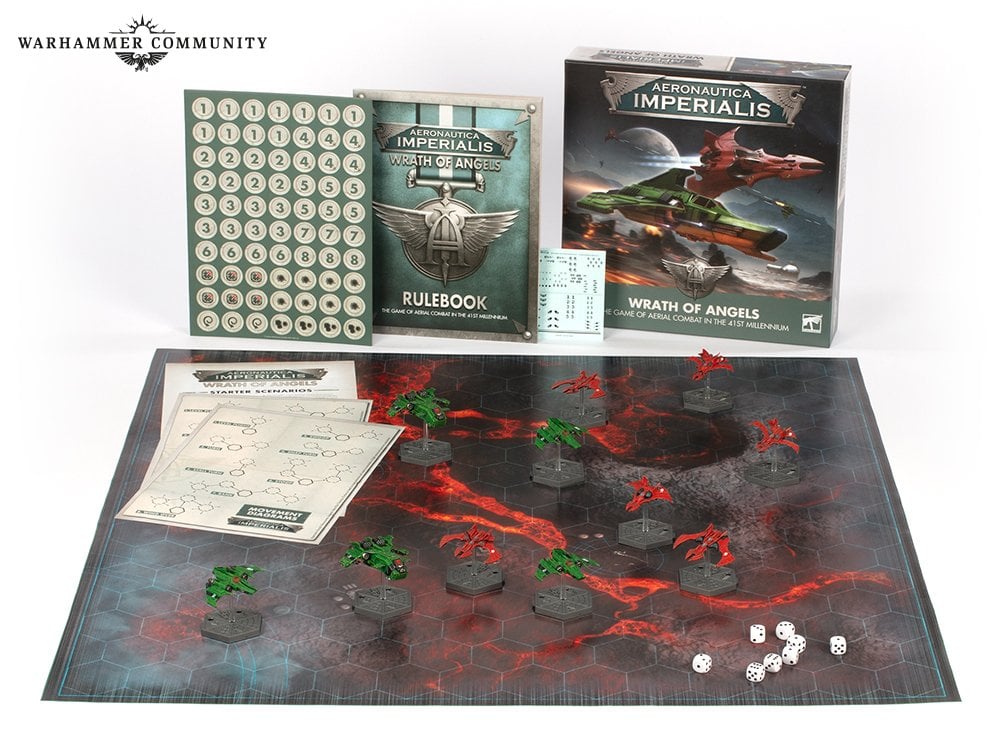 This is the new Starter Set for the Aeronautica Imperialis system, containing everything you need to get those chocks away, including five Adeptus Astartes aircraft and six for the Aeldari, a 38-page rulebook, a scenario booklet, a double-sided area of engagement game mat, eight dice, 70 assorted tokens, and a transfer sheet.
There are 11 new miniatures in the box – that's three Asuryani Nightwings and three Phoenix Bombers, as well as three Space Marine Xiphon Interceptors and two Storm Eagles.
As you might expect, you get all the stuff you need to play the game, including Aricraft and Aces cards, but the real stars of the show are the new fighters. First up, the Nightwing Squadron.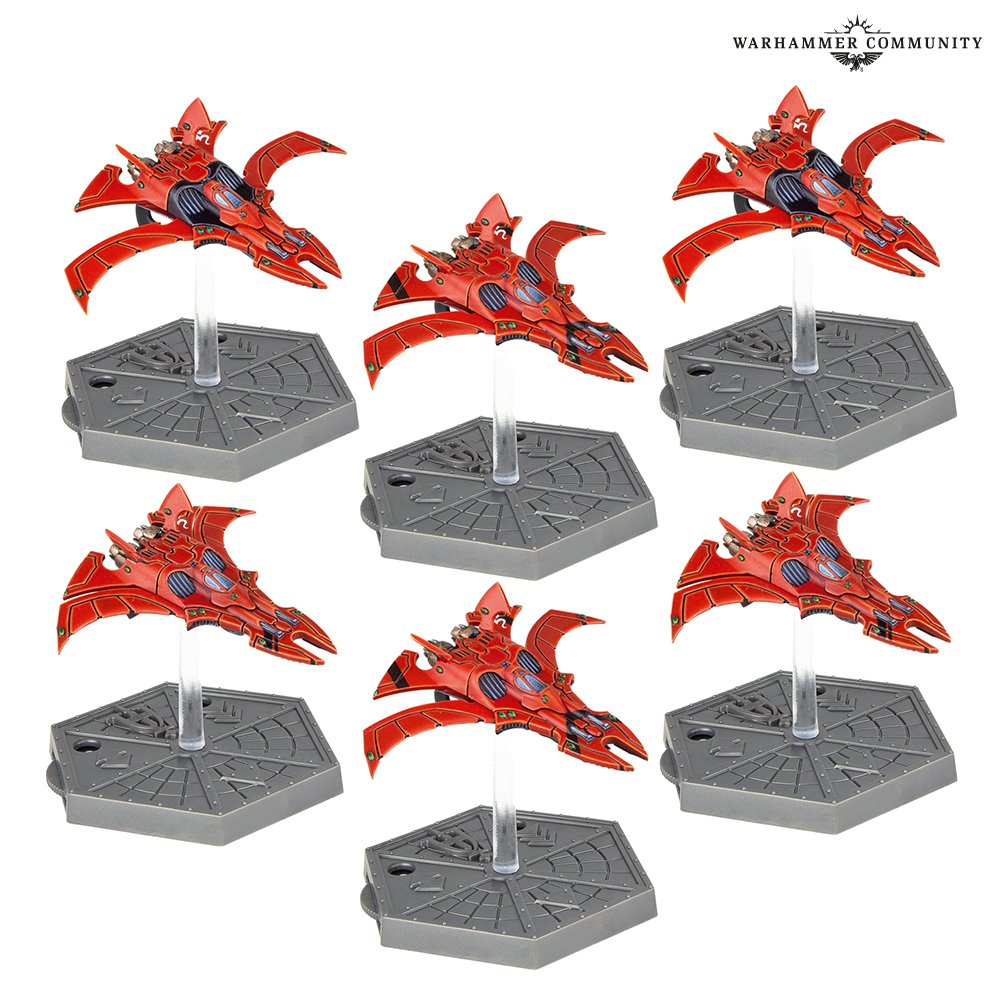 Nightwing Squadrons are the main strike fighter of Craftworld Aeldari. As their design suggests, they're extremely nimble, and typically hound their foes from all sides, blasting them with shuriken cannon and bright lances.
In the new set, you get six Nightwings with four weapon options each. You can build them with their wings forward or swept back, depending on your preference.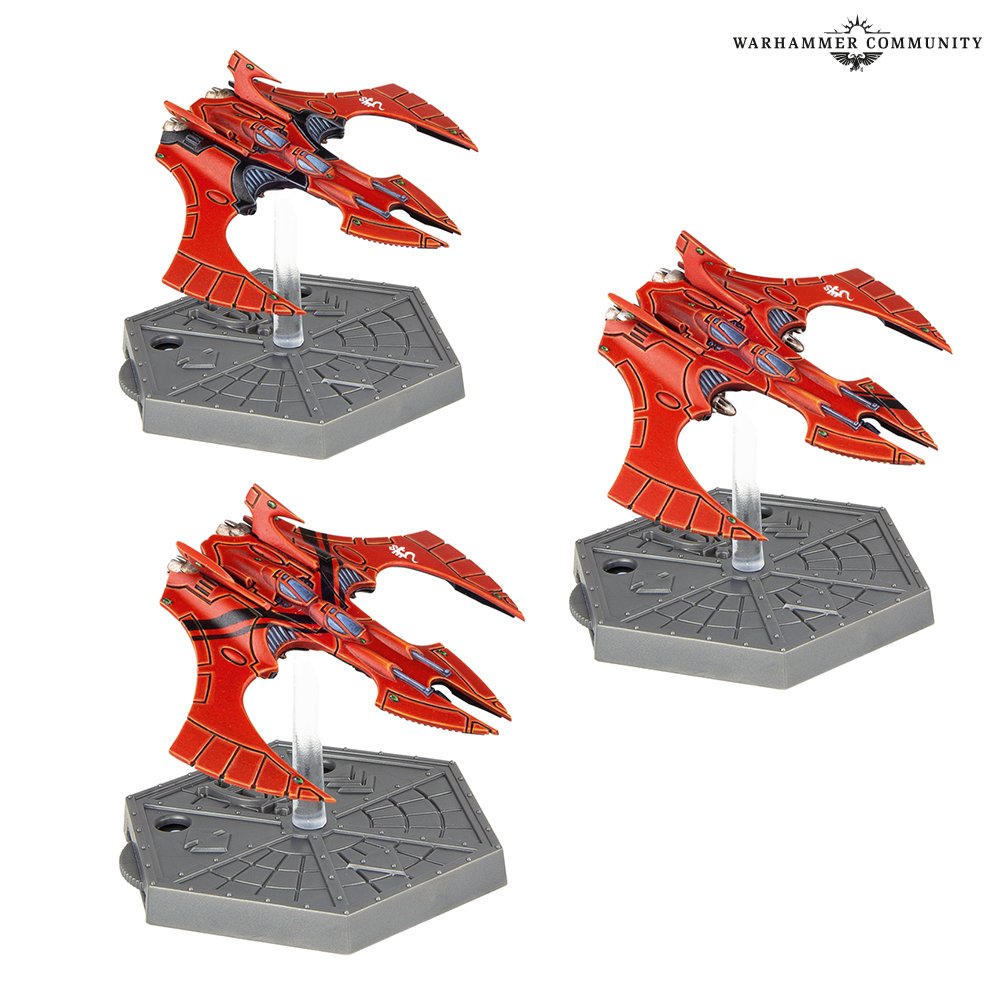 The Asuryani Phoenix Bombers are the "heavy" counterpart to the Nightwings. The Phoenix Bomber is capable of attacking targets on the ground as well as in the air, and–like all Aeldari craft–is surprisingly agile.
You get three Phoenix Bombers in the set, with three weapon options and two missile array options.
Answering the deadly speed of the Xenos is the raw power of the Adeptus Astartes. And in true Adeptus Astartes style, most of these new aircraft look less like they fly, and more like they intimidate the ground into letting go of them.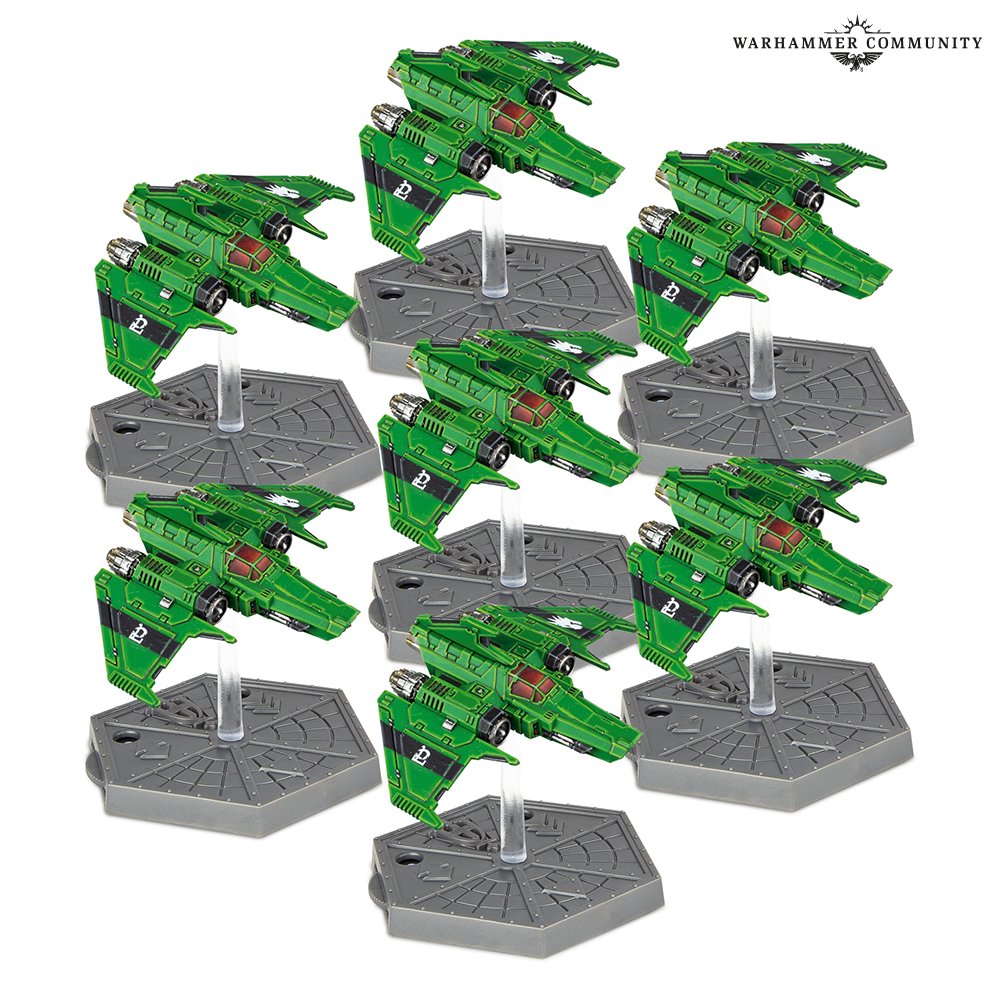 The Xiphon Interceptor Squadron is a mainstay of the Astartes aerial forces. It is a flexible fighter capable of blasting both air and ground targets, and comes with a variety of options. You get six Xiphon Interceptors in the box.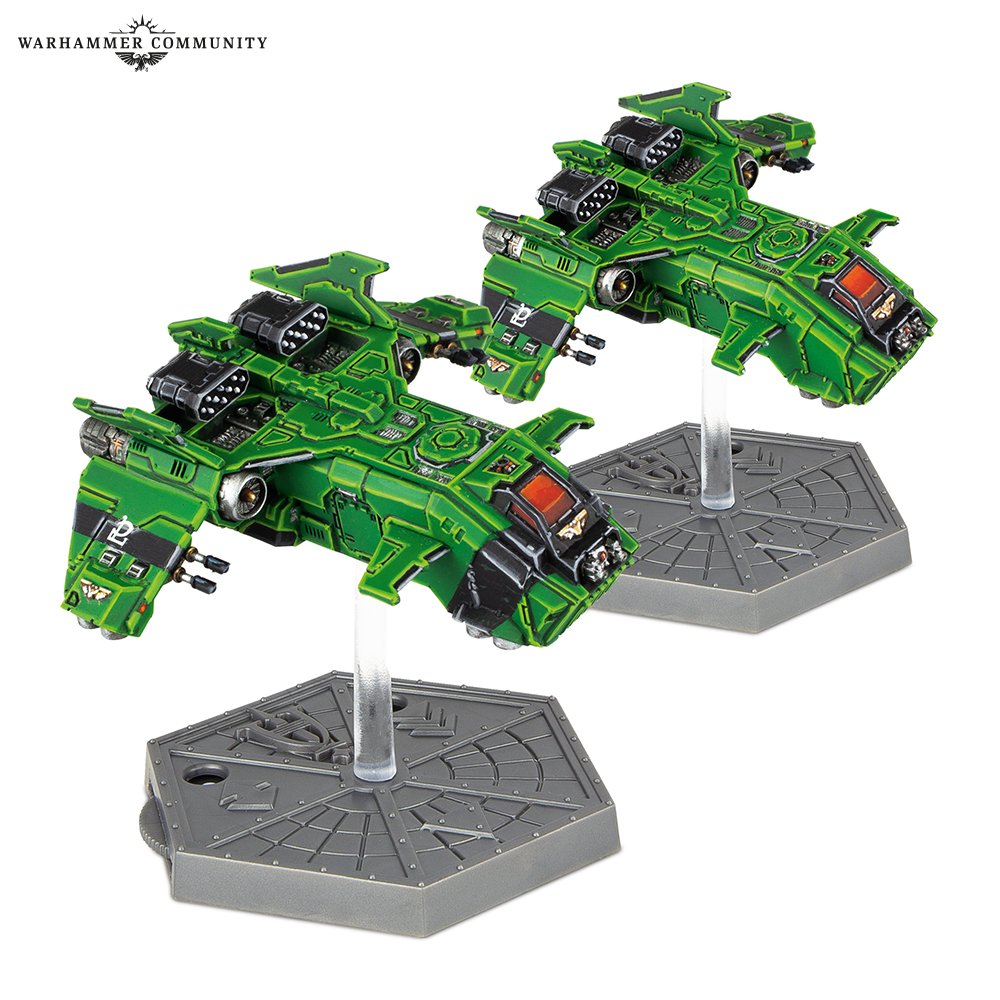 But if you really want to bring the hammer down, the Storm Eagle is the trick. This is an orbital assault craft that is rugged, durable, and bristling with heavy weaponry.
Of course, the new boxed set isn't the only Aeronautica release this weekend. While you can play in the double-sided mat in the new Wrath of Angels box, next weekend you'll also be able to pre-order a new Outer Reaches mat.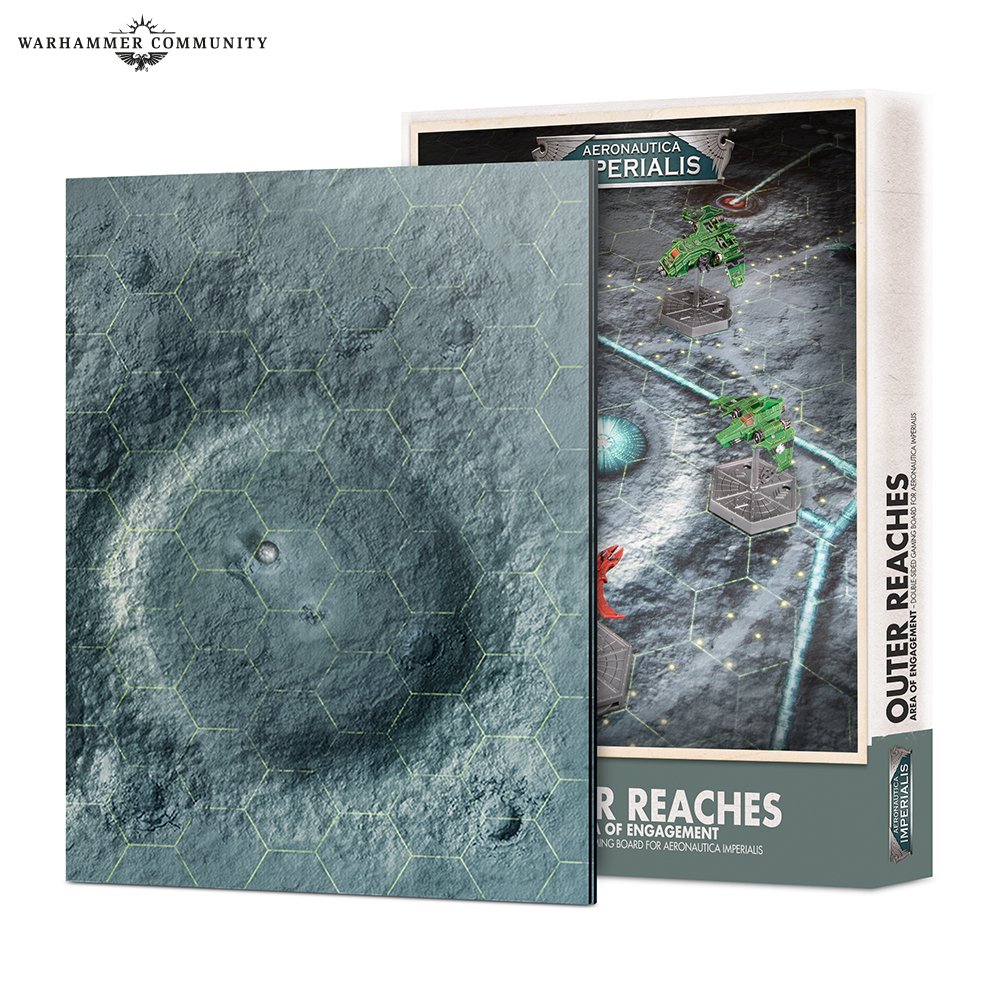 Like most of Aeronautica Imperialis mats, it's double sided, with an Imperial outpost on one side and volcanic terrain on the other, for a total of 342 playable hexes over the total area.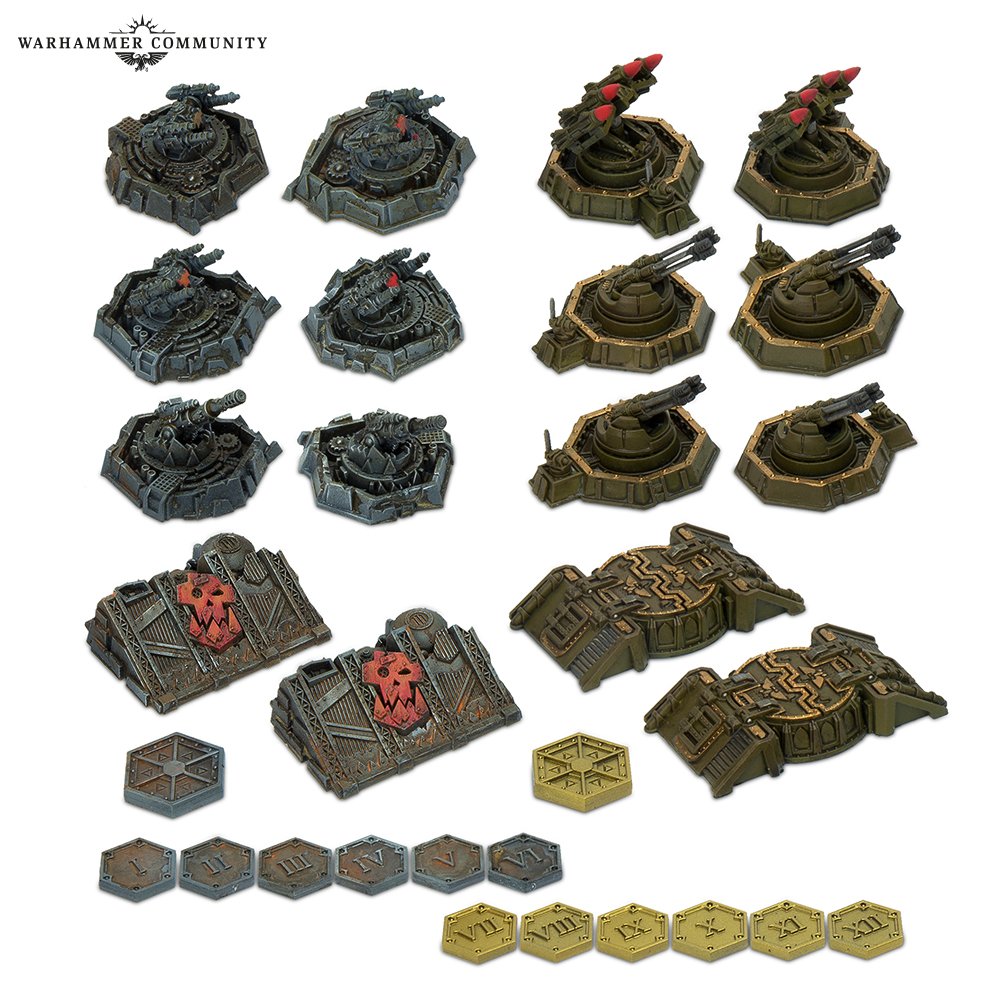 You can also take next weekend as a chance to pre-order the original ground assets from the first version of Aeronautia Imperialis, giving you 16 ground assets and 14 plastic markers running the gamut from Ork flak blastas to Imperial missile batteries and more.
All this, next week!