The first three episodes of Y: The Last Man premiered on Hulu/FX at midnight this Tuesday – let's dive in!
In three hours, the series paints a picture of our ensemble of characters, many drawn from the original comic. The adaptation also features some new and compelling characters. It also sets itself up a much more timely story about gender, politics, and tragedy.
This article contains spoilers for episodes 1-3 of Y: The Last Man and a few very minor spoilers for the comic book. Major comic book spoilers are left out because if you haven't read it, you should.
Yorick Brown
The new series opens on a deserted street full of empty cars and littered with bodies. Yorick Brown, an indolent magician, is the sole survivor, seen searching cars and glove compartments for any supplies he can take back to his apartment.
Just a day before, we see the same Yorick teaching magic lessons to a child who says his father will be canceling the lessons. Just like the original character, we get the impression that Yorick is listless, anxious,  and irresponsible. The landlord is demanding the rent be paid, and he has to borrow money for a special dinner with his girlfriend, Beth.
When Yorick proposes to Beth, the proceeding argument illustrates Yorick's frame of mind very well. As she questions the practicality of such a major step, he becomes defensive. He accuses her of wanting to take her planned trip to Australia in order to sleep with other people, describing himself as a "nice guy" even though he's definitively not behaving like one.
At one point, Yorick is discovered naked in a dry cleaner's. The three women who find him are bewildered, and they hold him at gunpoint, thinking to trade him for supplies. But they release him after he has a panic attack while asking them to let him go.
It's clear from the first three episodes that Yorick is not emotionally equipped to navigate the world left to him. While the women around him make painful decisions and attempt to plan the safest course, the best he can offer is quips and criticisms.
Agent 355
Three-fifty is a member of the secret task force known as the Culper ring, an organization only known to the President of the United States. When we meet her, she's building a bomb. The men who plan to purchase the bomb show up for the exchange, and 355 leaves the house, detonates the bomb and kills everyone inside. As she jogs away, she notices a couple of dead stags along the road.
Her partner, Agent 1033, picks her up and gives her an assignment: to get close to the President while disguised as a Secret Service agent. This puts her in the White House when the event occurs, and she's poised to protect the next president, Jennifer Brown… Yorick's mother.
It's clear that escorting Yorick will force 355 to make some tough decisions. The first of many?  How to deal with the two pilots who transported Yorick to Washington. At the end of episode 3, Yorick begins to understand what that means going forward.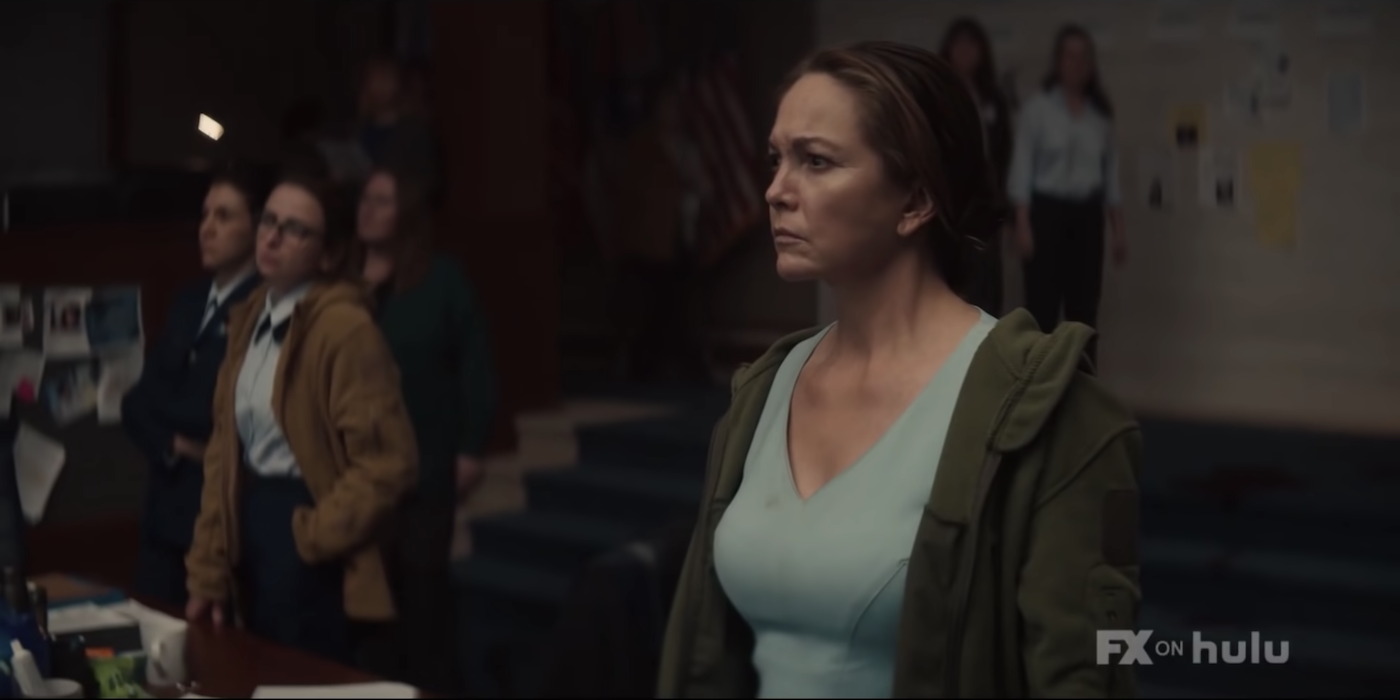 Congresswoman Jennifer Brown
355's mission to protect Yorick is administered by his mother, Democratic Congresswoman Jennifer Brown. On the day before the mass extinction, she causes a kerfuffle by making some incendiary comments about the President in response to his opposition of internet hate speech legislation.
Jennifer and President have a dialogue that tells us that Jennifer doesn't consider herself a real politician, which is a turn from the original character. It will be interesting to see the naivety of that perspective put to the test. Particularly in the face of the President's conservative daughter, Kimberly.
Kimberly Campbell Cunningham, Nora Brady, & the White House Staff
This modern telling of the story also highlights many of the other women attempting to hold (or tear) the White House down in the aftermath of the mass death. We meet Nora, an advisor to the President who finds that she's no longer considered essential White House staff and unable to find a safe place for her and her daughter. 
We also meet Kimberly, the president's conservative daughter. We meet her on her book tour,  rallying against the cancellations and the culture of consent. After hitching her wagon to the "boys will be boys" cause, she's left with just her mother after her husband and four sons die.
Played perfectly by Amber Tamblyn, her character is a fascinating study in empathetic representation. While audiences can see where her political leanings will take her character, one can't help but feel pity for her, and that feeling starts before she loses most of her family.
When an extremely conservative Republican turns up alive in Tel Aviv, she could have a claim on Jennifer's presidential seat. Kim is already waiting for an opportunity to spin this loss toward her own conservative benefit, but the show uses shots of her heavily-performed femininity to humanize her suffering and short-sightedness.
Hero Brown & Sam Jordan
Hero's journey is perhaps the most highly anticipated character arc in the show, thanks to her storyline in the original comic. We first meet Yorick's wayward sister at a court-mandated AA meeting with her friend, Sam. From the beginning, Sam seems to play a bit of a caretaker role for Hero, who doesn't even manage to turn her phone off for the meeting.
The relationship between Hero and her brother Yorick seems to be one of mutual exasperation. While Hero at least knows that she needs to get her life together, Yorick seems to believe that the only way to solve problems in the present is to push his life forward, and both are irritated that the other doesn't understand how to just grow up.
Hero is also having an affair with her married coworker, who swears he did (oops, will) tell his wife that he's leaving. In the comics, Hero's pre-event character mainly hinged on her "terrible taste in men", a vague catch-all for women with any number of psychological and childhood circumstances. While the details of her affair certainly point to a similar conclusion, her conflict with him and the backdrop of addiction certainly promise a broader and more nuanced approach to the character's past trauma.
After a few weeks of surviving in New York after a mass extinction, Hero and Sam have hit a wall. Their two friends have, in desperation, opted to go live with a transphobic relative, and Sam, a trans man, points out that he is arguably more vulnerable than he was before the Y-chromosome died out. With only two weeks' worth of testosterone left, he begs Hero to contact her mom, regardless of their previous conflict. Clearly, there's plenty of baggage in the Brown household, but it's also telling that Hero has to be pressured into doing what's best for her friend in this circumstance.
But her character is not without a sense of moral nuance. Despite her inability to make larger, healthier decisions for her life, she's moved to deliver her late lover's ID card to his wife. She urges the woman to get out of the city, knowing that revealing the affair is the only way to give his wife the closure she needs to seek shelter elsewhere.
Other Highlights from the Premiere
The most remarkable thing about the premiere was the tension. I know exactly what's going to happen; I know all of the men will die. And thanks to the trailer, I even know which scenes are mass death scenes! So why did I feel so tense throughout the first episode? As more animals turn up bleeding or dead, every scene feels like the moment when everyone will die– even if I knew it wasn't.
Show-runners also did an excelled job of subtly calling out to the performative aspects of being a woman. Before the event, one of Jennifer's aids is sent to fix her chipped manicure; any perceived flaw in a woman's appearance is a sign of weakness. Later, after all the cis-men have gone, she's seen absentmindedly picking at her nail polish, one of the many small and unnecessary casualties in the war of performative gender roles.
Perhaps the most impactful image is Kimberly pulling up her tummy-control bodysuit, symbolizing the things women cover up to present the polished image of wife and mother. The use of a conservative character in this role is still effectively nuanced.
What did you think of the first three episodes of this popular adaptation? Did the characters live up to your expectation?