The Lord-Commander of the Hammers of Sigmar is getting a new model and Bastian Cathalos is looking like a boss!
This weekend we'll getting a new batch of Stormcast Eternals and Bastian Cathalos is slated for arrival to lead them all. Revealed as the Lord-Commander of the Hammers of Sigmar (the literal posterboys of Age of Sigmar) he wields an incredible amount of power among the ranks of the Stormcasts. Today, we're not just getting a look at his model and rules – we're also getting a bit more info on HOW he became the Lord-Commander as well.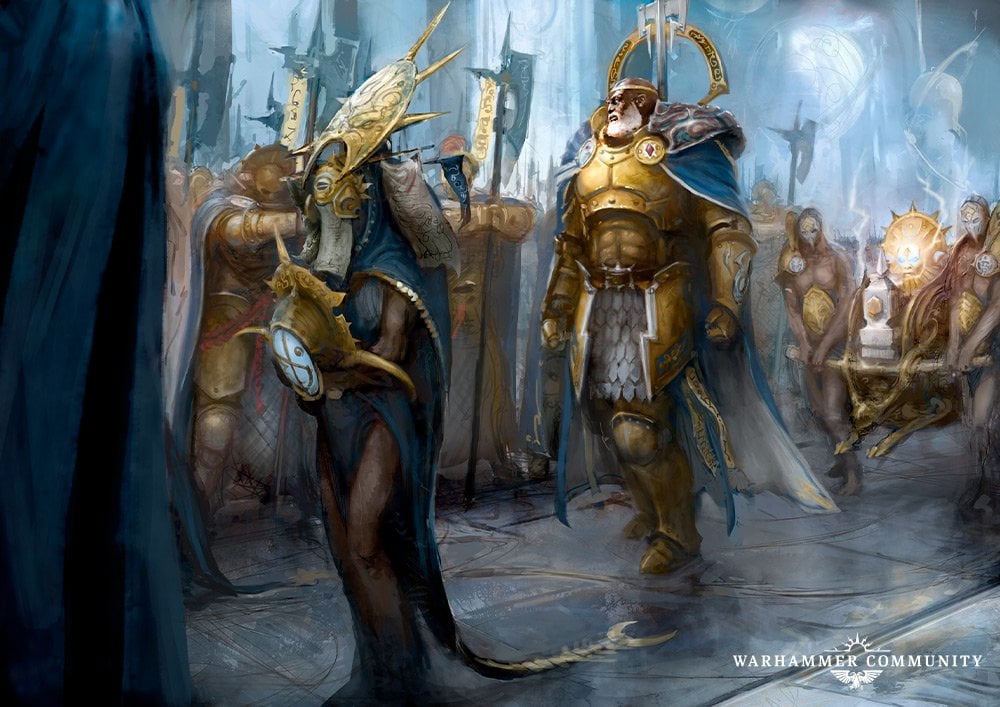 History
"Known as the Thunderborn, Bastian was not the first of his Stormhost to be forged, yet he has stood at Sigmar's side longer than perhaps any other living Stormcast. As a mortal man, he led his tribe against Archaon himself in the Battle of Burning Skies, and when the tide of battle turned it was Carthalos who covered Sigmar's retreat at great cost.
As typically happens to people who stand up to Archaon, Bastian was savaged by the Everchosen's monstrous steed Dorghar and covered in grievous injuries. Nevertheless, he stoically held the rearguard and was the last to cross the Gates of Azyr before they were sealed shut."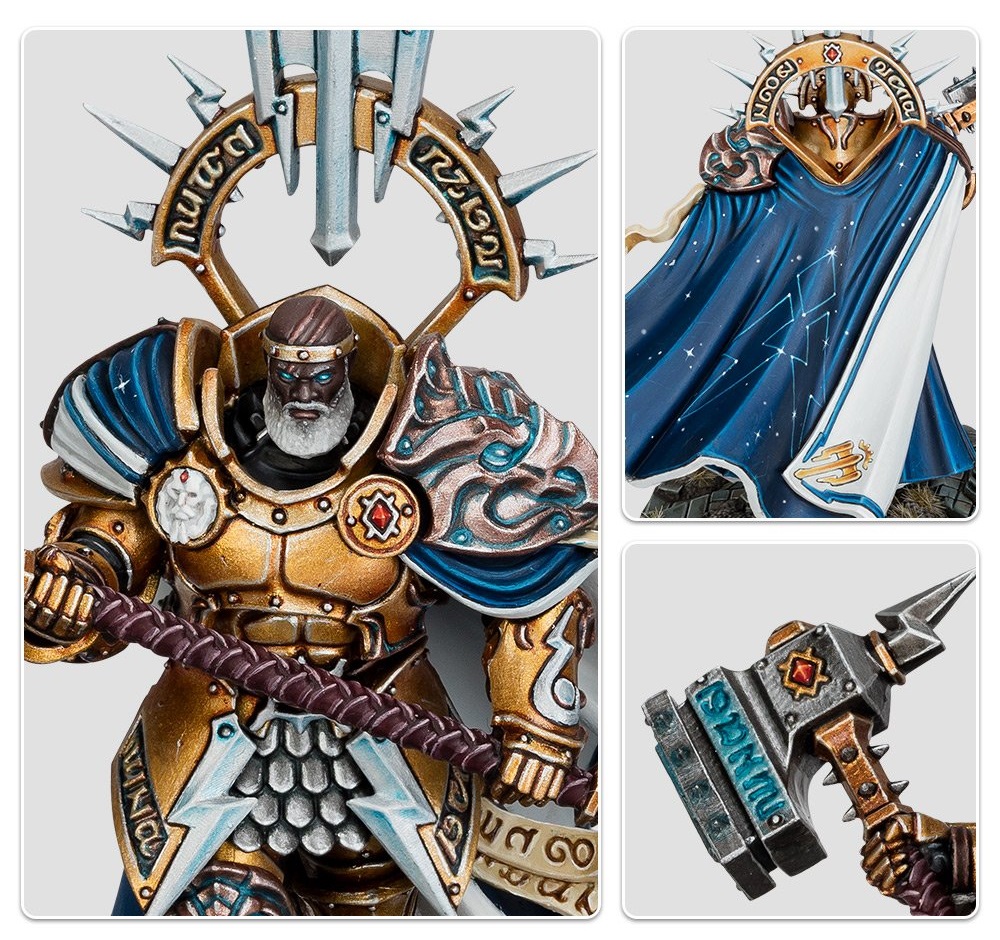 It was that act of bravery that earned him the title of Lord-Commander. After Sigmar used a mythical "Great Bolt" to reforge Carthalos, he was able to stride once again into battle. While he has been spending much of his time directing the wars of the Mortal Realms from Azyr, things are starting to require a bit more hands on attention, if you catch my drift. So once more the Lord-Commander is striding into battle to do battle with beasts, man, and monsters once again. Only this time he's got some fancy new toys…
Equipment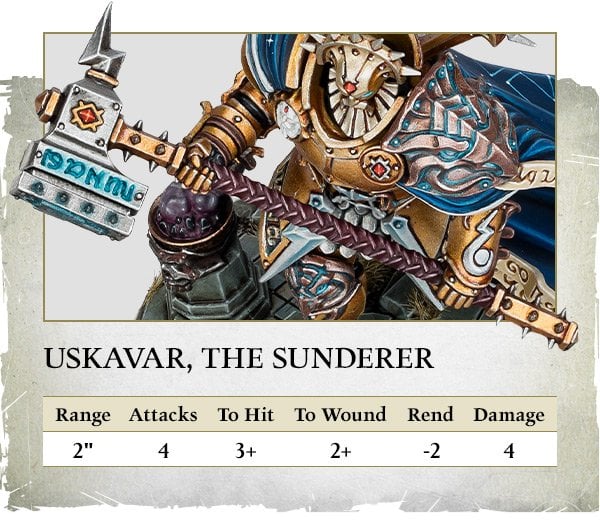 Bastian Cathalos wields the mighty meteoric grandhammer that is Uskavar, the Sunderer. And you can see from the stat profile that it does not mess around. Few foes could withstand an assault from this beat-stick. With 4 damage and 4 attacks coming, that's a potential 16 damage – more than enough to drop most leaders and characters. Only the biggest enemies would be able to take those hits.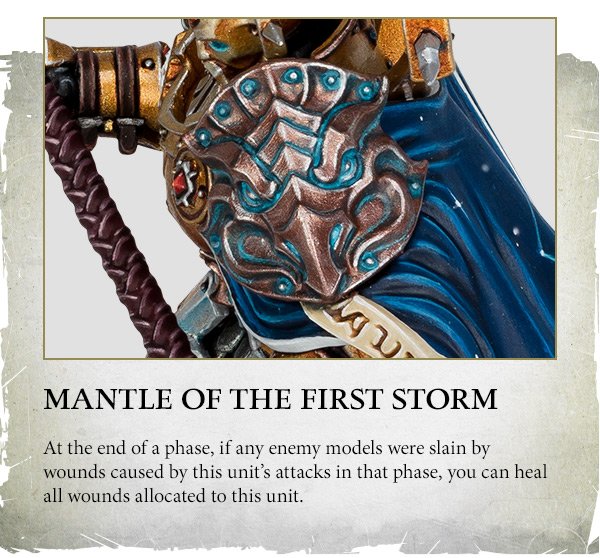 It's not just the offence this guy is bringing either – he's got the Mantle of the First Storm which can repair even the most grievous of wounds. As long as he's still kicking and has slain an enemy model in a phase, he get all his missing wounds back!
And finally, he's also got a pretty amazing voice that he uses to issue orders. No seriously, he knows how to project his voice across the battlefield so that any Hammers of Sigmar unit can get orders.
It also doesn't cost you a command point to do it, either! Tablewide range and a "Free" order – yeah, that's pretty sweet.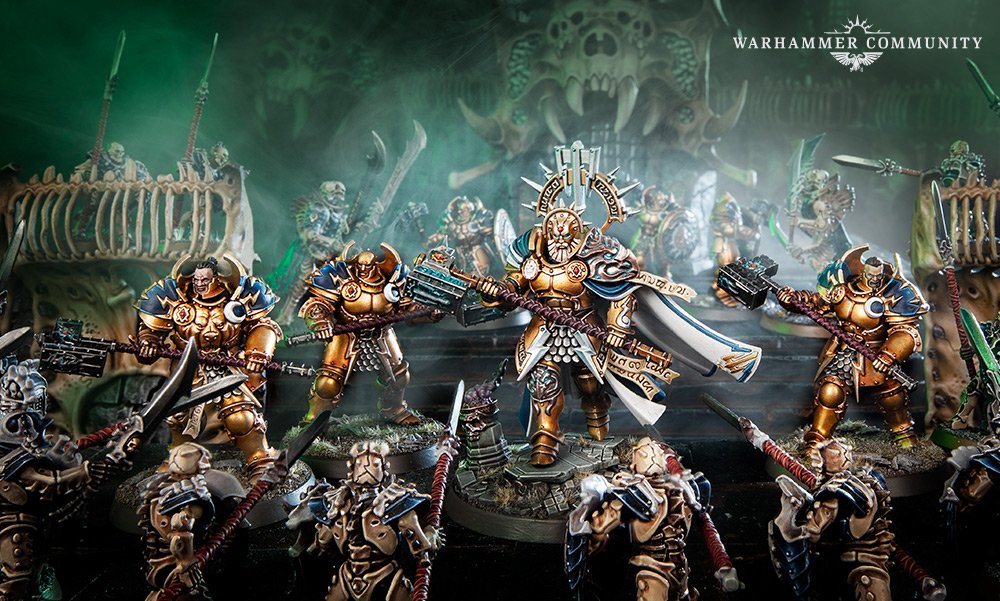 Bastian Cathalos joins the ranks of the many other heroes of the Stormcast Eternals. He goes up for Pre-Order this weekend!
You could say that he brings the boom.