Get your pre-orders in for the new season of Warhammer Underworlds plus a new War Zone has arrived for 40k!
via Games Workshop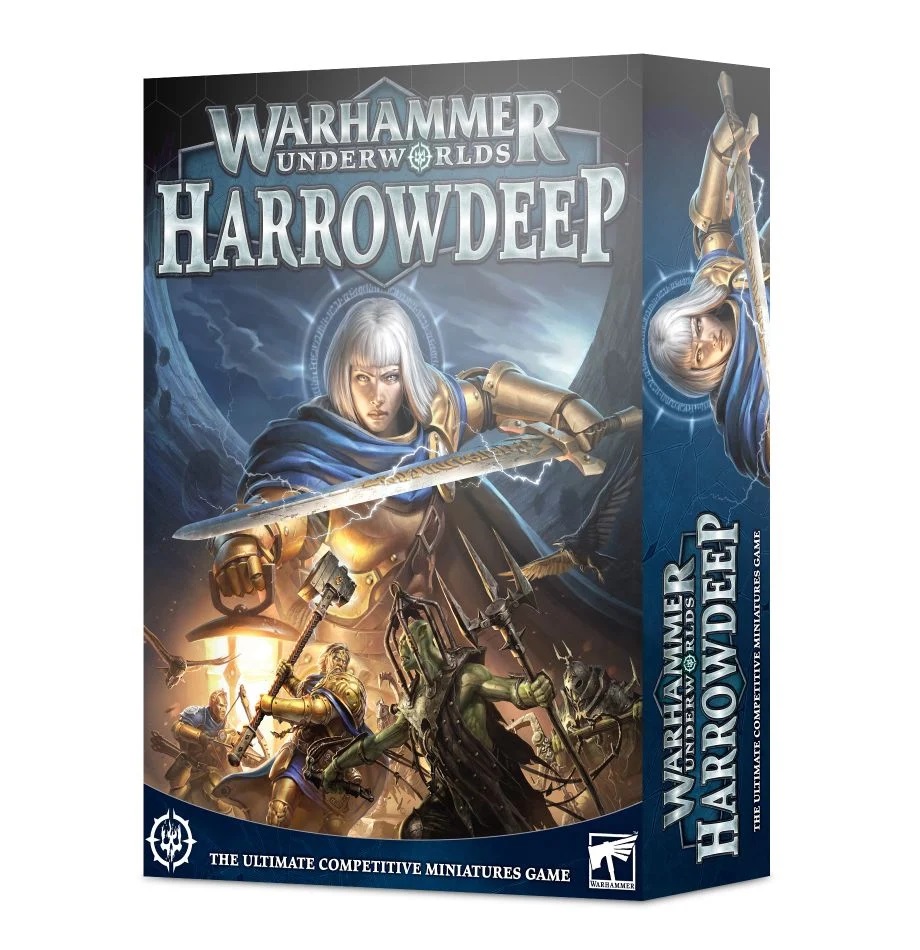 Deep within the darkness of Ulgu, Realm of Shadows, lies an impossible maze sequestered far beneath the sea. Two warbands brave the twisting shadow-magics of this ancient place, one spurred by divine decree and the other by selfish rapacity. Success may mean escape and survival, but few return from Harrowdeep – the nightmare abyss where light itself withers and dies.
Enter the ultimate competitive miniatures game with the Warhammer Underworlds: Harrowdeep Core Set. Inside, you'll find everything you need to start gaming below the waves of the Shadowsea, with miniatures, dice, cards, and more. Harrowdeep marks the beginning of season five of Warhammer Underworlds – a fast-paced, deck-based skirmish game set in the Mortal Realms. You can play right out of the box using the pre-built decks for the Rivals format – which is new to this season – or you can hone your deck using cards from the Warhammer Underworlds card pool for a strategic challenge.
This set contains:
– The complete rules for Warhammer Underworlds – clearer, sharper and tighter than ever before, introducing thrilling game mechanics like Grievous and Stagger, as well as containing lore and art that further explores Harrowdeep itself
– The complete Xandire's Truthseekers warband – a band of Thunderstrike armour-clad Stormcast Eternals and their aetherwing companion, adventuring into the dark of Ulgu on a quest from Sigmar himself. Build your warband with the four push fit plastic models, cast in blue plastic to ensure they stand out even when unpainted, plus fighter cards and a number of warband-specific cards that let you unleash their heroic strategies in battle.
– The complete Da Kunnin' Krew warband – a gang of sneaky, cutthroat greenskins from the swamps of Ghur aiming to claim the dark, dank corners of Harrowdeep for themselves. Build your warband with the five push fit plastic models, cast in dark green plastic, and build your decks with fighter cards and a number of warband-specific cards that let you channel the cunning and cruelty of Mork in battle.
– 2 double-sided game boards that can be used to assemble your battlefield
– Warhammer Underworlds tokens, including objectives, wound markers, glory points, and many, many more
– 48 universal cards – gambits, objectives and upgrades that can be used by any warband, perfect for deck-building with Xandire's Truthseekers and Da Kunnin' Krew or bringing your favourite warband into Warhammer Underworlds: Harrowdeep
– 11 Dice – 5 Attack dice, 3 Defence dice and 3 Magic dice, enough for the most devastating blows, desperate defences and cataclysmic spells
Whether you're a new player looking to start your journey or a veteran gamer looking to update your game for Season 5, this set is a must-have.
This box contains push-fit miniatures which are supplied unpainted and require assembly – we recommend using Citadel paints.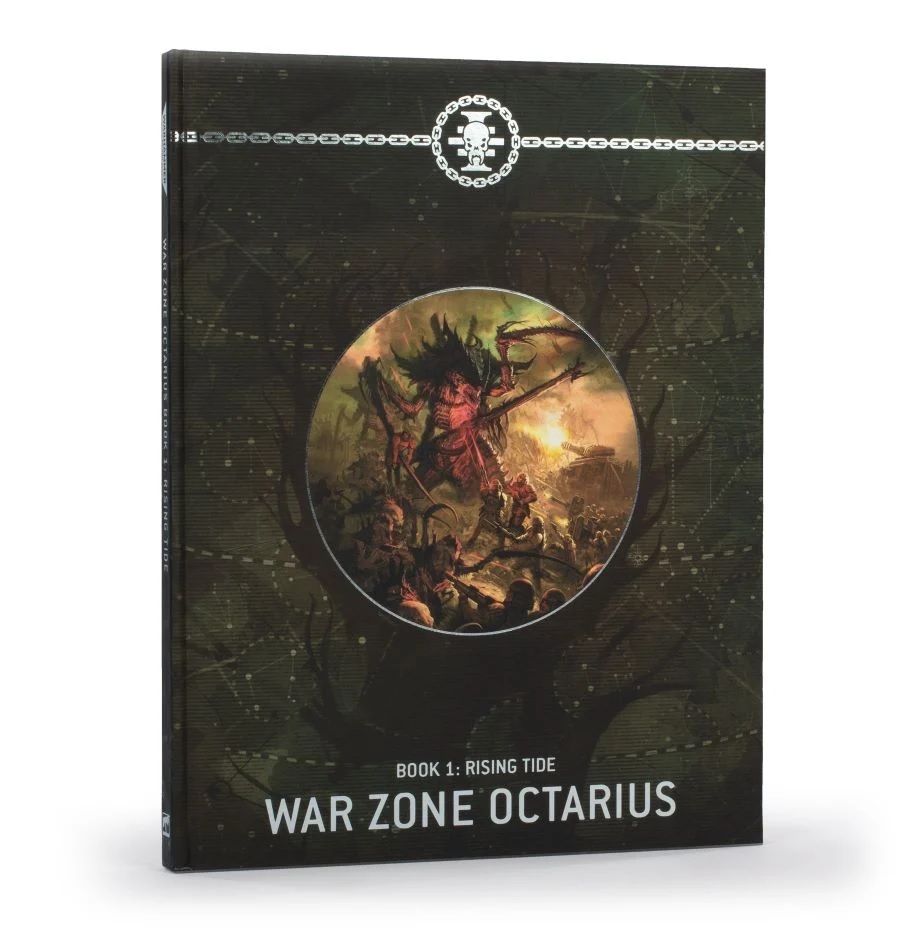 This lavish collector's edition hardback book has a soft-touch cover with foil blocking, printed page edges, and comes with a black 1/4″ ribbon marker.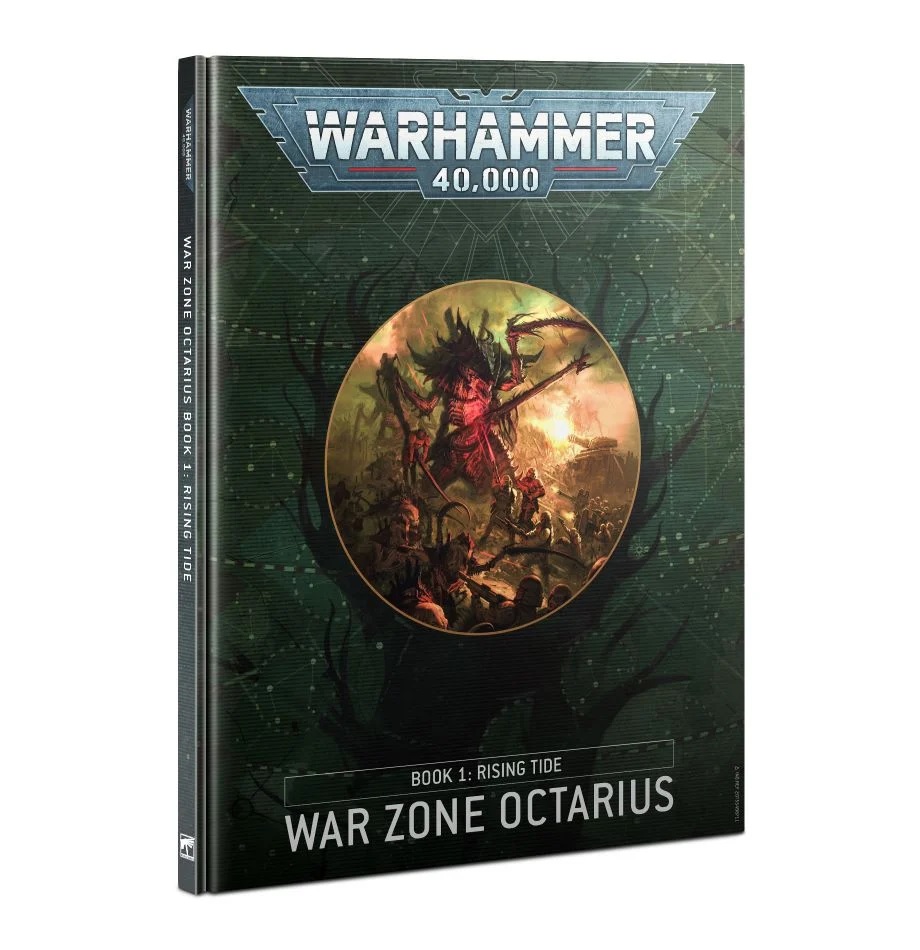 In the Octarius Sector, the Imperium's worst fears have been realised. For years, the Tyranids of Hive Fleet Leviathan have been locked in a war of attrition with the Orks. Now, the conflict has spilt out into surrounding space, and the xenos forces descend on Imperial planets, hungry for battle and biomatter.
The combined forces of the Deathwatch, numerous Space Marine Chapters, and the legions of the Adeptus Mechanicus rush to stem the tide of destruction that threatens to engulf the Pankallis Sub-sector in war. Not all hope is lost: Inquisitor Athocles Van Roth is brewing a plan – a high stakes endeavour that may result in the total defeat of the Tyranid forces. The Imperium must be ready to do whatever it takes to stop the Octarius Sector from falling to ruin.
Inside this 120-page hardback book, you'll find:
– Pages of lore documenting the shattering of the Imperial cordon by Ork and Tyranid forces. Find out how the Pankallis Sub-sector fell to war and discover Athocles Van Roth's perilous gambit.
– An in-depth campaign system that you can use to explore the Pankallis Assault from the perspective of the overwhelmed Imperial defenders, the scheming Inquisition, the rampaging Orks, and voracious Tyranids.
– A host of Crusade campaign content, including Battle Traits, Agendas, and Relics, allowing you to track your force's participation in this gruelling war.
– A codex supplement for Cadian forces of the Astra Militarum.
– An Inquisition appendix collecting nine datasheets, as well as rules for Ordo Hereticus, Xenos, and Malleus forces.
– A Tyranid appendix that collates all of the currently available rules for your Tyranid Hive Fleets, alongside a codex supplement featuring sub-faction rules for Hive Fleet Leviathan.
– Armies of Renown: rules and matched play content for fielding themed forces that provide a whole new way of mustering a Warhammer 40,000 army on the tabletop.
– Additional content, including fortification rules that represent the defences of the Imperium.
This hardback book also comes with a black 1/4″ ribbon marker.
You will need a copy of the Warhammer 40,000 Core Book to use the contents of this supplement.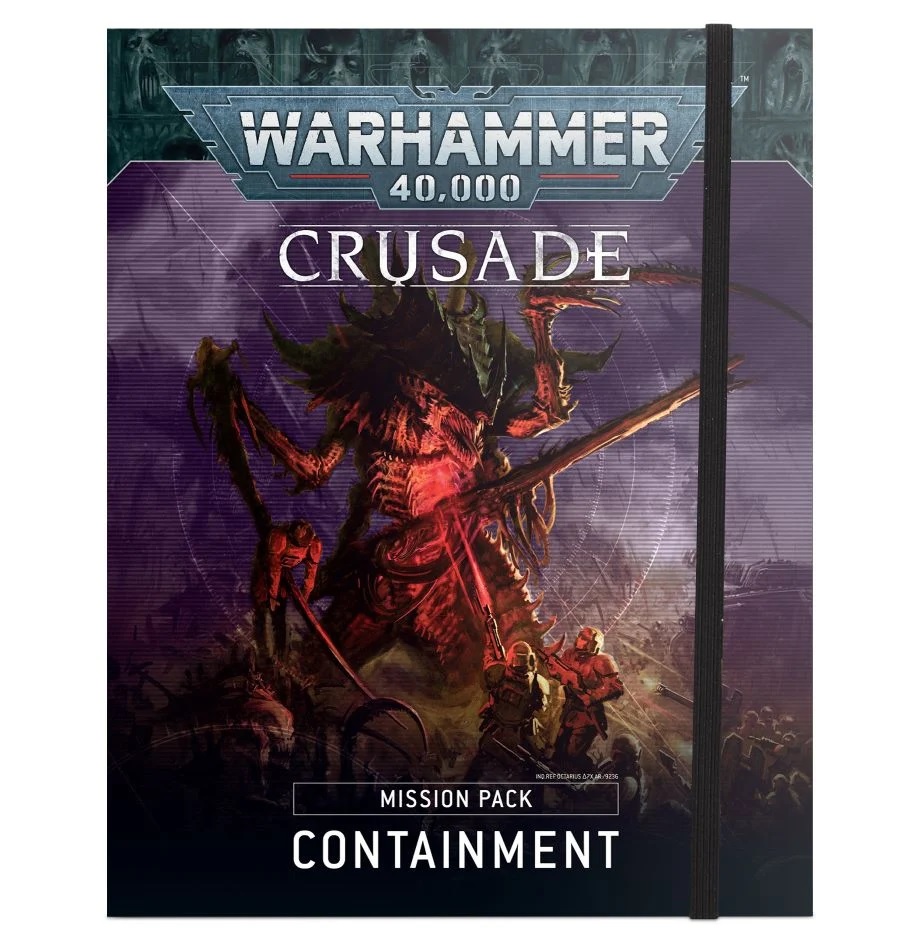 Crusade Mission Pack: Containment is a narrative play expansion for Warhammer 40,000, set in the Octarius Sector.
This region of space has been a tinderbox for many years – one which the citizens of the surrounding Imperial worlds prayed would never ignite. Within it, Tyranid swarms and Ork hordes beyond count now fight each other to a bloody standstill on scores of worlds, yet each grows stronger despite the bloodshed. The Tyranids of Hive Fleet Leviathan have glutted themselves on vast quantities of biomass, while the Orks become larger and more warlike with every brutal conflict they survive. The stage is set for an apocalyptic showdown.
This mission pack has been designed for use in narrative play Crusade games, where your campaigning forces can wage war across the Cordon Impenetra created by Inquisitor Nashir Sahansun. With numberless hordes of xenos battling relentlessly against one another – and anyone else that stands in their way – can your Crusade force take advantage of the chaos to survive the escalating conflict?
Inside this 112-page mission pack you will find:
– A full suite of Planetstrike rules for Warhammer 40,000
– 21 new Planetstrike missions – 3 for Combat Patrol-sized games, and 6 each for Incursion-, Strike Force-, and Onslaught-sized games, all set within the war-torn Octarius Sector
– A selection of Planetstrike Stratagems, Battle Traits, Agendas, and more
The pack itself is presented in a full Canadian wiro ring-bound book for easy use and reference on the tabletop during games, and comes with an elastic closure.
You will need a copy of the Warhammer 40,000 Core Book to use the contents of this mission pack.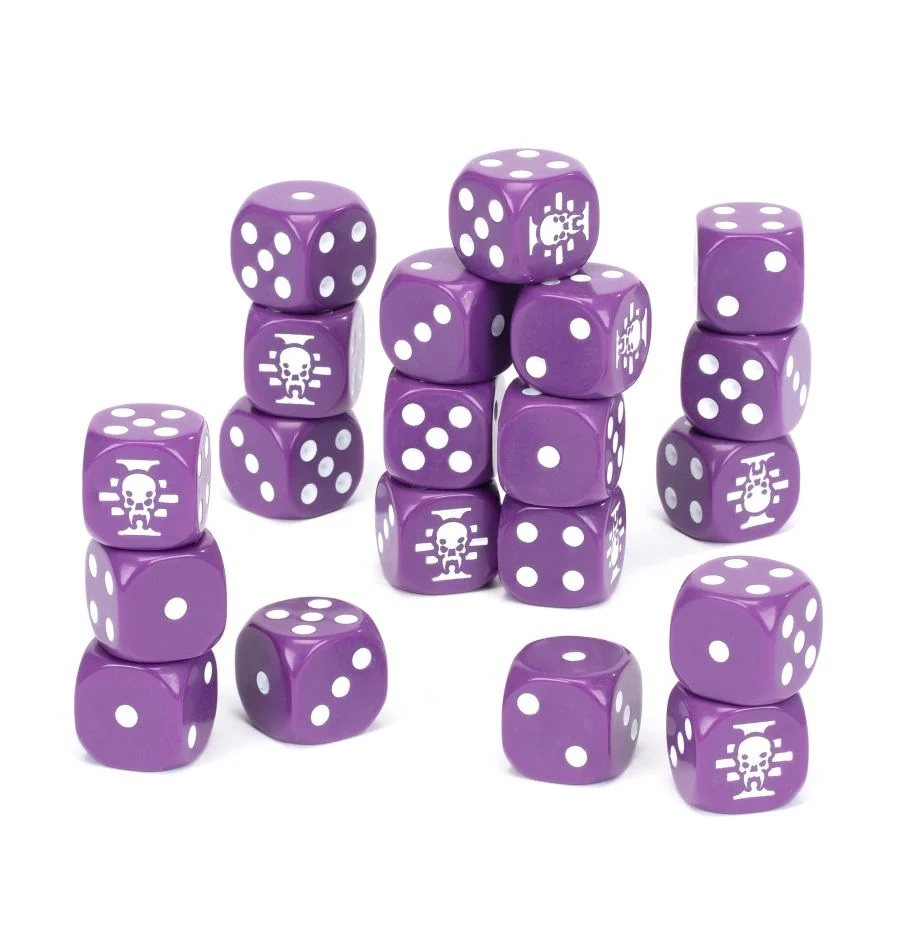 The fires of war are consuming the Octarius Sector as fierce xenos hordes clash with the forces of the Imperium. These dice bear the symbol of this dire conflict, designed to pair with the narrative events occurring in War Zone Octarius.
This set includes 20 six-sided, round-edged dice that measure 16mm along each edge. They are cast in a dark purple with bright white pips that feature the Inquisitorial rosette with a xenos skull in the place of each '6' face.
The war for the Octarius Sector is about to get even crazier!