Kickstarter Round-Up: Elven Lords STLs, Aegean RPG, Skyraiders of Abarax, and More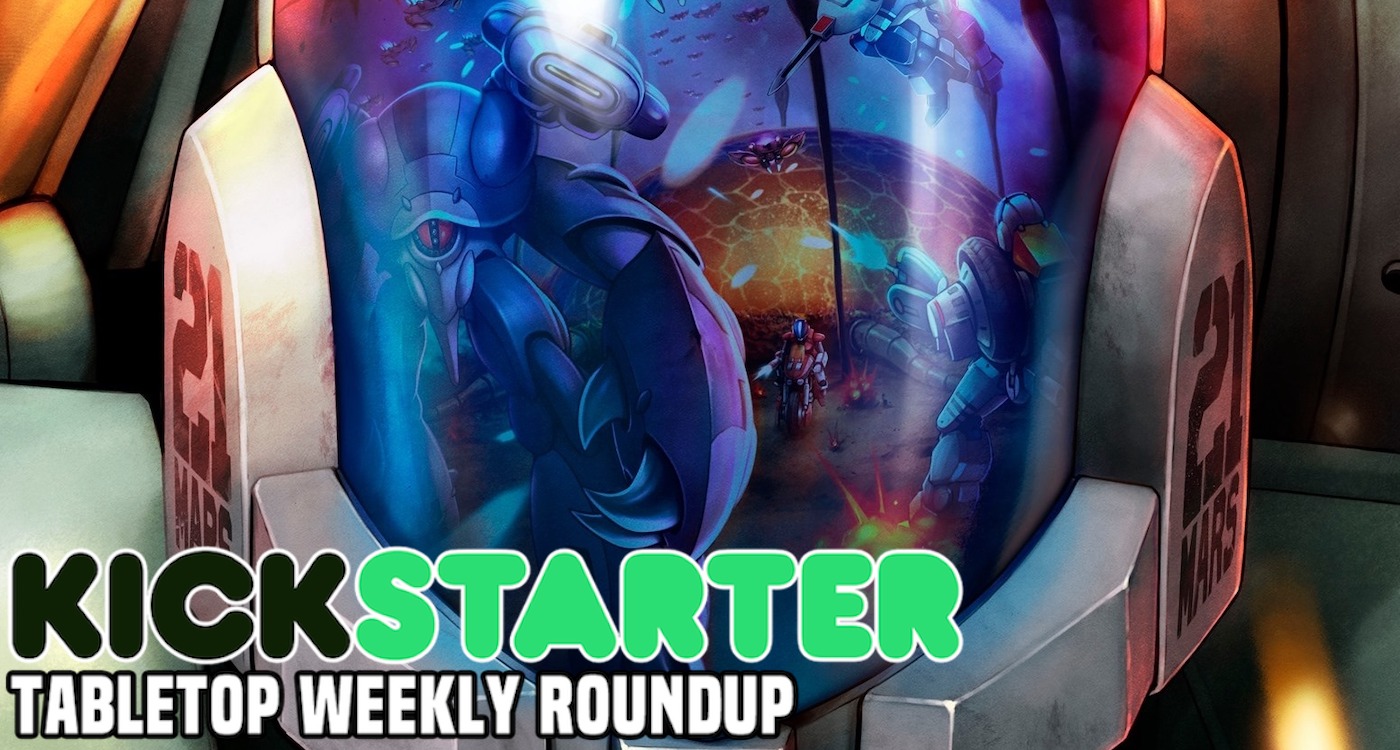 Come check out this week's batch of Kickstarter and crowdfunding highlights!

AEGEAN is a tabletop role-playing game about a group of mythic heroes building a new, free city on the shores of the Aegean Sea. There are neighbouring cities to trade or war with, monsters to kill, gods to appease, deceptions, negotiations and bloody skirmishes. The core philosophy of AEGEAN is the characters are capable heroes who can always succeed at the task at hand. Sometimes there may be a cost involved and it's up to the player to decide how much they're willing to pay for success.
 AEGEAN will be available in four versions: digital, print on demand (POD) hardback, standard hardback, and deluxe hardback. All versions will be 152mm by 229mm (roughly 6″ by 9″), approximately 300 pages with a full colour cover by Eleonor Piteira and black and white interior designed by Simon Clarke.
Pledges start at $28 for a digital edition.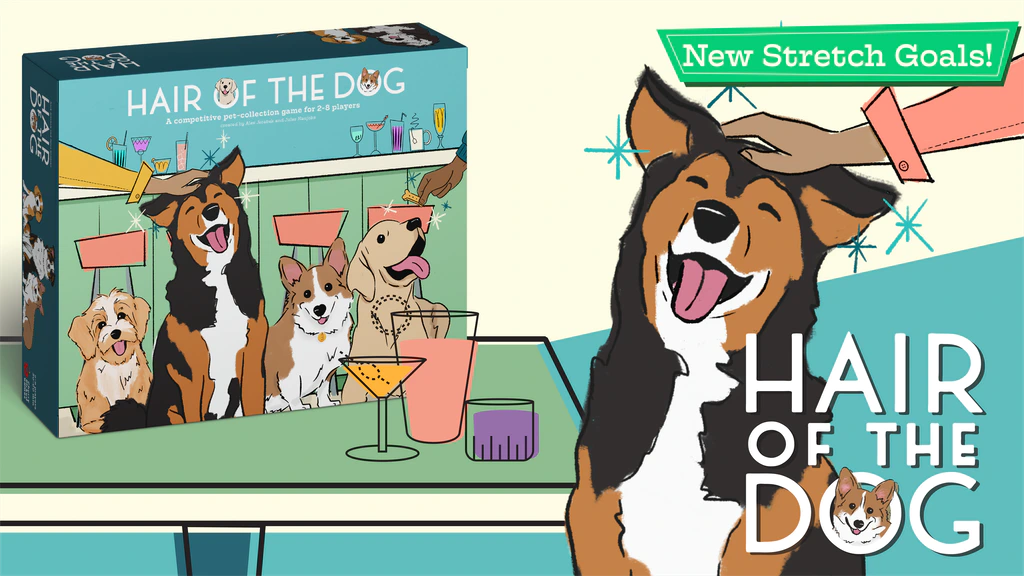 Hair of the Dog is the trendy new spot for dog owners to bring their pets. Sadly, no one in your friend circle has a dog. It's a real problem. You need to pet one; you all do.
Of course, it's not enough just to pet the dogs. You need to win: to be the undisputed best at hand-to-dog contact. To do so, you must get a variety of scratching styles from unique dogs. The dogs at this bar are picky and all have different criteria you must meet before they let you pet them. You also need to be a good patron of the establishment by buying drinks. Failure to be a good customer will result in the staff shaming you for selfishly taking up space.
Pet the dogs better than your friends and don't be shamed. Should be a relaxing evening, right?
Pledges start at $5 for a PnP and $35 for a physical copy.

Welcome to Nomen-Betu, the elven forest where our eighth Kickstarter campaign is born. This is not our first elven campaign but it is the first time we delve deep into the Wood Elves forest. We cant wait to tell you about these magical lands and creatures that dwell in this fabled woodland, that is… if the elves allow us. 
Subscribe to our newsletter!
Get Tabletop, RPG & Pop Culture news delivered directly to your inbox.
This Kickstarter campaign contains highly detailed miniatures AND terrain pieces for scenery. Both have been designed for 32mm scale battles, we recommend printing the high detailed miniatures with an SLA resin printer and the scenery with a PLA FDM printer.
Pledges start at $41 for all scenery files and $53 for all army files.

Robotech: Homefront is the first supplement in the Robotech Roleplaying Game series. Homefront, a 275 page book, contains all the major content from both "The Masters" and "New Generation" Sagas. Homefront is being sold with 3 covers: Scott's Cyclone, Dana's Armor, and the Limited Edition Gold Foil Leatherette. The Dana Limited copy will be produced at 10% of the total copies made. You are guaranteed to get the Dana Cover through this Kickstarter, but after supplies will be limited.
(This week's header image is from this game.)
Pledges start at $20 for a digital copy.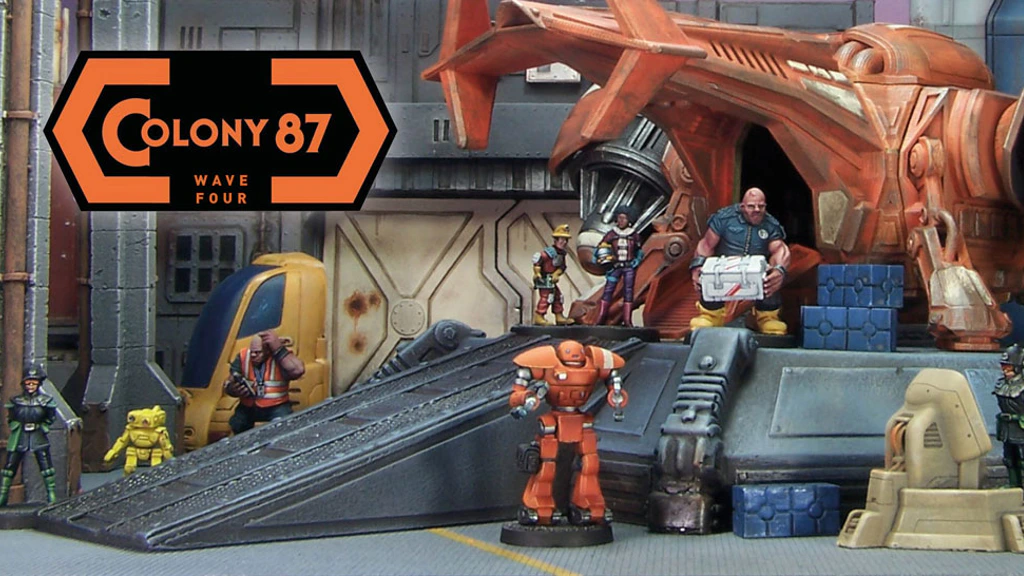 The aim of this project is to produce over 50 new sculpts to expand the COLONY 87 28mm scale sci-fi civilian miniature range for use in RPGs and tabletop wargames. This Kickstarter will enable the figures to be production moulded and cast in white metal – with larger pieces cast in resin. We hope to fund:
 

FOUR

new themed sets of colonists – that's 25 new sculpts!
 

ADD ON stretch

goals

–  smaller character sets – obsessed archivists, unruly street punks, starport ground crew – another 25 figures!
 

FREE stretch goals

– loot tokens, objective markers, robots and scenic pieces
 

PLUS

there is an opportunity to pick up the figures in the previous three successful kickstarter campaigns. 
The figures have been designed with a retro sci-fi aesthetic by illustrator Will Beck and sculpted by Andrew May, James Sherriff and Iain Colwell.
Pledges start at $42 for a set.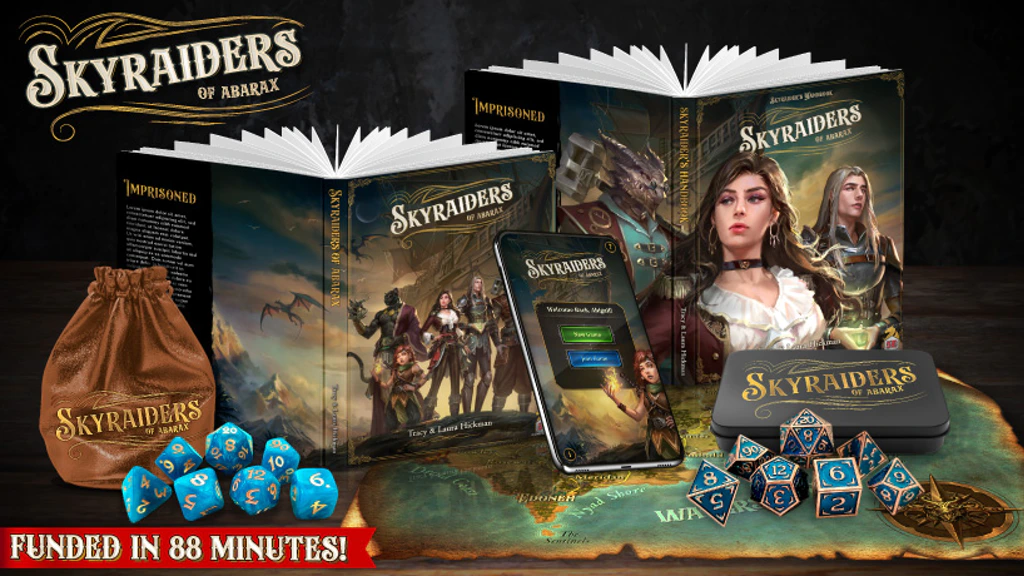 Venture forth in a 5E-compatible adventure world from bestselling authors Tracy and Laura Hickman. This new world introduces new lands with their own stories and peoples to discover, all built around a magical book that comes to life via the Living Tome mobile app. With two complete manuals packed with original artwork, lore, and enhancements to the core 5E rule set plus a free digital app that integrates with the book using AR technologies, Skyraiders of Abarax provides a grand skyfaring adventure filled with hope and wonder.
Tracy and Laura Hickman have a long history with fantasy and tabletop role playing, as some of the most prolific writers and creators in the business. With fourteen New York Times Bestsellers, they were responsible for many beloved fantasy worlds: Dragonlance, Ravenloft and Tales of the Dragon's Bard, among many others.
Pledges start at $30 for a PDF.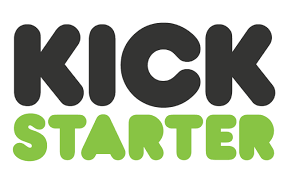 ~Which Of These Campaigns Caught Your Attention?