D&D: Here's A List Of Every Monster In 'Monsters Of The Multiverse'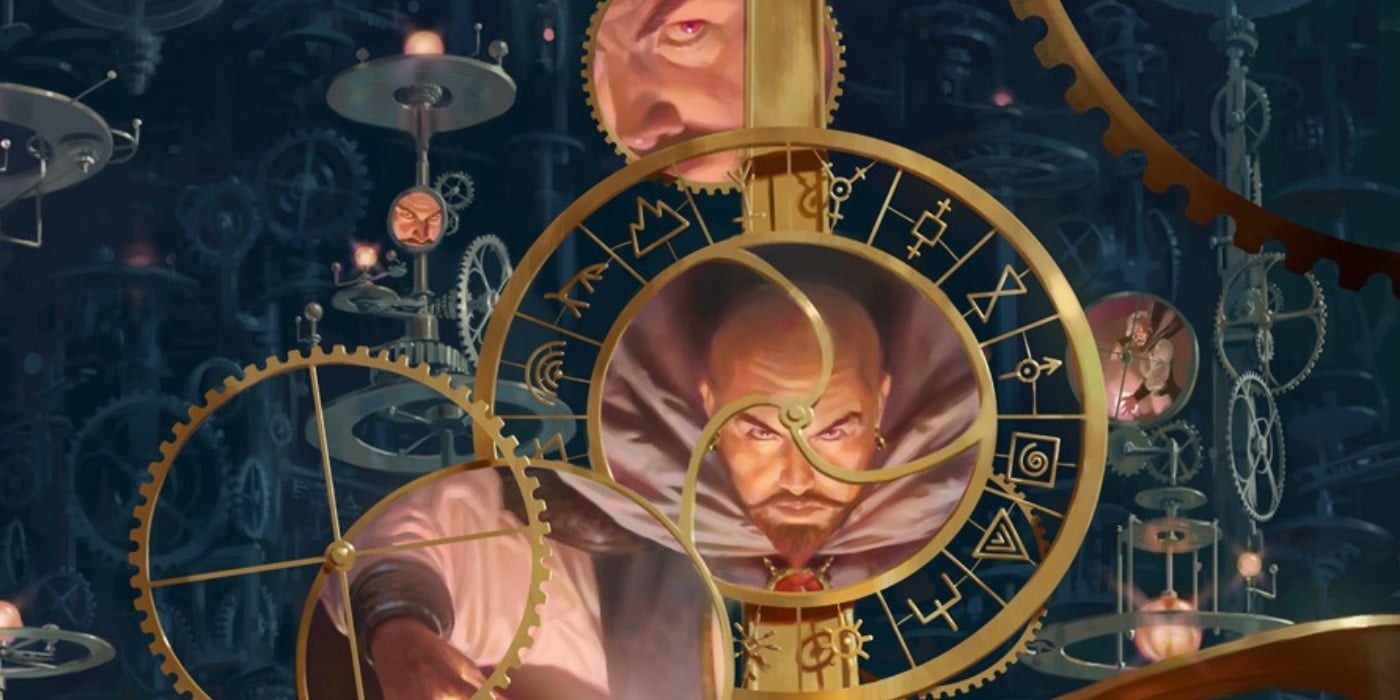 A day after the table of contents leaked, an intrepid YouTuber has determined almost all 260 monsters in Monsters of the Multiverse.
The release of the Rules Expansion Gift Set and the accompanying Mordenkainen Presents: Monsters of the Multiverse is just under two weeks away, and the internet is abuzz with leaks.
Yesterday it was every player race in the tome. Today, YouTuber Bob World Builder has analyzed the previous leaks. He's used that to determine EVERY MONSTER in Monsters of the Multiverse! Or so he claims in the video.
Honestly it's pretty impressive to take a blurry potato-phone screenshot: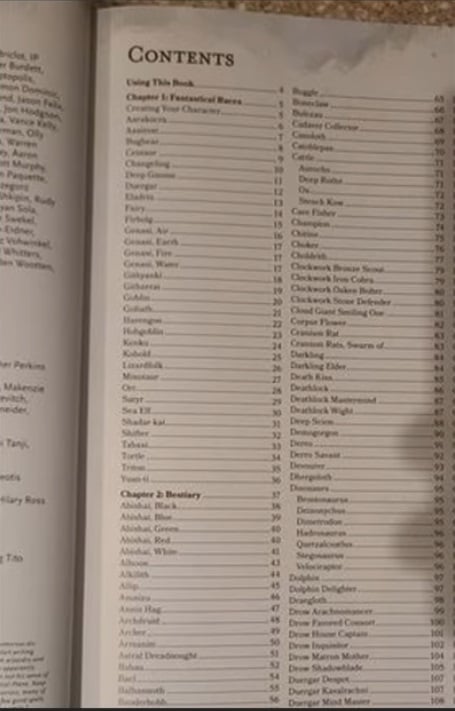 And turn it into a pretty comprehensive list: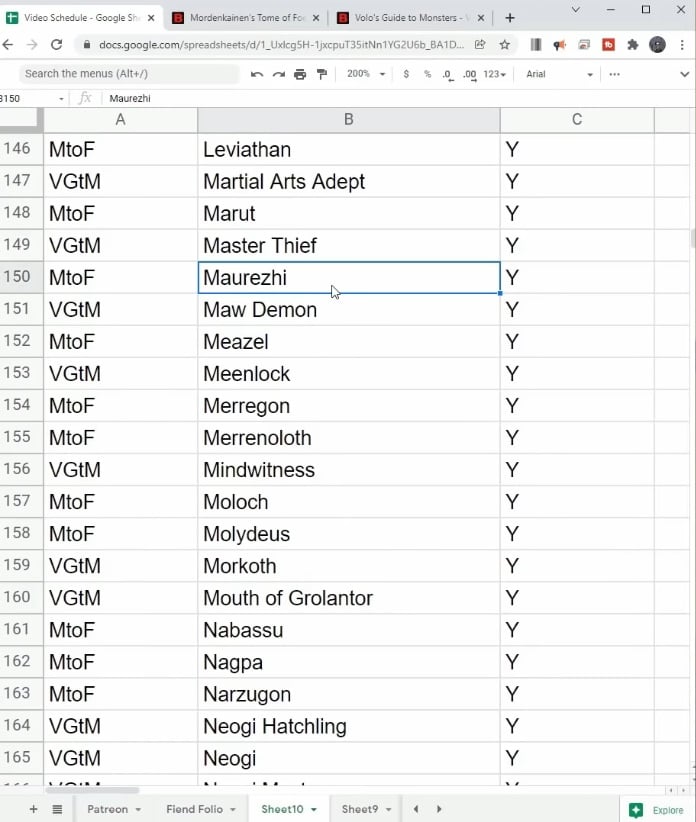 How did Bob World Builder manage this? By compiling a list of every monster in Volo's Guide to Monsters and Mordenkainen's Tome of Foes. The upshot is a comprehensive list of everything expected to be in the book.
Here's a list of every monster in Monsters of the Multiverse.
Monsters of the Multiverse Revealed
Abishai– Black, Blue, Green, Red, & White
Alhoon
Alkilith
Allip
Amnizu
Annis Hag
Archdruid
Archer
Armanite
Astral Deadnought
Babau
Bael
Balhannoth
Banderhobb
Baphomet
Bard
Barghest
Berbalang
Bheur Hag
Blackguard
Bodak
Boggle
Boneclaw
Bulezau
Cadaver Collector
Canoloth
Catoblepas
Cattle– Aurochs, Deep Rothe, Ox, & Stench Kow
Cave Fisher
Champion
Chitine
Choker
Choldrith
Clockwork– Bronze Scout, Iron Cobra, Oaken Bolter, & Stone Defender
Cloud Giant Smiling One
Corpse Flower
Cranium Rat, Swarm of Cranium Rat
Darkling
Darkling Elder
Death Kiss
Deathlock, Deathlock Mastermind, & Deathlock Wight
Deep Scion
Derro
Derro Savant
Devourer
Dhergoloth
Dinosaurs– Brontosaurus, Deinonychus, Dimetrodon, Hadrosaurus, Quetzalcoatlus, Stegosaurus, & Velociraptor
Dolphin
Dolphin D____ (possibly Dolphin Devilglaive?)
Draegloth
Drow Arachnomancer, Drow Favored Consort, Drow House Captain, Drow Inquisitor, Drow Matron Mother, & Drow Shadowblade
Duergar Despot, Duergar Hammerer, Duergar Kavalrachni, Duergar Mind Master, Duergar Screamer, Duergar Soulblade, Duergar Stone Guard, Duergar Warlord, & Duergar Xarrorn,
Dybbuk
Eidolon
Elder Brain
Elder Tempest
Elemental Myrmidon– Air, Earth, Fire, & Water
Fire Giant Dreadnought
Firenewt Warlock of Inix
Firenewt Warrior
Flail Snail
Flind
Fraz-Urb'luu
Froghemoth
Frost Giant Everlasting One
Frost Salamander
Gauth
Gazer
Geryon
Giant Strider
Giff
Girallon
Githyanki Gish, Githyanki Kith'rak, Githyanki Supreme Commander, Githyanki Anarch, & Githyanki Enlightened
Gnoll– Flesh Gnawer, Gnoll Hunter, & Gnoll Witherling
Gray Render
Grazz't
Grung Elite Warrior
Grung Wildling
Guard Drake
Hellfire Engine
Hobgoblin Devastator
Hobgoblin Iron Shadow
Howler
Hutijin
Hydroloth
Juiblex
Ki-Rin
Kobold– Dragonshield, Inventor, & Scale Sorcerer
Korred
Kraken Priest
Kruthik– Hive Lord, Adult, & Young
Leucrotta
Leviathan
Martial Arts Adept
Marut
Master Thief
Maurezhi
Maw Demon
Meazel
Meenlock
Merregon
Merrenoloth
Mindwitness
Moloch
Molydeus
Morkoth
Mouth of Grolantor
Nabassu
Nagpa
Narzugon
Neogi, Neogi Hatchling, & Neogi Master
Neothelid
Nightwalker
Nilbog
Nupperibo
Oblex– Spawn, Adult, & Elder
Ogre– Battering Ram, Bolt Launcher, Chain Brute, & Howdah
Oinoloth
Orcus
Orthon
Phoenix
Quickling
Redcap
Retriever
Rutterkin
Sea Spawn
Shadar Kai– Gloom Weaver, Shadow Dancer, & Soul Monger
Shadow Mastiff
Shadow Mastiff Alpha
Shoosuva
Sibriex
Skulk
Skull Lord
Slithering Tracker
Sorrowsworn– The Angry, The Hungry, The Lonely, The Lost, & The Wretched
Spawn of Kyuss
Star Spawn– Grue, Hulk, Larva Mage, Mangler, & Seer
Steeder– Female & Male
Steel Predator
Stone Cursed
Stone Giant– Dreamwalker & Quintessent
Swarm of Rot Grubs
Swachbuckler
Sword Wraith– Commander & Warrior
Tanarukk
Titivilus
Tlincalli
Turtle Druid
Trapper
Troll– Dire, Rot, Spirit, & Venom
Ulitharid
Vampiric Mist
Vargouille
Vegepygmy, Vegepygmy Chief, Vegepygmy Thorny
War Priest
Warlock of the Archfey, Warlock of the Fiend, & Warlock of the Great Old One
Warlord
Wastrilith
Wizard– Apprentice, Abjurer, Conjure, Diviner, Enchanter, Evoker, Illusionist, Necromancer, & Transmuter
Wood Woad
Xvart
Xvart Warlock of Raxivort
Yagnoloth
Yeenoghu
Yeah Hound
Yuan-ti– Anathema, Broodguard, Mind Whisperer, Nightmare Speaker, & Pit Master
Zaratan
Zariel
Zuggtmoy
Happy Adventuring!
Subscribe to our newsletter!
Get Tabletop, RPG & Pop Culture news delivered directly to your inbox.