Marvel Explained: The Many Faces of Moon Knight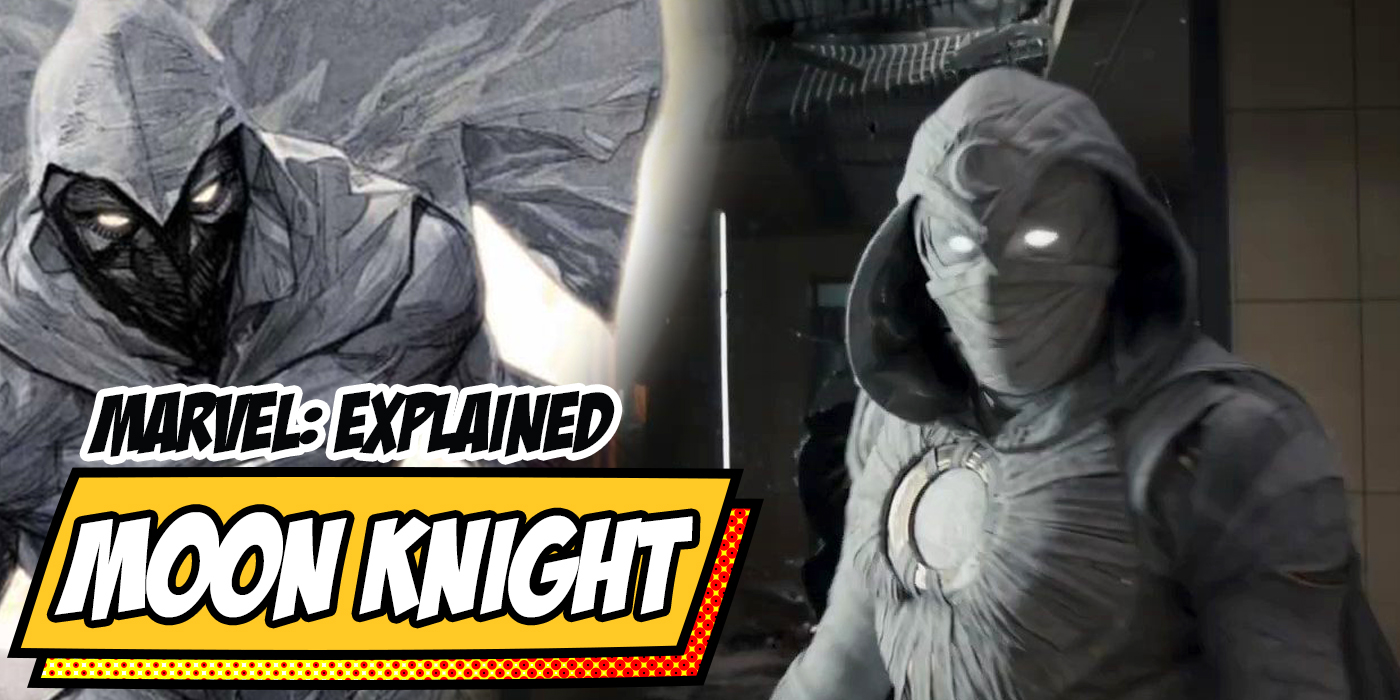 Marvel's Moon Knight, aka Marky Mark, aka Stupid Moon Man, is getting his own MCU series– but who is he?
Moon Knight was a Batman analog for Marvel (Doug Moench created him; he initially worked on the caped crusader for years). Over time, he has become more than a gun for hire. His complicated back story and life make for a character that's interesting and oddly relatable (in the same way Eddie Brock is).
Created by: Doug Moench and artist Don Perlin
First Appearance: Werewolf by Night #32 (August 1975)
Moon Knight's Comic Book Origins
Marc Spector is a Jewish-American rabbi's son from Chicago that started as an ex-CIA agent and mercenary before becoming Moon Knight. He has a connection to Egyptian moon god Khonshu (who may or may not be a figment of Spector's imagination) and numerous alter-egos. I told you he's complex.
Let's go back a bit. Spector's father was a Holocaust survivor; when young Marc finds out a close family friend is a Nazi that's still carrying out the directives of the Third Reich, he attempts to take him down but fails. Soon after, he develops dissociative identity disorder due to the trauma of that event– and his connection to a particular Egyptian god.
Khonshu, operating from a realm outside our own, takes an interest in Marc early due to his vulnerable mind. The god ultimately decides to make him his avatar on Earth when the time is right.
Spector spends time in various psychiatric hospitals and tries to deal with the life he's been handed.
Marc Spector's Transformation
Spector joins the marines after his father's death. He excels during training and becomes a powerful fighter. He served time in Force Recon until the Marines discovered he lied on his entry paperwork and they discharged him because of his mental health history.
What is a highly skilled ex-Marine to do after being booted from the service? Become an underground heavy-weight boxer and mercenary, of course. He teams up with Jean-Paul "Frenchie" DuChamp and Raoul Bushman for several missions, including one that takes them to Cairo.
Ultimately, it's Bushman that leads Marc to Khonshu. The violent Bushman kills Dr. Peter Alraune and his team to loot a tomb that the archaeologist has recently unearthed. Marc is able to scare away the doctor's daughter Marlene (who becomes his main love interest) and tries to best Bushman in combat. He is left alone and injured in the desert with no food or water when he fails.
He manages to make his way to a nearby village, though he's on the verge of death. The locals take him back to the tomb and lay him before a statue of Khonshu. He awakens, fully healed and claiming to have seen the god. He is now acting as the moon god's avatar– his "knight of vengeance," the "fist of Khonshu." Marc takes a silver, hooded cloak from the statue and adopts it as his own.
Of course, this revelation isn't seen as reality by those around him due to Marc's history. Those around him doubt this new connection and chalk it up to his DID. At times Marc isn't sure if Khonshu is real or just a figment of his imagination. The internal fight becomes as big a part of him as the real-life enemies he fights.
Subscribe to our newsletter!
Get Tabletop, RPG & Pop Culture news delivered directly to your inbox.
Powers & Abilities
"Let's establish some parameters. I'm not Spider-Man. And I'm not the Punisher. They represent extreme ends of the same costumed spectrum. I'm Moon Knight. And you all know that means one thing. No one in this room –myself included– knows precisely what I am capable of. I beat the Avengers. Imagine what I could do to any one of you." – Moon Knight
Spector is brilliant. He's a master detective and is adept in interrogation techniques. His time in the military has made him a hand-to-hand expert and a talented marksman and weapons expert. Spector also can speak Arabic and its Egyptian and Sudanese dialects.
When Spector melded with the moon god Khonshu, his brain and body were altered. He can fend off psychic attacks, has a high resistance to pain, and superhuman strength that's based on phases of the moon. He is also essentially immortal thanks to his connection to Khonshu. The moon god has brought him back three times.
The alters known as Steven Grant and Jake Lockley formed early. While other identities have formed over Spector's lifetime, these are the two main alters. They both of them have their own set of abilities.
Jake Lockley is a streetwise cab driver. He is skilled at gathering information and runs a network of informants that Moon Knight relies on. Steven Grant is a suave millionaire that is the financier that gets everyday business done (think Bruce Wayne).
Moon Knight in the MCU
The character makes his MCU debut in a Disney+ solo series. Oscar Isaac is Marc Spector; joining him are Ethan Hawk and May Calamawy.
Egyptian director Mohamed Diab is the showrunner and is directing all of the episodes. Lead writer Jeremy Slater (The Umbrella Academy) has been a Marvel comics fan for decades. It's going to be interesting to see how they handle this complicated character.
The series debuts on Disney+ March 30th, 2022. You can check out the first trailer below.