Comics: Pull List Apr. 27, 2022 – Medieval Versions of All My Heroes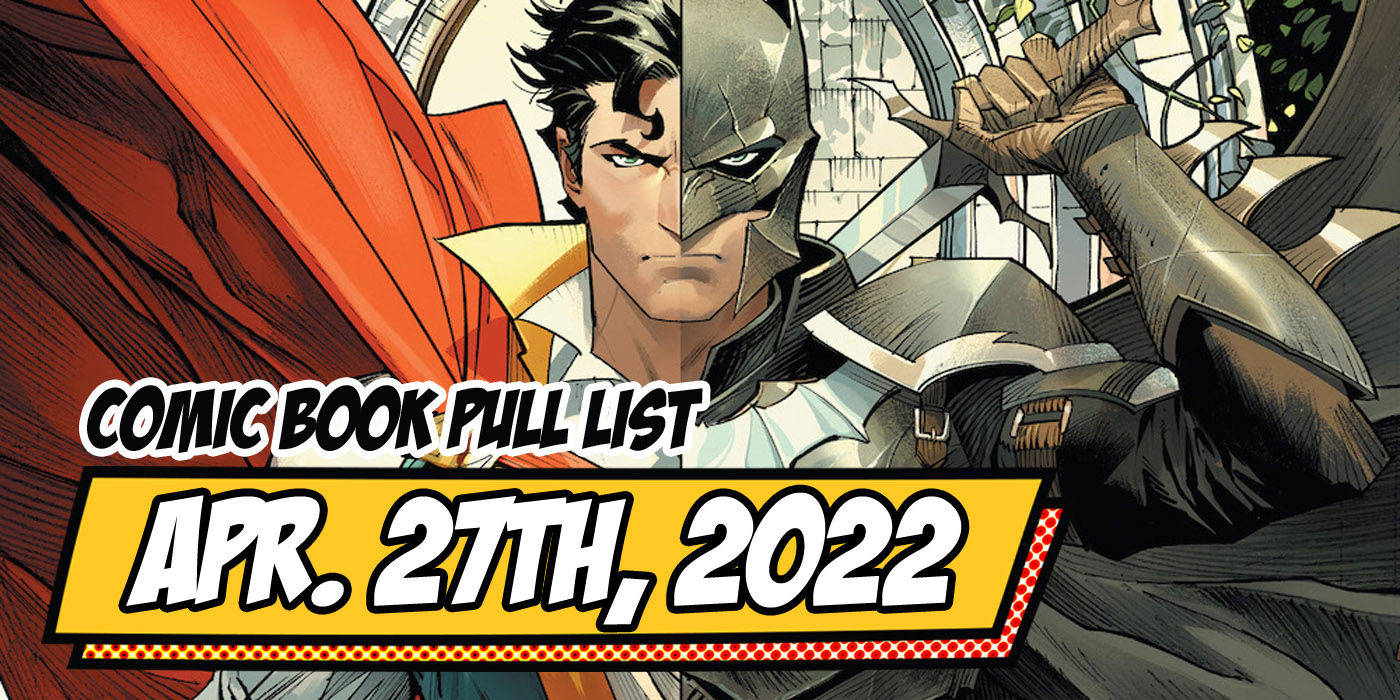 Ye olde superheroes from DC and Marvel make this week's pull listt for Apr. 27, 2022 look like a Renaissance Festival crossover! I'm into it.
If you're a comic book or manga reader, chances are Wednesday is your favorite day of the week. Whether you run to your local comic book shop or check your digital subscriptions as soon as you get home, it's New Comic Book Day. Rejoice!
Here's what's on my pull list for Apr. 27, 2022!
EMBED A GIPHY
Pull List for April 27, 2022: Single Issues
Saga #58 by Brian K. Vaughan & Fiona Staples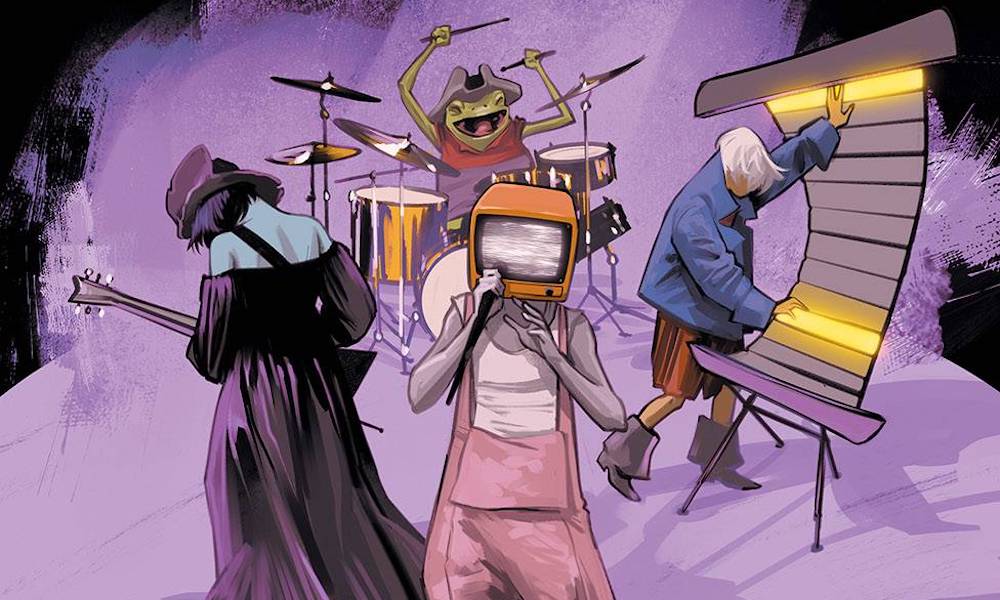 Friends or enemies?
---
Dark Knights of Steel #6 by Tom Taylor & Yasmine Putri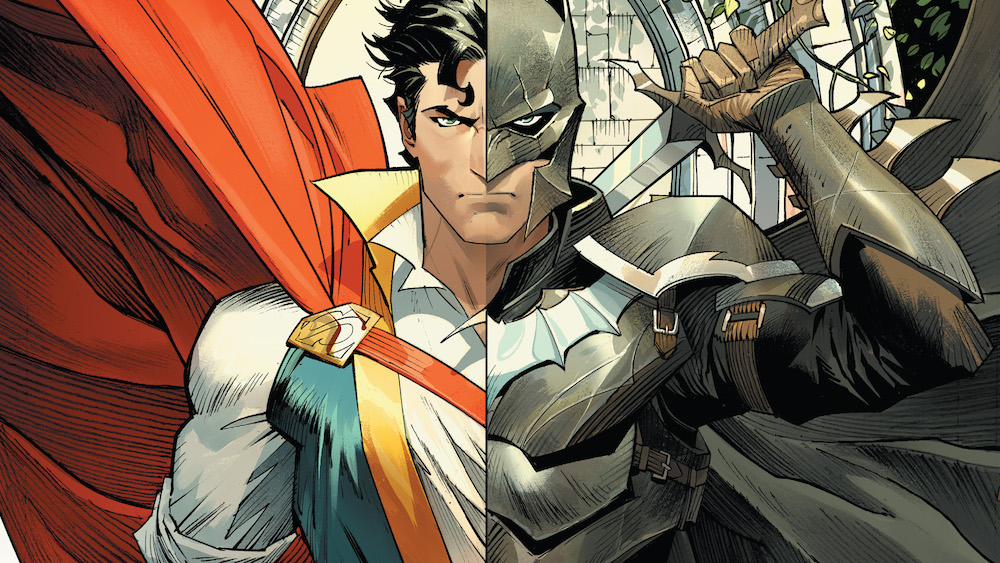 Kingdoms are divided. Monarchs have fallen. Families have been torn apart. The Kingdom of Storms, the Amazons, and the Els are on the brink of all-out war. Can Constantine, Lois Lane, and Harley Quinn stop what's coming? Or is the prophecy correct? Do Superman and his family have to die to save the world?
---
Thor #24 by Donny Cates, Nic Klein, & Various Artists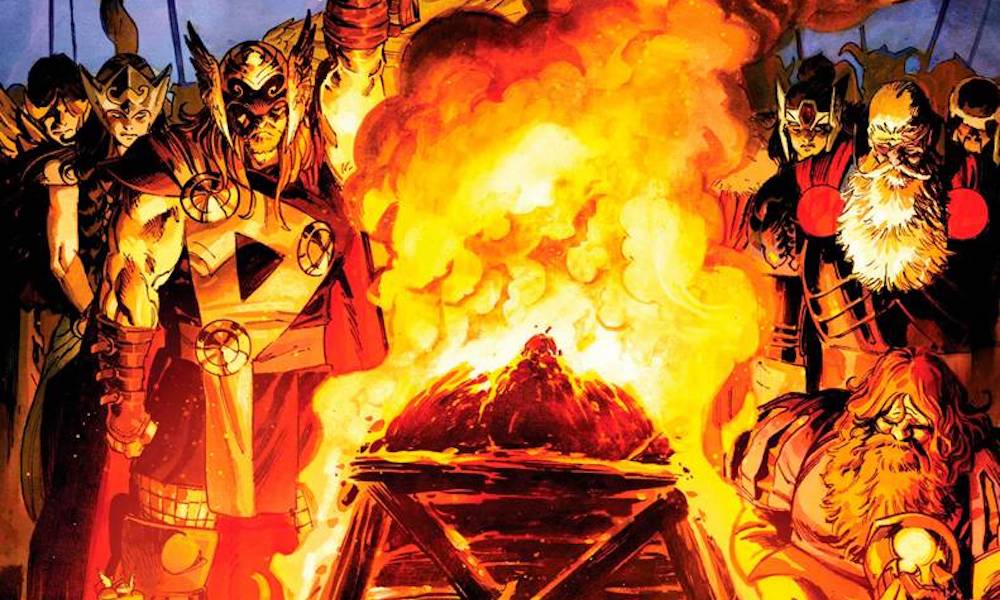 STAR-STUDDED CELEBRATION OF 750 ISSUES!
After a scorched-earth victory against the God of Hammers, Thor and all of Asgard reel from a brutal loss. But some people are never truly gone, and as Thor and his allies come together so will fan-favorite creators from throughout Thor's history! In addition to the main story by Cates and Klein, join some of Thor's most acclaimed writers and artists as they revisit their landmark runs with all-new adventures:
• Writer J. Michael Straczynski and artist Oliver Coipel reunite for a story set during their redefining Thor saga
• Legendary comics creator Dan Jurgens writes and draws an incredible Thor and Balder teamup
• Comics icon Walter Simonson writes and draws an all-new adventure starring his beloved creation, Beta Ray Bill
• Al Ewing and Lee Garbett collaborate for the first time since LOKI: AGENT OF ASGARD to bring you an all-new chapter for the god of mischief  
• Superstar team Tom DeFalco and Ron Frenz are back together to captivate you with an Enchantress story
• And prepare for a revelatory tale about Odin that only writer Jason Aaron and artist Das Pastoras can deliver!
Celebrate the long and storied history of the God of Thunder with the writers and artists who helped build his legacy!
---
Monstress #39 by Marjorie M. Liu & Sana Takeda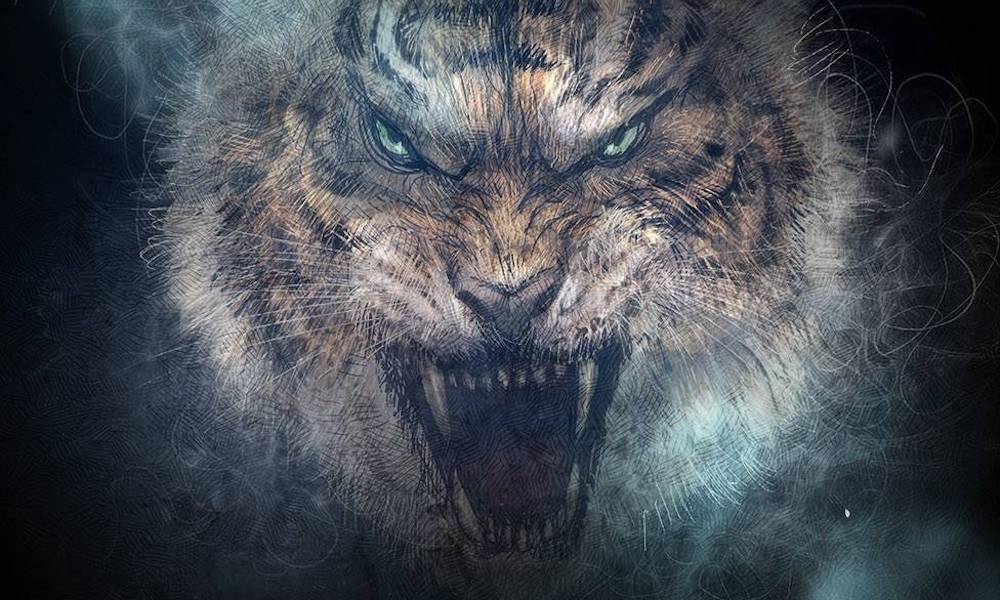 Maika falls even deeper into her prison as she flees the devastating truths revealed in her memories.
---
Knights of X #1 by Tini Howard, Bob Quinn, & Yannick Paquette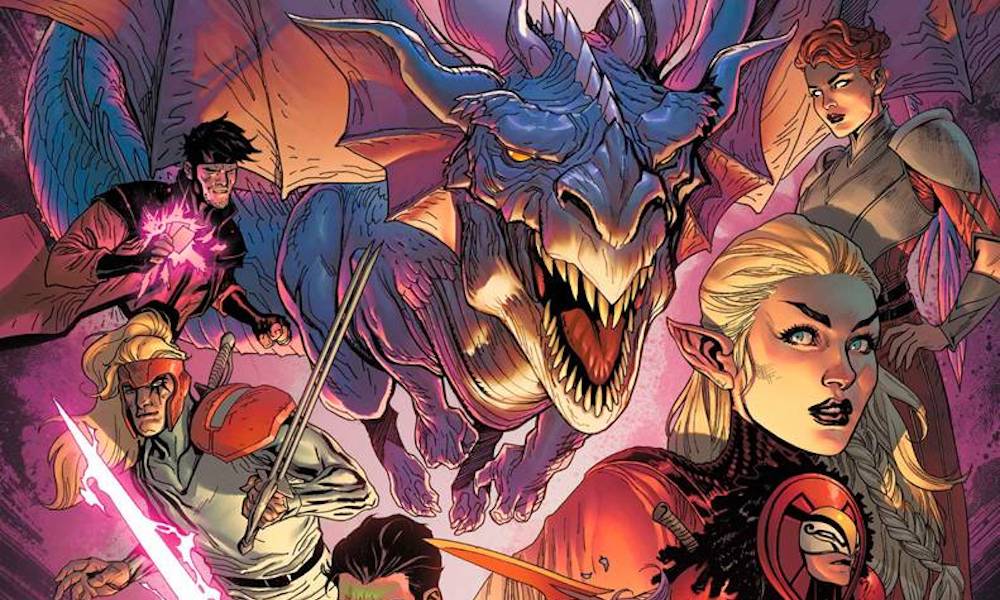 THE QUEST BEGINS HERE, WHERE MUTANTS ARE HATED AND FEARED ONCE AGAIN!
The gates to Otherworld are closed – and Captain Britain is trapped on the wrong side! Usurpers Merlyn and his right-hand man, King Arthur, are now in control of Lunatic Citadel. Furies the size of Sentinels raze villages to the ground in their hunt for the "witchbreed." Cut off from Krakoa, Betsy Braddock is Otherworld's only hero – and to save her people, Betsy must recruit a round table of her own. The Knights of X gather to restore the rightful order and rescue desperate mutants – but their quest is about to get so much bigger than that. This is the era of destiny…and the fate of Otherworld lies at the center of mutantkind's future. Don't miss this essential piece of the new Krakoa!
---
Blood Stained Teeth #1 by Christian Ward & Patrick Reynolds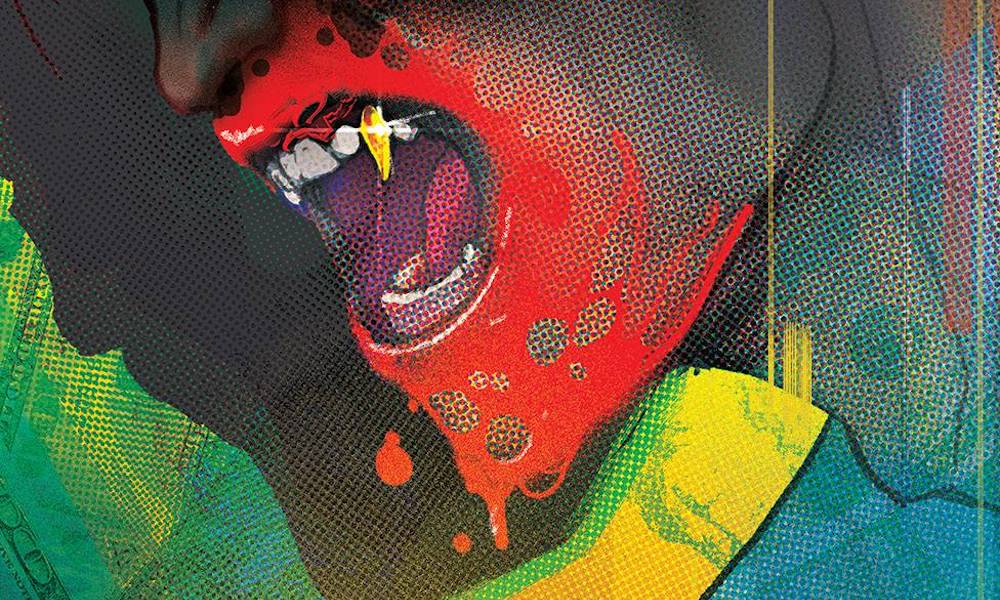 CHRISTIAN WARD, the Eisner Award-winning co-creator of ODY-C, Invisible Kingdom, and Machine Gun Wizards, returns to Image with red-hot artist PATRIC REYNOLDS (The Mask) for an all-new ONGOING SERIES-a fast-paced 100 Bullets-style crime saga with fangs!
Atticus Sloane-misanthrope, criminal, asshole, and vampire-lives in a world where blood isn't the only thing vamps crave. And for the right price, he'll make you a vampire too. After all, immortality isn't cheap.
---
Robin #13 by Josh Williamson & Roger Cruz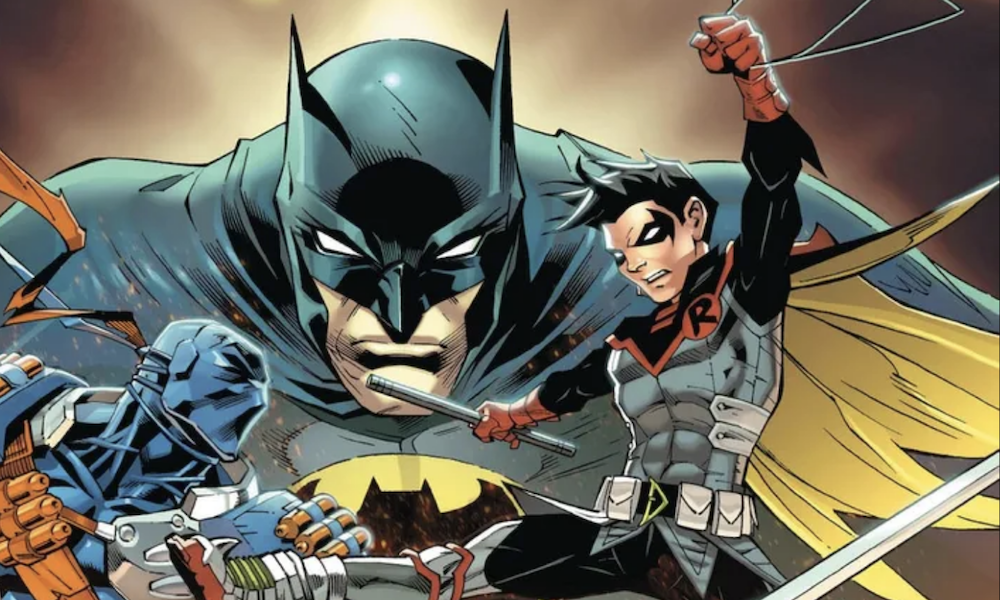 SHADOW WAR, PART 4
Robin and Ravager have caught up with Deathstroke and Respawn! Can they convince Deathstroke to turn himself in…or fight to the death? And what startling revelation does Robin learn that shocks this story to its core? Plus, Batman goes deep into the conspiracy behind Ra's al Ghul's death and discovers it's bigger than he thought. He must call in backup…just not the backup you'd expect!
---
Pull List for April 27, 2022: Graphic Novels
Locke & Key: Golden Age by Joe Hill & Gabriel Rodriguez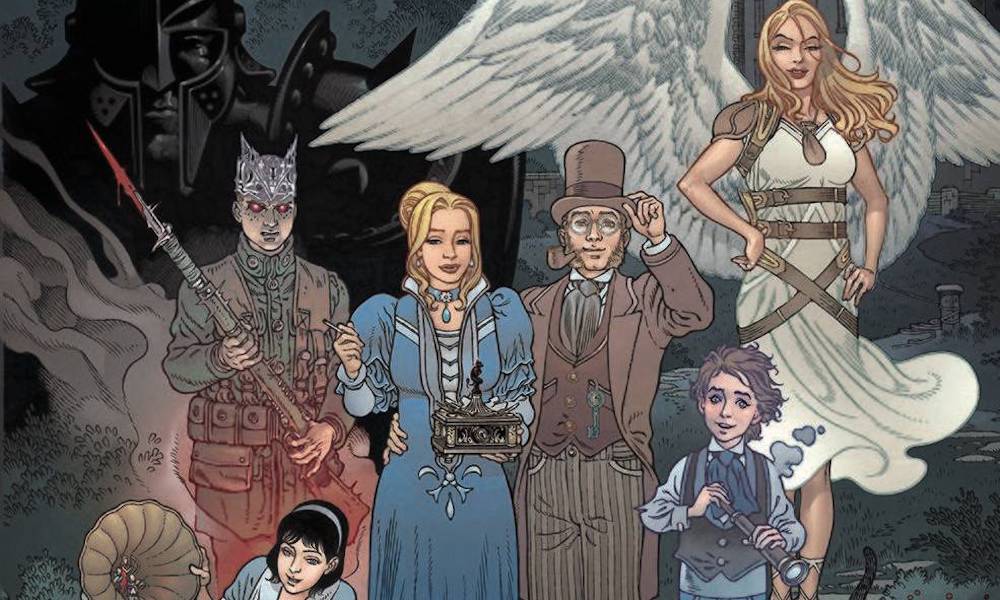 Unlock moments from Keyhouse's long history, expanding the saga of the Locke family in this collection of stories, which includes the epic crossover with DC's The Sandman Universe!
Subscribe to our newsletter!
Get Tabletop, RPG & Pop Culture news delivered directly to your inbox.
For two hundred years, the Locke family has watched over Keyhouse, a New England mansion where reality has come unhinged and shadows are known to walk on their own. Here they have guarded a collection of impossible keys, instruments capable of unlocking both unparalleled wonder and unimaginable evil.
Take a glimpse into the lives of Chamberlin Locke and his family in the early 20th century as they use the keys to fight battles big and small. From the killing fields of Europe during WWI and the depths of Hell, the Lockes are in a constant struggle to keep the dark forces of their world at bay.
Collects three standalone tales, "Small World," the Eisner-nominated "Open the Moon," and the never-before-seen "Face the Music,"  along with the 3-part …In Pale Battalions Go… and the epic 80-page crossover with The Sandman Universe, Hell & Gone" all from the co-creators of Locke & Key, Joe Hill and Gabriel Rodriguez! 
---
Knock Offs by Dan Lockwood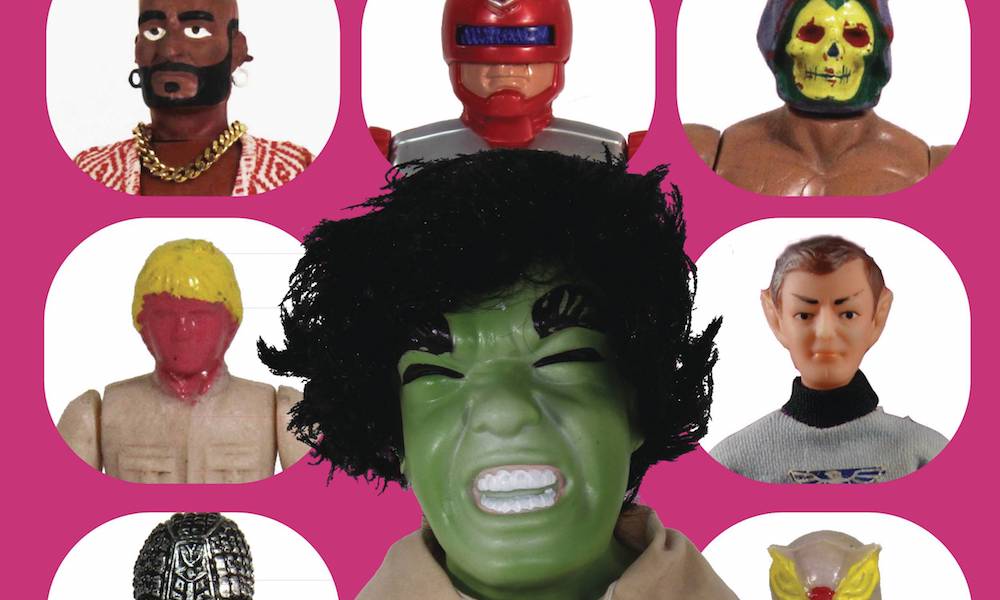 Knock-Offs: Totally Unauthorized Action Figures is a celebration of the bootleg figure, the copyright-infringing silliness meant to fool our grand people. Subjects range from toys of the 60s to the 2000s and includes every popular genre,  Superheroes, Science Fiction, Horror, TV/Movies, and 80s toy lines. Over 100 pages of toy lines with names like Galaxy Warriors, Turly Gang, Nightmare Feddy and Big Fella.
---
Previews: Comics Releasing 4/27/22
What's on your pull list this week? Tell us down below in the comments. We respect your choice to collect digitally– a comic book library? In this economy?
But if you see something you absolutely need to own in the meatspace, be sure to head to your local comic book shop!