D&D Accessories: Character Sheets With Character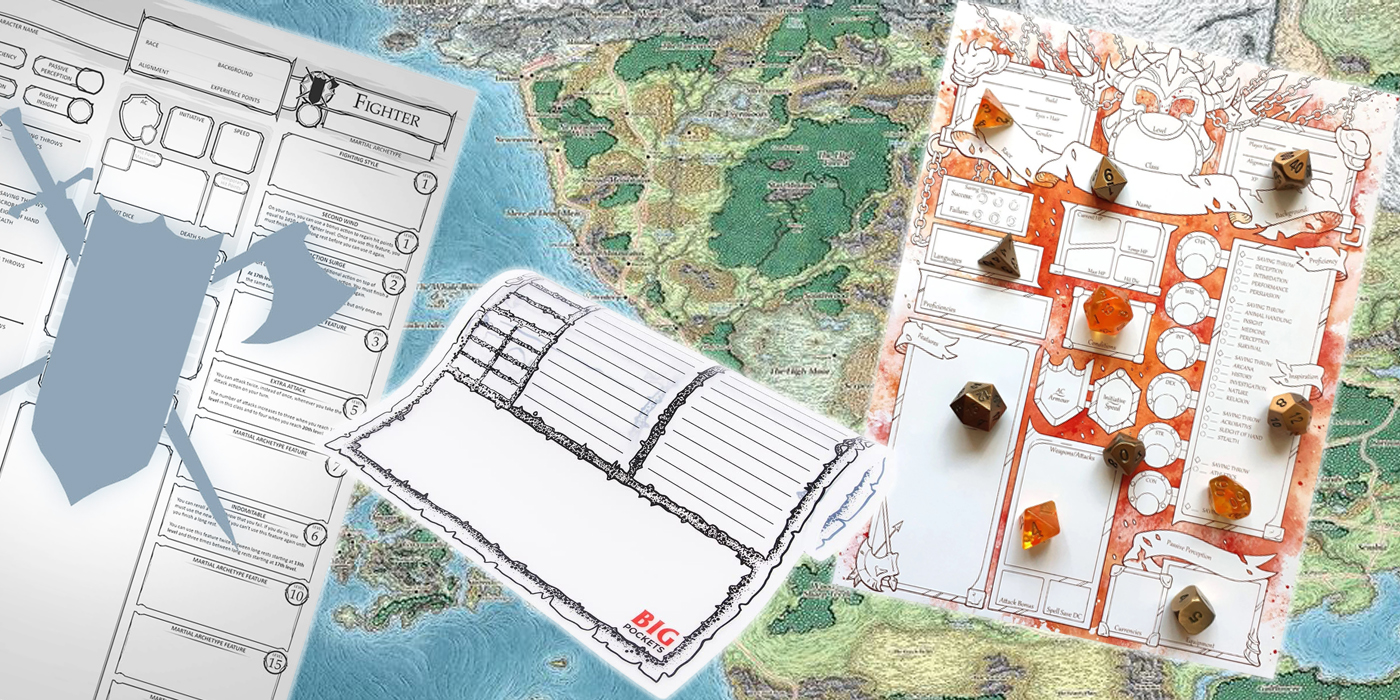 If it works for you, there's no wrong way to keep a D&D character sheet. No matter your style, there's a character sheet for you.
Your D&D character sheet should tell you everything you need to know about your Dungeons and Dragons character. From the most basic information, to the specifics of their attacks, motivations, and backstory, the character sheet is your home base for everything your-character. And since you'll be staring at your sheet for the entire session, it should be a home base you're happy with.
1. Fifty Character Sheets In One Place
Do you play a ton of Dungeons and Dragons? Are you in multiple games per week with another friend pitching a campaign as we speak? Or maybe you just erase holes through sheets and find yourself replacing them a lot. This pack of fifty character sheets will keep you going for a long while. Ten pages for each sheet give you plenty of space for notes, sketches, skills, and equipment.
---
2. Beautiful Character Sheets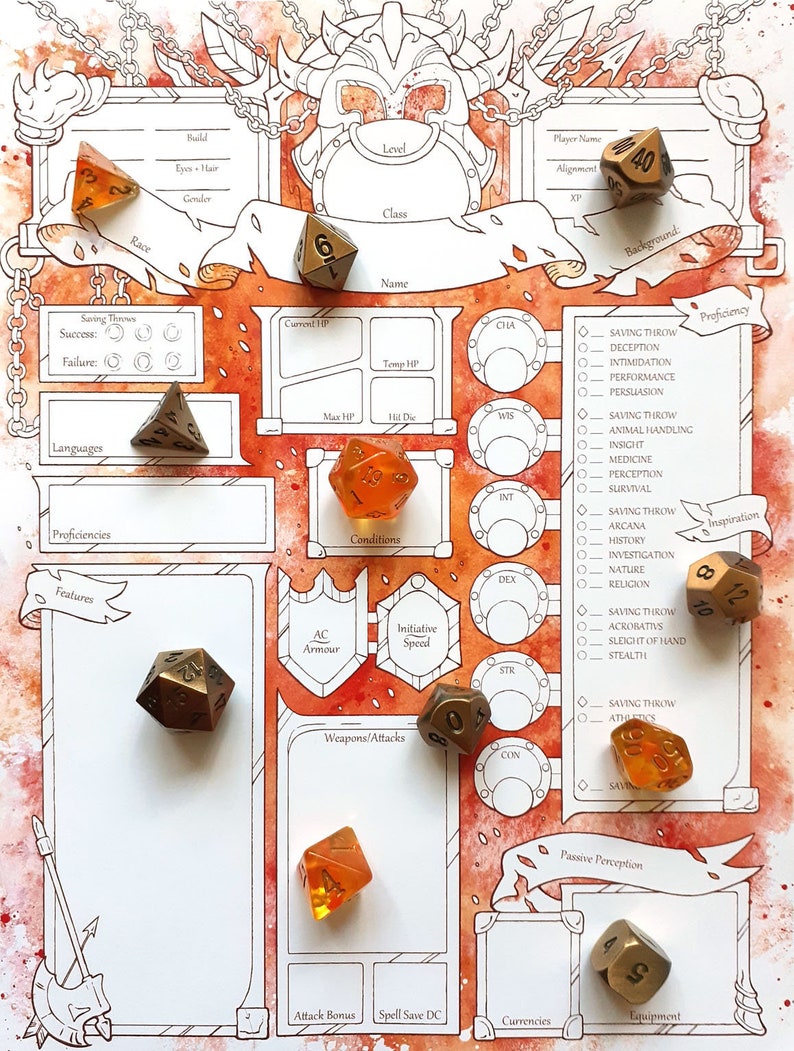 If you want a D&D character sheet that looks cool without all of the very customized bells and whistles of a personal illustration this downloadable PDF set is the way to go. The sheets are cool as heck with beautiful color schemes and adventuring decoration around the borders with shield shaped fillable bubbles. The four full pages they include space for everything you could possibly need. Plus, it's a PDF so you can print out as many sheets as you have characters.
---
3. Silicone Mat Sheets
If you're the kind of slayer who likes to scribble all over their sheet and easily erase it, silicone sheets may be the answer for you. Durable, rollable, and erasable with a damp cloth, silicone sheets will last through many sessions and work just as well for every character you'll ever play. Plus, it you find an overhead projector from a 90s classroom you can give a quick presentation on your character.
---
4. Class Specific Character Sheets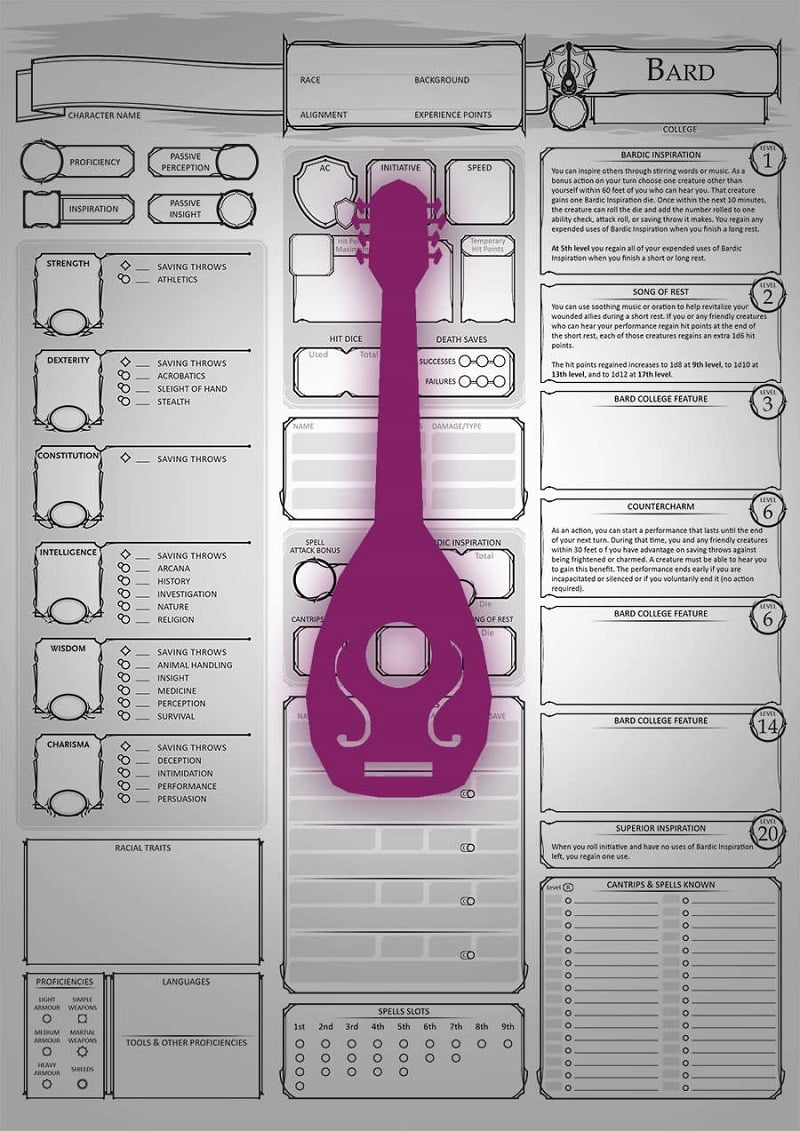 These D&D character sheets by DM's Guild are the ones I use in my games and I don't think I'll switch it up any time soon. They're the closest to the standard sheets and customized with all of that class information that I don't want to copy out of the book or continuously reference throughout a typical game session. Tailored to each class, these sheets are extraordinarily useful and intuitive.
---
5. Character Notebook
Some people like to have an entire, beautiful notebook dedicated to D&D. It makes sense, your game has been going on forever, you've met hundreds of people and encountered countless plot clues. You have notes to take. For that player, an entire notebook with built in character sheets will have you looking like the most organized person at the table. Designated spots for backstory, personal info, inventory, features, and black space will make sure you never forget a game detail ever.
---
What do your D&D character sheets look like? Pretty and fun? Too the point and utilitarian? Just a bunch of random notes on a notebook paper and a shrug emoji? Let us know in the comments!
Happy Adventuring!