Ten LGBTQ+ Horror Movies You Need to Watch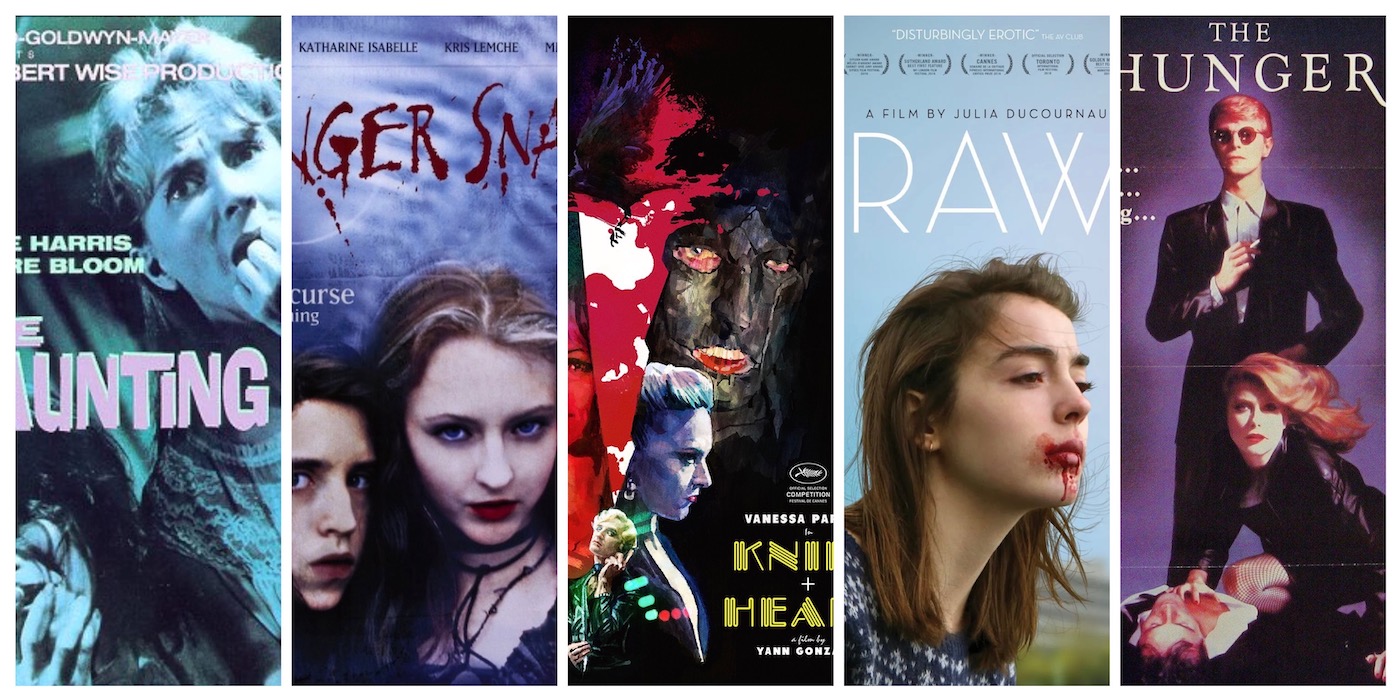 Horror is more than jump scares and gore – it's about outsiders, unlikely heroes, and relationships. These must-watch LGBTQ+ horror movies have all three.
Horror allows for exploration of social topics – from Night of the Living Dead's commentary on racism to Cam's look at how the internet can distort our identities. LGBTQA+ themes have been part of the genre since at least 1936's Dracula's Daughter – be it covertly worked into the story due to the Hays Code, an out character, or a pivotal part of the plot.
Here are some must-watch LGBTQ+ horror movies to watch this Pride Month.
The Haunting (1963)
Based on the novel by Shirley Jackson, and at one time it topped Martin Scorsese's best horror movie list. The Haunting was affected by the Hays Code, but still managed to include a lesbian character and didn't demonize her.
Director Robert Wise tapped into his inner Hitchcock for this tale of a haunted house, an anthropologist, a psychic, a shut-in, and a cynic. The house quickly overwhelms its new inhabitants with paranormal sites and sounds. Tension builds as the mysteries of the house unfold – and not everyone will make it out alive.
The Hunger (1983)
This goth cult classic explores the fluidity of sexuality. This tale of vampires, immortality, love, and loneliness. David Bowie stars as John, lover, and companion of immortal vampire Miriam. He, however, is not immortal and is quickly deteriorating. Miriam (Catherine Deneuve) not wanting to be alone seeks a new love in Sarah (Susan Sarandon) who quickly falls under her spell.
Hellraiser (1987)
No LGBTQ+ horror movies list would be complete without Hellraiser. Based on Clive Barker's The Hellbound Heart, which was inspired by his days in the hustler culture of the 1970s. Hedonistic criminal Frank opens a portal to hell when he tinkers with a puzzle box looking for new delights – and unleashing the Cenobites, who tear him apart instead. He reaches back from the dead and with help tries to claw his way into the land of the living.
Ginger Snaps (2000)
A modern spin on the classic werewolf tale that alludes to the realities queer teenage life. Two outcast sisters (Ginger and Brigitte) live in a small, suburban town that's not exactly the most open-minded place. On the night of Ginger's first period, she's attacked by a wild creature. Her wounds heal, but something isn't right with her. Brigitte must save them both.
Jennifer's Body (2009)
The subtext in this often misunderstood teen horror is loud and clear. A demon takes possession of high schooler Needy's friend, Jennifer. It's causing her to eat their school's male population and her appetite is endless. Needy has to save Jennifer from the demon and put an end to the carnage.
Subscribe to our newsletter!
Get Tabletop, RPG & Pop Culture news delivered directly to your inbox.
Raw (2016)
Director-writer Julia Ducournau's debut is unforgettable and is open about its queerness. A strict vegetarian enters a merciless and seductive world when she begins veterinary school. In order to fit in, she sets her principles aside and eats raw meat for the first time. An act that leads her to experience terrible and unexpected consequences. Her roommate becomes the object of her cannibalistic desire.
Rift (2017)
Two men in a secluded cabin are haunted by their dead relationship. Not much else can be said without spoiling it. The premise sounds corny, but this atmospheric piece is filled with suspense and mystery.
Thelma (2017)
In this commentary about self-acceptance (and makes a sideways glance at conversion therapy) that uses the monster trope in a novel way, a college student moves to Oslo and away from home for the first time. She finds academic success and love but begins to have frightening seizures. As her condition progresses she discovers the violent episodes are linked to inexplicable and dangerous, supernatural abilities.
Bit (2019)
For the B-movie fans. In Bit, a transgender teenage girl fights to survive after she falls in with the wrong crowd – four queer vampires on a mission to kill the city's men. The lead is played by trans rights activist Nicole Amber Maines, who currently plays Dreamer in Supergirl.
Knife + Heart (2019)
This is definitely not one to watch with the whole family. A Giallo/Fantastique film at its core, Knife + Heart recreates but isn't a knockoff. Director Yann Gonzalez makes it a point to shine a light on how the AIDS epidemic was affecting those in the community at the time.
It's 1979, Paris. Smut filmmaker Anne is left by her editor and lover Lois. She tries to win her back by creating her most ambitious film yet, but one of the actors is brutally murdered.  Anne is caught up in an investigation that turns her life upside-down.