Games Workshop 2021-2022 Financials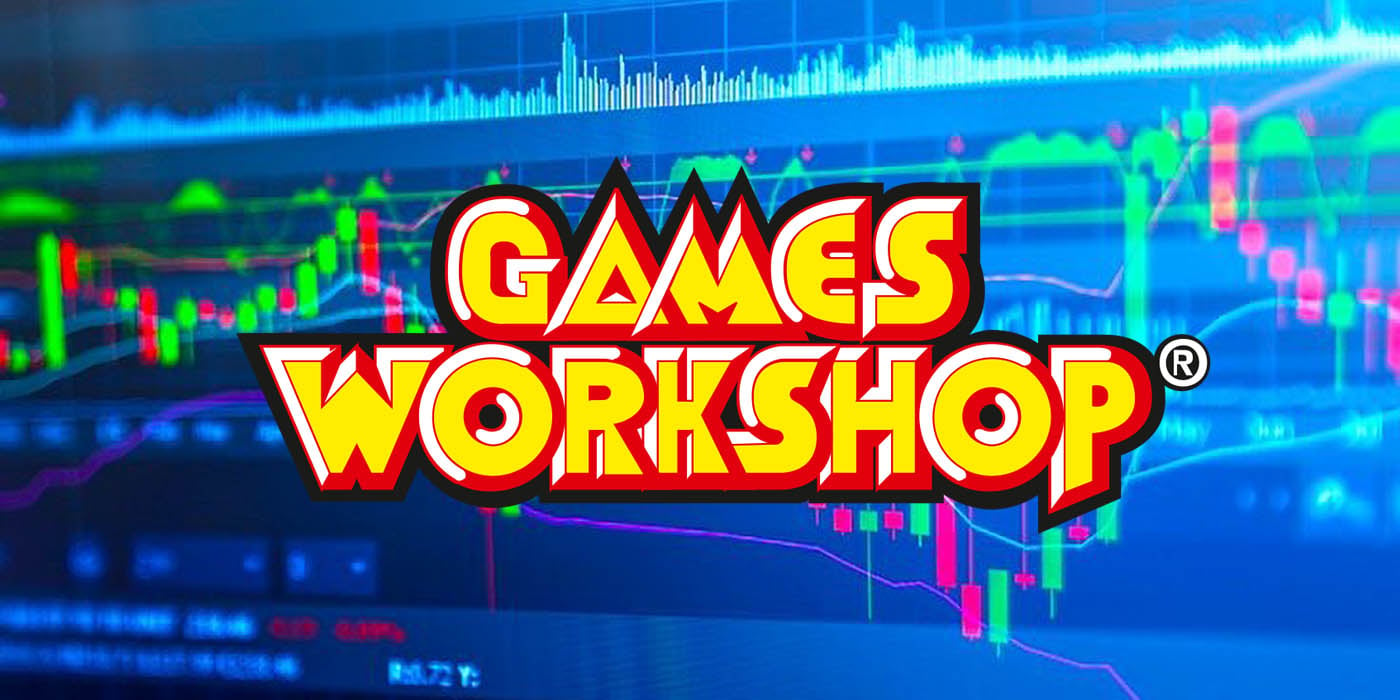 Games Workshop checks in with their biggest year EVER – but their stock price has fared less well.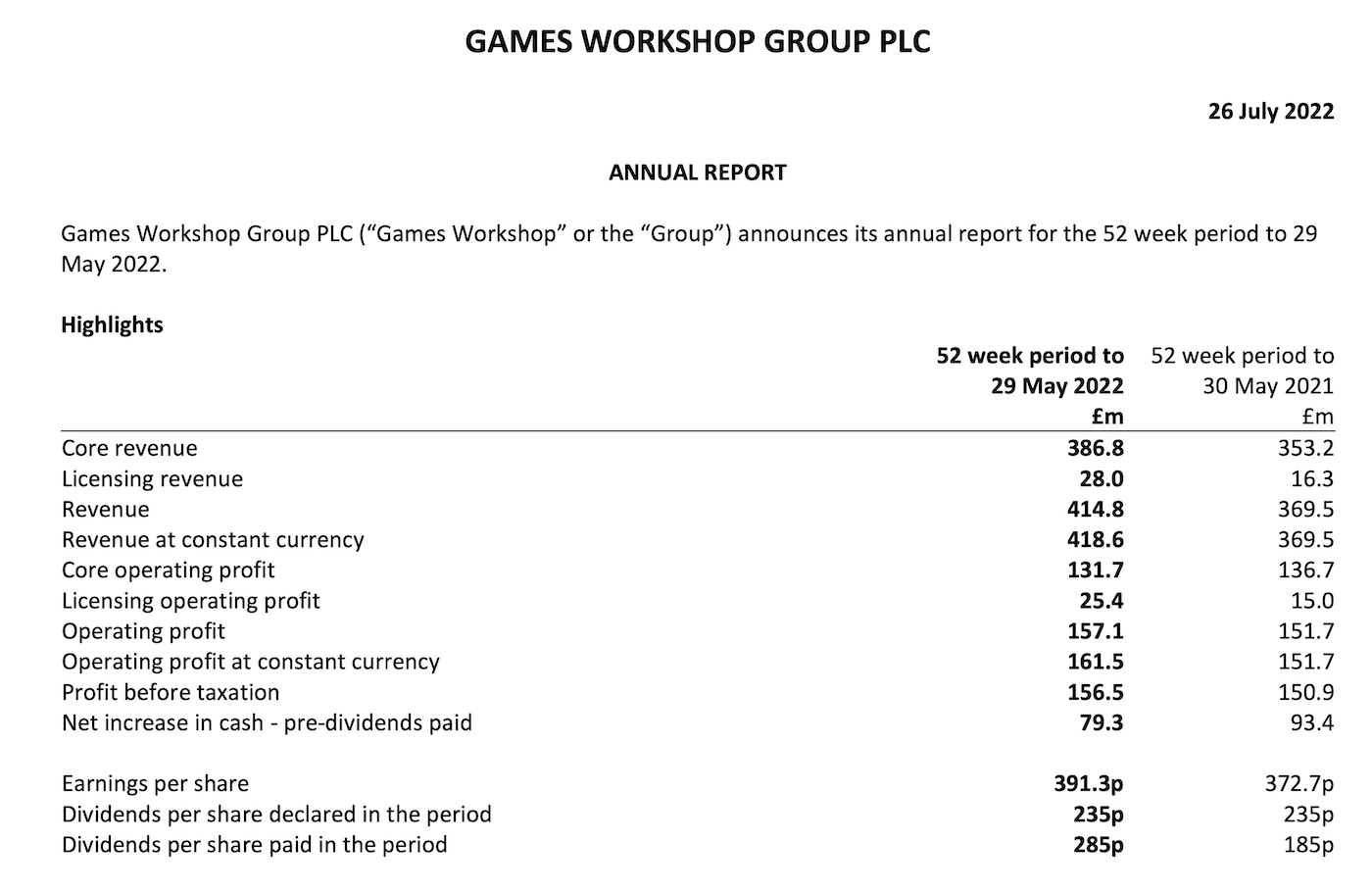 We're keeping this one pretty high level, if you want to do your own number crunching check the links below: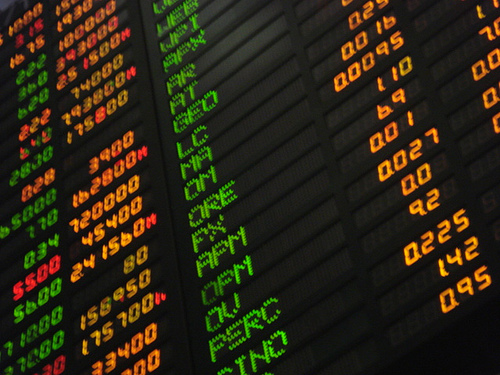 Some Top Level Numbers: (2021 vs 2022)
Revenue: +9.3%
Operating Profit +3.5%
Earnings per share: +4.9%
Sales Channel Reports
Percent of Sales Per Channel
Retail: 23%
Trade Sales: 55%
Online (web store): 22%
Growth Percent of Sales Per Segment Constant Currency (2019-2020)
Retail: +15%
Trade Sales: +0%
Online (web store): -12%
Excerpts from the CEO:
"It's been another astonishing year. I once again take great comfort that some things don't change – our staff and customers love Warhammer. I thank you all for helping make this another very successful year.
Games Workshop is committed to the continuous development of our IP and making the Warhammer hobby and our business ever better.
Our ambitions remain clear: to make the best fantasy miniatures in the world, to engage and inspire our customers, and to sell our products globally at a profit. We intend to do this forever. Our decisions are focused on long-term success, not short-term gains."
Yearly Review
"Another record year for Games Workshop – the business and the Warhammer hobby are in great shape. Another amazing team effort – thank you all!
Subscribe to our newsletter!
Get Tabletop, RPG & Pop Culture news delivered directly to your inbox.
Our annual report seems to get longer and longer and my job more and more bureaucratic (I have duties and obligations that may seem onerous and tiresome – they are not), however, one thing remains constant – we love Warhammer, and we continue to deliver on our strategy: to make the best miniatures in the world. Thanks again to our design to manufacture teams; the quality and product range have again been incredible, sales of our miniatures have grown for the seventh year in a row."
Year to May 2021
"This has been a tough and challenging year operationally for everyone. As a global, vertically integrated business it has taken a considerable effort to keep our operational plans on track. I'd like to take the opportunity to acknowledge everyone that has helped us during these challenging times. Thanks to you all, you have been amazing."
More Warhammer – More Often
"This year has been exceptional, we not only beat the record revenue of a Warhammer 40k launch year, we did it with some ongoing operational growing pains (thankfully reducing) and the additional cost pressures from Covid, Brexit and the war in Ukraine. As an international business, somewhere in our Group we are still feeling the emotional and financial pain of these – we hope the horrendous war in Ukraine ends soon. The light at the end of the tunnel was that as the year evolved, the impact from Covid significantly reduced.
We finished the year making up for what seems like some lost time on face to face collaboration, staff development, improving our processes and some team fun. We are still working on improving general morale to pre-Covid levels in some countries: we will be trying new ways to improve our communication and ongoing support at a local and global level in the new year. I got caught watching a little in Australia and Asia, sorry to our staff and customers. We had to reduce our service levels due to some of the lingering effects of Covid and international shipping challenges. I didn't do a great job managing expectations. It's a priority to put that right. Australia seems to be improving and we wait to respond to the ever changing announcements coming out of China. We have put in more regular Q&A sessions with our staff globally.
Morale is good but we are checking levels more often. We are more mindful that it's been a tough few years for most people. There has been lots of change. We put our staff at the heart of everything we do well, so to help monitor morale in a mostly post Covid world, we try to ensure that our business units always feel fully supported and are a fun place to work. We will do more to help foster a workplace that consists of people with our shared values and beliefs and ensure that everyone recognises that compassion towards each other and appreciation of individual efforts in a team help us deliver consistent results. We champion diversity and equality: Games Workshop and the Warhammer hobby are for everyone.
As mentioned above, it has been a challenging year in parts; they all are these days. We are pragmatically getting used to this new normal and remain focused on delivering the day job. Whether that's full time at our sites or working remotely, our staff have delivered another fantastic year.
Most external factors affecting Games Workshop are not new. My best guess is losing Russia sales for a full year is c.£4 million lost in net revenue. Additional freight and carriage costs is c.2.4% of sales.
Major highlight:
Our relentless focus on producing the highest quality miniatures continues to deliver results. That combined with a customer focused approach helped us sell more miniatures than any year before.
Low point:
Stuff not in our control – Brexit has added £3.4 million of additional supply chain costs, we have an outstanding £11 million VAT receivable (a timing difference as we now pay VAT on entry to Europe and submit a reclaim) with the French tax authorities and we are trying to mitigate staff recruitment gaps especially those with language skills in the UK based European trade team. We look forward to the Brexit benefits promised."
Manufacturing
"Our manufacturing facilities and capabilities have continued to expand with the installation of more machinery in our UK factories enabling 2021/22 to be a year of record factory output. In total Factories 1 and 2 now operate 43 injection moulding machines (up 4 on last year) and these have enabled weekly volumes to regularly exceed record cycles per week. At the end of the period, we successfully opened a third Nottingham factory dedicated to paint production (note: to help you understand the scale it is 1,000 sqm versus our main Factory 1 at 5,500 sqm). Consolidating all paint production into this new specialised facility not only opens the door to greater efficiency, it also releases space within Factories 1 and 2 for future injection moulding growth."
Warehousing
"North America
The new systems and automation are fully operational. This brought immediate benefits enabling long standing order backlogs to be cleared. The investments we have made mean that the number of orders we can pick and dispatch each day has quadrupled. Customer orders that previously might have taken up to two weeks to dispatch will now typically be shipped within 24 hours (note: postal/shipping times remain two to four days depending upon destination and carrier). It's worth noting the new warehouse system still interfaces with our legacy IT systems, which continue to cause us daily operational processing challenges; thanks to our team most problems go unnoticed by our customers. We apologise for the poor customer service we offered for much of the year and are confident that with this milestone project now delivered, service will be much improved going forward."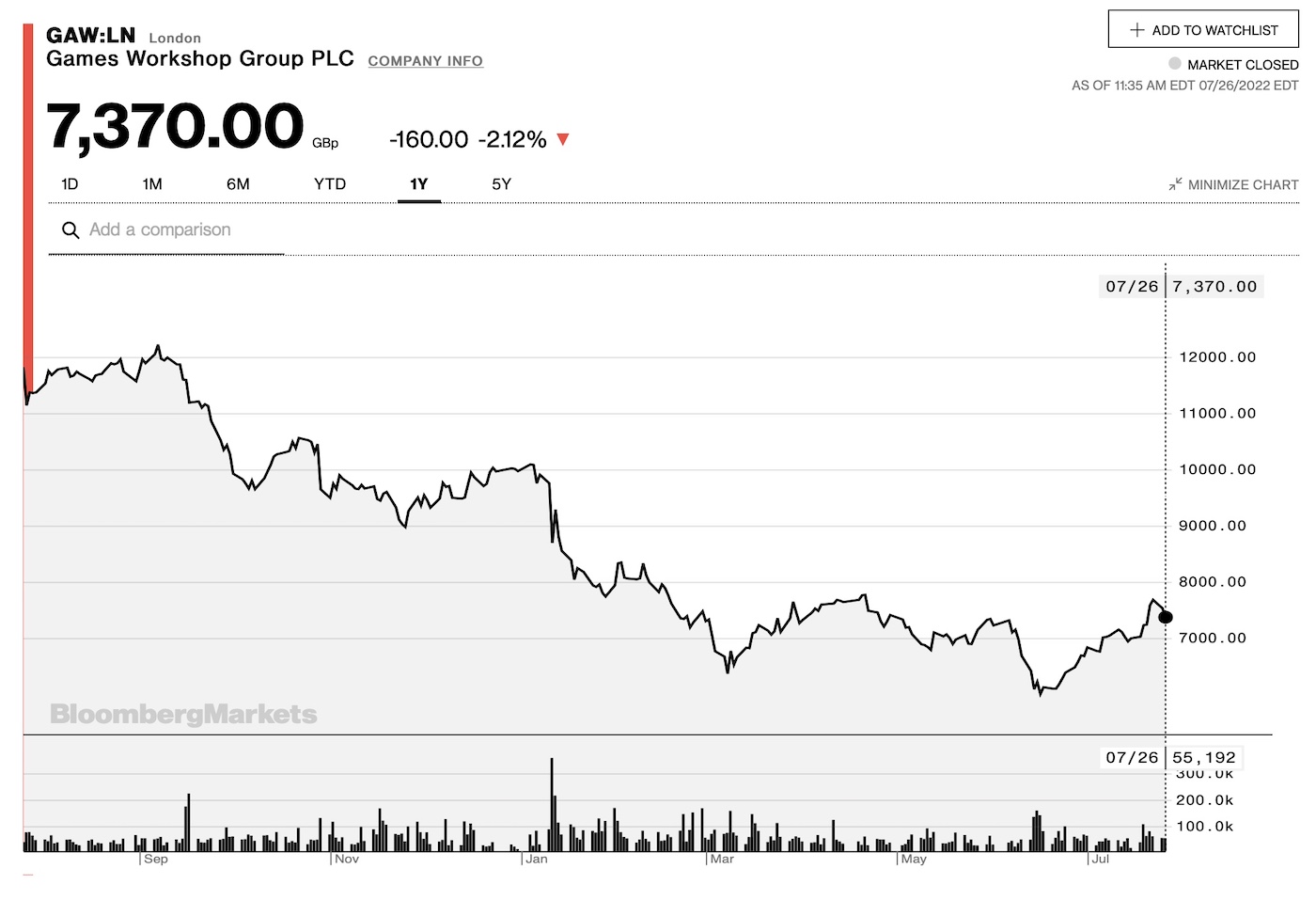 Games Workshop 12 Month Stock Price
It's been a good year for GW – that's six years in a row of growth across the board. But the days of 50%+ year-over-year growth seem to be behind them.