D&D Accessories: Perfect Gifts For Your Adventuring Party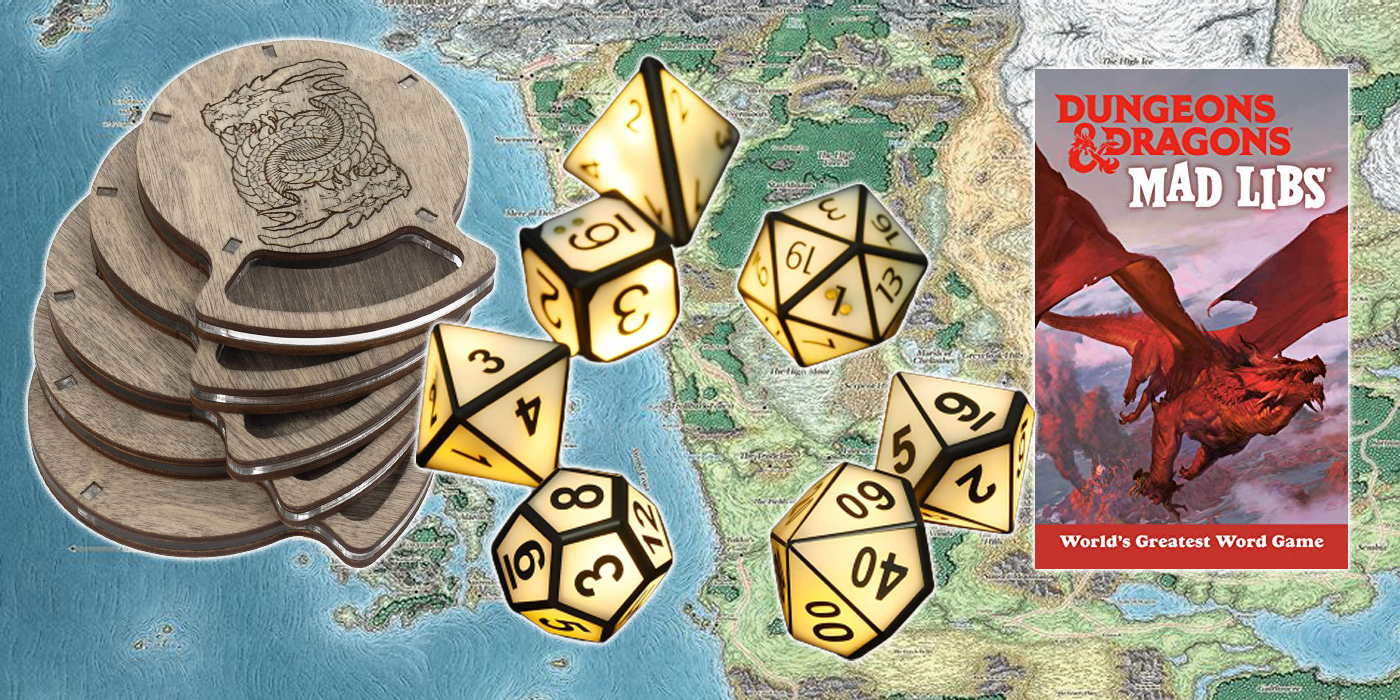 If you have D&D players to shop for, these are a few RPG gifts the adventurers in your party are sure to love.
It's that time of year when we all start thinking about holiday presents, who we're shopping for, and what they're getting. Some people are easy to shop for. Others have that annoying habit of "just buying what they want so there's nothing on the wish list." But if you're looking to get your party members or that special DM in your life a little something this holiday season, these picks may just be a natural twenty.
1. DM Core Set
If there's somebody in your life who wants to get into D&D but doesn't know where to start, or is already playing but has been working entirely out of borrowed books, this set might be the perfect thing for them. Especially if they have their eye on acting as Dungeon Master at any point. This set includes a Player's Handbook, a Monster Manual, and a Dungeon Master's Guide as well as the DM screen with all of the handy-dandy cheat-sheet notes on it. The whole thing comes in a box for a pretty shelf display. And, for the holidays this set is also on sale.
---
2. D20 Bath Bomb
For the adventurers who enjoy a nice bath, this D20 bath bomb will make sure their next soak comes complete with treasure. Each extra large bath fizzy holds a complete set of seven dice that will reveal themselves as the D20 dissolves in the water. And with a pleasant peach and rose scent and pinkish-red color, your bath water will look and smell very pretty as you find your loot.
---
3. D&D Mad Libs
Not every gift has to be big or serious. Sometimes the perfect present is a silly stocking stuffer. This Dungeons and Dragons Mad Libs will have your party giggling between encounters. Mad Libs always manages to feel nostalgic and goofy, and I think that's exactly the energy I want to bring to most of my D&D sessions.
---
4. D&D Coasters
If you're playing D&D in person around a table your entire party is probably doing two things. Enjoying drinks and constantly asking where a dice is. This coaster set will help with both of those. Keep your table free or drink rings and your dice wrangled with this dice-holding coaster set. The design is simple but pretty and the concept is so smart it's almost obvious.
---
5. Light Up Dice
I love a gift that's fun, weird, and entirely unnecessary. The sort of thing that you don't need, but you'd be thrilled if somebody gave it to you because it's neat. And these light-up dice are exactly that. Why would you need light-up dice? Are you playing in the dark? Who cares! There's cool and somebody at your table would love them! These dice are LED and rechargeable, so you can enjoy them session after session after session.
---
What D&D presents are you getting your friends and loved ones this year? Did any of our picks make your shopping list? Is there anything you're hoping somebody gets for you? Let us know in the comments!
Happy Adventuring!