Black Cat Movies to Bring You Luck This Friday the 13th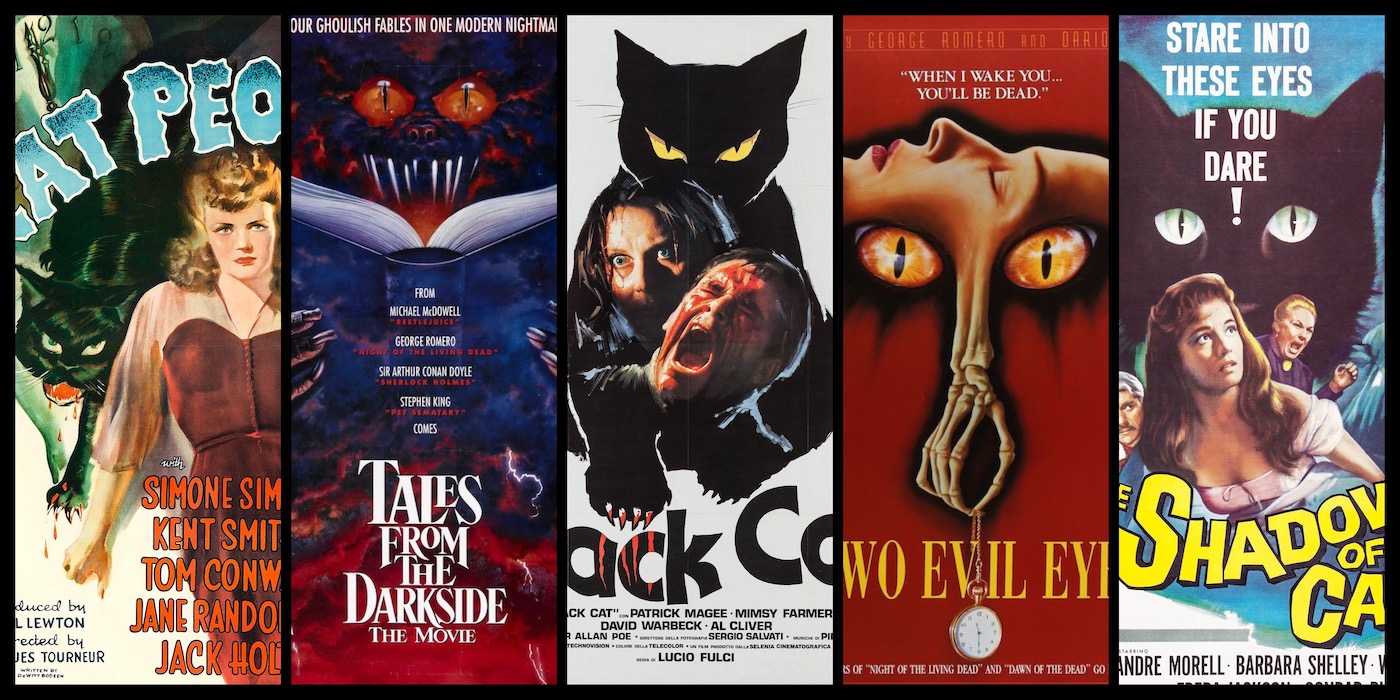 Tired of Jason? Here are some movies that feature one of the iconic mascots for Friday the 13th – the adorable and occasionally evil black cat.
The Black Cat (1934)
One of the first Universal monster movies. Named after the Poe story, but was actually written by pulp novelist Peter Ruric. An American couple gets stranded near Budapest after a car wreck. They wind up following a doctor who is morbidly afraid of cats (Lugosi) to a house of horrors owned by a twisted, Satan-worshipping architect and cat fan (Karloff).
Cat People (1942)
Serbian-born fashion illustrator Irena Dubrovna believes she comes from a long line of cursed cat people that transform when they feel strong emotions. Her husband becomes concerned about her belief, which seems deranged to him, and confides in his assistant, Alice. His actions trigger the curse and tragedy ensues. It's a classic thriller that gets away with a lot of social commentary in the post-code era.
It was remade in 1982 with Nastassja Kinski, Malcolm McDowell, and John Heard. The original story and its characters get buried under an exploitative werepanther movie that has a gross incest subplot. We got a good Bowie song out of it, at least.
The Shadow of the Cat (1961)
This Hammer production is a mix of Poe's The Telltale Heart and The Raven. A cat is the only witness to the murder of its owner, which we see from the cat's point of view. The cat seems hellbent on avenging her and goes after everyone in the house. It's a tale driven by paranoia and guilt that was aiming for horror – but, like a lot of Hammer movies, it's more absurd and fun than scary.
Tales of Terror (1962)
In "The Black Cat" Montresor Herringbone (Peter Lorre) dislikes his wife. When he catches her cheating with Fortunato Luchresi (Vincent Price), he decides to seal the pair into a wall in his basement – along with his wife's not-so-quiet feline.
The Tomb of Ligeia (1965)
The last of the Roger Corman and Vincent Price Poe movies tells a tale of love, jealousy, and a black cat.
Verden Fell is shattered after the death of his lovely wife. But, after an unexpected encounter with Lady Rowena Trevanion, Fell soon finds himself married again. Nevertheless, his late wife's spirit seems to hang over the dilapidated abbey that Fell shares with his new bride. Lady Rowena senses that something is amiss and, when she investigates, makes a horrifying discovery — learning that Fell's dead wife is closer than she ever imagined possible.
The Black Cat (1981)
This movie from Lucio Fulci has nothing to do with the one made in 1934. It takes inspiration from the Poe story, focusing on a psychic man, a series of murders, and a supernaturally powered cat.
Subscribe to our newsletter!
Get Tabletop, RPG & Pop Culture news delivered directly to your inbox.
Tales From the Darkside: The Movie (1990)
David Johansen of  the New York Dolls stars as a hitman in a segment titled "Cat From Hell." In it, a cat exacts revenge on the owners of a company that used cats to test pharmaceuticals. It's got some creative kills.
Two Evil Eyes (1990)
Iconic Italian director Dario Argento takes a stab at Poe's "The Black Cat" in his half of this double feature. It's gory, and includes an amazing (your definition may vary) Harvey Keitel performance, and effects from the legendary Tom Savini.