Upcoming Original Horror Movies & Shows For Fans Tired of Franchises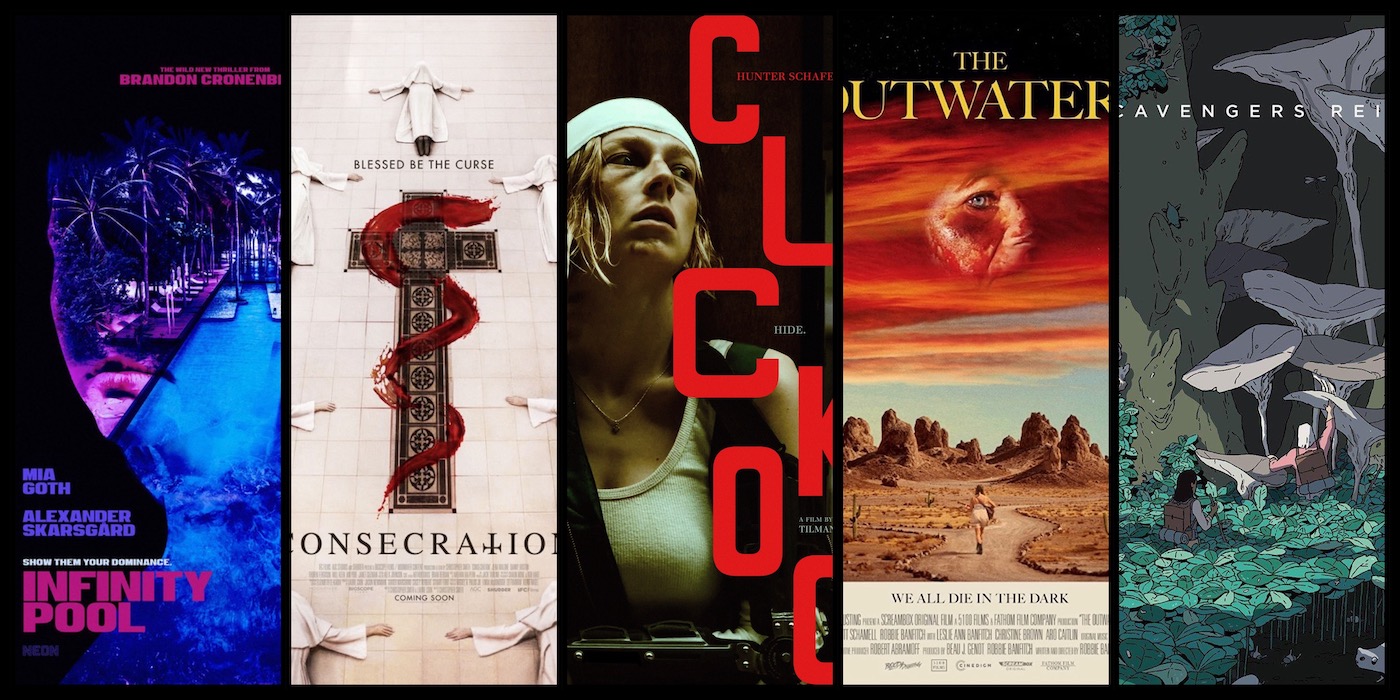 Franchises may have taken over, but horror is putting up a fight. Check out some of the original horror movies and shows debuting this year.
Junji Ito Maniac – Netflix January 19 (This Thursday)
Based on the work of horror manga maestro Junji Ito. The  series covers a selection of some of his most bizarre, disturbing, and terrifying tales.
Infinity Pool – Theaters January 27
From the mind of Brandon Cronenberg…
"While staying at an isolated island resort, James (Alexander Skarsgård) and Em (Cleopatra Coleman) are enjoying a perfect vacation of pristine beaches, exceptional staff, and soaking up the sun. But guided by the seductive and mysterious Gabi (Mia Goth), they venture outside the resort grounds and find themselves in a culture filled with violence, hedonism, and untold horror. A tragic accident leaves them facing a zero tolerance policy for crime: either you'll be executed, or, if you're rich enough to afford it, you can watch yourself die instead."
The Outwaters – Theaters February 9th
A gruesome found footage horror that's got critics talking.
Subscribe to our newsletter!
Get Tabletop, RPG & Pop Culture news delivered directly to your inbox.
"The film plays out over three memory cards found in a sun-drenched section of the Mojave Desert. The footage within is that of a foursome, who set out to make a music video while camping, led by a charismatic LA filmmaker. Their trip starts out uneventful, though their peace is occasionally disrupted by unexplained sounds, vibrations, and unnatural animal behavior. Then one night everything changes, sending the foursome on a mind-bending trip through terror."
Later This Year
Consecration – Theaters February 10 and VOD March 3
One for the religious/possession fans. After the suspicious death of her brother, Grace goes to the Mount Saviour Convent in Scotland to find out what really happened. During her visit, she uncovers murder, sacrilege, and a frightening truth about her past.
The Last Voyage of the Demeter – Theaters August 11
This is a little cheat on the theme, I know. Based on a single chapter of Bram Stoker's classic horror novel, the movie is set aboard the Russian schooner Demeter. We follow the doomed crew as they attempt to survive a mysterious and terrifying creature stalking the ship every night. The movie is directed by André Øvredal and stars David Dastmalchian, Javier Botet, and Aisling Franciosi.
Announced for 2023
Scavengers Reign – HBOMax TBA
Based on Charles Huettner and Joseph Bennett's short film that premiered on Toonami back in 2016. Scavengers Reign follows the stranded crew of a deep space freighter as they try to survive on a dangerous planet long enough to be rescued.
CUCKOO – Theaters TBA
After her mother's death, seventeen-year-old Gretchen and her family just moved to an alpine resort. She finds herself being chased by a mysterious woman and must reveal a conspiracy to save herself and her sister. The movie is from director/writer Tilman Singer and stars Hunter Schafer, Jessica Henwick, and Dan Stevens.
Seeds – Bluray & VOD TBA
This folk horror won the Rondo Award for Best Independent Film last year.
"A grieving mother holds onto her Catholic faith as her husband leaves to study and learn the secrets of an old New England cult. Secrets that the Catholic Church wants for their own use. Meanwhile, the cult has deadly plans of their own."