'Black Mirror Season 6' Review – One of Us
Are this season's dystopian nightmares worth watching? Find out in the One of Us crew's Black Mirror Season 6 review.
Black Mirror returns with it's sixth installment and five new entries into the anthology series. If you're unaware of this series, it is a collection of stand alone episodes that explore a variety of genres, but mostly set in not-too-distant future dystopias. The episodes explore technology and our relationship with it. It's a modern Twilight Zone, with the occasional splash of Tales From the Crypt, and is the wonderful sort of sci-fi that uses the theme of technology and media to comment on contemporary social issues. The eponymous Black Mirror refers to the screens we live our entire lives through, our phones, computers, and TVs, whatever it is you are currently looking at to read this very post.
Season 6 brings us five new entries into the series, Joan is Awful: An average woman is stunned to discover a global streaming platform has launched a prestige TV drama adaptation of her life. Loch Henry: A young couple films a Netflix crime documentary in a sleepy Scottish town. Beyond the Sea: In an alternative 1969, two men on a deep space mission can return to Earth in robot duplicates to continue their life back home. Mazey Day: A troubled starlet is dogged by invasive paparazzi while dealing with the consequences of a hit-and-run incident. and Demon 79: A meek shopgirl must commit three murders in order to prevent the end of the world.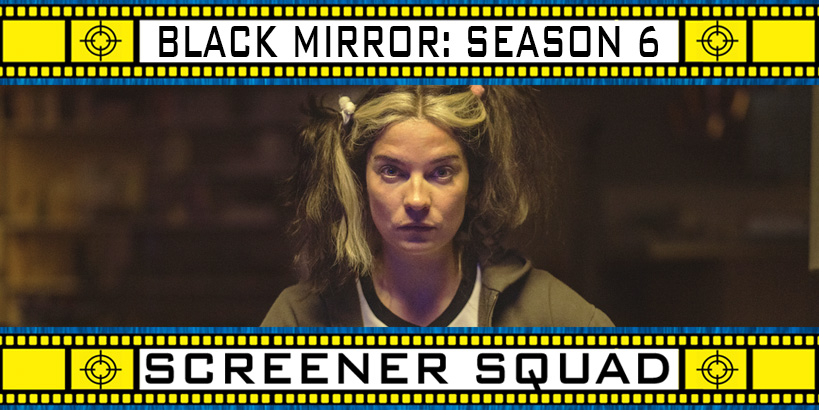 Black Mirror Season 6 Review
Jena, Tessa, Eliot, and T.C. converse through their personal black mirrors to discuss these five tales of technology and woe.
Podcast Link – Subscribe on Apple Podcasts
We are The US – We are one- Geeks of the world, unite!
For too long, the geek community has been divided. The internet has furthered this division by dedicating sites to just one subset or another. We don't believe in leaving you out. We're not going to tell you if you're 'cool' or 'uncool' based on what you're passionate about. We believe in mutual respect and sharing our geekdoms with each other. We believe in having a hell of a good time. Does this sound like you?
In that case, you are ONE OF US. Join us on Twitter and Facebook!