MTG: Top Five EDH – Dimir (UB) Commanders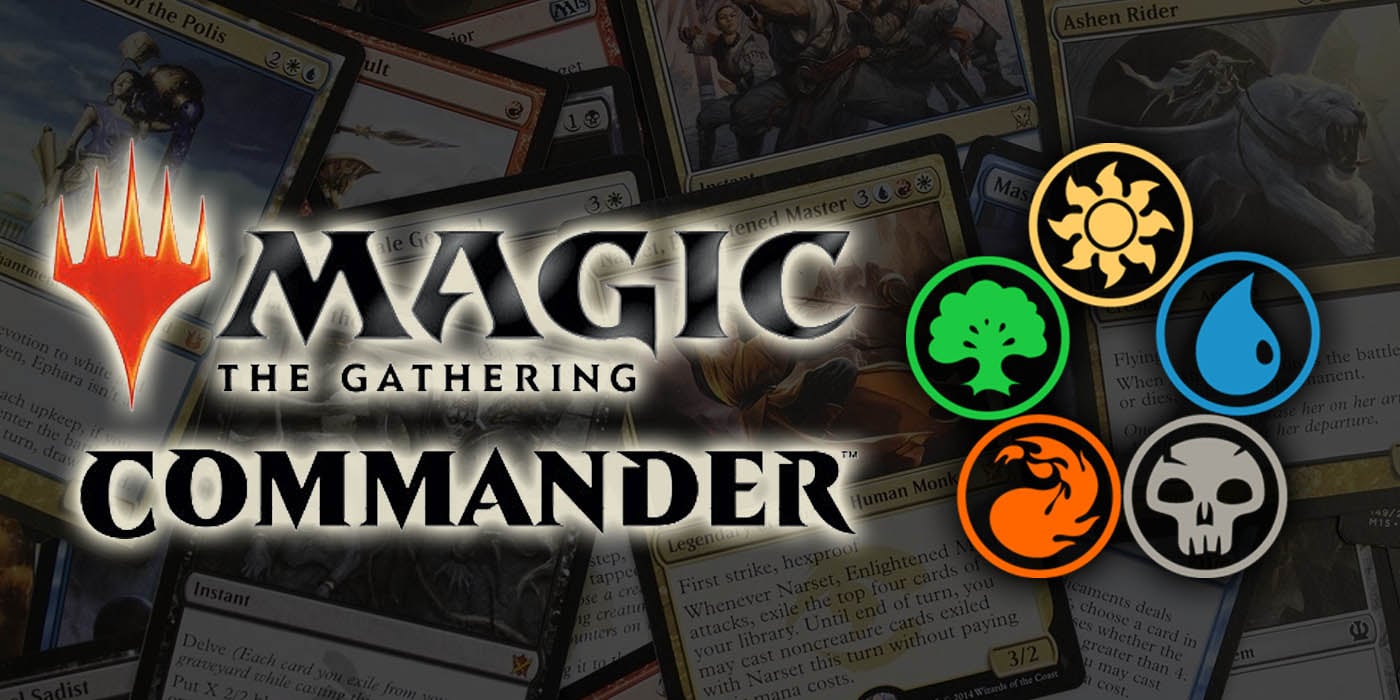 Careful what you say at Commander night; you never know who's listening. Let's talk Dimir (Blue/Black) Commanders.
Welcome Planeswalkers and Praetors to our ongoing series about the best casual experience in Magic: Commander. For the uninitiated, Commander is a semi-casual format for Magic: the Gathering, where you use a deck of 100 cards led by a legendary creature, your Commander.
Aside from basic lands, you are only allowed one copy of each card in the deck. Moreover, you can only include cards in your Commander's "color identity" or artifacts. Each color and color combo has a unique playstyle and a wealth of mighty generals to lead your deck to victory. EDHRec.com is a great source for Commander info and can give you ideas to build your next Commander deck or tune an existing one.
When it comes to spies, monsters, and hand control, Dimir does it better than anyone else. The mix of the Black magic of death and the Blue magic of control, this color combo unleashes zombies, faeries, and ninjas to steal your opponent's cards and destroy their decks. Let's take a look at the top five Dimir Commanders.
Yuriko, the Tiger's Shadow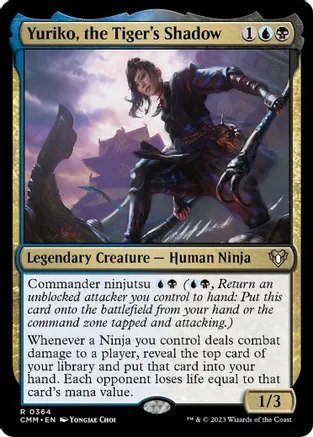 Commanders that have tricks to avoid tax are always powerful, but Yuriko takes that one step further. Ninjutsu is an incredible form of blocker evasion, and Yuriko cranks that up with both card draw and life drain. Whenever ANY Ninja hits a player (even you), Yuriko reveals the top card of your deck and drains your opponent for its mana value. Since she can break out of the Command Zone for just two mana, killing her isn't even a solution, and packing this deck with cheap unblockable creatures means she'll almost always be back in a single turn. The only way to stop her is damage prevention, but even that only goes so far.
Wilhelt, the Rotcleaver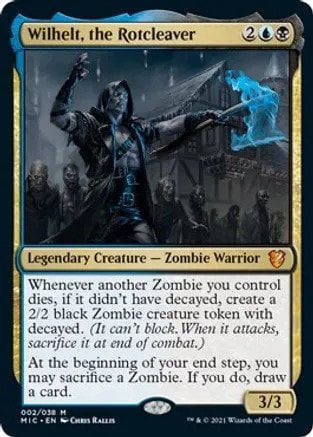 Zombies, alongside Elves and Humans, are one of the most popular types in Magic, and Wilhelt is one of their best leaders. With just a few combo pieces, he can generate a horde of Zombies that would make Romero wet his pants. Plus, if you have any Grave Pact-style effects, once your army attacks, you'll be clearing your opponent's board as well. Zombies may be weak on their own, but as a group they're almost unstoppable.
Satoru Umezawa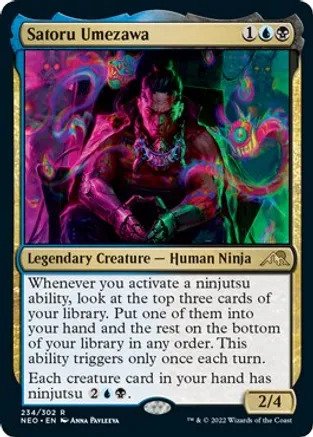 A slightly less oppressive Ninja Commander, Satoru is nonetheless a powerful draw engine. Not only does he give you a Ponder effect whenever you drop a ninjutsu ability, but he gives EVERY creature in your hand a 4-mana cheat cost. That lets you get out your nasty finishers like Arvinox and Toxrill out early and get a nice deck filter effect too. It might not be the strongest commander, but it gives you access to some nasty tech.
Captain N'ghathrod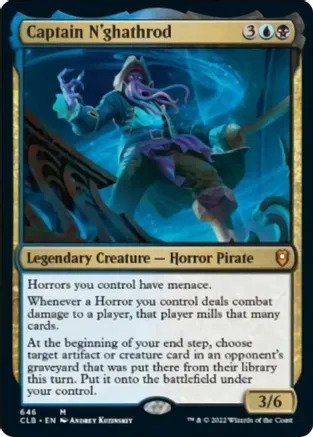 Deck destruction is one of the scariest strategies in all of EDH, and this illithid pirate is the captain of the club. He makes all your Horrors harder to block, adds deck destruction to their hits, and lets you steal the things they wreck. They don't call them Mind Flayers for nothing, and the good Captain wants to eat all your secrets and use them for himself. With all the nasty Horrors in these colors, you can unleash a nasty combo on your enemies they won't see coming.
Subscribe to our newsletter!
Get Tabletop, RPG & Pop Culture news delivered directly to your inbox.
The Scarab God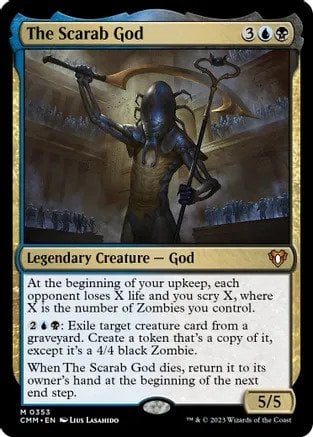 The king (or should I say God) of Zombie Commanders, The Scarab God has all the tricks Dimir loves: scry, tax evasion, and life drain. He let's you shift your deck and drain your opponents based on your Zombies, make Zombies by draining THEIR graveyard, and when he dies he goes back to your hand, skirting the Command Tax. If he gets exiled he has to go back to the zone, but even then he'll just be back with a small price hike.