'The Creator', 'Saw X', 'Dumb Money', & More: Every New Movie and Show Out This September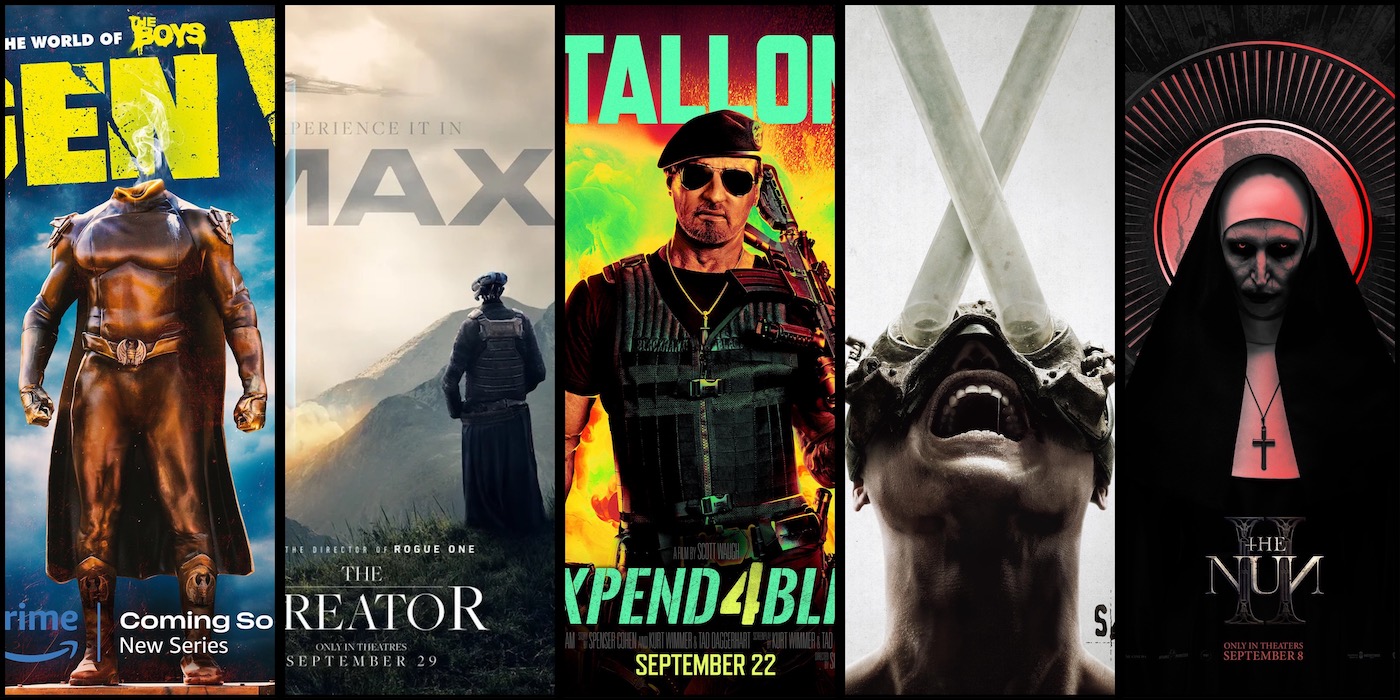 Escape the real world with September's big movies and shows. This month is packed with action, drama, and scares.
These dropped yesterday and are available to watch now: Beaten to Death (VOD), Disenchantment S3 (Netflix), Perpetrator (Shudder), The Equalizer 3 (theaters), The Wheel of Time S2 (Amazon), All Fun and Games (VOD), Nandor Fodor and the Talking Mongoose (theaters).
The Nun II – Theaters Sept. 8
Taissa Farmiga's Sister Irene is back in The Nun II. It takes place in 1956 France. Strange things start happening at Catholic schools. A priest is murdered, and it seems an evil is spreading. Valak is back, and the demon is killing priests and nuns across Europe. Irene is called to help due to her experience with the demon. Can she send the evil being back to hell this time?
My Animal – Theaters Sept. 8
"Bobbi Salvör Menuez (Euphoria) and Amandla Stenberg (Bodies Bodies Bodies) ignite in this genre-bending supernatural love story. Tormented by a hidden family curse, Heather is forced to live a secluded life on the outskirts of a small town. When she falls for the rebellious Jonny, their connection threatens to unravel Heather's suppressed desires, tempting her to unleash the animal within."
Meglomania – Theaters Sept. 8
"1997 – the 'Butcher,' one of world's most notorious serial killers, strikes and abruptly vanishes. Now his children must carry on with his brutal legacy. They take over his wrath and, through agony and revenge, fall into a world of absolute darkness."
Satanic Hispanics – Theaters Sept. 14th
"When police raid a house in El Paso, they find it full of dead Latinos, and only one survivor. He's known as The Traveler, and when they take him to the station for questioning he tells them those lands are full of magic and talks about the horrors he's encountered in his long time on this earth, about portals to other worlds, mythical creatures, demons and the undead."
The Inventor – Theaters Sept. 15th
"The insatiably curious and headstrong inventor Leonardo da Vinci leaves Italy to join the French court, where he can experiment freely, inventing flying contraptions, incredible machines, and study the human body. There, joined in his adventure by the audacious princess Marguerite, Leonardo will uncover the answer to the ultimate question – 'What is the meaning of it all?'"
The Haunting of Venice – Theaters Sept. 15th
"set in eerie, post-World War II Venice on All Hallows' Eve, "A Haunting in Venice" is a terrifying mystery featuring the return of the celebrated sleuth, Hercule Poirot. Now retired and living in self-imposed exile in the world's most glamorous city, Poirot reluctantly attends a séance at a decaying, haunted palazzo. When one of the guests is murdered, the detective is thrust into a sinister world of shadows and secrets."
It Lives Inside – Theaters Sept. 22nd
"Sam is desperate to fit in at school, rejecting her Indian culture and family to be like everyone else. When a mythological demonic spirit latches onto her former best friend, she must come to terms with her heritage in order to defeat it. From the producers of GET OUT."
Dumb Money – Theaters Sept. 22nd
"The ultimate David vs. Goliath tale, based on the insane true story of everyday people who flipped the script on Wall Street and got rich by turning GameStop (yes, the mall videogame store) into the world's hottest company. In the middle of everything is regular guy Keith Gill, who starts it all by sinking his life savings into the stock and posting about it. When his social posts start blowing up, so does his life and the lives of everyone following him. As a stock tip becomes a movement, everyone gets rich – until the billionaires fight back, and both sides find their worlds turned upside down."
The Expendables 4 – Theaters Sept. 22nd
Stallone and the Expendables are back after nearly a decade-long hiatus. They're the world's last line of defense, the team that gets called when there are no other options left. This time, the crew is trying to thwart WWIII–with some new members that bring new tactics to the fight.
Saw X – Theaters Sept. 22nd
"John Kramer is back. The most disturbing installment of the SAW franchise yet explores the untold chapter of Jigsaw's most personal game. Set between the events of SAW I and II, a sick and desperate John travels to Mexico for a risky and experimental medical procedure in hopes of a miracle cure for his cancer – only to discover the entire operation is a scam to defraud the most vulnerable. Armed with a newfound purpose, the infamous serial killer returns to his work, turning the tables on the con artists in his signature visceral way through devious, deranged, and ingenious traps."
Gen V – Theaters Sept. 29th
The Boys spin-off about supe college may outdo the original when it comes to bloodshed. This is like no college you've ever seen – Young supes attend Godolkin University to prepare them for the Vought pipeline and possible membership in The Seven.
Subscribe to our newsletter!
Get Tabletop, RPG & Pop Culture news delivered directly to your inbox.
The Creator – Theaters Sept. 29th
In a world destroyed by artificial intelligence designed to protect humanity and goes to war with the human race instead. Humans strive to destroy all AI in order to survive and take the planet back. The story begins when a soldier is sent on a special mission to destroy the most dangerous weapon created by the architect of the enemy AI. That weapon comes in a form that no one expects.
Deliver Us – Theaters Sept. 29th
"When a nun in a remote convent claims immaculate conception, the Vatican sends a team of priests to investigate. Concerns grow that an ancient prophecy is about to be fulfilled: that a woman will give birth to twin boys – one the Messiah, the other the Anti-Christ – and the ensuing battle will determine the fate of the world."
---