Kickstarter Highlights: Forge Your Own Dice For Your New Gaming Table, And More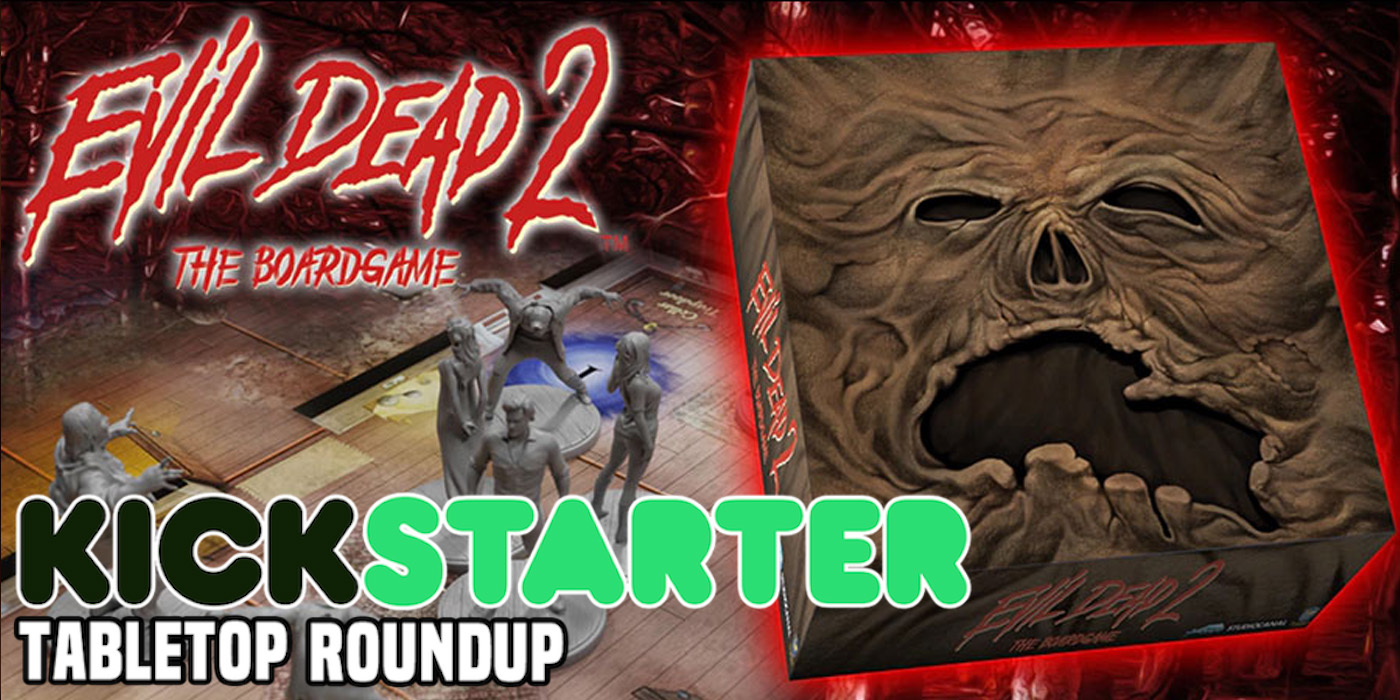 Come check out this week's batch of crowdfunding and Kickstarter highlights – including board games, RPGs, and STLs!
Evil Dead 2: The Board Game Deluxe Edition
Back from the dead(ites)! A board game of mayhem and fun returns with a second printing, now with co-op/solo play and groovy dice.
Evil Dead 2: the Board Game is a hidden identity action game for 1 – 6 players. Yeah, you read that right. We said 1–6 players. Groovy, right? But we'll get back to that later. In the standard game (which requires a minimum of 3 players), players are wandering around the cabin and surrounding woods, attempting to find the pages of the Necronomicon to seal the deadite portal. There's only one problem, besides the deadites popping up everywhere of course, and that's the fact the one or more of the players might be a deadite as well!
RollForge: Craft Your Own Dice for Epic Adventures!
The ultimate dice-making kit. Craft your own unique dice, each a work of art & elevate your tabletop gaming experience to new heights!
In the enchanting realm of tabletop gaming, every roll of the dice holds the potential for epic adventures and unforgettable moments. Introducing Roll Forge, an extraordinary dice kit that invites you to become the master of your own dice-making destiny. Dive deep into a world where passion, precision, and imagination converge to create custom dice that are as unique as the stories they help tell.
KELP – Shark vs Octopus | 2-player asymmetrical game
Hide and seek meets bluffing and manipulation. Deck builder meets dice bag builder. A dedicated 2-player game of Shark vs. Octopus.
Kelp – Shark vs. Octopus is a new fresh and exciting 2-player game. Hide and seek meets bluffing and manipulation. Deck builder meets dice bag builder. Inspired by the fascinating natural behavior of Octopuses and Sharks.
What We Possess: A Ghostly Story Telling Game
A card-run GM-less experience. Set the scene for the living, then the dead. Find the split in the veil where they meet.
Celebrating October with Witchstarter, your local Publishing Goblin is bringing you a ghostly story telling game in What We Possess. A card-run game that requires no preparation to sit down and play, this GM-less experience will see players taking the role of Ghosts in the scene, pushing the living to action and creating the mystery even as they seek to solve it.
LeTable One Touch Extendable Board Game Table
Different sizes, Modern Compact Design, Built-in Player Desks, Wireless Chargers, Sensor Lighting, Raised Platform.
Would you like to transform your coffee table for any task with one touch? Change the configuration for the perfect board game in a few seconds. Or quickly organize a workplace with a topper system?
---
Subscribe to our newsletter!
Get Tabletop, RPG & Pop Culture news delivered directly to your inbox.