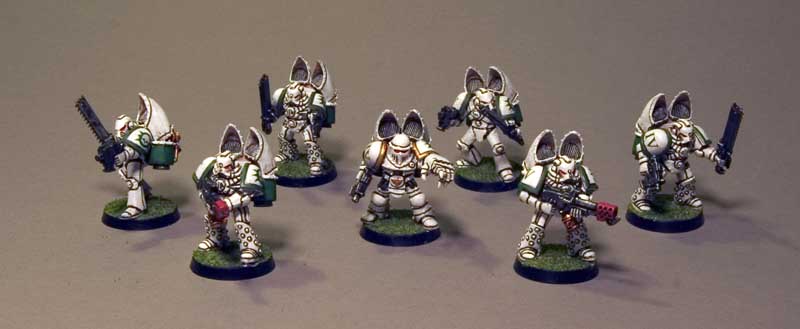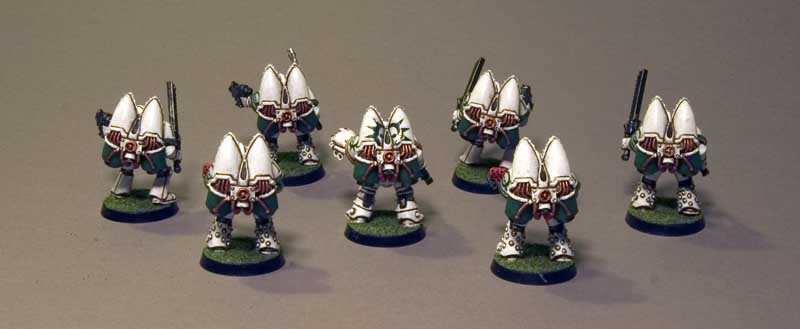 I finally finished these guys up. What we have here is a somewhat unique looking pre-heresy marine squad.
The squad is composed of:
1 Mk:2 Marine (Sergeant)
2 Mk:4 Marines
4 Mk:5 Marines
Their jump packs are from the chaos raptors and are a particular variant that has no chaos iconography and looks fairly plain. Some plastic arms with assault weapons from the metal assault sergeant blister completed the minis, and I rustled up a pair of flamers from my bits box for the special weapons.
Decalwise, they match the rest of my Pre-Heresy army with Legion logos on the left pad and Great Company number on the right. The Sergeant would look silly with my standard infantry squadleader bannerpole and legion banner poking out from the jump pack, so he got a larger legion logo cut in half and placed on the rear of his pack's intakes.
If you want to built up a squad like this these are the partnumbers you need to get from GW:
· 3 Sprue: Space Marine Assault Left Arm 99380101008
· 4 Sprue: Space Marine Assault Right Arm 99380101009
· 1 Marine MK2 Crusade Armour 9947010132203
· 4 Marine MK5 Heresy Armour 9947010132204
· 2 Marine MK4 Maximus Armour 9947010132205
. 7 Chaos Raptor Jump Pack 2 9947010207112
You will still need to grab a couple of plastic flamers or plasma pistols based on your needs as well as whatever you wish to equip your Veteran Sergeant with (I used a powerfist).
And yes, I know… Mortarion rarely used assault squads…. but
a) they just look really cool
b) I promise this will be the only one
-bigred