World Eaters Pre-Heresy Logo Sheet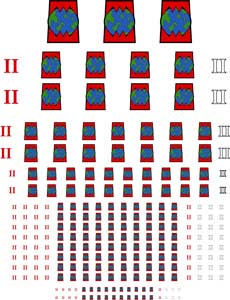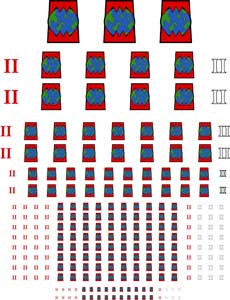 Hello World Eaters. Here is number eight in a series of Pre-Heresy Traitor legion logos sheets you can use for your pre-heresy armies. Here is the link to the PDF file for the decal sheet you can freely pull down and use:
I created the original logo in Adobe Illustrator, then made variations of it for size and color (outline and solid color versions). The sheet is designed for printout on Decal printer paper which is easily available online.
The thing about decal paper is that it is clear by default (instead of white), so the decals need to be applied to a light colored surface to be visible at all. The procedure for applying the "outline only" decals is to apply them to a white surface, and wait till they are fully dried. Then using the outlines as a guide, paint in the darker color around the decal. Its is odd, but gets the job done.
Size wise, the larger decals towards the top are best used for super heavies/terrain, and move down in size to the large array of Marine Shoulderpad towards the bottom. Finally there are large Roman numeral IIs all over the place. I use these to place on the opposite shoulderpad to indicate the Great Company number my forces are a part of. You could do that or use whatever you wanted on the opposite pad.
In any case, enjoy and I wish you the best in using this set for your forces.
-bigred