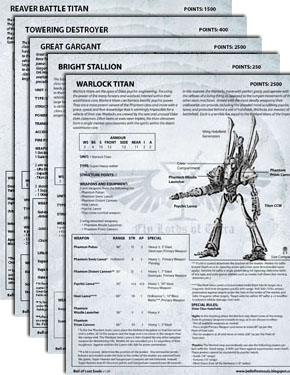 Hi all,
We have almost wrapped up all 24 datasheets for our next supplement: Lords of Battle
This supplement will be a single pdf file including a host of the most cherished "big guys" from back in the days of yore. Many of these have old resin models available, and many will require scratch-building from crazed modelers like you.
We have scoured our collections and the internet, and have gotten nice pics of most of them. We are in desperate need of some good pics of the following models:

Imperium
Imperial Guard Leviathan
Imperial Guard Deathstrike Missile Launcher
Knight Castellan

Eldar
Warlock Titan
Bright Stallion Knight
Tyranids
Chaos
Silver Towers of Tzeentch
-If you have a good looking mini of any of these, please snap a nice-well-lit pic of it and email us at [email protected].
Thanks a million,
-bigred