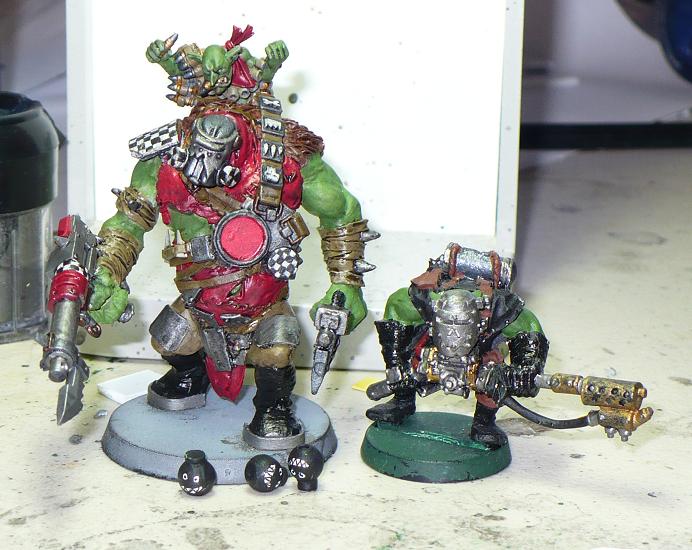 One of the nice things about being a Fly Lord is being able to prepare your army for the campaigns long before anyone else has a look at the book. The Arch-Maniac of Calvera is one such example. In the Macharian crusade, some of the armies will pass through ork space controlled by a giant ork warboss known as the Arch-Maniac of Calvera.
I'll try not to spoil too much of the fluff, but the basic premise is that an ork controlled world is rich in a naturally occurring explosive. The orks took a liking to the stuff and decide to start lobbing it at anyone in sight. First they put it inside of small bottles, Calvera Cocktails. Soon they began stuffing it into larger and larger objects, eventually filling entire KillKruisers with the stuff and ramming them into enemy formations. One of the Nobs was dared to eat a bomb squig filled with the stuff. He won the bet, but lost several fingers, half his face, and internal parts that his mad dok couldn't even identify.
The old saying 'what ever doesn't kill you only makes you stronger' could not have been more true. By the time he recovered, he had grown several times his size. He now commands a large waaagh! in the Segmentum Pacificus and is never seen without his trusty ammo runt, Kiff.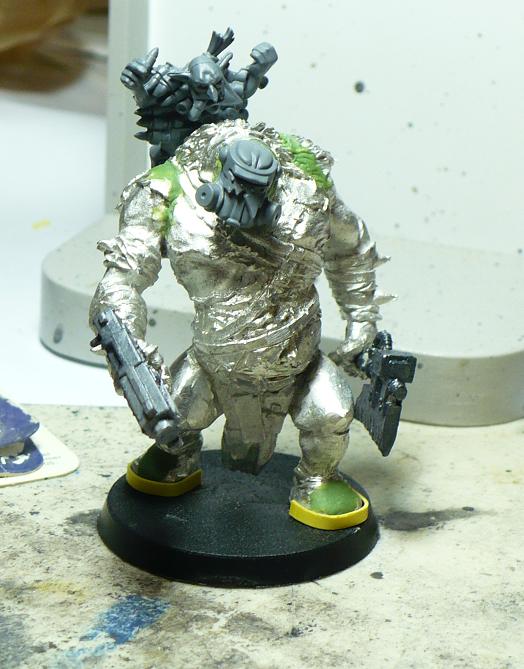 For the model, I started with a Lord of the Rings: Buhrdûr, Hill Troll Chieftain. I had to file off all the ogre warts on his legs and smooth out his two-toed feet to make them look like boots. He also needed a good amount of greenstuffing around the arm joints. I replaced his weapon with a big shoota and choppa. His head came from the burna sprue as well has his grot backpack. To beef up his chest area, I took several of the straps off the burna sprue and made a harness for the little guy. Small round beads were used to make the Calvera Kocktails.
His stats aren't finalized yet, but he is going to be a beast in combat. Oh, and the Calvera Bomma trukks are going to be a hoot as well.