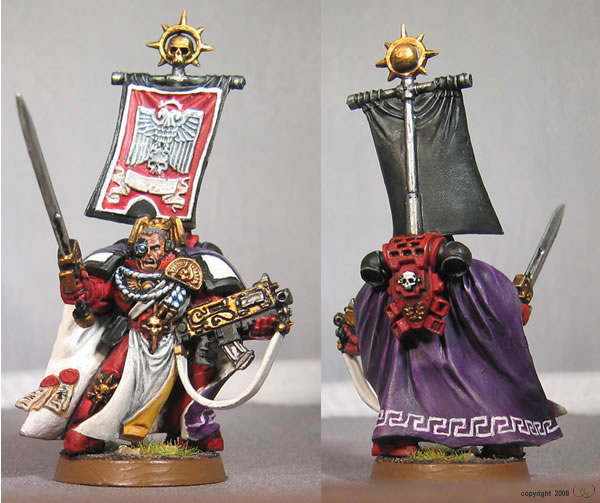 In response to a request here the other day as to how I painted my Assault On Black Reach (AOBR) Space Marine Captain, here's a quick painting guide. I will try to make this guide useful for not only painting a similar color scheme to the one I used, but for painting this and similar models in general. Hopefully this will make the guide helpful to the widest possible audience. You may also want to check out the GW Black Reach Character Master Class available on the GW website. There are some amazing paint jobs and great painting advice there. Nevertheless, by request, here's my somewhat more humble painting guide.
First, prime the model white. I usually use black, but for my color scheme in this case most of the colors look better over white. Next, if possible paint the inner lining of the cloak and tabard and the inner leg sections attached to them before gluing the model on its base as it will be much easier to reach these areas before basing. The inner lining of the cloak is painted Skull White, the inner lining of the tabard is Iyanden Dark Sun, and the armored sections of the model are painted with Red Gore.
Now paint the rest of the model from the inside out like you're getting dressed, starting with the lowest areas and working outward. This causes the least amount of problems with messing up areas you've already painted. Here's a breakdown of all the colors used on my Captain:
1) Armor: Red Gore shaded in the seams with thinned Chaos Black and highlighted on the extreme edges with Blood Red. Note that I used a wet slightly thinned coat of Red Gore, deliberately concentrating pigment more in lower and shaded areas and leaving it thinner and brighter on higher areas. This gives the model some depth and realism before you even begin shading and highlighting.
2) Cloak: Foundation Hormagaunt Purple, then a thin coat of Warlock Purple, shaded with Leviathan Purple wash and then highlighted with a mix of Tentacle Pink and Warlock Purple. Since Tentacle Pink is discontinued, if you have none, try mixing a little, very little Skull White with Warlock Purple. Note that I did not wash the entire cloak in the shading phase, I carefully blended the wash only in areas that have a fold or dip in them, going heavier with it in the deeper areas. This takes longer but can yield a more dramatic result, leaving the base color intact in the upper areas.
3) Cloak Lining and Tabard Front: Skull White shaded with Astronomican Grey and very thin Chaos Black in the folds. Highlight over and blend into the shading as necessary with Skull White.
4) Tabard Lining: Iyanden Dark Sun shaded in the fold with Ogryn Flesh.
5) Face: Tallarn Flesh with Ogryn Flesh wash, highlight sparingly with Elf Flesh. Then paint the eye socket black, fill mostly with white, then dot the middle. Bionic attachments to the head were painted black, then painted with Boltgun Metal. The bionic eye lens was painted Ultramarine Blue, then dotted with Skull White. Pick out the teeth with Skull White. Hair was painted Codex Grey, then highlighted around the edges with thin Fortress Grey.
6) Decorative Braided Cord: This is painted Skull White, but shaded with Regal Blue and very thin Chaos Black. By shading it with a different color than the white tabard near it, it stands out from the tabard even though they are both white.
7) Metallic Decorations, Sword Hilt: Shining Gold, washed with Devlan Mud plus thinned Chaos Black in the really deep recesses, then highlighted with a drybrush of Burnished Gold. Top off the extreme edges with a tiny touch of Mithril Silver.
8) Sword Blade: Mithril Silver, washed with Badab Black, then highlighted on the edges with Mithril Silver.
9) Banner: The red field is painted with Red Gore, shaded in the folds with Scab Red, then highlighted with Blood Red. The border is pure Skull White. The Black outer field is highlighted with sparing use of Codex Grey. The eagle is painted Skull White, washed with thinned Adeptus Battlegrey, then highlighted with Skull White. The scroll below the eagle is painted Dheneb Stone, then painted over with a thin mix of Dheneb Stone and Bleached Bone. Highlight the edges with Skull White. This technique also works well on the purity seals, but I used more Bleached Bone and Skull White for a lighter finished result on those.
10) Final Details: At this point, I highlighted any and all remaining details. Black on the boltgun got a touch of Codex Grey highlights, the plate on the golden bolter casing was painted with Chainmail. The "wax" part of the purity seals were painted Scab Red and highlighted with Blood Red. Their outline was shaded with Ogryn Flesh wash. The banner pole was painted Boltgun Metal. When everything else was done, I painted the bottom edge decoration on the lower rear of the cloak using pure Skull White.
I hope this guide is helpful to those trying to emulate my color scheme as well as to people just looking for some simple painting tips to bolster their confidence at painting their own models. I must say that I am truly impressed with the quality of the models in the AOBR set and I thoroughly enjoyed painting the Space Marine Captain model. It's an impressive miniature and I tried to give it a paint job which reflects that. Good luck and remember, painted models make the game more fun and they fight better too!